Lithium Catalyst: Mercedes-Benz Takes On Tesla With A Home Battery Of Its Own.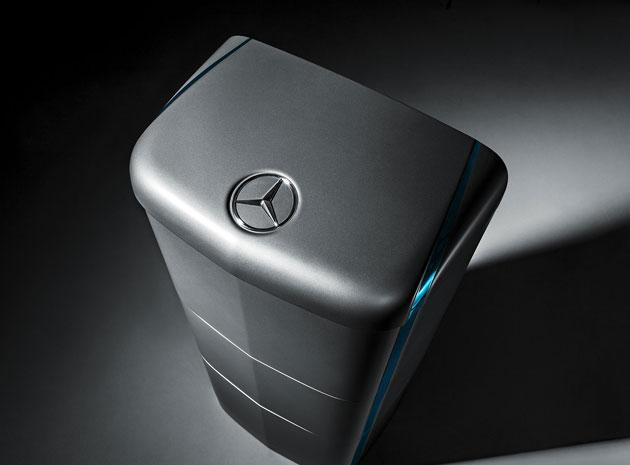 The more lithium batteries will be made for energy storage by different companies - the better for our lithium industry raw materials supply chain. Price competition will bring cheaper and better lithium batteries and will ignite the mass market for EVs and energy storage as well.
The End of ICE: Genius Elon Musk Starts The Race To The Bottom Of Energy Storage Prices.
"Now auto-makers can start to be really worried. ICE cars can become obsolete very fast. Elon Musk has just opened huge energy storage market combined with unprecedented growth in Solar installations all around the world. Tony Seba will be the good source to comprehend this tectonic shift."
Samsung SDI Unveils New Lithium Energy Storage Products at Intersolar Europe 2015.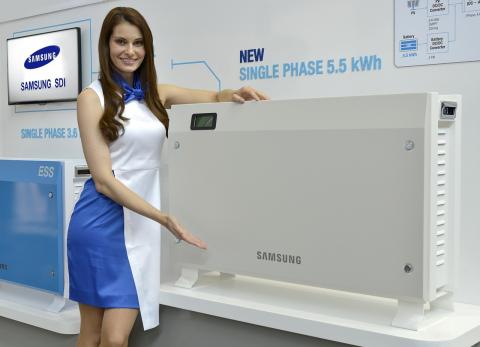 Lithium batteries are coming into the residential storage market spurred by the incredible growth of Solar Power all over the world. Mercedes Benz has announced its own residential storage system and today Samsung is taking on the very promising market space. Elon Musk thinks that actually Powerpacks for utilities will make the majority of the Energy Business for Tesla in the near term. Prospects for Lithium industry are getting brighter day by day with every new Solar Power installation and electric car on the street. International Lithium is at the heart of this groundbreaking development building the supply chain for our strategic partner Ganfeng Lithium. You can find more information on our industry on the links below.
International Lithium Corp. Updates on Drilling Programs in Argentina and Ireland.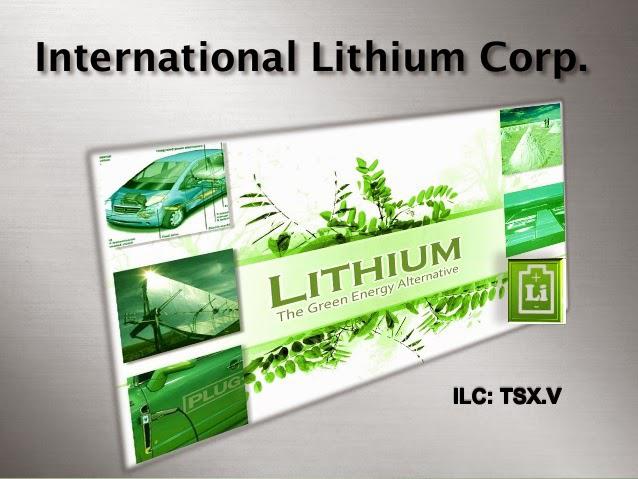 We have great news today from our both J/V projects with Ganfeng Lithium! You already know about my personal vision for the lithium industry and our strategic partnership between International Lithium and Ganfeng Lithium from China. Now we have results coming in from our exploration and development programs.
The Lithium-Ion Battery Megafactories Are Coming: Production To More Than Triple by 2020.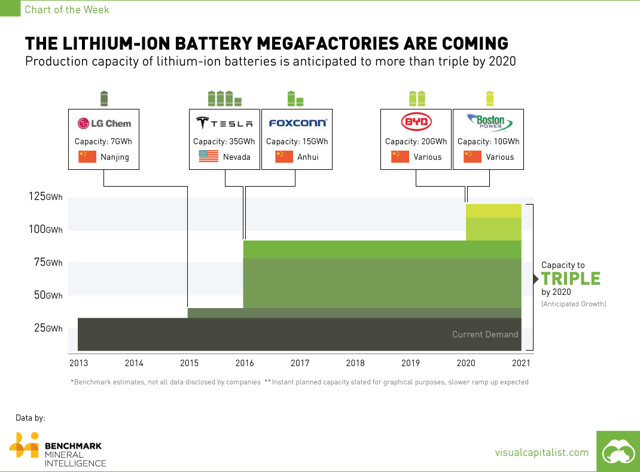 We have the rebirth of the interest to the lithium industry on the investor's radar screens these days. Behind the scenes after the initial hype the best players were growing very fast. Just look at the incredible rise of our strategic partner Ganfeng Lithium! We are very lucky, after years of hard work to secure the financing of our two J/V projects by Ganfeng in Ireland and Argentina. Elon Musk has brought attention back to the lithium technology these days and finally our shares are finding some bids. I am writing and talking a lot about Tesla, EVs, Lithium and our companies. This is where my passion and my money are, do not hesitate to contact us with all your questions. We will never discuss any material information which is not public, but we will help you to navigate in our very young, but growing very fast industry. I will never ask you to buy our shares or give any investment advise, but just share with you my very personal vision on the future. For me it is clear - it will be lithium technology for years to come: the chart above make my point more apparent. Please follow Simon Moores and his new Benchmark Mineral Intelligence for industry insights. You will find other names on the links I am providing.
What makes International Lithium different from other junior miners - access to the capital. Our very deep technical team headed by Gary Schellenberg has identified our projects at the very beginning of the lithium interest in 2008. It took us few long years to bring Ganfeng Lithium to the table. Now this giant from China is financing our J/V projects after studying for years other lithium projects all over the world. Based on the previous results we are drilling now both J/V projects with more information to come in the coming weeks. China controls now 75% of battery grade lithium hydroxide and Ganfeng Lithium is one of the major players in this market. International Lithium is building the supply chain for this vertically integrated lithium business in China. Stay turned and I welcome all our new shareholders to the very exciting new industrial rEVolution we are building our business to be the part of.
Video - Elon Musk Presentation Of Tesla Lithium Energy Storage: PowerWall and PowerPack With "Infinite Scalability".
Lithium Hydroxide - A Perfect Price Storm Just Before Tesla Battery Storage Announcement.
International Lithium And Ganfeng Lithium: "The End Of The Lithium 'Big 3'.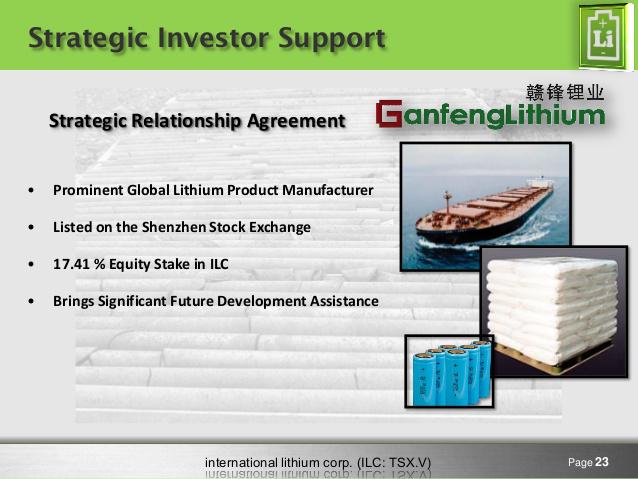 Tesla Gigafactories: Is There Enough Lithium to Maintain the Growth of the Lithium-Ion Battery Market?
Joe Lowry: Lithium Capacity Additions Will Be Short Of Demand.
"Joe Lowry is sounding the rising alert for all industry insiders about the coming shortage of lithium. Tesla is waiting for Panasonic to solve all the supply problems, but the growing demand is already pushing prices higher even before Gigafactory comes on-line! The ignition of mass market for electric cars and energy storage will come with lower lithium battery cost. Gigafactory promise us to bring the magic $100 per kWh. Supply of lithium will become crucial and its security will be even more important than its price.

Our partner Ganfeng Lithium controls with other Chinese companies 75% capacity of battery grade lithium hydroxide now. We are moving into the new landscape for critical materials which are powering the green revolution. Stay tuned for the update from our lithium exploration programs on J/V projects in Ireland and Argentina."
Joe Lowry: What The Beginning Of Lithium Shortage Looks Like.
"Joe Lowry from @globallithium presents another evidence of growing constrains in the lithium supply chain. He knows International Lithium strategic partner Ganfeng Lithium very well and has covered its incredible growth in his previous articles, which you can find on this blog as well. Read more."
Engadget:
Mercedes-Benz Takes On Tesla With A Home Battery Of Its Own.
"Guess what, Tesla: you're not the only car maker getting into the home battery game. Mercedes-Benz has unveiled a personal energy cell that, like Tesla's Powerwall, uses giant batteries to store surplus power from your home's solar panels and keep you off the conventional energy grid. The German firm is taking a more modular approach than its American counterpart, though. Each pack only holds 2.5kWh of electricity, but you can combine up to eight of them to hold 20kWh, or twice as much as a Powerwall. That potentially suits it to certain businesses, not just your own abode. Whatever you think of Mercedes' pack, it may be your best hope of getting some clean energy storage in the near future. With Tesla's unit already sold out through mid-2016, you may have little choice but to register for the Mercedes equivalent and wait until it ships in September."
Disclosure: The author is long ILHMF, TRRXF.