Keith Kohl: Lithium, Not Oil And Gas, The Key Investment For The Future Peak Oil.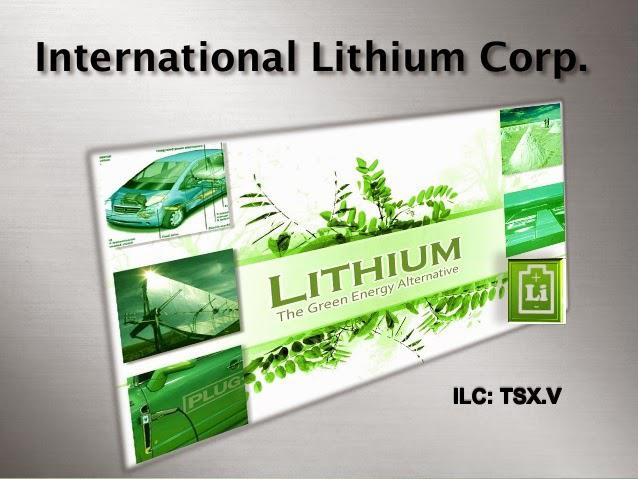 "What makes International Lithium different from other junior miners - access to the capital. Our very deep technical team headed by Gary Schellenberg has identified our projects at the very beginning of the lithium interest in 2008. It took us few long years to bring Ganfeng Lithium to the table. Now this giant from China is financing our J/V projects after studying for years other lithium projects all over the world. Based on the previous results we are drilling now both J/V projects with more information to come in the coming weeks. China controls now 75% of battery grade lithium hydroxide and Ganfeng Lithium is one of the major players in this market. International Lithium is building the supply chain for this vertically integrated lithium business in China. Stay turned and I welcome all our new shareholders to the very exciting new industrial rEVolution we are building our business to be the part of."
International Lithium Corp. Updates on Drilling Programs in Argentina and Ireland.
We have great news today from our both J/V projects with Ganfeng Lithium! You already know about my personal vision for the lithium industry and our strategic partnership between International Lithium and Ganfeng Lithium from China. Now we have results coming in from our exploration and development programs.
The Lithium-Ion Battery Megafactories Are Coming: Production To More Than Triple by 2020.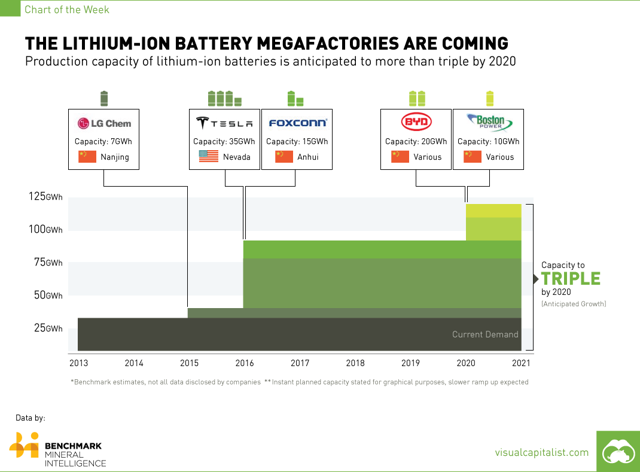 Tesla Gigafactories: Is There Enough Lithium to Maintain the Growth of the Lithium-Ion Battery Market?
Joe Lowry: Lithium Capacity Additions Will Be Short Of Demand.
"Joe Lowry is sounding the rising alert for all industry insiders about the coming shortage of lithium. Tesla is waiting for Panasonic to solve all the supply problems, but the growing demand is already pushing prices higher even before Gigafactory comes on-line! The ignition of mass market for electric cars and energy storage will come with lower lithium battery cost. Gigafactory promise us to bring the magic $100 per kWh. Supply of lithium will become crucial and its security will be even more important than its price.

Our partner Ganfeng Lithium controls with other Chinese companies 75% capacity of battery grade lithium hydroxide now. We are moving into the new landscape for critical materials which are powering the green revolution. Stay tuned for the update from our lithium exploration programs on J/V projects in Ireland and Argentina."
Joe Lowry: What The Beginning Of Lithium Shortage Looks Like.
"Joe Lowry from @globallithium presents another evidence of growing constrains in the lithium supply chain. He knows International Lithium strategic partner Ganfeng Lithium very well and has covered its incredible growth in his previous articles, which you can find on this blog as well. Read more."
Keith Kohl:
Lithium, Not Oil And Gas, The Key Investment For The Future Peak Oil.
By Keith Kohl | Friday, June 12th, 2015
Recent cooperation and a concerted effort against coal consumption will usher in an era of dominance for one energy technology.
It's not oil, natural gas, or even solar and wind (although these still have a part to play).
Instead, as the world transitions from the aggressive coal consumption left over from the industrial revolution, new technologies will transform how the world gets its power… and how investors make their money.
An example of this cooperation took place earlier this week, when U.S. Energy Secretary Ernest Moniz spoke at a summit held by the Edison Electric Institute.
The EEI is an association of publicly owned electric utility companies, and Moniz spoke about a new understanding between EEI-affiliated companies and the DOE.
Their agreement is a plan to accelerate the efficiency and distribution of plug-in electric vehicles throughout the U.S.
As of right now, here are the businesses where you're able to charge an electric car…

Of course, there are still some independently owned charging stations - like the ones provided by Tesla - but otherwise, there's so small a distribution of electric charging stations that electric cars are nothing more than a whisper in the auto industry.
That's why Moniz convinced the EEI to pledge 10% of its fleet budget toward electric vehicles.
The goal of this is twofold: to continue the growth in distribution of EV cars (sales jumped 128% in the U.S. between 2012 and 2014) and to develop an electric vehicle by 2020 that's as cheap as a gas-powered one was in 2012.
In doing so, the DOE hopes to lower greenhouse gas emissions and U.S. reliance on foreign oil, while utilities benefit from the added sales of electricity to PEV owners.
Add to these developments the growth in U.S. solar as promoted by Moniz, and in a few decades, coal will feel like a distant memory.
Solar's growth in the U.S. has pretty much doubled every single year since 2009.
In the first quarter of 2015, solar accounted for 51% of new U.S. generating capacity, and the cost of panels has declined 80% in the last five years.
As solar and electric cars edge closer to parity with the status quo leaders in their respective industries, it's only a matter of time before battery technology takes over as the ultimate source of power around the globe.
China Turns its Back on Coal
China is the world's leading emitter of greenhouse gases, has an enormous population (1.357 billion), and relies heavily on coal for residential power and economic and industrial growth.
But as the Western world amps up pressure on Chinese leadership to curb its addiction to coal, it seems the country is willing to listen.
After Xi Jinping made an historic climate deal with President Obama in November, the country is already ahead of schedule with its transition out of coal.
According to the London School of Economics, Chinese greenhouse gas emissions will likely peak around 2025 (five years before the agreed-upon date) and will fall rapidly after that time.
Here's why China is so far ahead of schedule…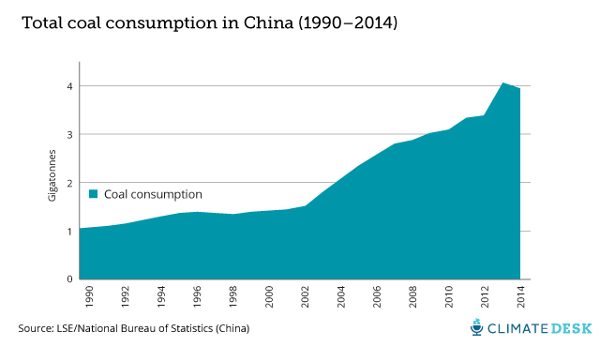 The chart above illustrates China's coal consumption over the last 30 years. After an exponential rise, the country has now seen a peak.
Of all the places in the world to turn its back on coal, I always thought China would be the last. But, alas, it seems coal is on its way out there, too.
Mark my words: Coal will be dead in China… and much quicker than you think, ushering in a new era for natural gas, wind, solar, and perhaps nuclear energy.
China has an abundance of natural gas reserves it could use to transition from coal into even cleaner technologies like wind, solar, and electric vehicles.
And once China makes these changes, battery technologies are going to become the new midstream of electricity production all over the world.
That means investors should take heed, and do so with haste.
Lithium is the Oil of the Future
Although I'll always be an oil bull, I'm well aware that lithium is the next big commodity for investors.
Coal is done for, and lithium-ion batteries are the best solution we have to store electricity when the wind isn't blowing, the sun isn't shining, and when our cars get plugged into the wall instead of a gas station pump.
That's why you've probably heard me call it "the oil of the future."
Soon enough, lithium will be followed as closely on the market as oil is today, and because it is scarce, lithium prices are going to soar when demand for batteries ramps up over the next few years.
Investors who position themselves today will earn similar fortunes to those who invested in coal before the industrial revolution, oil in the early 20th century, and nuclear in the 1980s.
If you're unsure of how to play this disruptive new trend, fear not. Sometime during this quarter or next, I'll be sending a brand-new investment report that'll detail the latest and greatest ways to take advantage of the lithium revolution.
Keep your eyes on your inbox for this report. In the meantime, I suggest you rid your portfolio of all things coal. It's not coming back."
Disclosure: The author is long TRRXF, ILHMF.