Joe Lowry: Global Lithium Projection Of Supply And Demand Growth For Next Ten Years.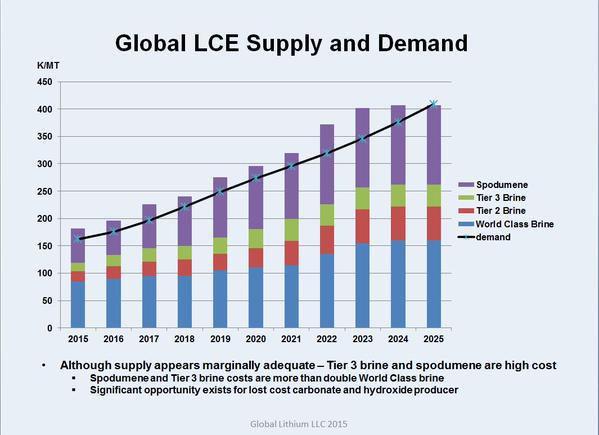 Joe Lowry has published his new projection of supply and demand for lithium for next ten years. Joe has warned in his twitter message today: "Appreciate many will disagree". I will follow his guidance based on years spent at the very heart of very "opaque" (in his own words) lithium market. The main drivers will be the mass adoption of electric cars during the next phase with Tesla Model 3, GM Bolt and Nissan Leaf with extended range and energy storage for Solar Power with Tesla powerwalls and powerpacks. Latest initiative from Obama administration will help to bring Solar Energy to the low income communities all across U.S. International Lithium will become part of this picture with our J/V projects in Ireland and Argentina financed by our strategic partner Ganfeng Lithium from China. I will provide a few links for the main drivers for this picture and some other work from Joe Lowry.
Lithium Race: Elon Musk Believes The Model X Will Double Tesla's Sales.
Now, as promised, we have the buzz picking up about Tesla Model X. "Tesla Model X will be by far the best SUV" - according to Elon Musk, will make all the difference giving the green alternative proposition to all lovers of Range Rovers.
Elon Musk And Tesla's CTO JB Straubel Share Their Vision On Energy.
Elon Musk will make sure that everybody will drive electric cars in the future powered by Solar Power. International Lithium and our partners Ganfeng Lithium will make sure that we have enough lithium to make this dream happen.
Peter Epstein: Interview Of "Mr. Lithium," Joe Lowry Of Global Lithium LLC.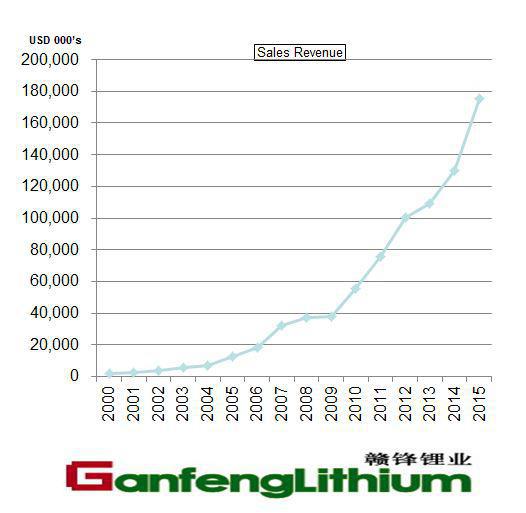 Peter Epstein presents to us the very interesting view from the independent insider into the very closed and tightly held lithium market. Tesla is making headlines and situation with SQM provides another evidence of the importance of secure lithium supply for the major players. Joe Lowry is raising alarm about the coming shortage in the lithium supply even before Tesla's Gigafactory will be coming on-line and I have been talking about it before, you can continue your research on the links below. Now we have another catalyst for the lithium industry in the making. Access to the capital is the most important for the junior miners working on building lithium supply chain. Ganfeng Lithium - one of the new top lithium producers from China is financing the development of J/V projects with International Lithium in Ireland and Argentina.
Chile, Lithium And SQM: What To Expect From The Chilean Lithium Industry?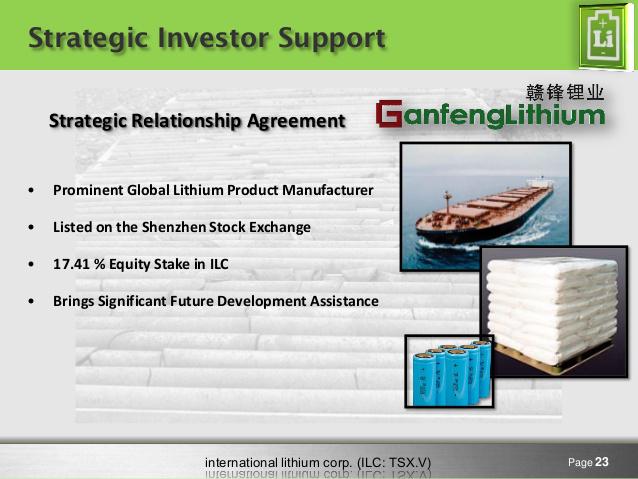 What is really happening with SQM and lithium production in Chile now? Is it really the perfect storm and the very tight battery grade lithium supply will be under further strain from political battle around Atacama? Daniella Desormeux from signumBOX will be one of the best sources to explore the ongoing situation.
International Lithium And Ganfeng Lithium: "The End Of The Lithium 'Big 3'.
Security Of Lithium Supply: SQM Stock Still Down On News Chile Wants To Revoke Mining Leases.
Here comes the perfect storm for the lithium supply chain. Politics, bribes and fight around the "hot assets" in Atacama are not the best ingredients for the hungry Chinese companies ramping up battery grade lithium supply for the coming Megafactories all over the world. Meanwhile Tesla Gigafactory is still relying on Panasonic to sort out all lithium supply issues. Price of battery grade lithium was going up even before these political games around SQM and now rain storms will add to the strains on production in Atacama. Now you can better appreciate why Chinese giant Ganfeng Lithium is financing and developing with International Lithium our J/V projects - security of Lithium supply is taking the central stage for the ongoing electric rEVolution.
Elon Musk's Gigafactory Battery Plan Spurs Lithium Producers To Weigh New Plants.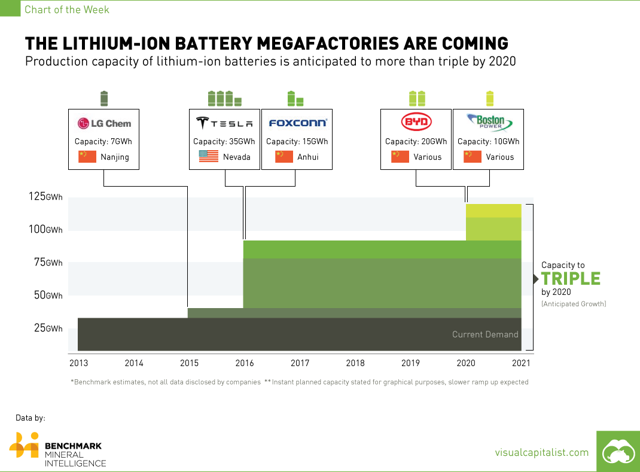 News about the potential shortage in battery grade lithium supply is travelling fast and now hitting the mainstream media.
Tesla Gigafactories: Is There Enough Lithium to Maintain the Growth of the Lithium-Ion Battery Market?
Joe Lowry: Lithium Capacity Additions Will Be Short Of Demand.
"Joe Lowry is sounding the rising alert for all industry insiders about the coming shortage of lithium. Tesla is waiting for Panasonic to solve all the supply problems, but the growing demand is already pushing prices higher even before Gigafactory comes on-line! The ignition of mass market for electric cars and energy storage will come with lower lithium battery cost. Gigafactory promise us to bring the magic $100 per kWh. Supply of lithium will become crucial and its security will be even more important than its price.

Our partner Ganfeng Lithium controls with other Chinese companies 75% capacity of battery grade lithium hydroxide now. We are moving into the new landscape for critical materials which are powering the green revolution. Stay tuned for the update from our lithium exploration programs on J/V projects in Ireland and Argentina."
Joe Lowry: What The Beginning Of Lithium Shortage Looks Like.
"Joe Lowry from @globallithium presents another evidence of growing constrains in the lithium supply chain. He knows International Lithium strategic partner Ganfeng Lithium very well and has covered its incredible growth in his previous articles, which you can find on this blog as well. Read more."
International Lithium Corp. Updates on Drilling Programs in Argentina and Ireland.
We have great news today from our both J/V projects with Ganfeng Lithium! You already know about my personal vision for the lithium industry and our strategic partnership between International Lithium and Ganfeng Lithium from China. Now we have results coming in from our exploration and development programs.
Disclosure: I am/we are long TRRXF, ILHMF.