Video - Exposed: Lead Researcher In Libor Case - First Gold Manipulation, Now Silver?
"After suggesting there was collusive behavior in the gold market in a draft research paper that made headlines, economist and professor, Rosa Abrantes-Metz is shifting her focus to silver. Joining Kitco News in studio, Global Economics Group's managing director talks about her new study, which highlights unusual trading patterns in silver futures markets. "Looking into CME futures settlement prices, I found several unusual patterns. I find that prices move in the opposite direction from the rest of the market returns very often, particularly while silver prices are moving upwards," Metz explains. She adds that she has found "drastic increases in volume traded in the space of one minute," and "very sharp price movements." Metz's 2008 paper "Libor Manipulation?" helped uncover the rigging of the Libor. The interest rate manipulation scandal set off a slew of other investigations, including precious metals and currencies. Tune in now to find out what markets she thinks regulators will target next. Kitco News, July 9, 2015."
Meanwhile China buys more and more Gold …
China Hits New Record With Over 1,162 T SGE Gold Demand For The First Half Of The Year.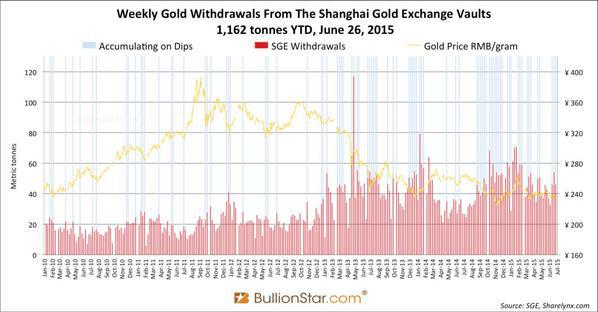 Lawrie Williams provids the further confirmation of the trend we have discussed in depth at this blog. Latest data from Koos Jansen highlights the record gold demand in China in the first half of 2015.
Bloomberg Intelligence: Chinese Gold Standard Would Be "Game Changer".
"This summer doldrums in Gold could be over very soon. Next week will be very interesting with Greece saga continued and China's rates cut after the record plunge in the stock market. Will Chinese coming back into gold finally smash the lid at 1,200 level? The news from Bloomberg Intelligence few years ago would propel gold $100 overnight easily, but today it is almost like no event in the market. While the West is chasing stocks in the Wall Street Bubble again, China is buying record amount of Gold and collecting the stakes in the best mining projects all over the world.
Finally Gold And Silver Price Manipulation Under DOJ Investigation.
DOJ Probes Banks for Silver, Gold Price Manipulation.
Finally one more conspiracy theory is on its way to the court rooms. Let's see how serious DOJ will be acting here. What can be easier than just contact GATA and Bill Murphy for all the evidence, who was banned from CNBC for telling the truth about manipulation of gold?
TNR Gold projects will benefit from the fair market pricing of Gold as will all other people who are suffering from the unreported rise in the real cost of living and real inflation in prices of food and other basic services.
Disclosure: I am/we are long TRRXF, MUX, ILHMF.