Lithium Energy Storage: Better Than Grid Parity - Warren Buffett Signs Lowest Cost Solar Ever 3.87 ¢/kWh.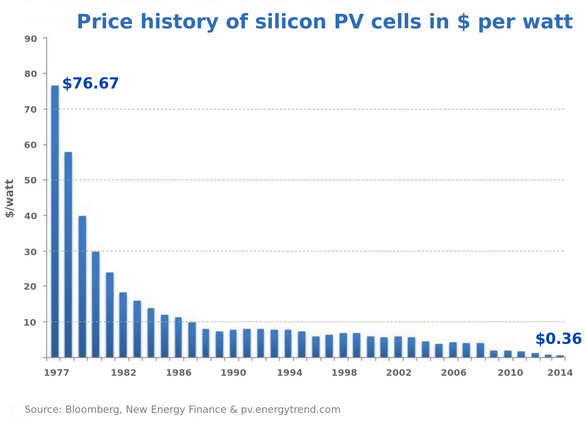 Tony Seba reports that his prediction about the dramatic fall in cost for Solar Power is already happening! Warren Buffett's NV Energy signs what may be the lowest cost solar power ever in US with 3.87 ¢/kWh! This exponential growth in Solar will be the next catalyst for lithium storage technology with Tesla, Mercedes and Samsung leading the way to the mass market of home energy storage. Now Joe Lowry's projection of 150% growth of lithium demand in the next ten years can be very consevative!
Joe Lowry: Global Lithium Projection Of Supply And Demand Growth For Next Ten Years.
"Latest initiative from Obama administration will help to bring Solar Energy to the low income communities all across U.S. International Lithium will become part of this picture with our J/V projects in Ireland and Argentina financed by our strategic partner Ganfeng Lithium from China."
Elon Musk And Tesla's CTO JB Straubel Share Their Vision On Energy.
"Elon Musk and JB Straubel speak at the Edison Electric Institute annual convention in New Orleans about Tesla's role and vision for electric energy. Elon responds boldly to the defamatory LA Times article and doesn't mince his words, calling them assholes. Pure bliss."
Elon Musk will make sure that everybody will drive electric cars in the future powered by Solar Power. International Lithium and our partners Ganfeng Lithium will make sure that we have enough lithium to make this dream happen.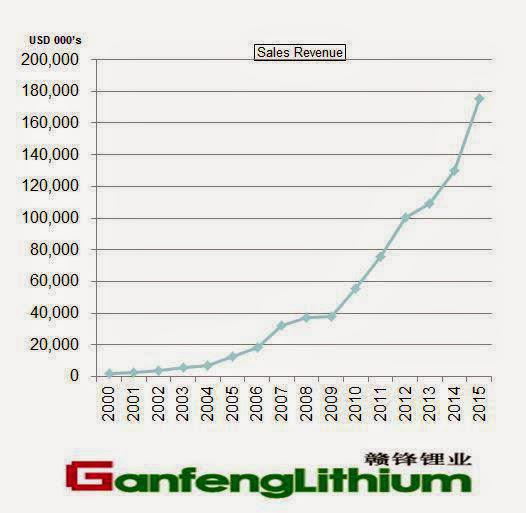 How to achieve the explosive growth like International Lithium's strategic partner Ganfeng Lithium? You need to have the largest auto-market in the world, "War on Pollution" and state-level support for the new strategic industry - electric cars. After Tesla Gigafactory, LG Chem, BYD, Foxconn, Boston Power and A123 are building their own Megafactories. New automakers, like Guanzhou Auto in China are moving now into electric space with announcements almost every month. International Lithium is building strategic supply chain for Ganfeng Lithium, our J/V in Ireland and Argentina are financed by Ganfeng and now we are receiving results.
Tesla Gigafactories: Is There Enough Lithium to Maintain the Growth of the Lithium-Ion Battery Market?
Elon Musk talks about "hundreds of Gigafactories to come" and other lithium batteries players are building their own Megafactories today. Tam Hunt brings the hot industry subject to the headlines. The short answer is: Yes, we have enough Lithium potentially in the world for electrification of all our transportation. But in order to get it as the raw material ready to be used we have to invest hundreds of millions of dollars and years to build this supply chain. The security of supply of lithium is taking the central stage for the main battery grade lithium producers.
The drama is that the demand is coming when junior miners are cut off the capital they need to develop the new projects. That is why International Lithium is very well positioned to participate in this trend with the financing of our lithium J/V projects by Chinese giant Ganfeng Lithium. Lithium supply issues are hitting headlines now and our results are coming from our exploration programs these days. You can find more information from lithium industry insiders on the supply issues on this blog.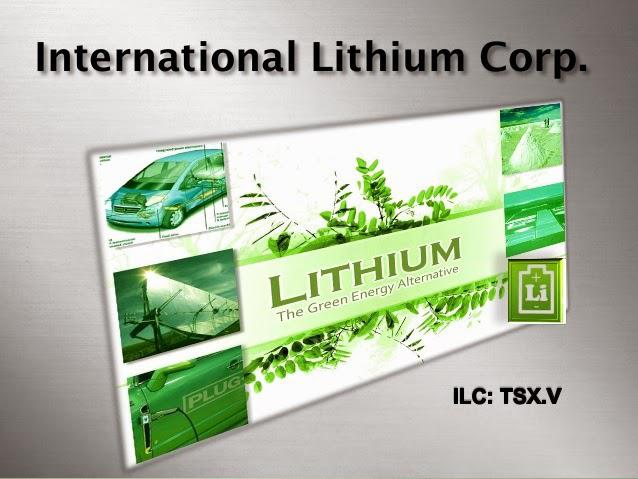 "Mr. Kirill Klip, President, International Lithium Corp. comments, "We are very excited with the ability to continue to advance our projects to the next level through our partnership with Ganfeng Lithium. Recent announcements, by General Motors regarding the commencement of production of the battery-electric Bolt and Tesla with the ongoing construction of the Gigafactory and launch of the Model X, are strong indicators that the electric car is not only here to stay, but is the way of the future. As a result lithium will be a key ingredient in our daily lives and ILC will be ready to meet the demand for this raw and critical material."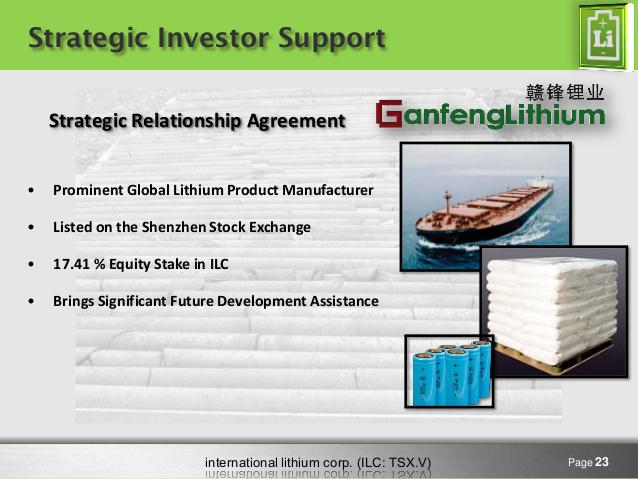 "Mr. Kirill Klip, President, International Lithium Corp. comments, "We are excited to begin another round of drilling at Avalonia in Ireland. Ganfeng Lithium - the leading lithium materials producer from China is financing the development of our JV projects in Ireland and Argentina. There is strong growth in the lithium industry right now. We are taking the necessary steps to meet the increased demand and source the raw materials required for our partner's lithium products and create a supply chain to ultimately achieve the goal of building a vertically integrated lithium business."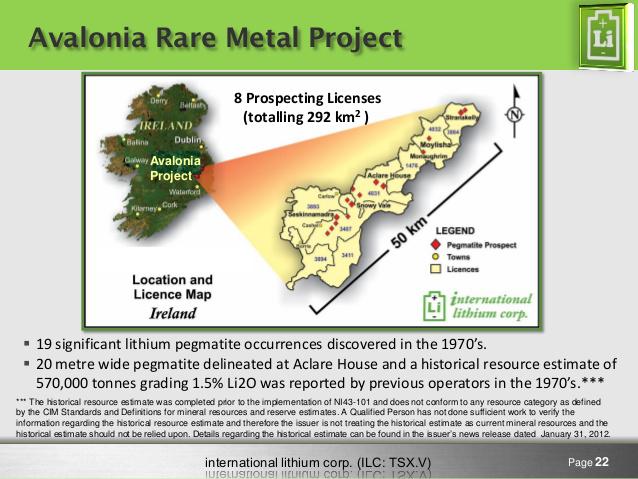 "Mr. Kirill Klip, President, International Lithium Corp. comments, " We are very pleased to begin another round of exploration on the Mariana lithium-potash brine project in Argentina. The project is wholly owned together with our strategic partner, Ganfeng Lithium. Our project is unique to other lithium brine projects in many ways. Firstly, our joint venture owns the mineral rights to the entire Salar de Llullaillaco, which has high potassium to lithium ratio; therefore it may provide a significant credit to the cost of lithium extraction. Secondly, our strategic partner possesses the technology and facilities to analyze the brine chemistry and develop a metallurgical extraction process. Our current program will provide us with enough information to design and plan the next phase of exploration and development as we move toward conducting feasibility studies.
The concurrent exploration programs on the Mariana and Avalonia properties demonstrate we have not deviated from our original plan to produce lithium from multiple sources and deposit types. The lithium industry is heating up right now and our diversified portfolio and partnership with Ganfeng Lithium give us a strong foundation to build upon. I am excited to see things moving ahead and look forward to reporting the results of our programs to our investors in the near future."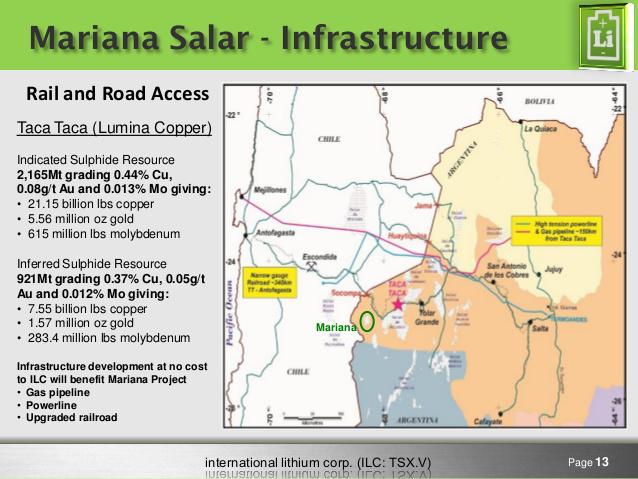 International Lithium Corp. Updates on Drilling Programs in Argentina and Ireland.
"Mr. Kirill Klip, President, International Lithium Corp. comments, "We are highly encouraged by what we are learning about the thick brine aquifers at Mariana. We look forward to completing the pump test which will give us a sense of the potential productivity of wells in these aquifers and we are confident that our plan to acquire these key preliminary hydrological results prior to a mineral resource estimation is both an expeditious and cost effective approach toward an initial production assessment."
Gary Schellenberg, CEO and Executive Chairman, notes that "Success in the initial drilling program by intersecting pegmatites under cover confirms the exploration strategy and methods we are applying in the Avalonia project. This gives us confidence as we move ahead with plans to test both new and historical targets we are developing along the lithium belt."
International Lithium And Ganfeng Lithium: "The End Of The Lithium 'Big 3'.
"Joe Lowry has published a very interesting article about the lithium market, major producers and rising Chinese powerhouses in lithium industry. You can find now more details on International Lithium strategic partner Ganfeng Lithium. Apple Electric iCar and Warren Buffet BYD move into energy storage to chase Elon Musk with his Tesla Gigafactory bring Lithium back onto the radar screens of investors now. Read more."
.@WarrenBuffett's @NVEnergy signs what may be lowest cost #solar ever in US: 3.87 ¢/kWh @FirstSolar http://bloom.bg/1KU2A2q #CleanDisruption
PV Magazine:
BETTER THAN GRID PARITY

BY: CHRISTIAN ROSELUND
Cost-competitive PV: During the last two years, 5.5 GW of utility-scale solar PV projects have won contracts in the United States not under RPS requirements, but for economic reasons. Is this the beginning of solar out-competing other electricity sources?
On a sunny day in late May, workers officially connected a 3.8 MW solar project to the grid on sandy ground in the U.S. state of Utah. The South Milford plant comprises tens of thousands of PV modules, and as such is the largest solar plant to come online in the state to date. While the arid lands of Beaver County, Utah, receive plenty of sun, the state has no mandate that utilities procure electricity from renewable energy, and as such Rocky Mountain Power had not previously purchased power from any large solar projects.
That is, before the South Milford plant and the six other PV projects that SunEdison is building in the region, which together comprise the "Seven Sisters." Before its purchase by SunEdison, First Wind entered into a power purchase agreement (NYSE:PPA) with Rocky Mountain Power parent company PacifiCorp for the projects, using a U.S. federal obligation that utilities must buy power from independent producers if the electricity generated costs less than they would otherwise pay to procure power.
This is one of the few times in recent decades that the 1978 Public Utilities Regulatory Policies Act (PURPA) has been used to support a contract for a utility-scale solar project. In order to qualify for PURPA, an independent power producer must offer power lower than a calculation of the utility's "avoided cost." In the past this figure was far too low to make the numbers work, even under the best circumstances.
With falling costs for solar PV of all scales, and particularly utility-scale solar, this is changing. Using PURPA, SunEdison and Norway's Scatec Solar have secured PPAs for hundreds of megawatts of solar projects in Utah alone. Add in projects in Idaho, Oregon, Montana, Wyoming, and North and South Carolina, and a host of developers have secured PURPA contracts for around 1.65 GW of utility-scale solar projects to date.
5.5 GW of cost-competitive solar

Traditionally, utility-scale solar PV in the U.S. has been driven almost exclusively by Renewable Portfolio Standard (RPS) policies, which mandate that utilities must procure an increasing percentage of their electricity from renewable energy sources. As 28 states (and the District of Columbia) have RPS mandates, these policies have driven the utility-scale sector across the nation.
However, in the last two years this has begun to change, and PURPA is not the only alternative mechanism through which developers are selling power. AtGreentech Media's Solar Summit in April, GTM Research announced that 5.3 GW of contracts have been signed for utility-scale solar projects outside of RPS requirements. Since that time, the company has updated this capacity to 5.5 GW.
In addition to PURPA contracts, this included more than 1.8 GW of solar projects that secured contracts through utility requests for proposals and more than 1.1 GW of projects where utilities entered into contracts with developers outside of formal procurement processes, such as NextEra's sale of power to the federally owned Tennessee Valley Authority. GTM Research also identified nearly 500 MW of contracts where corporations are bypassing utilities to buy power directly from off-site, utility-scale solar projects, and around 300 MW of utility-owned solar and merchant solar projects.
In all of these projects the sale of electricity is not driven by mandates, and not primarily by environmental concerns. "All of these projects that are being procured are happening because it makes sense from an economic lens," explains GTM Research Solar Analyst Cory Honeyman.
Better than grid parity

Much of the public and even solar industry conversation around the cost of solar involves the concept of "grid parity," as the point at which the cost of solar is competitive with retail electricity rates. The assumption is usually that once solar reaches grid parity, dramatic market growth will ensue.
Rooftop solar has already hit this point in several global markets including Hawaii, and utility-scale PV is farther ahead. However, the truth is far more complex and grid parity is really only useful as a metric for behind-the-meter solar. What these 5.5 GW of projects have achieved is a more concrete manifestation of PV's competitiveness with conventional generation than grid parity. Not only is solar theoretically more cost-effective than other forms of electricity generation, but corporations and utilities are validating that claim with business decisions, and in other cases being forced to buy power from solar because it is so cheap.
"I think what that means, this really becomes a resource that's not viewed as a renewable resource, but as a conventional generation resource," notes Honeyman.
The world of electricity pricing is complex, and there are multiple factors behind economic competitiveness. GTM Research says that in many cases, utilities are signing solar contracts as a hedge against volatile natural gas prices. "The price conversation is two things: the hedging factor, and the situations where solar is actually cheaper than the natural gas being procured," states Honeyman.
Eligibility for PURPA is likewise complicated, and varies across the nation. Utilities have different avoided costs for generation, and state regulatory agencies determine the implementation of the law, including methodologies for calculation of avoided cost, contract lengths, and other essential details.
Enter the ITC drop-down

This entire 5.5 GW of projects, spread across the nation, is intended to come online by the end of 2016, when the federal investment tax credit (ITC) declines to 10%. This 30% tax credit has a major impact on project economics, and as such it is unlikely that without it many of these projects would either qualify for PURPA or be a cost-competitive choice for utilities.
Utilities and developers are rushing to meet RPS requirements and commission large pipelines of solar projects to take advantage of this credit. Once January 1, 2017 arrives, GTM Research predicts a precipitous fall in construction of utility-scale solar, including these non-RPS projects.
Of course, construction will not stop entirely, and there will be projects that do not meet the deadline. Notably, there is a question of whether or not the contractors who will build these plants will be able to complete the entire 5.5 GW by the end of 2016, especially as there is another 8.9 GW of utility-scale solar being built under RPS requirements.
The long view

GTM's Honeyman says that while these projects will be much less tenable in 2017, the long-term outlook is good. "There are a lot of reasons to remain optimistic in terms of finding some opportunities for cost reduction as you move further down the road, later in this decade," he notes.
Like all market analysts, the staff at GTM Research tempers its optimism with caution. The company's most recent
projections show the U.S. solar market returning to a 2015 level of 8 GW in 2019, but with the utility-scale portion making up a smaller percentage than distributed solar - a reversal of current market shares.
There are others who are more optimistic about the future of the U.S. solar market. Tony Seba is an author, entrepreneur and Stanford lecturer whose 2014 book rose to the #2 position among best-selling titles in the Oil and Energy section of Amazon.com. Clean Disruption predicts that solar PV will become not only the main electricity source, but the main source of energy globally within the next 15 years.
"The cost curve [of utility-scale solar] is on a disruptive path," Seba told pv magazine . "If you look at the cost data over the last few years, you'll see clearly that utility-scale is going down, down, down." Seba stresses the trend of corporations beginning to buy power directly from solar projects, describing Apple's 110 MW power contract with First Solar as "not surprising." He echoes GTM's Honeyman in emphasizing that price stability is a factor here. "The key thing to remember is that corporations value not just low-cost inputs, they also value predictability," explains Seba.
Consistent with his writings that the falling cost of solar PV will cause it to rapidly disrupt traditional energy industries, Seba told pv magazine to "expect more" sale of solar outside mandates, as costs continue their downward cost curve. Seba is also less concerned about the end of the federal ITC. He says that while he thinks the ITC was useful in the recent past, it has become "more of a hindrance" to solar, noting that it keeps the solar industry dependent upon tax equity investment.
"What we have seen is that there are only a few dozen investors with the capability and the appetite for tax equity investment," comments Seba. "That means that tax equity is expensive." Seba also notes that the end of the ITC will broaden the range of investors who are able to participate in solar projects.
While casting the end of the ITC as a benefit to the solar industry remains a minority viewpoint within the industry, Seba is not alone in seeing the ITC as problematic. SunEdison Founder Jigar Shah has also publicly called for the industry to let the credit expire, as have the CEOs of a number of third-party solar companies. And while Seba acknowledges that the end of the ITC will be a "speed bump," he expects continued rapid growth in the U.S. solar market without it.
Exceeding expectations

Tony Seba is more optimistic about the future of solar than any of the main organizations projecting the future of renewable energy - including not only Greentech Media, but the International Energy Agency (NASDAQ:IEA), the U.S. Department of Energy (DOE), and even Greenpeace. However, it is also important to note that organizations like IEA, DOE and Greenpeace produce long-term forecasts that consistently underestimate the growth of solar markets, although Greenpeace's estimates have been the closest.
Seba says that this is typical for a technology disruption, noting that business and technology experts consistently failed to predict that the cell phone, internet, or automotive industries would grow as quickly as they did. One factor cited by Seba is that Solar PV is a semiconductor-based technology, and is following similar trends in cost declines to microprocessors.
Utility-scale solar is not at the heart of Seba's predictions, which primarily focus on rooftop solar and storage. Ultimately, he argues that once costs for rooftop solar with storage decline below the cost of transmission, other forms of electricity generation will become obsolete.
Such predictions raise more than a few eyebrows. Yet if the current cost trends continue, solar PV will become the lowest-cost source of electricity in every market segment within at most a few decades. While the exact date that this happens will vary according to scale, market and geography, the sale of electricity from utility-scale solar outside of RPS requirements is a strong indicator that this moment is arriving. It may be sooner than we think."
Disclosure: I am/we are long TRRXF, ILHMF.