InterSOLAR Video: Tesla CTO JB Straubel - Low Cost Lithium Batteries Change Everything.
"Hundreds of visitors crowded into the InterContinental Grand Ballroom to kick-off an exciting week at Intersolar North America 2015. The opening ceremony featured a top-notch line-up of speakers, including Tesla's co-founder and CTO JB Straubel, Fraunhofer Institute director Eicke Weber, California Solar Energy Industries Association (CALSEIA) executive director Bernadette Del Chiaro and New York State Senator Kevin S. Parker. In his greeting to attendees, Prof. Weber highlighted the tremendous success of the global solar market, which has installed 177 GW to date. Prof. Weber also noted the importance of PV and battery technology in combination to grow solar in the coming years."
Now we can watch the video presentation of JB Straubel in a context of dramatic exponential growth of Solar Energy in the U.S. Renewable energy is making all the difference. It is cheaper to drive electric cars powered by Solar!
Tesla CTO JB Straubel: Low Cost Lithium Batteries Change Everything.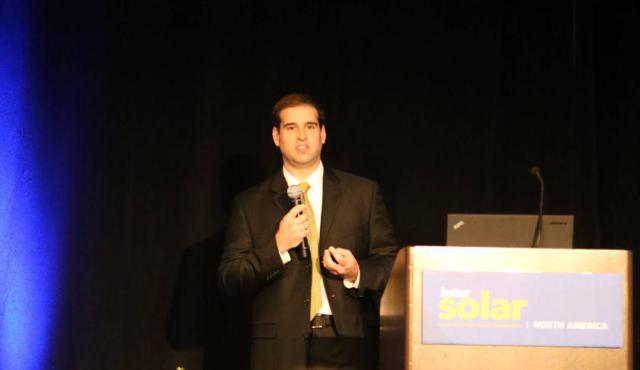 Tesla CTO JB Straudel presents his case for the tectonic shift coming to the markets with the advance of lithium technology. Transportation and Energy industries will be disrupted very fast and Solar with Electric Cars will be spreading all over the world, providing cheeper and better options for the consumers. Now we can check again the headlines about Lithium supply …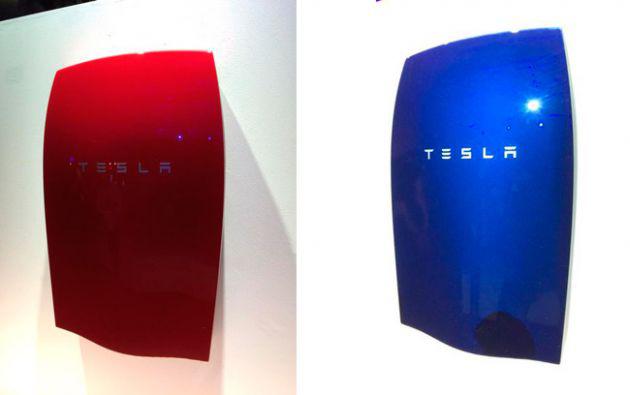 Tesla Gigafactory: Lithium Supply Threatened by Scandal in Chile.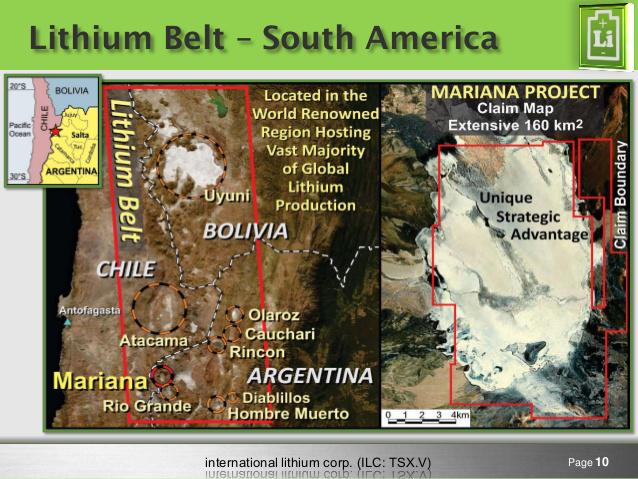 Finally the news about the geopolitics of lithium supply and SQM are getting out. The security of Lithium supply becomes crucial for the exponential growth of EVs and Solar Energy Storage. You can find more information on my blog about the shortages coming to the very tight lithium market even before Tesla's Gigafactory is coming on-line. Ganfeng Lithium finances the development of International Lithium J/V projects in Argentina and Ireland and holds the strategic stake in our company. Read more.
International Lithium and Ganfeng: China's Lithium Battery Market to Quadruple to $8.7 Billion in 2025.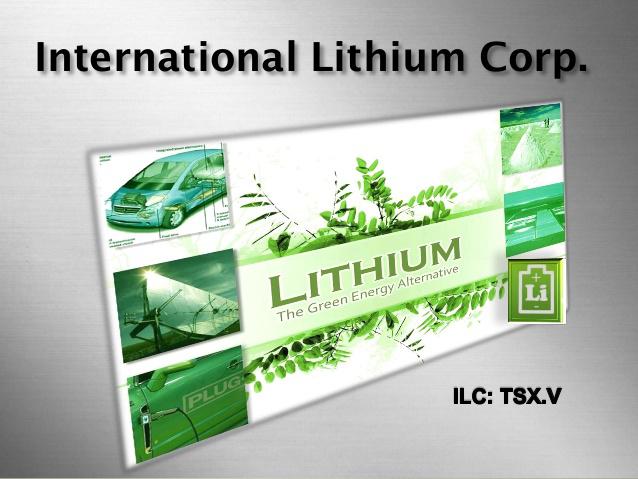 This is where we are going: International Lithium is building the supply chain for Ganfeng Lithium and is part of this vertically integrated lithium battery business in China. Ganfeng Lithium finances J/V projects with International Lithium in Ireland and Argentina and we have the very encouraging news coming out. Western Lithium has taken out Lithium Americas with Cauchari lithium brine project and as you can see on the map below we have just a very few Salars left without ownership by major lithium player. Read more.
Fortune:
Tesla's CTO envisions a future in which low cost batteries change everything
"THE COST OF LITHIUM-ION BATTERIES WILL QUICKLY PLUMMET, AND THAT WILL TRANSFORM TRANSPORTATION AND ELECTRICITY USE, SAYS JB STRAUBEL.
Tesla's CTO JB Straubel predicts that low cost batteries will transform transportation and access to electricity over the next decade. In a wide ranging talk at a solar conference in San Francisco Monday night, Straubel described a future in which all vehicles (other than planes and rockets) are powered by batteries, and new electricity systems are built with solar panels combined with batteries.
While less prominent than Tesla's high profile CEO Elon Musk, Straubel is considered one of the company's co-founders and is a key inventor of the company's battery pack technology. Straubel is also one of the core executives working on Tesla's massive battery factory, which is under construction outside Reno and is supposed to produce enough batteries for 500,000 electric cars annually by 2020.
While the cost of lithium-ion batteries has dropped in recent years, Straubel said that the price will continue to decline dramatically - and he thinks it will happen much more quickly than most people think. These batteries are just at the beginning, or at "the cliff," of even lower prices, said Straubel.
When it becomes cheaper to drive on battery energy than it is to drive on gasoline, electric vehicles will dominate world transportation, predicted Straubel. Likewise, he said, when the combination of batteries and solar panels become cheap enough to provide electricity for less than the cost of fossil fuel power, solar energy will become the low cost choice.
"Once we get to that there is no going back. That's the tipping point that's going to happen, I am quite certain, over the next 10 years," said Straubel.
Straubel has long proclaimed much more aggressive declines in cost for lithium ion batteries than most executives have in the consumer electronics, auto and energy industries. When Straubel first met Musk, he was busy trying to build a lithium-ion battery pack for a car that could last 1,000 miles.
Over a decade after Musk and Straubel's first meeting, Tesla is now far closer to that goal as well as the duo's over arching vision of transforming the way energy is generated and consumed. In April, after close to five years of research and testing, Tesla launched a new division focused on building batteries for the power grid and buildings, which the company calls "Tesla Energy."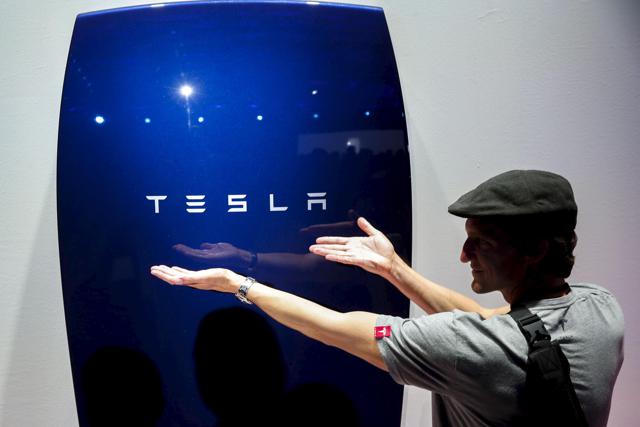 Attendees take pictures of the new Tesla Energy Powerwall Home Battery during an event at Tesla Motors in Hawthorne, California April 30, 2015. Tesla Motors Inc unveiled Tesla Energy - a suite of batteries for homes, businesses and utilities - a highly-anticipated plan to expand its business beyond electric vehicles. REUTERS/Patrick T. Fallon - RTX1B28QPhotograph by Patrick Fallon - Reuters
In the months since the launch of the new products, the demand for Tesla batteries by utilities and businesses has been massive, according to Musk. During his talk at the solar conference, Straubel called Tesla Energy a "turning point" for what Tesla represents and the products that Tesla will sell.
But launching the division was a natural evolution for Tesla, from Straubel's perspective. With just roughly 60,000 battery-filled cars on the roads, Tesla already has 5 gigawatt hours worth of batteries deployed and connecting to the power grid when the cars charge, said Staubel.
If that doesn't sounds like a lot, that's already far more than all of the batteries that are currently connected to the power grid providing storage for utilities, businesses and homes, Straubel pointed out. For comparison's sake, Tesla recently disclosed a large dealwith startup Advanced Microgrid Solutions to deploy 500 megawatt hours of batteries that would be the equivalent of installing tens of thousands of its Powerwall home batteries (1,000 megawatts equal 1 gigawatt).
Eventually if and when Tesla TSLA 1.33% has 1 million cars on the roads, the company will have 70 gigawatt hours of energy storage out there plugging into the power grid. The energy charging and discharging of those cars would be about 10 gigawatts of charging that could be controlled using software, said Straubel.
Clearly Tesla's appetite for buying and making batteries is already very large and will get even larger. To make its cars, Tesla is already buying 3 to 4 gigawatt hours per year of batteries, which is about 10% of the world's entire lithium ion battery market, said Straubel. By the end of the decade, Tesla's demand for making or buying batteries will be ten times that, at close to 35 gigawatt hours per year.
Straubel made the remarks at one of the largest conferences in the U.S. for executives in the solar industry called Intersolar North America. The event will see 18,000 visitors walking the halls of the Moscone Center in San Francisco, checking out the latest energy trends and products."
Disclosure: I am/we are long ILHMF, TRRXF.