Lithium Race: Nissan Leaf With 500 km Range Will Bring Mass Market For Electric Cars.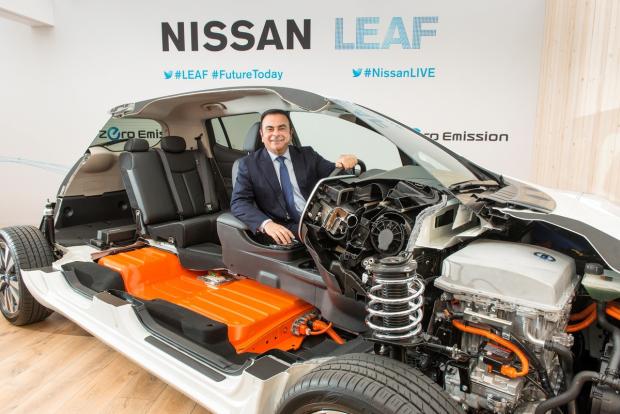 Carlos Ghosn is still not talking in details about Nissan Leaf 500 km range project, but discussion leads to the obvious tipping point for mass market for electric cars - to the extended range on one charge. Coming Tesla Model 3 and GM Bolt are hitting up competition and Nissan is moving forward as well. My previous entry reflects the dramatic achievements in the lithium battery technology Nissan is undertaking now with LG Chem.
Mass Market For Electric Cars: 3M And LG Chem Sign NCM Patent Deal for 500 km Battery.
Cheaper and better batteries will bring us the mass market for electric cars. Tesla Gigafactory is already well known to the public, but it is not the only one building our electric future now. LG Chem, Boston Power, BYD and Foxconn are building their own Megafactories to produce mass volume lithium batteries. You can find a lot of information about the major lithium battery makers and the state of lithium market on the links below.
Mass Market For Electric Cars: Video With Nissan's 544-km Long-Range LEAF.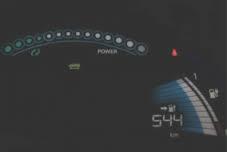 We are getting there and mass market for electric cars is now closer by the day. Megafactories with mass-volume production of lithium batteries will bring battery cost down. It is the great news that not only Tesla Model 3 will be driving us into the electric future, but Nissan and GM are trying to keep on this race track as well. Transport Evolved provides the great report on this development.
International Lithium is working with Ganfeng Lithium to advance our J/V projects in Ireland and Argentina and secure the supply chain for this electric rEVolution. Time of "Lithium Big 3" has come and gone, latest developments around SQM are just another confirmation of this trend. Vertically integrated lithium battery business will the future.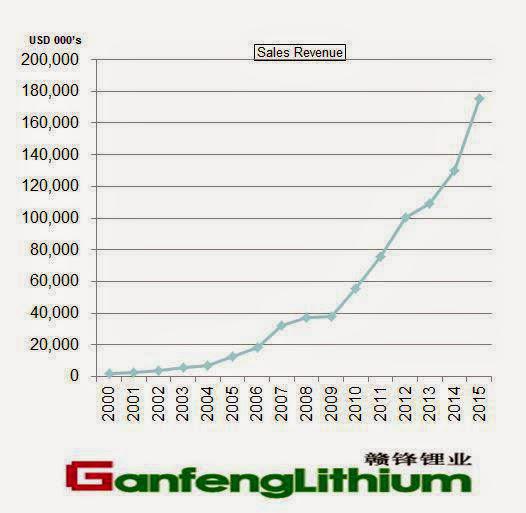 How to achieve the explosive growth like International Lithium's strategic partner Ganfeng Lithium? You need to have the largest auto-market in the world, "War on Pollution" and state-level support for the new strategic industry - electric cars. After Tesla Gigafactory, LG Chem, BYD, Foxconn, Boston Power and A123 are building their own Megafactories. New automakers, like Guanzhou Auto in China are moving now into electric space with announcements almost every month. International Lithium is building strategic supply chain for Ganfeng Lithium, our J/V in Ireland and Argentina are financed by Ganfeng and now we are receiving results.
Tesla Gigafactories: Is There Enough Lithium to Maintain the Growth of the Lithium-Ion Battery Market?
Elon Musk talks about "hundreds of Gigafactories to come" and other lithium batteries players are building their own Megafactories today. Tam Hunt brings the hot industry subject to the headlines. The short answer is: Yes, we have enough Lithium potentially in the world for electrification of all our transportation. But in order to get it as the raw material ready to be used we have to invest hundreds of millions of dollars and years to build this supply chain. The security of supply of lithium is taking the central stage for the main battery grade lithium producers.
The drama is that the demand is coming when junior miners are cut off the capital they need to develop the new projects. That is why International Lithium is very well positioned to participate in this trend with the financing of our lithium J/V projects by Chinese giant Ganfeng Lithium. Lithium supply issues are hitting headlines now and our results are coming from our exploration programs these days. You can find more information from lithium industry insiders on the supply issues on this blog.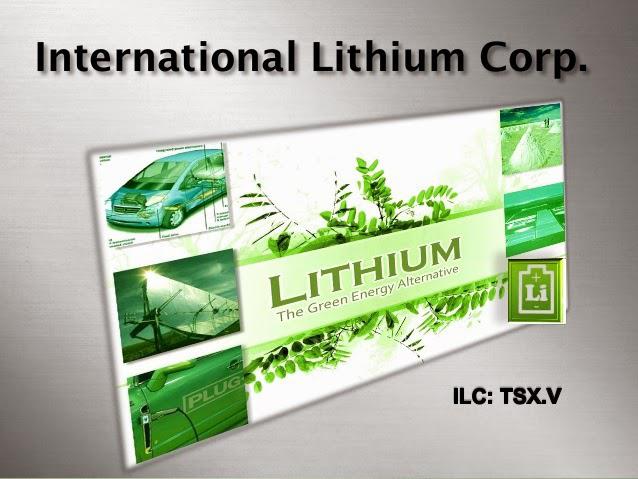 "Mr. Kirill Klip, President, International Lithium Corp. comments, "We are very excited with the ability to continue to advance our projects to the next level through our partnership with Ganfeng Lithium. Recent announcements, by General Motors regarding the commencement of production of the battery-electric Bolt and Tesla with the ongoing construction of the Gigafactory and launch of the Model X, are strong indicators that the electric car is not only here to stay, but is the way of the future. As a result lithium will be a key ingredient in our daily lives and ILC will be ready to meet the demand for this raw and critical material."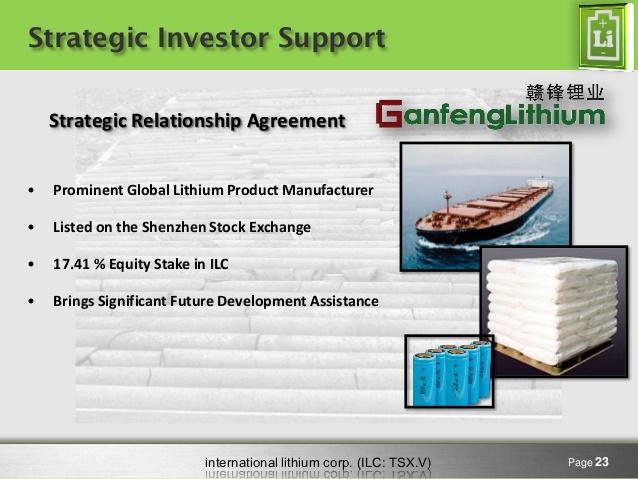 "Mr. Kirill Klip, President, International Lithium Corp. comments, "We are excited to begin another round of drilling at Avalonia in Ireland. Ganfeng Lithium - the leading lithium materials producer from China is financing the development of our JV projects in Ireland and Argentina. There is strong growth in the lithium industry right now. We are taking the necessary steps to meet the increased demand and source the raw materials required for our partner's lithium products and create a supply chain to ultimately achieve the goal of building a vertically integrated lithium business."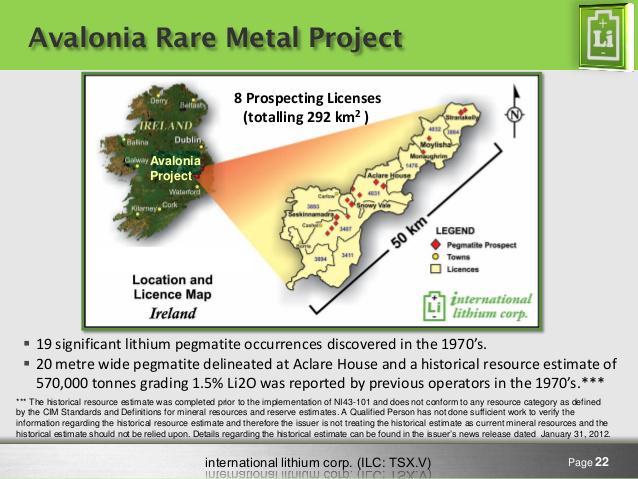 "Mr. Kirill Klip, President, International Lithium Corp. comments, " We are very pleased to begin another round of exploration on the Mariana lithium-potash brine project in Argentina. The project is wholly owned together with our strategic partner, Ganfeng Lithium. Our project is unique to other lithium brine projects in many ways. Firstly, our joint venture owns the mineral rights to the entire Salar de Llullaillaco, which has high potassium to lithium ratio; therefore it may provide a significant credit to the cost of lithium extraction. Secondly, our strategic partner possesses the technology and facilities to analyze the brine chemistry and develop a metallurgical extraction process. Our current program will provide us with enough information to design and plan the next phase of exploration and development as we move toward conducting feasibility studies.
The concurrent exploration programs on the Mariana and Avalonia properties demonstrate we have not deviated from our original plan to produce lithium from multiple sources and deposit types. The lithium industry is heating up right now and our diversified portfolio and partnership with Ganfeng Lithium give us a strong foundation to build upon. I am excited to see things moving ahead and look forward to reporting the results of our programs to our investors in the near future."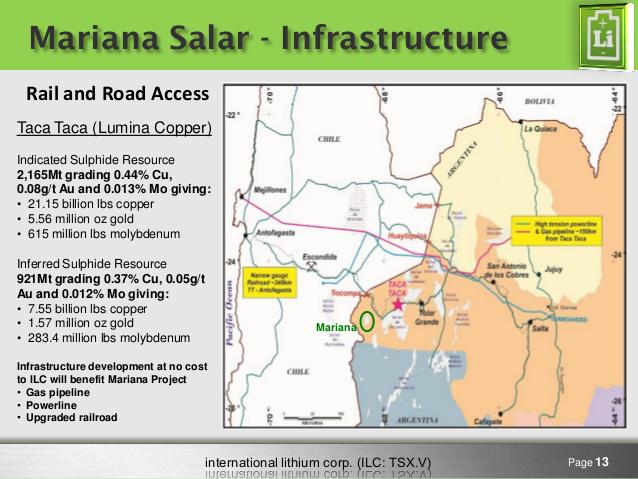 International Lithium Corp. Updates on Drilling Programs in Argentina and Ireland.
"Mr. Kirill Klip, President, International Lithium Corp. comments, "We are highly encouraged by what we are learning about the thick brine aquifers at Mariana. We look forward to completing the pump test which will give us a sense of the potential productivity of wells in these aquifers and we are confident that our plan to acquire these key preliminary hydrological results prior to a mineral resource estimation is both an expeditious and cost effective approach toward an initial production assessment."
Gary Schellenberg, CEO and Executive Chairman, notes that "Success in the initial drilling program by intersecting pegmatites under cover confirms the exploration strategy and methods we are applying in the Avalonia project. This gives us confidence as we move ahead with plans to test both new and historical targets we are developing along the lithium belt."
International Lithium And Ganfeng Lithium: "The End Of The Lithium 'Big 3'.
"Joe Lowry has published a very interesting article about the lithium market, major producers and rising Chinese powerhouses in lithium industry. You can find now more details on International Lithium strategic partner Ganfeng Lithium. Apple Electric iCar and Warren Buffet BYD move into energy storage to chase Elon Musk with his Tesla Gigafactory bring Lithium back onto the radar screens of investors now. Read more."
InsideEVs:
Renault-Nissan CEO Carlos Ghosn Discusses Nissan's Goal Of Eliminating Range Anxiety By Increasing EV Range
Nissan has made us aware of Renault-Nissan CEO Carlos Ghosn's latest LinkedIn Influencer post. The post is reproduced in its entirety below. We've bolded a few key sections that are likely of most interest to you, our readers.
(July 6, 2015) - In his latest LinkedIn Influencer post, Renault-Nissan Alliance CEO Carlos Ghosn points to encouraging figures for electric vehicles, including the sale of the Alliance's 250,000th EV in early June. Find out why Ghosn believes the EV is establishing itself as the most practical transportation alternative to climate change.

Ghosn:
There's been more good news lately about electric vehicles:

The Renault-Nissan Alliance in June sold its 250,000th EV: a white Renault ZOE sedan purchased by an engineer in Bordeaux, France.
The Alliance's global EV sales were up 15 percent through May, compared with the first five months of 2014. This is despite lower fuel prices in much of the world.
Nissan is joining with a startup company to make EVs even more sustainable, as companies begin to seize the opportunity to reuse EV batteries to lower their building energy costs.
We're seeing enthusiasm, especially among younger fans, for Formula E, the new racing series for all-electric cars.
More automakers are bringing new EVs to market, creating more competition, which is good for the market and good for motorists!


I don't see other automakers as competitors when it comes to zero-emissions vehicles. They're allies. And it is great to see the number of "Alliance allies" growing, as other automakers introduce more affordable EVs to compete with the segment-leading Nissan LEAF.

We reached the 250,000-unit milestone in early June, four-and-a-half years after the LEAF was introduced as the world's first mass-market, zero-emission vehicle. The Alliance today accounts for half of all EVs sold worldwide, and the LEAF remains the best-selling EV ever, with more than 180,000 units sold.

From the start, we set lofty goals for the LEAF. While we fell short of our initial sales targets, I remain bullish on the future of EVs as they move into the mainstream. The trend globally to impose tougher restrictions on automotive CO2 emissions, to mitigate the impact of climate change, means eventually all automakers will need to offer zero-emissions alternatives in their fleets. The most practical alternative today is the EV.

We also are seeing demand grow quickly in places where businesses and governments are joining to expand the charging infrastructure, and as more motorists get the chance to experience an EV.

In fact, computer engineer Yves Nivelle, who bought our 250,000th EV, was spurred in part by an incentive in France that encourages owners of older diesel-engine vehicles to trade them in on a new EV.

"I have to say, I was convinced the first time I drove the car," said Nivelle. "It's a real pleasure to drive and it feels good to do my part for the environment."

That sort of enthusiasm is quite common among our EV owners. Our EVs enjoy among the highest levels of customer satisfaction that we have seen for any vehicle. Operating costs are low, they require less maintenance, and they are fun to drive.

In other recent news, companies are forming to take advantage of re-packaging used EV batteries for other uses. Nissan recently announced it is teaming up with Green Charge Networks, an energy start-up, to reuse LEAF batteries to store energy for commercial and industrial buildings.

After many years of service, car batteries eventually need to be replaced. But they still retain enough charge for lighter chores.

When electricity rates are highest, in the middle of the day, a corporate customer can switch its energy use from the power grid to these re-packaged batteries. Or, even better, it can use the batteries to store unused energy from rooftop solar panels. Some homeowners already are doing this by connecting their solar panels to their EVs, to store the energy in the car's batteries for later use.

Companies including UPS, 7-Eleven and Walgreens are among those that have signed on with Green Charge Networks.

Getting as much life out of the batteries just makes sense for the environment. Now it's generating an economic opportunity, too.

Battery technology continues to improve, as well. In fact, the day is nearing when the typical EV motorists will be able to leave home with a full charge, go about their daily routine, and return home with ample charge remaining in their Nissan LEAF or Renault ZOE.

Later this year, you will hear more about our initial steps to increase the range of our EVs. Our goal is to eliminate "range anxiety" for our customers, as we continue our effort to make zero-emission vehicle a mainstream choice.

Finally, I wanted to share with you my enthusiasm for FIA Formula E, the new racing series that uses all-electric, solar-powered cars. I'm proud to note e.dams-Renault took the team championship in London's Battersea Park last month.

As with other racing series in which manufacturers are involved, the lessons learned on the track eventually benefit the cars we drive every day. We expect that will be no different with Formula E. I'm also encouraged by the fact that so many of Formula E's fans are young, which bodes well for the future of EVs.

A decade ago, many people thought electric cars would never make it, that they were slow, bulky and unattractive - more like a golf cart. That's obviously changed. And with Formula E, we now see that EVs can also be sleek, fast and powerful - while still being good for the environment.

The transformation in thinking about electric cars is complete. EVs are clearly becoming a mainstream choice."
Disclosure: I am/we are long TRRXF, ILHMF.