Boom: China SGE Gold Withdrawals An Enormous 1464 Tonnes So Far This Year.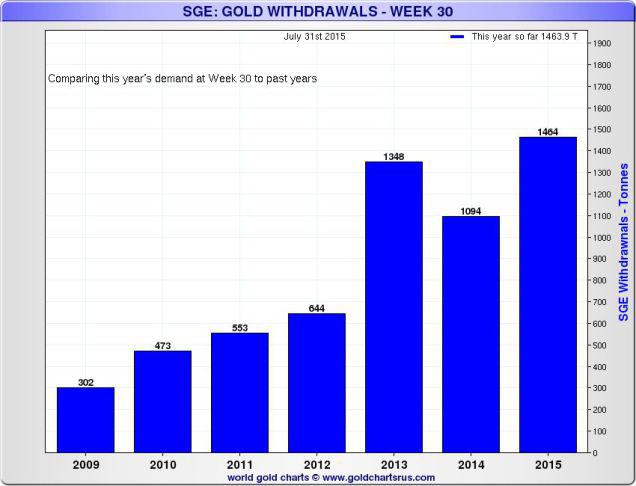 This is why it is so important to keep the big picture in front of you. Whatever Bubble TV is telling you by the minute people with money will define the destiny of each market. Now these people are buying Gold in enormous quantity enjoying the lower prices once they are out of margin calls in China.
Is China Moving Toward a Gold Standard? Peter Schiff on the Chinese Market Crash.
"Just like most of the products Americans buy are made in China, most of the economic problems the Chinese have are made in America," says investment guru and radio host Peter Schiff, CEO of Euro Pacific Capital. "The Chinese have decided to peg their currency to the dollar and so they have imported our monetary policy."
But as Schiff explained to Reason's Matt Welch, that may be changing. China's recent market woes may force China to change its monetary policy and Schiff believes the Chinese government is laying the groundwork to back its currency by gold.
"Quietly they have been increasing thier ownership of gold," says Schiff. "They want to untether their currency from the dollar but they don't want it to be backed by nothing."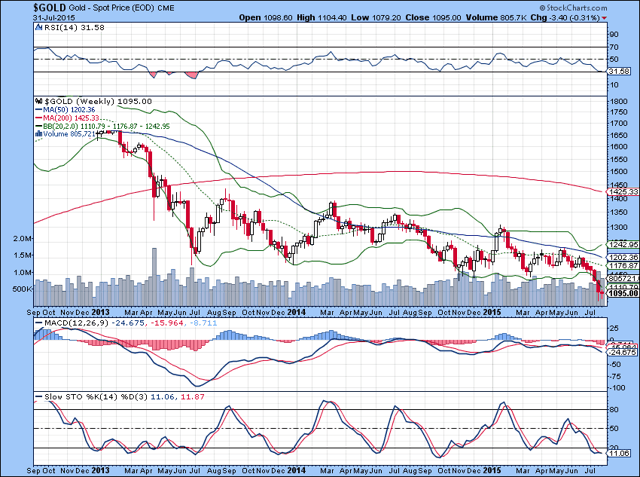 Nobody loves Gold any more. We have headlines about gold going down to $800 or even $350. Even I myself find it almost embarrassing to write about gold any more. We must be making the real bottom now. Actually chart above is confirming it after my previous observation. We have retested the Low on daily and now on weekly we have the very nice potential reversal in the making. Read more.
FED's Mission Impossible: "Gold Is Dead And Nobody Loves It Any More."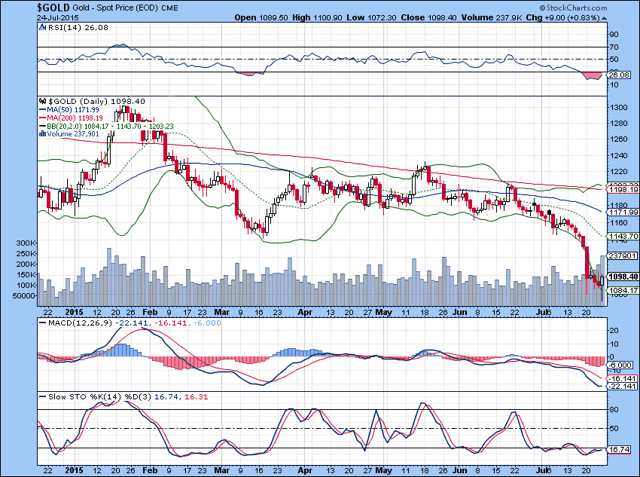 Some Central Bankers in the world were popping champagne last week on the FED's Mission Accomplished and "the total meltdown of Gold". Some other Central Banks were just buying more of it. Who will be right - nobody knows for sure, but I like the sentiment. Hedge Funds are Net Short Gold for the first time, "China has announced much lower reserves than expected" and I personally tired even to think about the "barbaric relict" which is going to zero. Before I make my best trade shorting Gold into the dust I would like to throw some charts and links for Lithium induced meditation.
First chart above actually shows a wash out capitulation and Buy signal on Volume and Candles, all indicators are positive for reversal. Dan Popescu @PopescuCo has published few very interesting charts below and HedgehogTrader @HedgehogTrader has exceeded his monthly limits of tweets about the yellow metal on Friday. In case if rumours about Gold's Death are exaggerated, TNR Gold's "Vault" is still secured in Alaska and guarded by bears waiting for its time to come.
NOVAGOLD Reports Excellent Progress in Permitting Donlin Gold In Alaska.
NOVAGOLD reports about the progress with permitting Donlin Gold and technical studies on Galore Creek. TNR Gold is developing Shotgun Gold project in Alaska and is looking for strategic partners to advance it.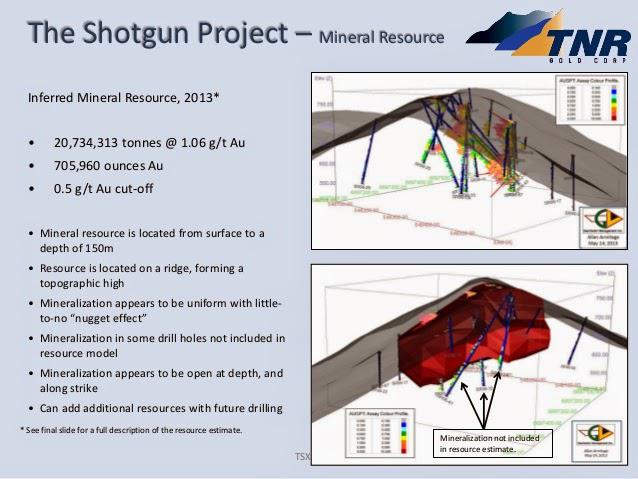 TNR Gold: Shotgun Gold Project Development in Alaska.
"Nova Gold has published its new presentation for PDAC 2015. Now you can find more information about Alaska as mining jurisdiction and Donlin Gold type of Gold deposit. TNR Gold owns 100% of Shotgun Gold project in Alaska, which has very similar geology to Donlin Gold, according to Greg Johnson - one of the founders of Nova Gold. Read more."
Lawrie Gold:
SGE Gold Withdrawals An Enormous 1464 Tonnes So Far This Year.
While physical gold withdrawals from the Shanghai Gold Exchange (SGE) in the latest reported week were lower than the massive 72 tonnes a week earlier at 53 tonnes it remains high for the time of year. But the key to what has been happening with Chinese demand as represented by SGE withdrawals is where the total for the year to end-July stands compared with previous years.
Looking at this metric we can see from the chart below that SGE withdrawals this year so far have totalled a massive 1,464 tonnes - which is running around 116 tonnes ahead of the huge record 2013 year at the same time and an enormous 370 tonnes ahead of the 2014 figure at the end of July when the annual total came to 2,136 tonnes. If the average monthly withdrawal level (49 tonnes a month so far) for the current year keeps up we will be looking at annual withdrawals totalling more than 2,500 tonnes for the full year - and with Chinese demand tending to be strongest in the last four months and the first two months of the year this level could indeed be a possibility.
If we compare this potential level of annual demand with the likely total of new mined gold this year, China would account for around 75% of the yearly total on its own!
These high SGE withdrawal levels do not necessarily mean that the gold price will pick up accordingly, as witness what happened in 2013 when the SGE figure hit a then record 2,186 tonnes, yet the gold price collapsed from $1681.50 at the beginning of the year to $1201.50 by the year end. However what we are seeing are continuing huge gold flows from West to East (Indian gold imports too are predicted to hit over 1,000 tonnes again this year) which will continue to run down gold inventories in the West, where the price tends to be set. At some stage any loosely held Western physical gold holdings will be depleted to the extent that the low levels will almost certainly have a positive impact on the gold price - although by that time it may well be China which is setting the price anyway."
Disclosure: I am/we are long ILHMF, TRRXF.