Lithium Battery Storage Market: Tesla Energy Already Has 100,000 Orders, Worth Some $1 Billion.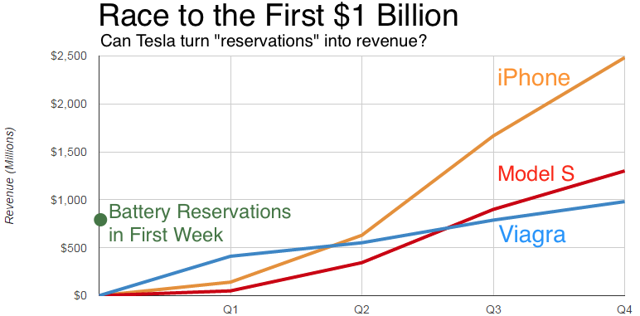 This incredible chart needs to be updated already now! Explosive growth in Solar will drive Lithium Battery Storage market and cheaper lithium batteries change everything. Now Solar can work 24/7 powering your house and charging your electric car. Investors are paying attention and looking upstream in the supply chain for this rEVolution. Lithium Battery space and Lithium Market are already controlled by just a few major players and a lot of surprises are waiting for the investment public. Lithium is the magic metal at the very heart of this rEVolution and supply is already under strain even before Tesla Gigafactory and other Megafactories are coming on-line.
Lithium Race In "War On Pollution": Investors Swarming Lithium Battery Market In China.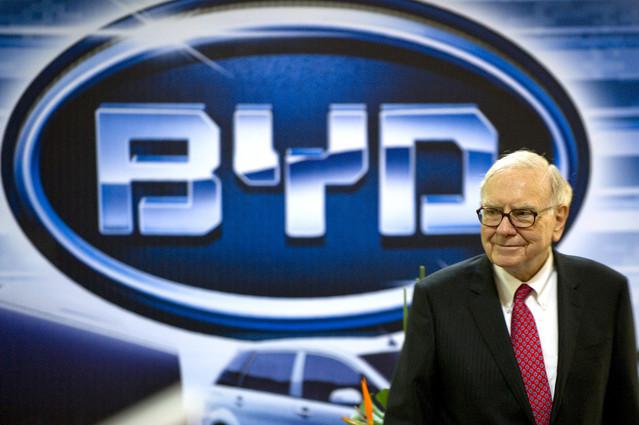 I continue to map the fast changing landscape for Lithium Battery business. Today we can start to add more Megafactories to the list. Tesla Gigafactory is being chased not only by Warren Buffet with BYD, but other well established players that we have discussed before: LG Chem, Foxconn, Boston Power and A123. Today we can start to dig out 17 new players in lithium battery space. I think that in the end we will have very similar situation to the Solar Panels - lithium batteries will become a commodity and price will drop dramatically. For my personal Holy Grail we need $100 per kWh - it will bring us my magic 20/200: $20k electric car with 200 miles range.
In the end we will have the overcapacity built and consolidation in the lithium battery space, but for now: the more - the better! State-level government policy to build new strategic industry: electric cars, brings its fruits already and new stimulus money which are fighting stock market collapse are sipping in the incredibly high growth lithium space.
The best players will be rising faster with this tide and Ganfeng Lithium is very well positioned for this growth. Ganfeng is building vertically integrated lithium business with International Lithium as strategic partner to develop the secure supply of lithium. Ganfeng newly built facility with 6,000 t/y of Lithium Hydroxide capacity is ready to supply this rapidly growing demand for high purity battery grade lithium. China now controls 75% of Lithium Hydroxide battery grade production facilities in the world. Prices are already going up even before all these Gigafactories will be coming on-line. Joe Lowry will be your best guide into the building shortages in the lithium market and a lot of broken dreams and promises in this industry. He forecasts the dramatic 150% rise in Lithium Demand over next 10 years and Apple Electric iCar is not even accounted for!
Ganfeng has bought a small Chinese mobile lithium battery maker last year and has secured 10% stake in revamped Boston Power, which is building its own Megafactory in China now. Check out our latest news from both J/V projects of International Lithium financed by Ganfeng in Argentina and Ireland.
"War on Pollution" and state-level plan are driving this incredible advance in technological leap into post carbon world by China now. Leapfrog into EV space mass production is happening already. Not a lot of people realise that Warren Buffet is one of the major players now in China with his BYD investment and Elon Musk talks Tesla production in China while building Superchargers Network. It will charge the mass market with Tesla Model 3 rolling out in 2018. Apple iCar will change our landscape overnight and connection with Foxconn can be a very interesting twist to the whole story. Ganfeng Lithium already supplies LG Chem, BYD, Boston Power and Panasonic which supplies cells to Tesla Motors and investing in Tesla Gigafactory. International Lithium new aggressive stage of development will bring us closer to potential production for this well established top lithium materials producer in the world.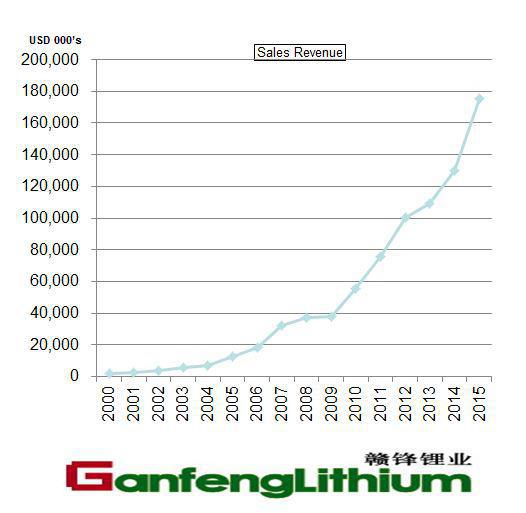 Joe Lowry - Lithium Supply & Demand: Origins, Growth and Investment.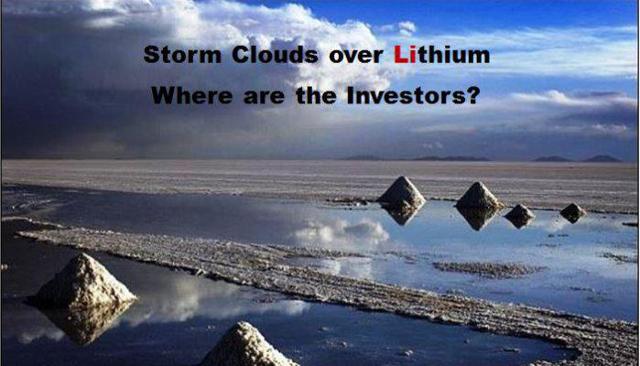 Joe Lowry has published another brilliant piece on the state of lithium industry, exploding demand and very sober outlook for the supply side. Joe brings more than twenty years of deep inside technical knowledge in this very opaque market place and knows almost all major lithium producers by "kicking all the tires" of their field operations. Lithium race is upon us and President Obama opens the new chapter for the sustainable clean economy. Where lithium will come from?
International Lithium Corp. Reports on Continuing Work in Argentina and Ireland With Ganfeng Lithium.
Mr. Kirill Klip, President, International Lithium Corp. comments, "Our projects are advancing in tandem with rising lithium prices. The lithium supply chain is being stressed even before the commissioning of the Tesla Gigafactory and other megafactories from BYD, Foxconn, Boston Power and LG Chem. Our joint ventures with Ganfeng Lithium demonstrate that cooperation between companies with varying expertise in the raw materials supply chain can work to secure a supply of strategic commodities. In this case, lithium which is necessary for the clean energy initiatives announced by the U.S. and China. These two countries alone will provide mass markets for electric cars and home energy storage units increasing the demand for lithium batteries."
InsideEVs:
Tesla Energy Has 100,000 Orders For Battery Energy Storage System
"Tesla Motors CEO Elon Musk and CTO JB Straubel announced that the number of reservation for Tesla Energy products stands at around 100,000, worth some $1 billion.
Tesla Energy products include small Powerwalls (7 or 10 kWh modules) and larger Powerpacks (100 kWh modules).
Initially, 80% of the reservations were for Powerpacks, but surprisingly higher demand for home Powerwalls has changed the proportion to 70%/30%. We believe that the split between Powerpacks and Powerwalls is counted on a kWh basis, not on the number of reservations.
The single largest reservation for Powerpacks is 250 units

(25 MWh).
Small production has already begun in Fremont, CA, but Tesla Energy's main production site will be at the Gigafactory in Nevada. By the end of this year, the company

intends to install a production line

and begin production in Q1 2016.
It seems that Tesla Energy is sold out through the end of 2016. In the fourth quarter, Tesla expects $40-45 million of revenues at gross margins of maybe 15%. Next year, quarterly revenues could be 10-times higher, reaching a few billion annually"
Disclosure: I am/we are long TRRXF, ILHMF.