Tesla Motors: Our Mission - To Make All Cars Electric. Tesla Model 3: Third Time's A Charge.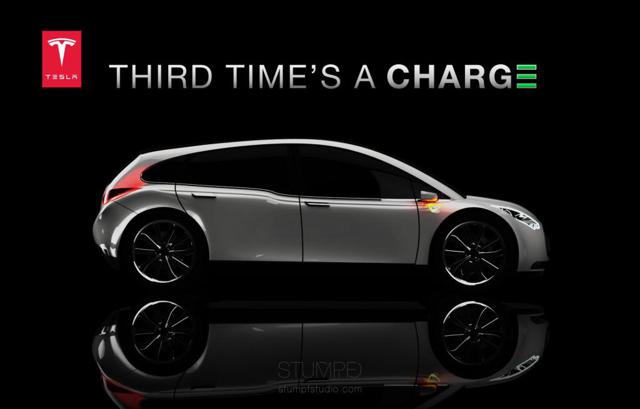 Elon Musk is charging into the mass market for electric cars with its Tesla Model 3. Are you still wondering why all cars will be electric? Tesla Motors CTO JB Straubel has made his best video explaining it all in depth: Tesla's History, Lithium Technology and Tesla Energy to bring the Sun, Wind and other renewables to power our rEVolution. Tesla was created not just to produce the very expensive luxury best cars in the world which happen to be electric. It has the mission to make it possible for all cars to be electric. Today I would like to introduce Tesla Model 3 which will bring us the mass market in electric cars properly. Enjoy!
And if you would like to know more where the lithium will come from to power all this rEVolution and disruption of the few Trillion dollar industries, be my guest on my blog and the links below. Lithium technology has made it possible to store electricity - the most efficient form of energy known to us. Now lithium batteries will become cheaper and it changes everything.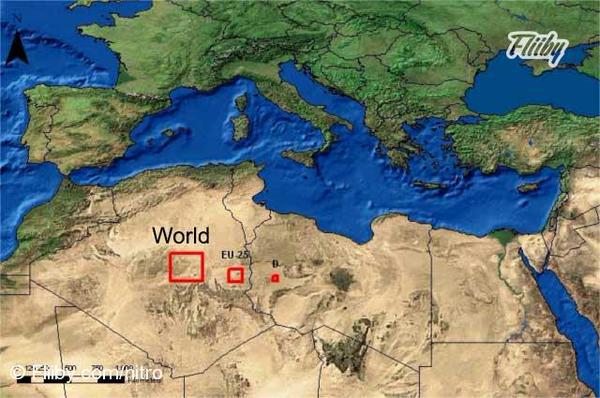 Petrol and Diesel are fuels and they are consumed every time in Internal Combustion Engines (NYSE:ICE) with very low efficiency and very dangerous carcinogenic air pollution as a result. In contrast, Lithium battery is the technology providing ability to store energy very efficiently, which is produced somewhere else on the industrial scale with very high efficiency and from renewable sources as the ultimate goal. On the map above you can see the future - this is how much space we need to power all the World by Solar Power with available technology today! It brings us the ability to create the Real Energy Security with distributed Solar and Wind energy systems. Tesla Energy makes it possible now. Some people just prefer you not to think about it.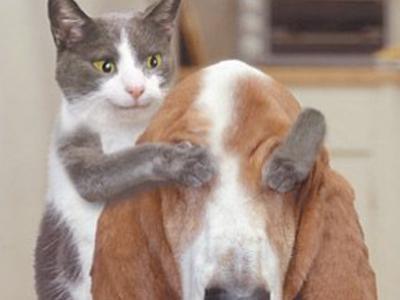 With Oil we have always dirty politicians and Fracking lobbyists from big old corporations drafting policies for us and our kids to bring democracy to the countries which happen to have a lot of Oil. Fossils are not only Fuels. It is time for a real change now. With Lithium Technology we have the Silicon Valley economics at work. If you put brilliant minds, technology, science and capital together wonderful things are happening. We all enjoy these products today.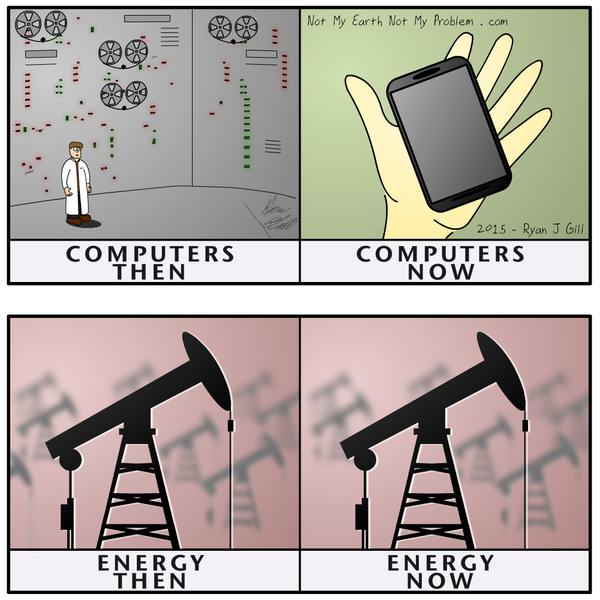 Now it is time for Energy Sector. All prices for Wind, Solar and Lithium batteries are going down every year in contrast to the very volatile Oil prices and all other costs accounted in relation to it including never ending wars just to control the Energy Supply. Now we have the choice, nobody can stop it any more. "They" will try everything to delay it, but its now in the Other Realm. The Force of science, natural thermodynamics laws and economics make it unstoppable. It is for you to choose it for your kids.
We are Legion, donate your RT - all together we can make it faster.
Lithium Race: Tesla's JB Straubel - Most People At Tesla Now Working On Model 3.
"I would like to share today another great presentation from Tesla CTO JB Straubel presented by InsideEVs. In the very beginning of his talk you can see the great video from Tesla Motors about the company and even robots building electric cars in action! The future is here and it is electric. Cheaper lithium batteries change everything for Electric Cars and Solar power. Lithium is the magic metal at the very heart of this rEVolution. Watch the video"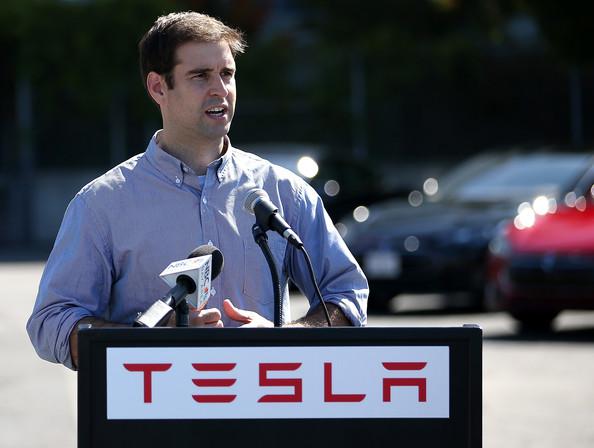 International Lithium's Search for Green Metals.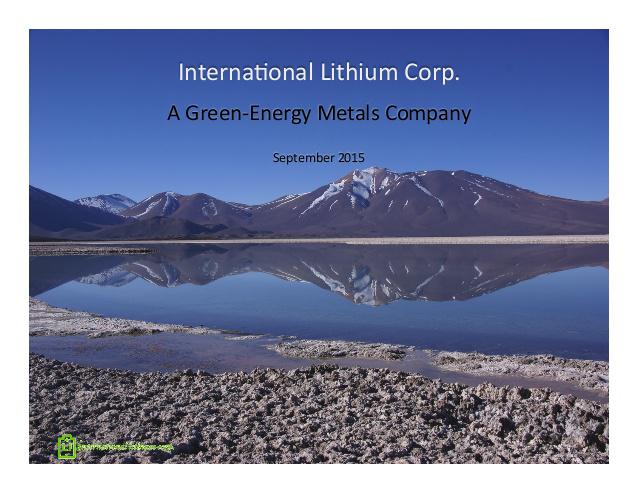 "It is time to talk about the people behind the scenes of rEVolution, who are working very hard to make the Green healthy future for your kids possible with the development of Clean Power and Lithium Technology at its foundation. Our CEO Gary Schellenberg has assembled unique and very deep technical team at ILC. I would like to start today with John Harrop - VP of Exploration of International Lithium Corp. He has picked all our projects on the three continents at the very dawn of the Lithium Race in 2008, now two of them have become J/Vs and financed by the giant from China Ganfeng Lithium, which is Strategic Partner of International Lithium and is holding 17.5% stake in ILC.
Apart from ILC John Harrop is VP of Exploration of our Precious and Energy Metals Royalty Holding Company TNR Gold and he has developed Shotgun Gold project in Alaska into almost 1 MOZ of Gold inferred resource project, waiting now for its turn to grow with the new strategic partner.
Now John is running our both exploration programs with Ganfeng Lithium in Ireland and Argentina with our COO Anthony Kovacs and preparing our Mavis Lake Lithium and Tantalum project for the new strategic partnership to take ILC to the next level. You can find his technical articles on the web and today I will present his latest thoughts about Green Metals. Read more."
International Lithium Corp. - A Green-Energy Metals Company.
Tesla CTO: The Biggest Challenge We Facing Today - Energy Coming From Fossil Fuels.
"JB Straubel gives this brilliant presentation and it is resonating even more today with the latest DieselGate and VolkswagenGate headlines. AutoGate is approaching very fast and FrackingGate will be next. Corporate greed fuels all those scandals and it will be unstoppable if not for the people like JB and Elon Musk. There was the challenge: how to survive without the fossil fuels? This is how Tesla Motors was started in 2003 and the rest is the history now … JB tells it all today. Now we have Lithium Technology available to us to hit the last nail for the Fossil Fuels. Will we have now enough rage to do it? Maybe you can do something as well? Watch the video."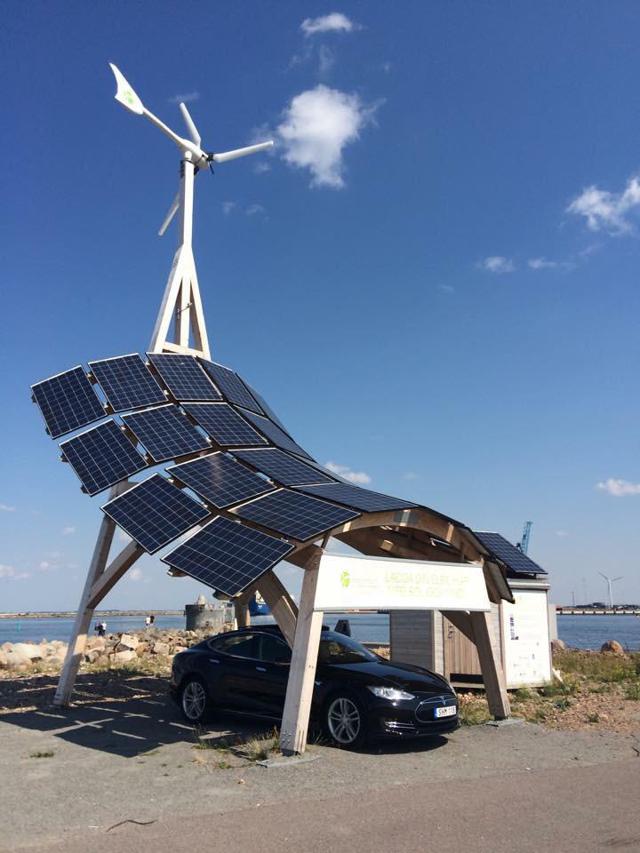 International Lithium And Ganfeng In "Top Lithium Producers."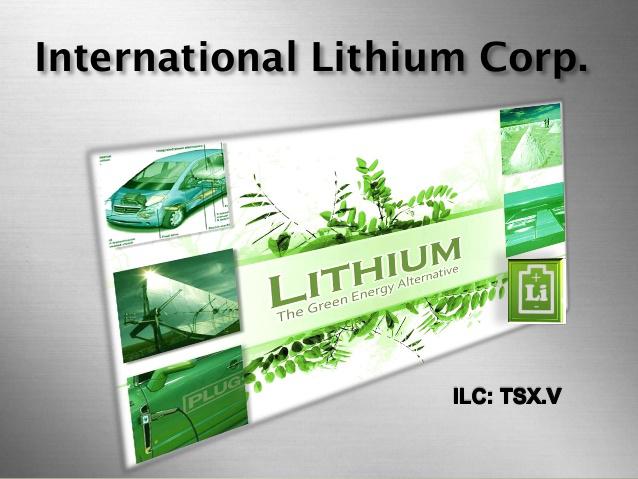 Ganfeng Lithium has enjoyed the exponential growth in the last years and has grown to the ranks of Top Lithium Producers. It supplies BYD, LG Chem and Panasonic, which supplies cells for Tesla Motors. It became the strategic partner of International Lithium and finances our two lithium J/Vs now in Argentina and Ireland. During the last Shareholder Meeting in China on September 21st Ganfeng has presented latest information on its incredible growth, market share and that security of Lithium Supply is its major concern. You can find more details on Ganfeng Lithium website.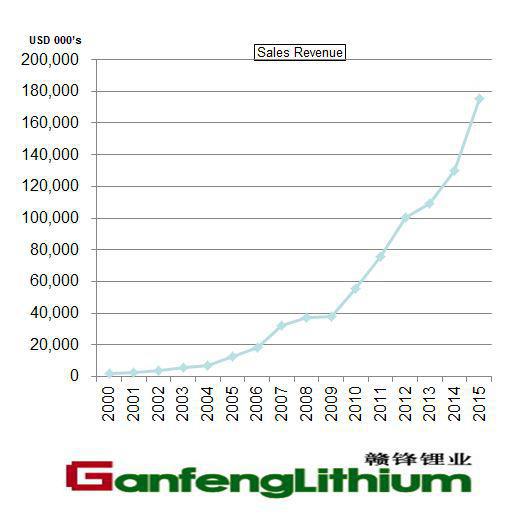 International Lithium Corp. Reports on Continuing Work in Argentina and Ireland With Ganfeng Lithium.
Mr. Kirill Klip, President, International Lithium Corp. comments, "Our projects are advancing in tandem with rising lithium prices. The lithium supply chain is being stressed even before the commissioning of the Tesla Gigafactory and other megafactories from BYD, Foxconn, Boston Power and LG Chem. Our joint ventures with Ganfeng Lithium demonstrate that cooperation between companies with varying expertise in the raw materials supply chain can work to secure a supply of strategic commodities. In this case, lithium which is necessary for the clean energy initiatives announced by the U.S. and China. These two countries alone will provide mass markets for electric cars and home energy storage units increasing the demand for lithium batteries."
ValueWalk:
Tesla Model 3 Concept Images Emerge
As Tesla readies itself for the release of the Model X, the attention of some electric car fans is already shifting to the forthcoming Model 3. Little is known about this vehicle as of yet, and the company has done little to confirm any official details. Perhaps Tesla has learned something from the release of the Model X, which was continually delayed due to technical reasons, which rather flew in the face of continual chatter from the company.
It seems with the Model 3 that Tesla is playing its cards much closer to its chest, possibly anticipating that this road vehicle could also experience significant delays. The inimitable CEO and founder of the company, Elon Musk, remains a very public figure, and has made numerous insightful statements about the future of Tesla in recent months. Yet little has emanated from the company regarding the forthcoming Model 3, except for statements confirming its existence.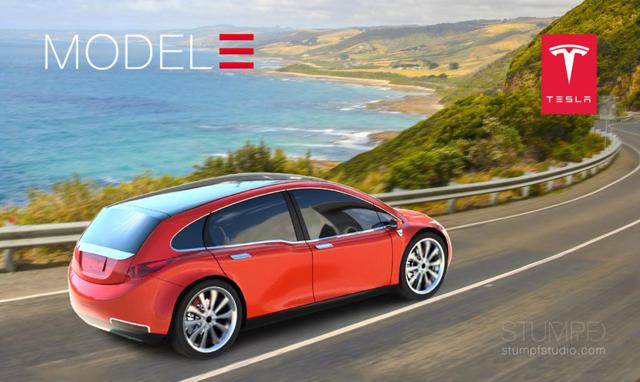 Tesla Model 3 concept images
So it's interesting that a new range of concept images have given us some idea of what the Model 3 may look like once it finally reaches the public domain.
Stumpf Studio has produced the renderings in question, which can be seen throughout this article. These build upon the previous artist impressions produced by Theophilus Chin, and envisage a Model 3 which will be something of a five-door elongated hatchback. Already the images in question have drawn comparisons to the BMW i3; not exactly an unflattering juxtaposition.
It is appropriate that the Model 3 has been compared to the BMW series, as it will clearly attempt to offer an alternative to vehicles such as the BMW 3 Series.
This is a nattier, more slimline vehicle than previous Tesla releases, with the corporation having significantly reduced the dimensions of the vehicle compared to other products from the electric car manufacturer.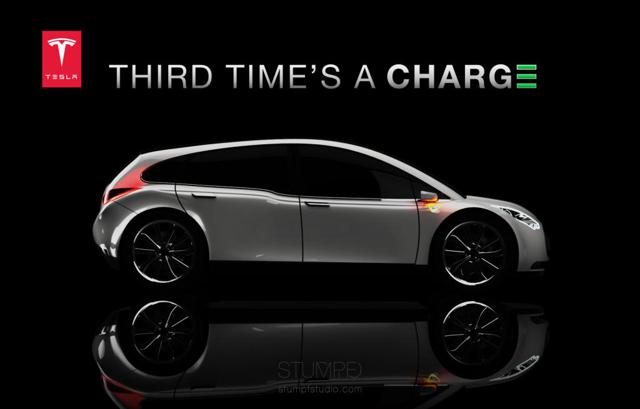 Model 3 set for March 2016 release
One morsel of information that Tesla has let slip about the Model 3 is that it is expected to be released in March 2016. Of course, one should be prepared to take this information with a massive dose of salt, as the Model X has already been delayed on numerous occasions. The demanding nature of designing, manufacturing, testing and ultimately releasing a roadworthy vehicle can lead to delays with the best will in the world, and there have been all manner of delayed releases of gas guzzling vehicles in the dim and distant past.
The Model 3 will be 20 percent smaller than the the previous Model S, while the price tag that Tesla has set for the vehicle is also expected to be significantly smaller than previous releases. The Model 3 is expected to range between $30,000 and $35,000 in price when it is released, although Tesla has declined to confirm these figures itself.
Early specifications related to the vehicle suggest that this entirely electric car will be capable of travelling between 200 and 300 miles on a single battery charge. Tesla is currently developing its battery charging facilities in order to ensure that consumers wishing to travel via electric vehicle are able to enjoy this process as conveniently as possible.
With Tesla also launching the Model X crossover in July, it is an extremely busy time for the electric car manufacturer. Tesla has already established itself as the market-leader in this niche, and despite something of a turbulent time over the last 18 months, the future now appears rosy for Tesla.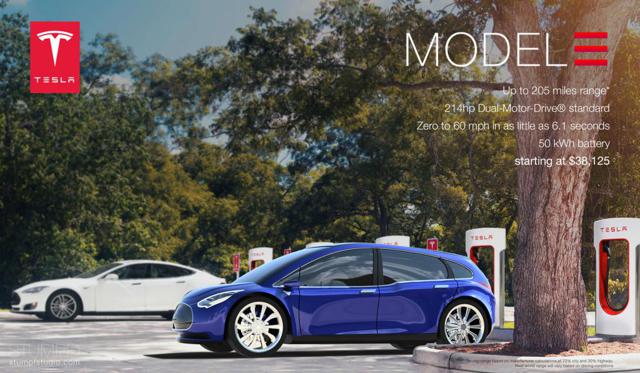 Model 3 key to Tesla future
The share price of the corporation has recently recovered significantly, after investors, analysts and the city were somewhat sceptical about its prospects just 12 months ago. With Tesla now diversifying into other related industries, it has even been recently suggested by some market observers that the share price of the company could almost double to $400 in the next 5 to 7 years.
The prospects of Tesla have also been significantly improved by continual links with the consumer electronics giant Apple. It was originally suggested that Apple may be interested in buying out Tesla, when the two corporations staged a meeting during 2014. Since then, Apple has been linked with producing in-car technology for electric vehicles, assisting Tesla with the production of batteries, and finally with manufacturing an electric vehicle of its own.
Although this could represent some form of competition for Tesla, the general feeling is that the involvement of Apple in the electric car niche will be good for the existing market-leader, as it could simply expand the marketplace. Tesla would then be able to gain possibly a smaller portion of a much larger overall pie.
The Model 3 will play a significant role in the development of Tesla in the coming years as it looks to satisfy such predictions. And we now have a very clear concept of how this vehicle might appear, whetting the appetite of electric car aficionados."
Disclosure: I am/we are long ILHMF, TRRXF.