Lithium Race: Samsung SDI Opens EV Battery Plant In China.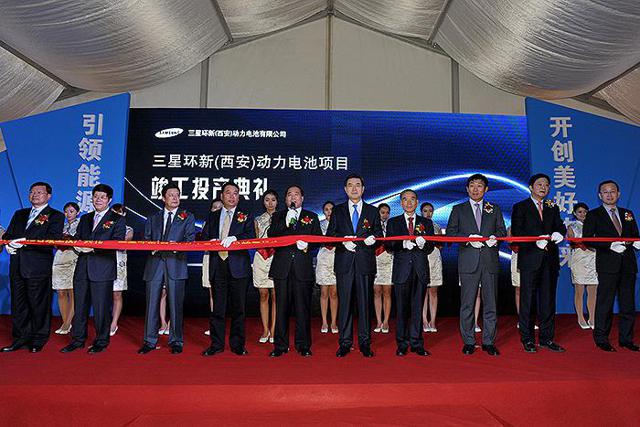 InsideEVs reports about Samsung SDI new lithium battery plant in China. This is a very small factory with 1 GWh capacity compare to coming Megafactories from Boston Power with 10 GWh, where International Lithium strategic partner Ganfeng Lithium holds 10%; Foxconn with 15 GWh; BYD with 20 GWh and LG Chem with 7 GWh. On another side of the globe Tesla Motors is building its Gigafactory with Panasonic for 35 GWh capacity in Nevada. The trend in China shows what I have been discussing for a long time: state-level plan in action to build the new strategic industry - electric cars. Now lithium battery makers are coming where the demand will be - to the largest auto-market in the world. Elon Musk is talking about Tesla to built a factory in two years time in China. China controls 75% of Lithium Hydroxide supply, which goes into Tesla batteries and companies like Ganfeng Lithium are growing exponentially and scooping the globe for the best lithium projects to secure lithium supply for the this rEVolution. Below are few links to illustrate my thoughts.
Joe Lowry: The Lithium Market - What's Next?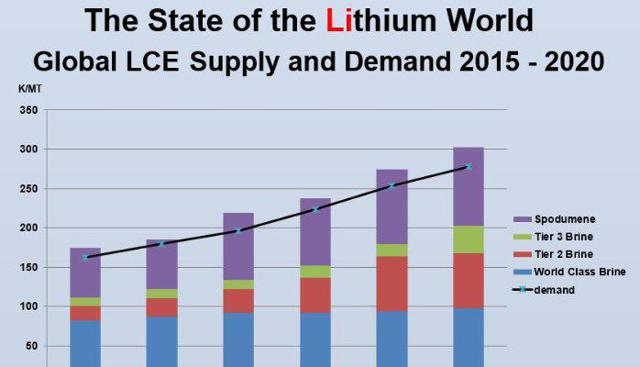 Global Lithium.
"Joe Lowry shares with us today another brilliant article about the state of Lithium Supply and Demand in the days when, finally ALL Auto-makers know that they cannot meet standards limiting toxic cancer hazard emissions. The ICE based technology just has reached its thermodynamic limits. Auto-makers not only know it, but they have admitted it in Europe this week in the most disgusting fashion by lobbying their dirty friends among politicians to DOUBLE toxic cancer hazard emissions from Diesel Cars and to delay their implementation.
Electric Cars have reached The Point Of No Return. How many people will we save before The Silicon Valley economics will make all cars electric is up to all of us now. We need cheaper and better electric cars, we need mass market for EVs. We need volume. Where the lithium will be coming from to make it possible? Joe Lowry has his insider knowledge about it. We are just making it happen at International Lithium with our strategic partner Ganfeng Lithium $1.7 Billion market cap giant from China.
The future is electric and if you would like to know more this weekend, you can find links below and Joe will be your guide in his "Opaque Kingdom of Lithium". Stay tuned as I will cut out a few tracks this weekend and maybe even some serious staff will be on our AC/DC digital waves soon. Read more."
"The Chinese Power Players - Tianqi and Ganfeng: The Chinese market is the largest in the lithium world and these two companies are the leaders in the Middle Kingdom which make them defacto "majors". Tianqi owns 51% of Talison which solidifies their position as a major factor in the global upstream market. Ganfeng is the world's largest lithium metal producer, a major supplier in the Asia downstream lithium market and increasingly important as a global upstream player. Joe Lowry."
China's Ganfeng Reaches Out To International Lithium To Help Secure Their Supply Of The Green Technology Metal.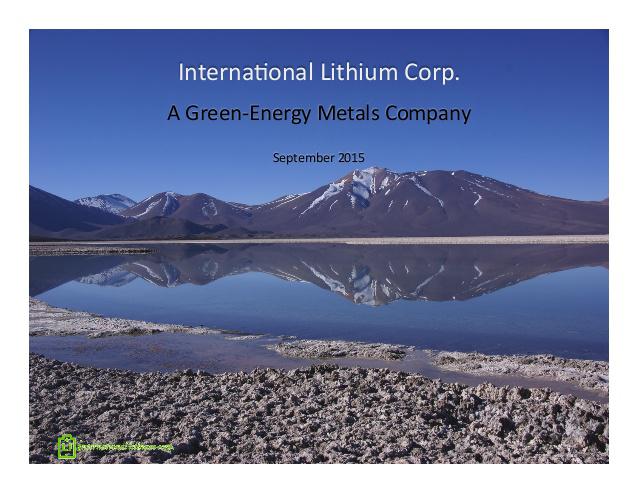 "Joe Lowry has shared with us today his insider's view into "The Opaque Lithium Kingdom." He expects the demand for lithium to jump 88% in the next five years. You can check his latest thoughts about "a full blown shortage situation" and Ganfeng's place among Lithium Majors now. We are just making this rEVolution happen at International Lithium with our strategic partner Ganfeng Lithium $1.7 Billion market cap giant from China.
It is time to talk about the people behind the scenes of rEVolution, who are working very hard to make the Green healthy future for your kids possible with the development of Clean Power and Lithium Technology at its foundation. Our CEO Gary Schellenberg has assembled unique and very deep technical team at ILC. You have already met our VP of Exploration John Harrop. Today is time for you to meet our COO Anthony Kovacs. He is running the development of all our projects on the three continents and now two of them have become J/Vs and financed by the giant from China Ganfeng Lithium, which is Strategic Partner of International Lithium and is holding 17.5% stake in ILC.
Anthony has over 20 years experience in mineral exploration and development. He began his career as a geophysicist conducting ground and airborne surveys and advancing computer modelling methods to visualise targets in 3D. He became a Project Geophysicist for Anglo American (Canada) where he specialised in nickel, copper and platinum group element deposits in numerous exploration projects around the world. Before joining ILC, Mr. Kovacs also held senior roles with Pacific North West Capital and Adriana Resources where he was Exploration Manager during the early development of the Lac Otelnuk Iron Project, Quebec (now in feasibility studies). He was also Managing Director of Vanadis Mines Oy, a subsidiary of Adriana Resources advancing the Mustavaara Vanadium Project in Finland, currently undergoing feasibility studies. Mr. Kovacs is a consultant to the minerals industry with significant community relations experience working on industrial minerals, ferrous metals, non-ferrous metals and precious metals projects throughout North America, Europe, South America and Africa.
Now Anthony is running all our development programs with Ganfeng Lithium in Ireland and Argentina and with our VP of Exploration John Harrop preparing our Mavis Lake Lithium and Tantalum project for the new strategic partnership to take ILC to the next level. Today I will present his latest thoughts on geopolitical aspects of international cooperation in the development of supply for lithium - the green technology metal. Read more."
Ganfeng Increases Stake In Avalonia Lithium Project, Ireland And Finalizes Exploration Loan Agreement With International Lithium For Mariana Lithium Project, Argentina.
"Mr. Kirill Klip, President, International Lithium Corp. comments, "The restructuring of our loan facilities with strategic partner Ganfeng Lithium provides ILC with financial relief and access to capital through the long term Exploration loan. In Argentina, all political candidates running in the upcoming elections are echoing the importance of mining and foreign investment to that country, something I view as very positive for our Mariana project. In Europe there is a growing concern that emissions standards are not being met with the clean diesel scandal paving the way for electric cars powered by lithium batteries. This gives our Avalonia project in Ireland strategic importance. Together with Ganfeng Lithium we continue to work towards supplying lithium as a raw material for clean power technologies in Europe and around the world."
InsideEVs:
Samsung SDI Opens EV Battery Plant In China.
Samsung SDI opened a new lithium-ion battery cell plant

in China

calling itself the 1st global battery company to construct an EV battery plant in China.
The completion ceremony was held on October 22 at Xi'an, Shaanxi Province of China.
Battery production plan is for 40,000 EVs, which doesn't tell us much about kWh per EV, but for sure it could be 0.5-1 GWh or more annually.
The new

plant has been operational since September with around 200 employees. Total investment in phases will be $600 million, while the sales

target is $1 billion by 2020.
"In order to acquire the dominance and leadership in Chinese EV market, Samsung SDI became the first global battery manufacturer to construct an EV battery plant and initiate mass production in China.

The Xi'an plant has initiated its operation from September. It has finalized battery supply agreements with 10 local personal and commercial vehicle companies and is already delivering the goods. Some of these companies include Yutong, the leader of China's and also the world's bus industry and then Foton, the leader of China's truck industry.

The finalized Samsung SDI Xi'an Plant is a cutting-edge production line that can manufacture high-performance electric vehicle (in standard of pure EVs) batteries for an amount of approximately 40 thousand cars a year. The plant is capable of carrying out the whole production process of EV battery cells and modules. Preparing for increased market demand in the future, Samsung SDI will invest - by adding production line, etc. - 600 million USD into the Xi'an battery plant until 2020 and aim to achieve 1 billion USD in sales."
Samsung SDI CEO Cho Nam Seong said in his welcoming address:
"Xi'an is a starting point of Silk Road and is also a focal point of China's One Belt, One Road initiative." He added, "To go hand in hand with China's time-honored tradition and future development strategy, we will bring up Xi'an plant to become the world center of EV battery industry."
Anqing Ring New Group Chairman Pan Yi Xin said:
"By integrating our expertise in the automotive business with Samsung SDI's advanced technical capability, we will promote Xi'an Plant as the number one production base of EV battery."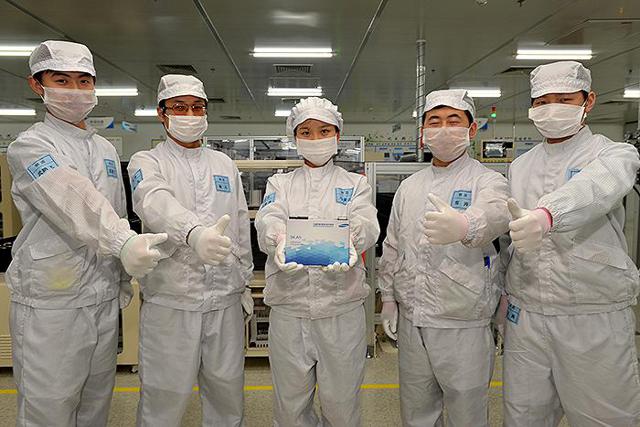 Samsung SDI's lithium-ion batteries