Joe Lowry: Tesla And The Lithium Market: Facts, Myths And Predictions.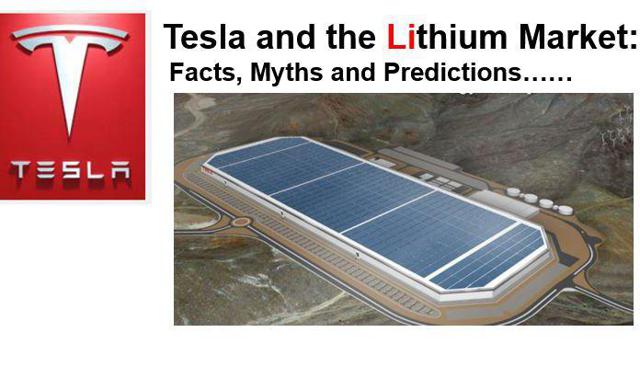 Global Lithium.
I continue my chronicles of The Energy rEVolution and today Joe Lowry has prepared another bucket of ice-water on the heads of Lithium promoters. His arguments will be hard to swallow for a lot of people, but serious investors should definitely look beyond just paid articles and make a proper DD on the companies. Joe is calling today on the reports of LCE price at $11,049/t in China and that trend is going there, but has not reached that level in his opinion. My sources confirm the latest price hike by Ganfeng to that level. The truth lies somewhere in between of the extreme views and every reader can make their own decision. Links for your entertainment and education are provided, as usual.
International Lithium and Ganfeng: Chinese Lithium Prices Jumped Twice In October To $11,049/tonne.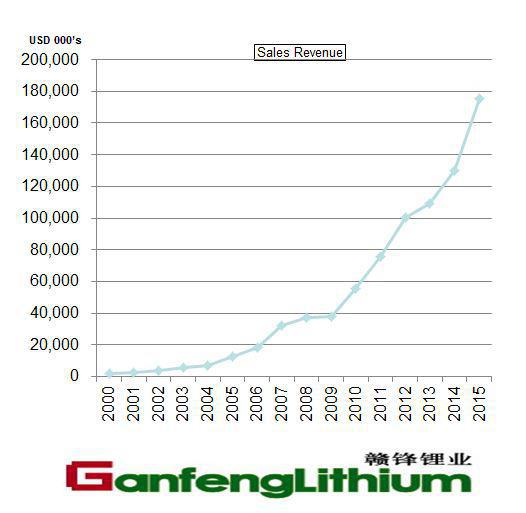 "Now we can discuss the real situation in the lithium market and how the full blown shortage situation of Lithium looks like. China is rising and has become the centre of "Lithium Universe". International Lithium strategic partner Ganfeng Lithium put up its prices for a second time in the space of month last week to $11,049/tonne! With rising Lithium prices Ganfeng Lithium market cap is rising as well, now this giant from China has reached $2.3 Billion market cap. Industrial Minerals calls Ganfeng leading Chinese carbonate supplier and you can see the chart below reflecting the market situation in China. It will come as a shock for many:
"Chinese lithium producer Jiangxi Ganfeng Lithium Co. Ltd increased the price of its lithium carbonate last week, marking the second rise in a single month.

The company raised the sale value of its material by nearly 17%, from Chinese renminbi (Rmb) 60,000/tonne ($9,470/tonne*) to Rmb 70,000/tonne ($11,049/tonne) - Industrial Minerals"
Ganfeng has announced in China on its website establishing of $170 million credit line to finance expansion of its production facilities, financing of acquired last year mobile lithium battery maker and investing in the development of raw material base. The security of supply is everything. International Lithium is building vertically integrated lithium business with Ganfeng. Read more."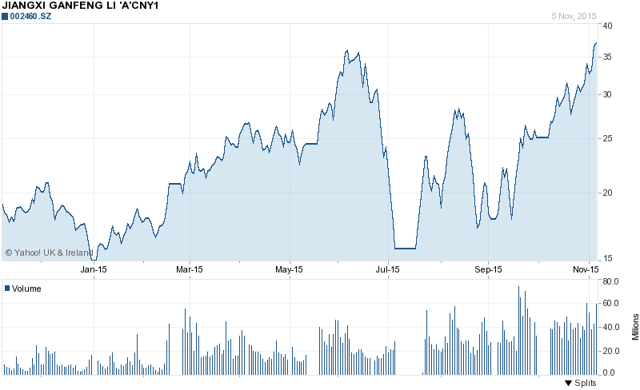 International Lithium - A Green Technology Metals Company Plugged In The rEVolution Of Energy.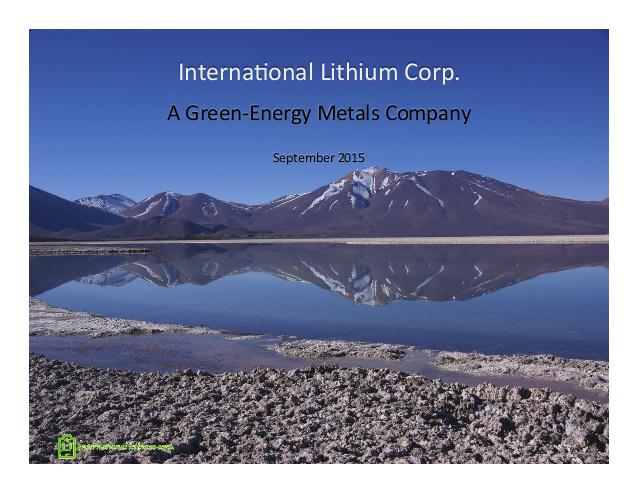 In 2012 WHO has reported about the Diesel Pollution As Cancer Risk, last week EU governments have pushed to DOUBLE toxic cancer hazard diesel emissions limits and postpone their implementation. Are we hitting the new low in Europe now, which will bring the total distrust and disrespect to all EU government institutions? All North American readers should watch Europe very closely now. Which shoe will drop next? The ugly truth is that it seems that nobody of auto-makers can comply with any toxic emissions standards under the real driving conditions.
Latest news from Volkswagen has just moved us from DieselGate to a full blown AutoGate: It is not only NOx cancer hazard diesel emissions, but CO2 as well. It is not only Diesel, but Petrol as well and it is not only Volkswagen … Just wait for the new revelations to come and watch how Electric Cars are taking over in the largest auto market in the world in China first and then spread like a wild fire all over the world. Who will benefit and who will fade into oblivion? You can make your own decisions with the facts presented on my blog.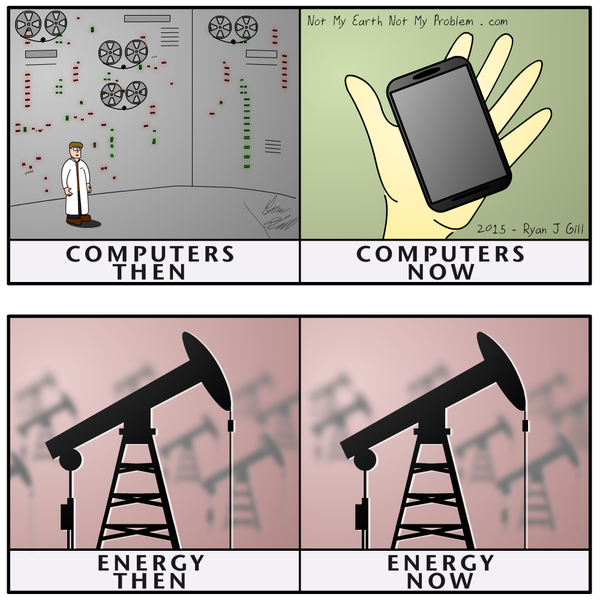 Joe Lowry has shared recently with us his insider's view into "The Opaque Lithium Kingdom." He expects the demand for lithium to jump 88% in the next five years. You can check his latest thoughts about "a full blown shortage situation" and Ganfeng's place among Lithium Majors now. We are just making this rEVolution happen at International Lithium with our strategic partner Ganfeng Lithium - $1.7 Billion market cap giant from China.
All our Team is working very hard to make the Green healthy future for your kids possible with the development of Clean Power and Lithium Technology at its foundation. Our CEO Gary Schellenberg has assembled unique and very deep technical team at ILC. You have already met our VP of Exploration John Harrop and our COO Anthony Kovacs. They are running the development of all our projects on the three continents and now two of them have become J/Vs and financed by the giant from China Ganfeng Lithium, which is Strategic Partner of International Lithium and is holding 17.5% stake in ILC.
It is time for me to make my more formal introduction to you. I am a serial entrepreneur with experience in various industries including mining, banking, telecommunications and transportation. Read more."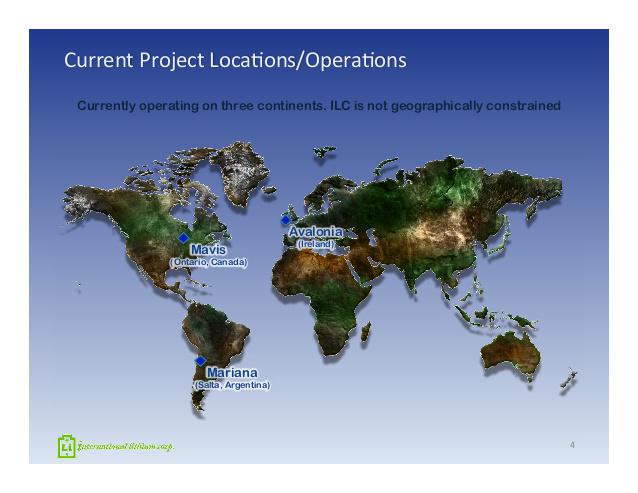 International Lithium Corp. - A Green-Energy Metals Company.
Ganfeng Increases Stake In Avalonia Lithium Project, Ireland And Finalizes Exploration Loan Agreement With International Lithium For Mariana Lithium Project, Argentina.
"Mr. Kirill Klip, President, International Lithium Corp. comments, "The restructuring of our loan facilities with strategic partner Ganfeng Lithium provides ILC with financial relief and access to capital through the long term Exploration loan. In Argentina, all political candidates running in the upcoming elections are echoing the importance of mining and foreign investment to that country, something I view as very positive for our Mariana project. In Europe there is a growing concern that emissions standards are not being met with the clean diesel scandal paving the way for electric cars powered by lithium batteries. This gives our Avalonia project in Ireland strategic importance. Together with Ganfeng Lithium we continue to work towards supplying lithium as a raw material for clean power technologies in Europe and around the world."
Joe Lowry:
Tesla and the Lithium Market: Facts, Myths and Predictions
"Tesla has been a great contributor to the current level of interest in the lithium market. The 3rd Quarter earnings call was yesterday and the updated estimate for 2015 vehicle deliveries is slightly north of 50,000 cars. In reality, Tesla is currently a (very high end) rounding error in the global car market.
Whether Tesla ultimately becomes a success like Apple & Google or goes the way of MySpace (certainly a possibility) is unclear. What is clear is that nobody on the planet creates buzz in the industry like Elon Reeve Musk.
So with their current car production, the emergence of Tesla Energy and the work in progress that is the Nevada Gigafactory - what is Tesla's current and future impact on the lithium market?
Fun facts to know and tell:
Tesla isn't currently a significant purchaser of lithium hydroxide or any other lithium chemical.

Comment: No surprise here, Tesla buys lithium batteries not lithium. All the talk about Tesla direct lithium demand and "contingent contracts" is part of an emerging story that will take years to play out. Over time, Tesla may source lithium chemicals for their cathode supplier via Panasonic in Japan or produce cathode themselves but that hasn't happened yet and is not likely to happen for a few years.
If all the lithium currently used in Tesla's batteries were purchased by Tesla directly, their share of the global lithium market would be less than 2%.

Comment: That is not a typo - Tesla gets a disproportionate amount of attention when the lithium market is discussed. By contrast, the Chinese battery market will consume almost 20% of the lithium produced globally in 2015.
Even if Tesla produces 300,000 vehicles by 2020, the total amount of lithium required for their batteries will still be under 8% of the growing world market. Tesla is significant but not of a size where they can dictate terms to the limited world of lithium suppliers.
Predictions:
Neither of the companies that Tesla has "contingent" supply agreements with will be producing commercial quantities of any lithium chemical by 2020.

Comment: Tesla is a company full of smart people. They know the current reality of the lithium market but persist in trying to create the fiction that they are the 300 pound gorilla in the lithium world and will ultimately source below current cost of production. Not going to happen…. Even smart people can be blinded by arrogance.
On the other hand, Tesla is well aware but will not admit that lithium price is NOT very important to their future; however they seem to ignore the fact that lithium availability is critical. If the lithium price doubles it will not dampen demand for EVs. Do the math, there is currently less than $500 of lithium hydroxide in a Model S 85 KWH battery. Yes, they need cheaper batteries to make the Model 3 a profitable reality but that victory will not come in the lithium market. The REAL risk they are taking by not aligning with major suppliers is that they could find themselves without adequate lithium at a critical time in their growth (late 2017 or 2018).
Why Tesla is wasting their time with "play dough" lithium projects is a question only they can answer. In any case, by allowing their name to be associated with these projects, they are effectively encouraging bad investment decisions by "true believers".
I hope Tesla is very successful since it will drive lithium demand and investment; however anyone investing in Tesla's "virtual" lithium suppliers is likely to lose and lose big. Another paradox of the "cult of Tesla".
Disclosure: I am/we are long TRRXF, ILHMF.