Volkswagen DieselGate Fallout: Electric Car Sales Surge In Germany To Record High In October.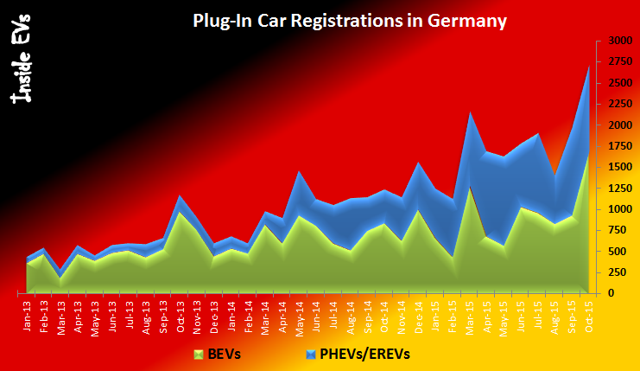 InsideEVs reports on the trend we have discussed in October and now we can talk that Volkswagen DieselGate fallout is bringing not only interest, but a lot of new buyers of Electric Cars in Germany!
Volkswagen DieselGate Fallout: Second Shock - Tesla Model S Takes On Mercedes S, Outsold BMW 7 And Audi 8.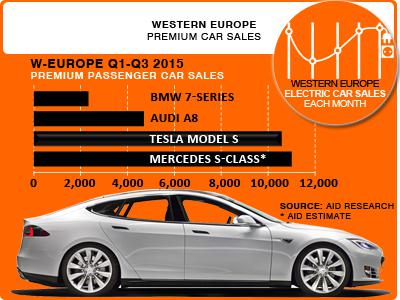 "This news will be shock for a lot of people. Electric cars made by Tesla are just better than comparable luxury brands. All this data is for the whole 2015 up to September. Volkswagen scam is not even reflected in consumer behaviour! Tesla Model S is taking on Mersedes S already, outselling Audi 8 and BMW 7 by a very big margins. Welcome to The Silicon Valley Economics. Now this trend will only accelerate. To pay yourself to poison your kids with cancer hazard pollution is quite stupid after all.
Next step is to go for the mass market for electric cars, Tesla Model 3 will start it. The average price for a new car in U.S. was $23k in 2014. My magic formula is 20/200. $20k buys you BMW 2 type electric car with 200 miles range. Elon Musk will make it possible with dramatically reduced cost for Lithium Batteries to as low as $100 per kWh made at Tesla Gigafactory. If he will be able to commercialise Solid State Lithium Battery technology we are up for the real treat. Than Tesla Model S And X will go more than 500 miles on a charge very soon! Lithium is the magic metal at the very heart of this rEVolution. Read more."
Tesla: Ganfeng, International Lithium, Golf Carts and Pegasus.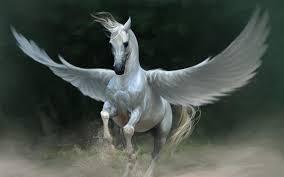 " … I am using a lot of images, colours and videos. The wavelength is very important to get you tuned in properly, so that you can get the picture without any distortions. Digital age is helping us here. My Canadian will never allow me to put it short, smart and brilliant like Colbert: "I drive Tesla. I love it! It's fast - it's full electric. It's like a golf cart had sex with a Pegasus."
Another funny thing is when you put numbers in NR some people are just loosing it and discussing very strange ideas about our company, partners and projects. So I think that now you are ready to get the translation and you will find the full text of ILC NR below again for your convenience. Read More."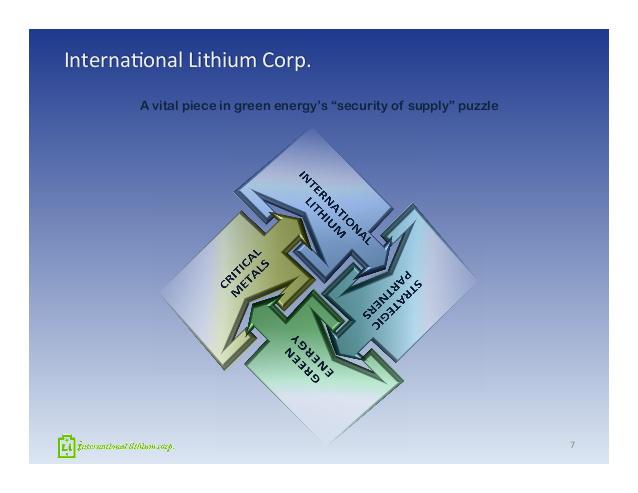 Ganfeng Increases Stake In Avalonia Lithium Project, Ireland And Finalizes Exploration Loan Agreement With International Lithium For Mariana Lithium Project, Argentina.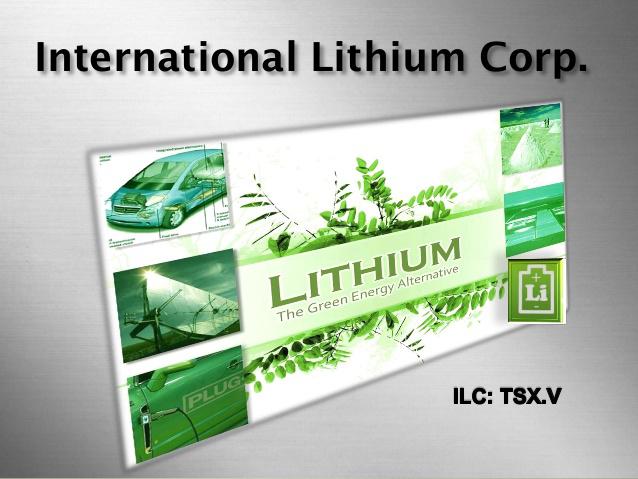 International Lithium Corp. - A Green-Energy Metals Company.
Tesla Motors: Our Mission - To Make All Cars Electric. Tesla Model 3: Third Time's A Charge.
Elon Musk is charging into the mass market for electric cars with its Tesla Model 3. Are you still wondering why all cars will be electric? Tesla Motors CTO JB Straubel has made his best video explaining it all in depth: Tesla's History, Lithium Technology and Tesla Energy to bring the Sun, Wind and other renewables to power our rEVolution. Tesla was created not just to produce the very expensive luxury best cars in the world which happen to be electric. It has the mission to make it possible for all cars to be electric. Today I would like to introduce Tesla Model 3 which will bring us the mass market in electric cars properly. Enjoy!
And if you would like to know more where the lithium will come from to power all this rEVolution and disruption of the few Trillion dollar industries, be my guest on my blog and the links below. Lithium technology has made it possible to store electricity - the most efficient form of energy known to us. Now lithium batteries will become cheaper and it changes everything. Read more."
InsideEVs:
Electric Car Sales Surge In Germany To Record High In October.
Germany set new plug-in car sales records in October, registering 2,717 units. That's 119% more than one year ago.
Moreover, the growth comes from both BEVs, which have 1,686registrations (100% up) and doubled its market share from 0.3 to 0.6%, as well as from PHEVs.
1,031 plug-in hybrids registered is even faster

growth of 156%year-over-year and another 0.3% market share.
What's happening that has Germany reachin 0.9% total market share for new plug-ins?
The answer is: Kia

Soul EV. The Germans just love the Soul's rounded shape… maybe.
980 Kia Soul EV registrations in Germany in October alone is nearly 60% of all BEVs.
It seems at least Germany is the European hub for Kia Soul EV deliveries - we suspect many of these sales originate from other regions, but are registered from the OEM out of Germany.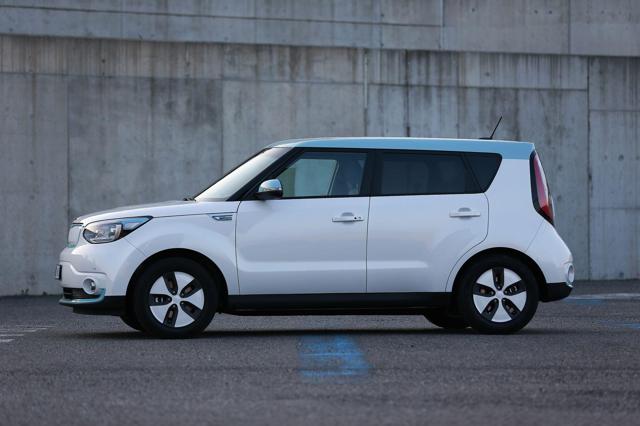 Kia Soul EV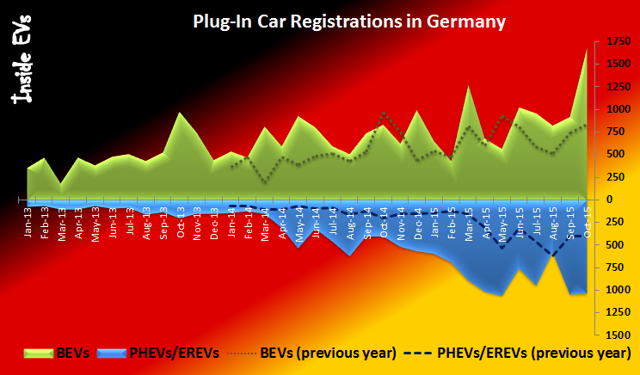 Plug-in electric car registrations in Germany - October 2015
The Renault ZOE also spiked nicely with 243 registrations. Tesla Model S

improved to 121, while BMW saw more than 112 all-electric i3s out of a total of 201 i3s (BEV & REx).
Volkswagen moved a total of 380 plug-in hybrids (and about 84 BEVs). 167 Mitsubishi

Outlander PHEVs was slightly ahead of 134 Audi A3 e-trons and a total of 124 plug-in hybrids from Mercedes

.
That's all the major models and brands above the mark of 100 registrations.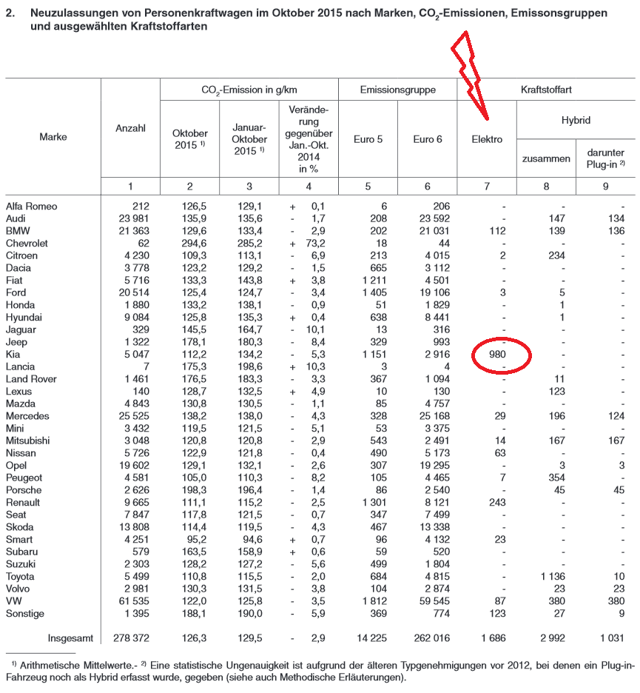 Plug-in electric car registrations in Germany - October 2015
Disclosure: I am/we are long TRRXF, ILHMF.