China Climate Change In Lithium Race: Tesla Superchargers Now Connect Northern And Southern China.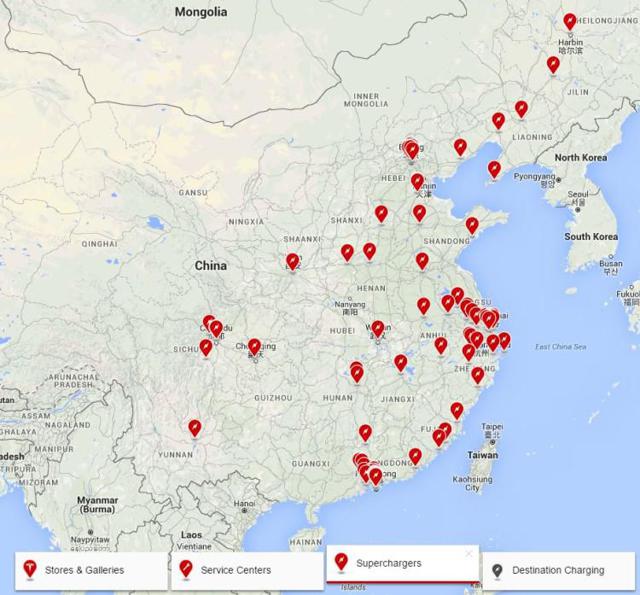 InsideEVs.
InsideEVs reports about another breakthrough for Tesla in China. China leaves 100 years old ICE technology behind in the dust and leapfrog straight into the future with its strategic state-level plan to build Electric Cars industry from scratch. If you have missed it: China controls 75% of Lithium Hydroxide, which is used in Tesla Motors lithium cells from Panasonic. Now it is taking on Japan and South Korea in lithium battery space.
I expect that China will become the largest market for electric cars by sales early next year. Elon Musk will bring the best available lithium technology to China just to get into the largest auto-market in the world.
What have you done lately, my dear friends, to give us all a chance in the West just to stay on par with the Rising Dragon? We should be all together racing into the best future available for the common good. We have Lithium Technology and Elon Musk with Tesla has demonstrated brilliantly its capacity. Cheaper Lithium batteries change everything. Who will make now Electric Cars for all of us with my magic 20/200 formula? You are all welcome to participate. Spread the word and stop buying all that cancer hazard polluting rubbish.
International Lithium At Wentworth: Back Into The Future - The World Just Before The INTERNET.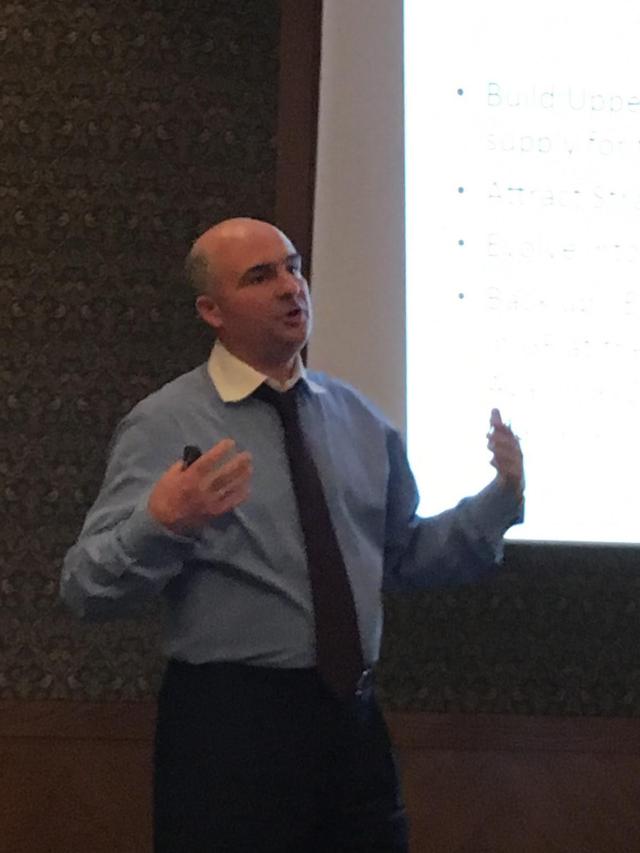 Kirill Klip President of International lithium.
I would like to share today with you my presentation at Wentworth last week. International Lithium Team was on our European roadshow and we have visited Ireland as well during that trip. We were very fortunate and proud to meet hero Kevin Michael Vickers - the Ambassador of Canada to Ireland. You can find more pictures on my tweeter feed and stay tuned for the coming developments.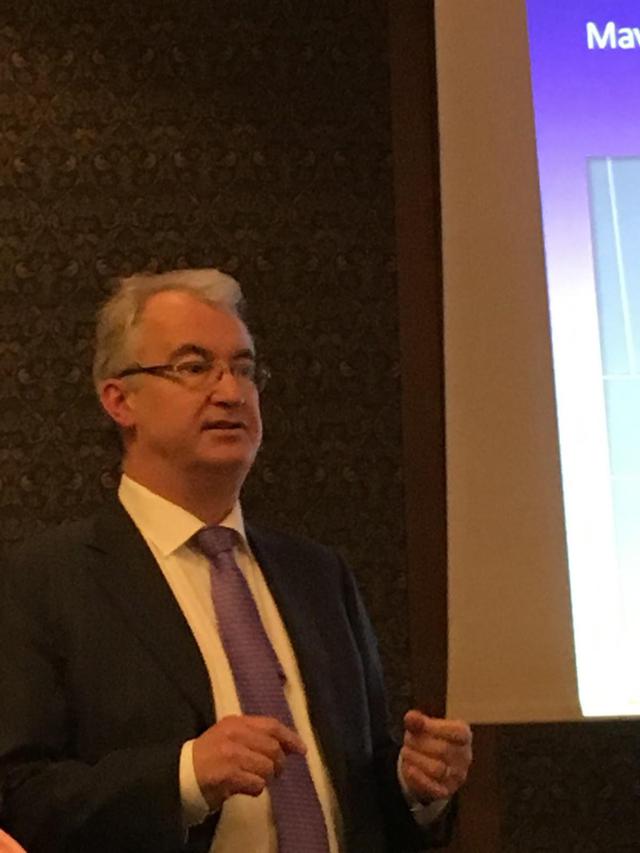 Gary Schellenberg Chairman and CEO of International lithium.
Our Mariana lithium J/V with the giant from China Ganfeng Lithium will benefit now from the election results in Argentina and we are looking forward to advance it to the pilot stage. In my presentation I am using material of the very talented team from Benchmark Minerals Intelligence headed by Simon Moores. He is a must follow with Joe Lowryif you would like to be up-to-date with the developments in the Lithium Market. Now let me take you for a journey into the future, which is already here:
BBC Video: How Volkswagen Fooled The World With A Scam To Rig Pollution Tests And They Do It Again.
International Lithium - A Green Technology Metals Company Plugged In The rEVolution Of Energy.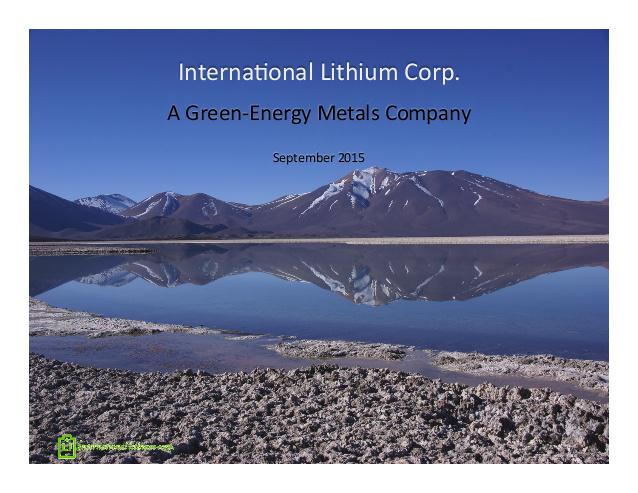 In 2012 WHO has reported about the Diesel Pollution As Cancer Risk, last week EU governments have pushed to DOUBLE toxic cancer hazard diesel emissions limits and postpone their implementation. Are we hitting the new low in Europe now, which will bring the total distrust and disrespect to all EU government institutions? All North American readers should watch Europe very closely now. Which shoe will drop next? The ugly truth is that it seems that nobody of auto-makers can comply with any toxic emissions standards under the real driving conditions.
Latest news from Volkswagen has just moved us from DieselGate to a full blown AutoGate: It is not only NOx cancer hazard diesel emissions, but CO2 as well. It is not only Diesel, but Petrol as well and it is not only Volkswagen … Just wait for the new revelations to come and watch how Electric Cars are taking over in the largest auto market in the world in China first and then spread like a wild fire all over the world. Who will benefit and who will fade into oblivion? You can make your own decisions with the facts presented on my blog.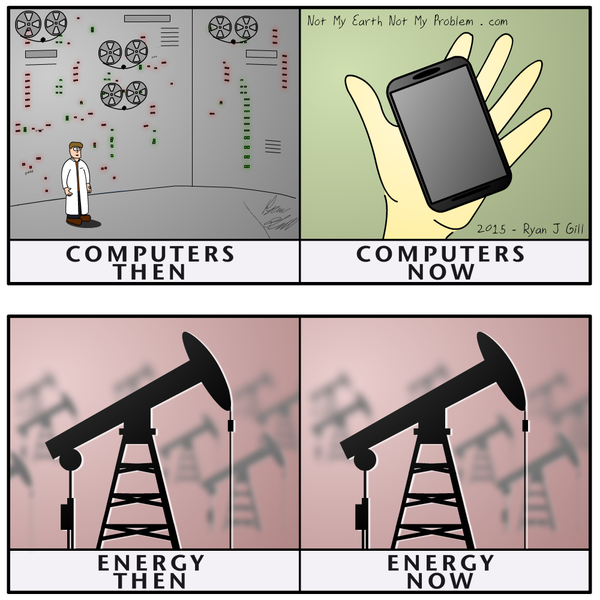 Joe Lowry has shared recently with us his insider's view into "The Opaque Lithium Kingdom." He expects the demand for lithium to jump 88% in the next five years. You can check his latest thoughts about "a full blown shortage situation" and Ganfeng's place among Lithium Majors now. We are just making this rEVolution happen at International Lithium with our strategic partner Ganfeng Lithium - $1.7 Billion market cap giant from China.
All our Team is working very hard to make the Green healthy future for your kids possible with the development of Clean Power and Lithium Technology at its foundation. Our CEO Gary Schellenberg has assembled unique and very deep technical team at ILC. You have already met our VP of Exploration John Harrop and our COO Anthony Kovacs. They are running the development of all our projects on the three continents and now two of them have become J/Vs and financed by the giant from China Ganfeng Lithium, which is Strategic Partner of International Lithium and is holding 17.5% stake in ILC.
It is time for me to make my more formal introduction to you. I am a serial entrepreneur with experience in various industries including mining, banking, telecommunications and transportation. I am a shareholder and Chairman of BOD, senior executive in a number of publicly traded and private companies with operations in Russia, Canada, Argentina, Ireland and China. With my partners I have established and ran "Corporate Finance Technologies" - CFT as a management company for diverse industrial holding with assets such as TransTeleCom, TransCreditBank, TransCreditCard, BaltTransService, DBT Terminal and TransVOK in Russia and CIS countries.
We have built TransCreditBank as a captive bank servicing one of the largest industries in Russia and its customers - Russian Railway system. We have created TransCreditCard, a payment system for Russian Railways integrated with its Treasury. During my involvement RZD has passed its first audit conducted by the international company.
During those years we have been very fortunate to participate in the very early introduction of the modern communication systems in Russia and have established TransTeleCom, a 48,000 km of fiber-optic telecommunication network in Russia. In order to build this system we made TransVOK, a fiber-optic cable plant in Russia and later sold a stake in it to Corning.
In transportation our group has created BaltTransService, a railway oil transportation operator. We have built DBT Terminal in Tallinn, the largest dry bulk terminal in Estonia.
After my immigration to UK, I have been participating in Gold and Silver markets at the very early stage. Then I moved with the vibe into Uranium, following by basic metals like Copper and Zinc. Tenke Mining with Lukas Lundin still brings the sweet memories!
We have met with Gary Schellenberg in 2008 and defended together for all our shareholders in very high profile litigation the rights of TNR Gold to participate in the discovery of one of the largest undeveloped Copper projects in the world - Los Azules in Argentina. Now with the coming second round in elections in Argentina it will become the next success story for our group.
We have established International Lithium with Gary in 2009 and with TNR Gold Team we built a portfolio of core lithium projects world-wide: Canada, Ireland, Argentina and USA. In 2011 after very long and difficult cross-cultural negotiations we have attracted Ganfeng Lithium, one of the top world lithium material producers from China, as a strategic partner. International Lithium has its IPO in 2011 as a new public company on TSX.
Now International Lithium has cleared the last hurdles after our latest major transaction with Ganfeng and we are finalising our budgets with Ganfeng Lithium for the next stage of our J/V projects development in Ireland and Argentina. We can move forward and address the security of Lithium Supply In the North America. We are preparing our Mavis Lake Lithium and Tantalum project for the new strategic partnership to take ILC to the next level. Today I will present to your kind attention my latest thoughts on why the time has come to go electric, how lithium technology has made it possible and how we are building the secure supply of lithium - the magic metal at the very heart of this rEVolution.
Kirill Klip, MBA
Kirill Klip graduated with the degree in Management from St. Petersburg State University of Railways, later obtaining a degree in Economics from the International Business School in Moscow and a degree in MBA in Finance from both the International Business School in Moscow and Guildhall University in London. He has extensive expertise in banking, transportation, mining, telecommunications and internet industries. Kirill Klip served as the First Vice President and Member of the Board of TransCreditBank (Moscow), Member of the Board of TransTeleCom (Moscow) and Member of the Board of Dry Bulk Terminal (Tallinn). He also acted as the Adviser on Finance for the Minister of Russian Railway System (Moscow)
From 2008 Kirill Klip has acted as Non-Executive Chairman and member of the Board of TNR Gold Corp. (International Lithium's parent company through a Plan of Arrangement and spin-out) and an Adviser to the Board of Canada Zinc Metals.
In addition to years of entrepreneurial and corporate stewardship, he also manages a portfolio of global assets and brings a robust financial network to the group.
Mr. Klip is the largest individual shareholder in International Lithium with approximately 11% of the outstanding shares and holds a 20% equity stake in TNR Gold Corp. . Mr. Klip is a UK citizen and resides in London.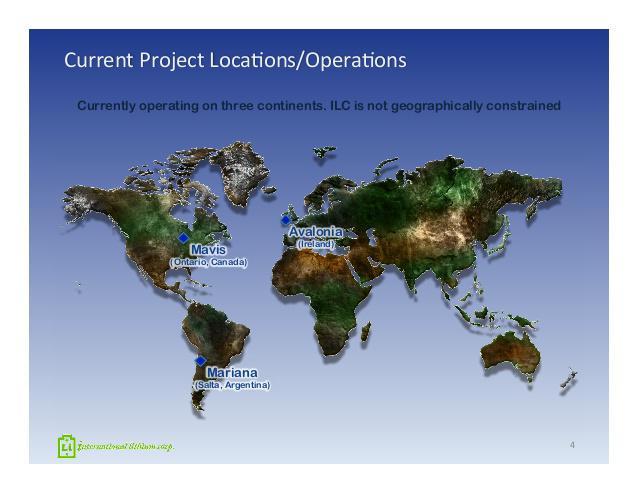 International Lithium Corp. - A Green-Energy Metals Company.
"I have written extensively about International Lithium and our strategic partner Ganfeng Lithium. Our J/Vs in Argentina and Ireland are financed by this giant from China and we have very important access to the technology. Basically we are building the secure supply chain for Ganfeng Lithium using their expertise in raw materials needed for production of battery grade lithium from the very beginning.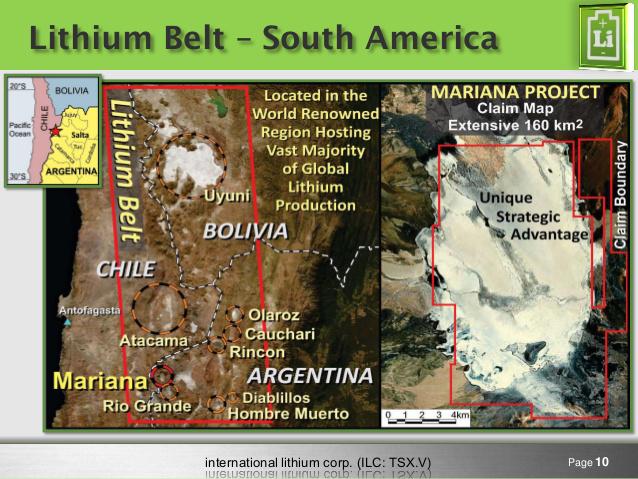 Our brine bulk sample from Mariana is being tested at Ganfeng state-of-the-art R&D facilities in China and in Ireland we have identified 22 exploration targets. Now, according to our latest NR, we are waiting for the approval of the budgets for both projects to be rapidly advanced after very encouraging results were received from the last exploration stage this year.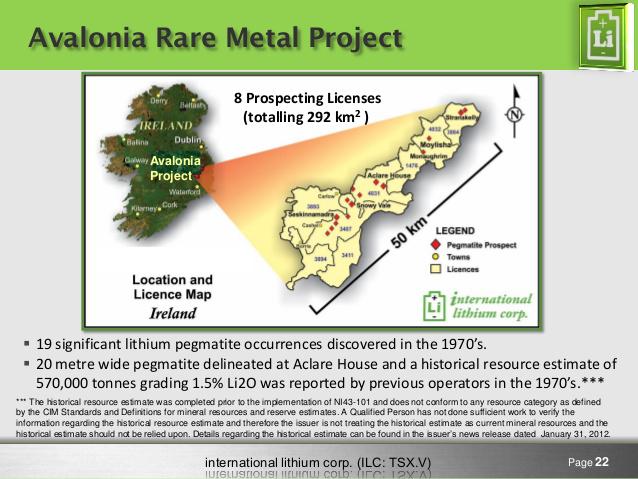 Today I would like to show you another side of International Lithium. We have the very strong technical team headed by our CEO Gary Schellenberg. Anthony Kovacs - our COO and John Harrop - our VP of Exploration are among very few top level exploration managers and geologists in lithium sector. This Team depth has allowed International lithium to attract Ganfeng and strike two major J/V deals in all our industry. These days we are getting the first fruits of this very hard work. Coming volume shows that market is waking up and we are receiving at least some recognition of the value we have been building all these years.
I am talking a lot about the security of lithium supply and Tesla Lithium Hydroxide Supply Deal is another proof and was noticed by market overnight. Now venture capital is knocking on all doors chasing the upstream supply chain for electric cars and Energy rEVolution.
We have another great project at International Lithium: Mavis Lake Lithium And Tantalum Project which is located in mining friendly Canada in the area with excellent infrastructure and very encouraging initial exploration results with high grade Lithium and Tantalum. It will be our next strategic advance for the company. With J/Vs moving forward we are looking for the strong Strategic Partner to develop this project for the potential supply of this strategic commodity for the ongoing Next Industrial rEVolution. West will wake up one day to the fact that China has managed to control now not only over 90% of REE production, but 75% of Battery Grade Lithium Hydroxide as well.
Security of Supply means exactly this - Security. When the price is taking the second consideration and availability of critical materials is taking the central stage. My personal mission is to make this Security happen for the Western world for real as well, even if this part of the World still lives by HFT rules and Q by Q performance reflecting the coming bonuses. Our Asian friends are beating us all here with the state-level plans looking for The Next Fifty Years and building new strategic industries like Electric Cars in China.
We have Elon Musk, we need more like him, but it is a very good start. Our strategic partner for Mavis Lake is waiting somewhere in between of latest Q performance reviews. If you know the one - you know whom to call. Now I do not have really to explain any more What Is Lithium For - Elon Musk has made the great job and every single Tesla Model S is the best moving ad of the things to come. All cars will be electric and it will be very soon. And by the way any new hard rock mine for Lithium will take 5-7 years to build Lithium brine operations will take 4-5 years at best.
Why International Lithium? You can check presentation above. Read more."
International Lithium: Mavis Lake Lithium And Tantalum Project, Canada.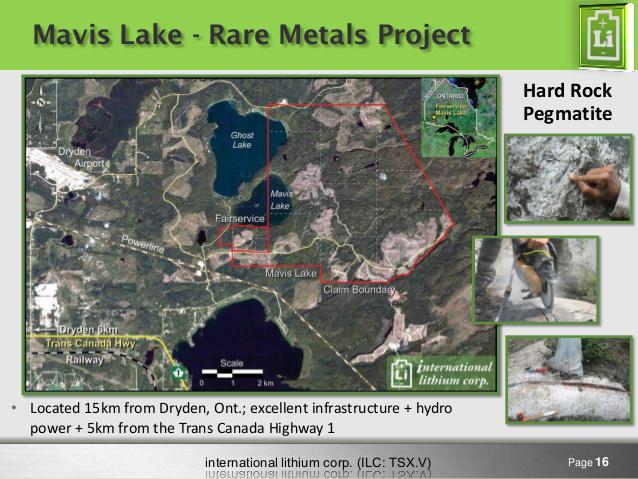 With lithium in the headlines these days I would like to present International Lithium's Mavis Lake Lithium and Tantalum project in Canada. Our J/V projects with Ganfeng Lithium: Avalonia in Ireland and Mariana in Argentina - are better known, but Mavis Lake presents another very important opportunity for advance of potential source of conflict free strategic commodities in politically stable Canada.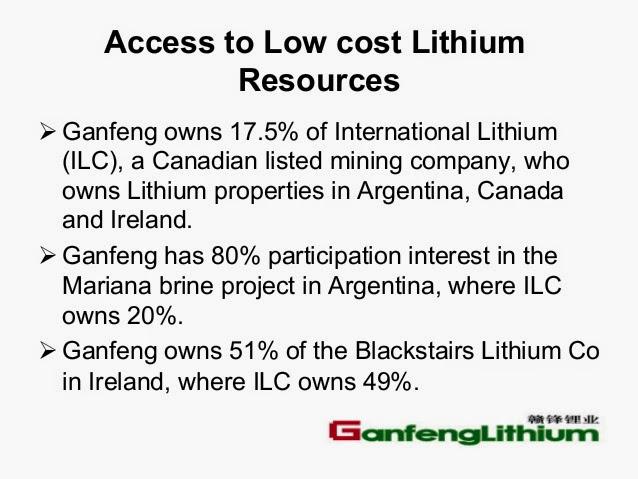 Please note that now Ganfeng owns 55% and ILC owns 45% of Avalonia.
Ganfeng Increases Stake In Avalonia Lithium Project, Ireland And Finalizes Exploration Loan Agreement With International Lithium For Mariana Lithium Project, Argentina.
"Mr. Kirill Klip, President, International Lithium Corp. comments, "The restructuring of our loan facilities with strategic partner Ganfeng Lithium provides ILC with financial relief and access to capital through the long term Exploration loan. In Argentina, all political candidates running in the upcoming elections are echoing the importance of mining and foreign investment to that country, something I view as very positive for our Mariana project. In Europe there is a growing concern that emissions standards are not being met with the clean diesel scandal paving the way for electric cars powered by lithium batteries. This gives our Avalonia project in Ireland strategic importance. Together with Ganfeng Lithium we continue to work towards supplying lithium as a raw material for clean power technologies in Europe and around the world."
<iframe frameborder="0" height="355" src="www.slideshare.net/slideshow/embed_code/...; width="425" style="border-width: 0px; box-sizing: border-box; display: block; font-family: inherit; font-size: inherit; font-style: inherit; font-variant: inherit; line-height: inherit; margin: 0px auto; padding: 0px; text-align: start; vertical-align: baseline;"></iframe>
International Lithium - A Green Technology Metals Company Plugged In The rEVolution of Energy.
Kirill Klip.
President.
International Lithium Corp.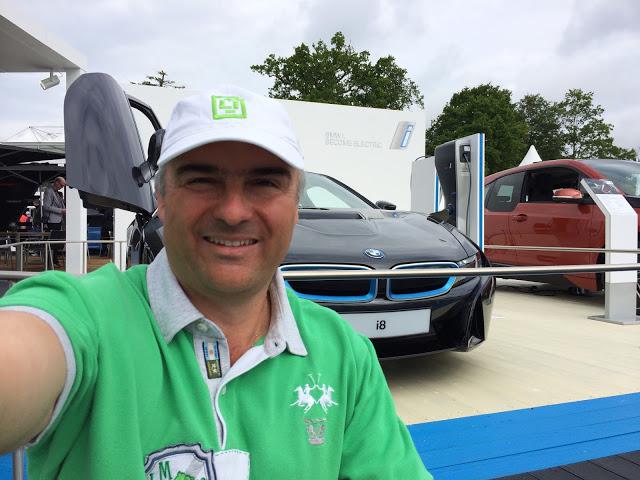 "The element lithium has many applications, and until recently was most commonly known for its beneficial medicinal properties. Per contra, its part in the green energy revolution is only in its infancy and not yet fully appreciated. This strategic metal is crucial to the sustainable energy sector and its contributions and challenges are just beginning to unravel.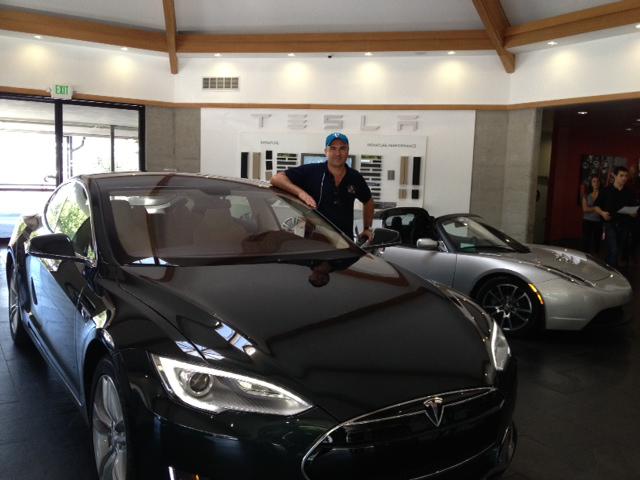 As President of International Lithium I signed on early to this green pipe dream, facing the challenges of what was then an arcane venture. Nevertheless, with limited budgets and what could be deemed the worst market scenario for the junior resource sector ever, we set out to identify and secure future lithium sources. To date we have withstood these challenges and have run successful exploration programs on several properties worldwide, as well as acquired a strong strategic partner Ganfeng Lithium Co. Ltd, a leading lithium product supplier from China.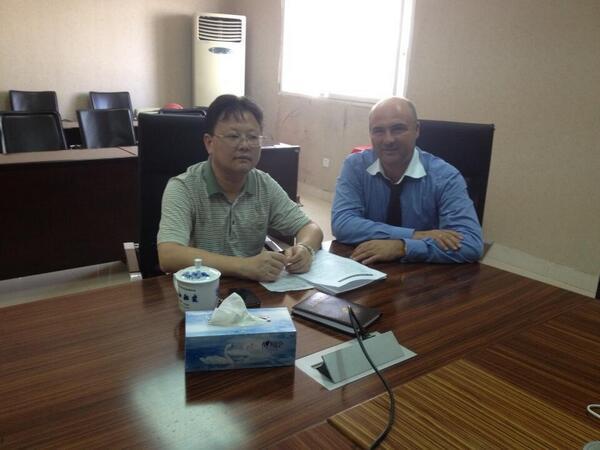 In July of 2014 Ganfeng Lithium Co. Ltd., approved a budget of approximately 2,645,000 Canadian dollars. As these funds were dispersed between our two joint venture projects, we have worked to secure the ownership of the projects and set up operational entities in two countries (on two different continents) to administer the joint venture exploration programs. We have converted debt, avoided equity financings, and cut back on executive compensation in order to avoid increasing our total number of shares outstanding at such low share prices and preserve capital to keep our projects in good standing.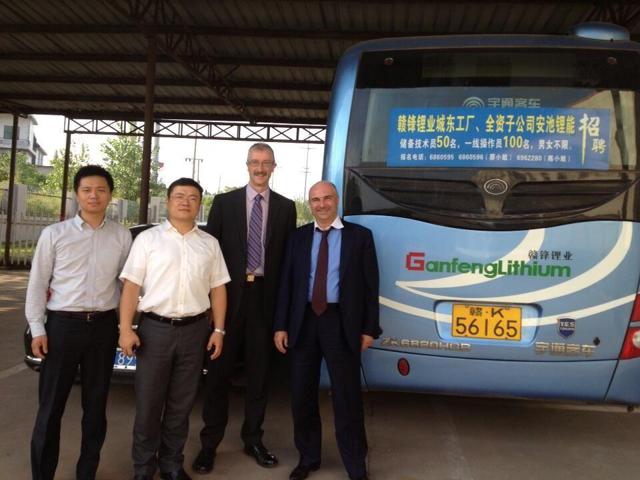 We are currently finalising details and the corporate structures for our joint venture projects in order to move these forward with even greater efficiency. As these tasks are now near complete, we believe it is time to refocus our attention to growing opportunities for the company and its shareholders.
Despite the current decline in commodity prices, we know the demand for lithium is set to increase in the near future. We know this because there is an energy revolution taking place before our eyes. For the first time since the industrial revolution we see a significant challenge to energy derived from fossil fuels. The global community has come to accept that climate change is a threat to our well being and that problem is exacerbated by burning fossil fuels. Combined with the increasing amounts of airborne pollutants caused by fossil fuels, governments of the world's greatest economies are committing tremendous resources to help wean themselves of these harmful emissions.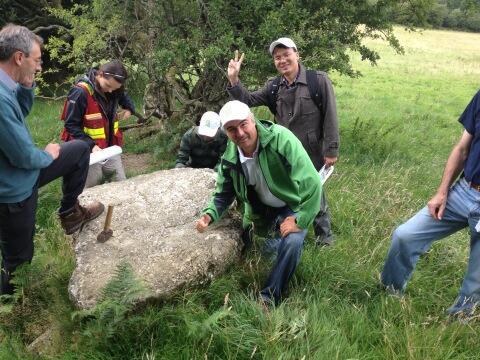 Our corporate team has developed considerable expertise in acquiring and advancing early stage projects in both domestic and foreign regions and our technical team has become well versed in lithium deposits and other rare and speciality metals occurrences; metals that are necessary to construct batteries, electric motors and generators.
Our timing in these endeavours could not be better. It seems that everyday there is news from Tesla or Apple regarding their future plans to feed the market with electric cars - cars that will run on lithium batteries. Other automobile manufacturers have joined in the hysteria like BMW, Audi, and Mercedes to name just a few. Lithium market analysts like Joe Lowry are predicting a significant increase in lithium demand over the next few years.
The mineral exploration and development space is seeing virtually no cash injected into finding, advancing and developing new deposits to meet this future demand. There will be a tremendous crunch that will come, since new mines are costly to develop and require several years of planning and permitting prior to providing a usable product for the market.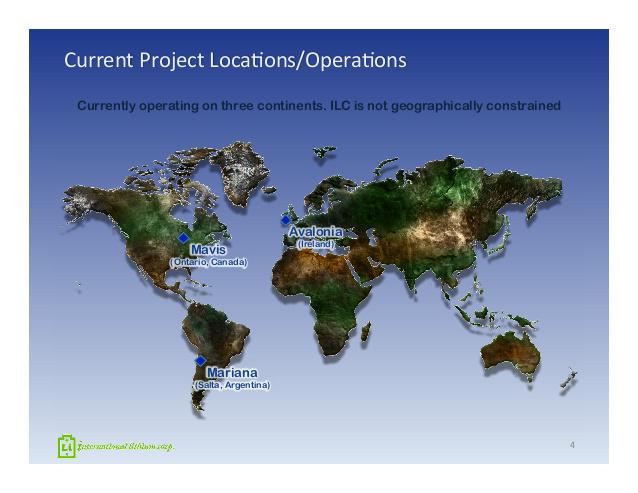 Now is the time to acquire projects at a low cost. This is what we did when we created International Lithium in 2008. The next step is to find a strategic partner for a specific project as we did with Ganfeng Lithium, only this time we will not be caught in a market downturn but the beginning of the next great commodity cycle. We started this company with the vision to produce metals for the green energy revolution and we will continue to do so in the months and years to come."
Disclosure: I am/we are long TRRXF, ILHMF.