Lithium Race: Kandi Signs Multiple Deals And Delivers Thousands Of Electric Cars In China.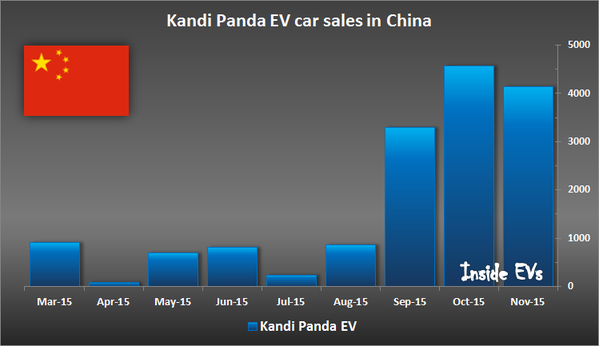 Things are moving very fast now in Electric Space in China. Horrible hazardous air pollution has put the government with its "War on Pollution" and population together to fight for the sustainable future literally and green electric cars are the very big part of the solution. Lithium technology is available now and China is importing the best brands and ideas to build its new strategic industry: Electric Cars. Welcome to the New Industrial rEVolution powered by lithium! When West will wake up to this rapidly shifting geopolitical reality?
Lithium Race: SAAB New Owner NEVS Announces $12 Billion China Electric Car Deal.

As we have discussed before, China is moving full speed now in the post carbon economy. With its state-level plan to create the EV strategic industry China leapfrogs ICE Technology directly into Electric Cars Space with Lithium Technology. All major automakers are coming in with J/Vs to make Electric Cars now, Tesla is knocking on the doors of the largest auto-market in the world and Chinese own auto brands are staking the places in the future market for the next 50 years.
President and CEO Of International Lithium Buy Shares In The Company.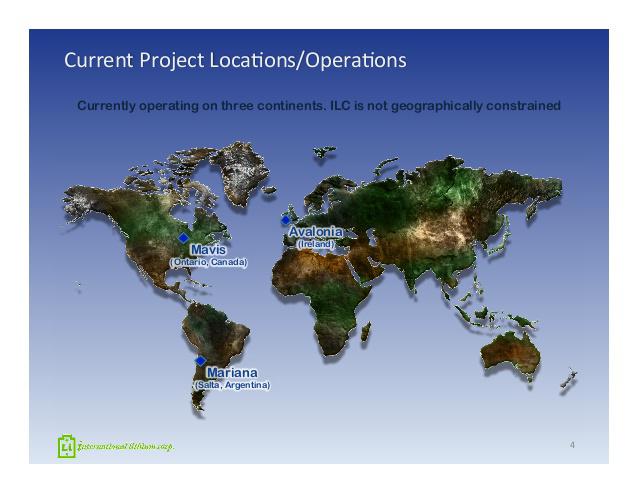 Our Chairman and CEO of International Lithium Gary Schellenberg has joined me and is buying more shares of International Lithium in the market. You can find all latest information on insiders trades on SEDI and below is the latest Podcast from ILC with Gary.
International Lithium Podcast With CEO Gary Schellenberg: Building Up The Next North American Lithium Producer.
President Of International Lithium Buys 1 Million Shares In The Company.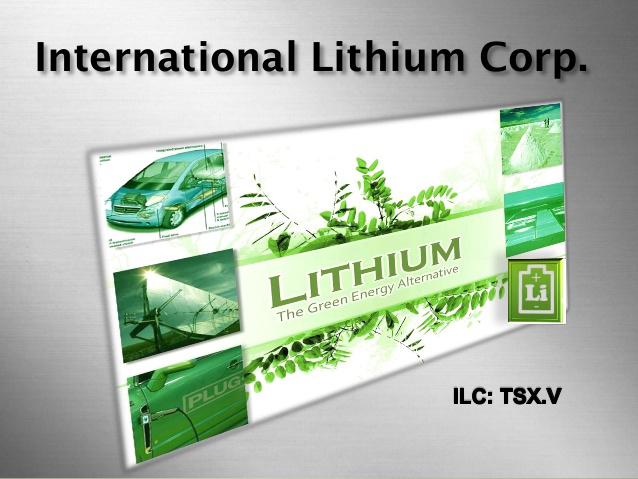 Please read carefully my legal disclaimer. After all our announcements I am allowed now to buy International Lithium shares again and have reported my first transactions a few weeks ago. Now I have finished my private transaction to acquire 1 million shares of International Lithium at 8 cents.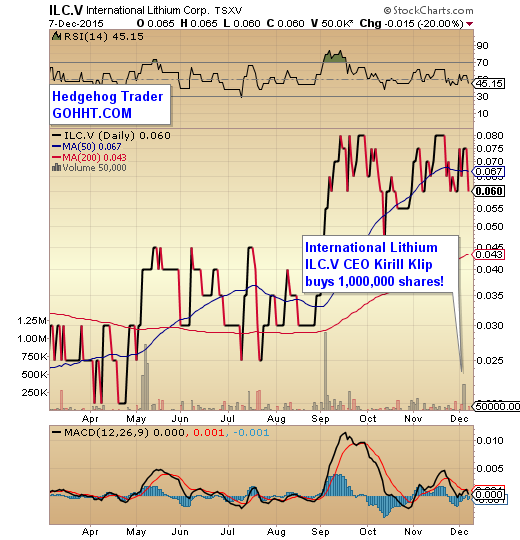 This purchase is above the current market price of ILC. This securities are purchased for investment purposes only. Nothing on this blog must be taken as an investment advice and I can buy and sell any securities without any further notice.
Please access insider reporting filing on SEDI and latest financial information on all our companies on SEDAR. Never make any investment decisions without consulting with your preferred qualified financial adviser.
This blog is for education purposes only: this is my Chronicles of the Energy rEvolution and geopolitical transition of our society into the post carbon world. We are making it happen with our very talented Team at International Lithium and TNR Gold. I like what our Team is doing now at International Lithium and putting my money where my mouth is.
Nobody knows the future and we will see whether all our efforts at International Lithium will materialise in the mutual respect with the market place. Please always consult your preferred qualified financial adviser before making any investment decisions. Hard work of the very talented Team at ILC and $2.5 Billon MC strategic partner from "The Centre of Lithium Universe" can do the miracles. And I am not talking about the share price here: @HedgehogTrader he does it the best - I am talking about the future when Lithium Technology will power our civilisation for the next 50 years. We are staking our place in this Electric Future with ILC.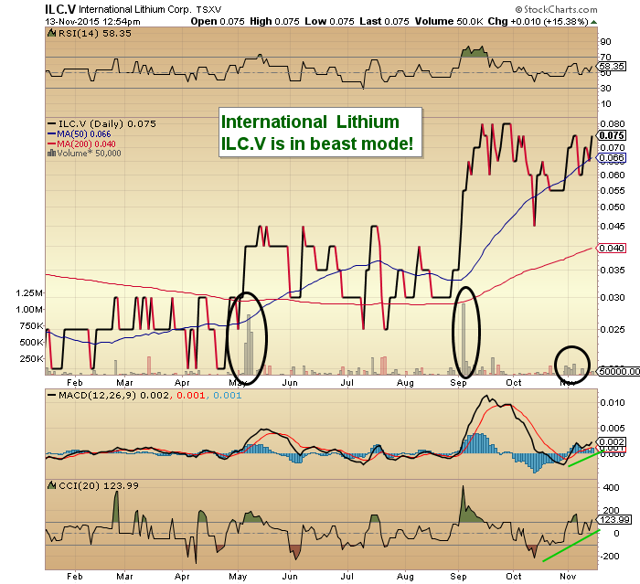 International Lithium - A Green Technology Metals Company Plugged In The rEVolution Of Energy.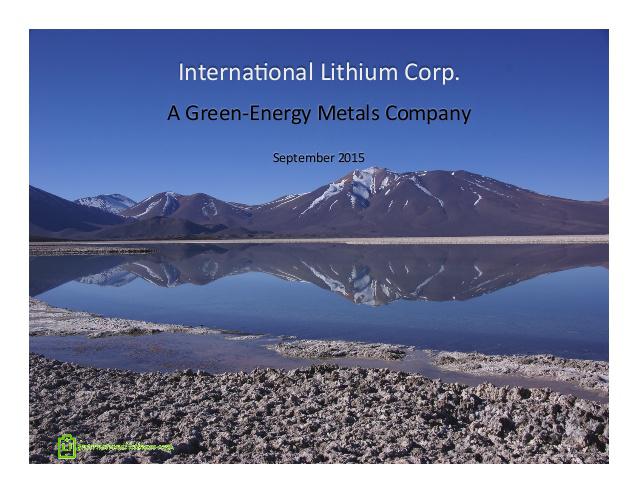 In 2012 WHO has reported about the Diesel Pollution As Cancer Risk, last week EU governments have pushed to DOUBLE toxic cancer hazard diesel emissions limits and postpone their implementation. Are we hitting the new low in Europe now, which will bring the total distrust and disrespect to all EU government institutions? All North American readers should watch Europe very closely now. Which shoe will drop next? The ugly truth is that it seems that nobody of auto-makers can comply with any toxic emissions standards under the real driving conditions.
Latest news from Volkswagen has just moved us from DieselGate to a full blown AutoGate: It is not only NOx cancer hazard diesel emissions, but CO2 as well. It is not only Diesel, but Petrol as well and it is not only Volkswagen … Just wait for the new revelations to come and watch how Electric Cars are taking over in the largest auto market in the world in China first and then spread like a wild fire all over the world. Who will benefit and who will fade into oblivion? You can make your own decisions with the facts presented on my blog.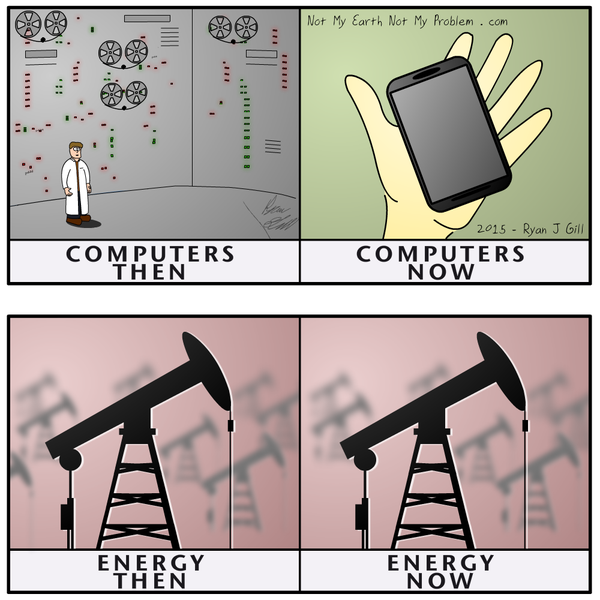 Joe Lowry has shared recently with us his insider's view into "The Opaque Lithium Kingdom." He expects the demand for lithium to jump 88% in the next five years. You can check his latest thoughts about "a full blown shortage situation" and Ganfeng's place among Lithium Majors now. We are just making this rEVolution happen at International Lithium with our strategic partner Ganfeng Lithium - $1.7 Billion market cap giant from China.
All our Team is working very hard to make the Green healthy future for your kids possible with the development of Clean Power and Lithium Technology at its foundation. Our CEO Gary Schellenberg has assembled unique and very deep technical team at ILC. You have already met our VP of Exploration John Harrop and our COO Anthony Kovacs. They are running the development of all our projects on the three continents and now two of them have become J/Vs and financed by the giant from China Ganfeng Lithium, which is Strategic Partner of International Lithium and is holding 17.5% stake in ILC. Read more."
InsideEVs:
Nandi Delivers Thousands Of Electric Cars In China; Signs Multiple Deals
Kandi Technologies Group, or simply Kandi, is one of those Chinese companies that sells/leases/rents EVs in the thousands of units

per month.
Their Kandi Panda EV model, launched earlier this year in China, is now in the Top 3 of all New

Energy Vehicles

with nearly 16,000 sold though the end of November.
Kandi Panda EV or K11 (the fruit of partnership with Geely) is equipped with LiFePO4 batteries and can go up to 80 km (specs at ChinaAutoWeb).
Interesting is that in the last couple of weeks, Kandi has bombarded the net with new project announcements.
On November 23, the automaker announced sales

of up to 3,000 Kandi Global Hawk K17 to Micro Public Transportation Program in Nanjing. Initial 500 to be delivered this year.
On November 24, Kandi announced an initial order of 1,000 Kandi-brand model

K10 for an EV-sharing program in Tianjin (deliveries to be completed this year).
Another 2,000 Kandi EVs (probably different models

) - also this year - will be delivered to Haikou for the new Micro Public Transportation ("MPT") Program.
In mid-December, Kandi announced a production facility to be built in Haikou for 100,000 EVs annually (previous plan was for Wanning City).
"Kandi Technologies Group, Inc. (NASDAQ:KNDI) (the "Company" or "Kandi"), today announced that its wholly owned subsidiary, Zhejiang Kandi Vehicles Co., Ltd. ("Kandi Vehicles") signed a cooperation agreement (the "Agreement") with the Haikou municipal government ("Haikou Government") and the Haikou National Hi-Tech Industrial Development Zone ("Haikou Hi-Tech Zone") on December 11, 2015 to establish a production facility in Haikou ("Haikou Facility") with an annual capacity of 100,000 electric vehicle (NYSE:EV) products (the "Project"). The Haikou Facility will include equipment transferred from Kandi Vehicles' facility that was previously under construction in Wanning City due to strategic changes in Wanning's urban planning. The Agreement marks Hainan's strategic effort to accelerate adjustment in the industrial planning process.

Key terms of the Agreement are as follows:

As a relocation of Kandi Vehicles' facility in Wanning City, Hainan province, the Haikou Facility will have an annual capacity of 100,000 EV products after completion, with a preliminary expectation of starting production in 15 months.
Haikou Government and Haikou Hi-Tech Zone are committed to:

Supporting the facility as a key project in Hainan province with favorable policies and financial incentives;
Actively seeking the Hainan provincial government's approval to launch the Micro Public Transportation Program ("MPT Program") in the entire Hainan province; and
Achieving local subsidies and all levels of the government's preferential treatment for the Kandi Brand EV products used in the MPT Program."
Another positive is that Kandi Technologies' financial results sees net income through the end of September of $13.9 million with sales of $142.2 million. In Q3, EV sales exceeded 6,000 units and Q4 result will surely be even better:
"The Company also expects the JV Company to deliver 8,000 to 10,000 EV products in the fourth quarter and a total of 20,000-22,000 EV products in the full year of 2015."
Disclosure: I am/we are long TRRXF, ILHMF.