Where To Charge Our EVs: Countries That Generate The Most Electricity From Renewable Sources.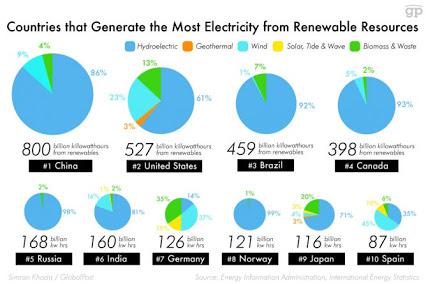 China is already number 1 country with the most electricity generated from the renewable sources. Please not the majority of Renewables are still Hydroelectric, Wind is coming second and Solar is third. Exponential growth in Solar installations is the future in my personal opinion.
Why Solar? Elon Musk: "We Have This Handy Fusion Reactor In The Sky Called The Sun".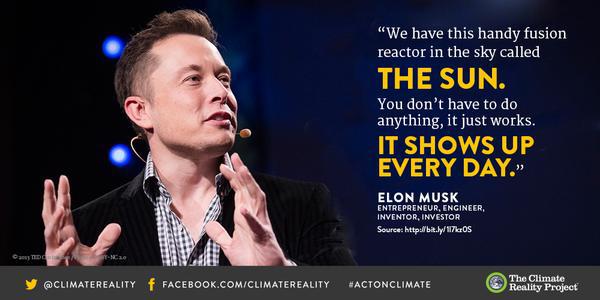 Elon Musk: "We Have This Handy Fusion Reactor In The Sky Called The Sun. You don't have to do anything, it just works. It shows up every day." Just pure and brilliant like the sun.
Elon Musk Presentation Of Tesla Lithium Energy Storage: PowerWall and PowerPack With "Infinite Scalability".
"We must do it, we can do it and we will do it" - Elon Musk presents one more revolutionary product and it will become the major transitional point for our industry. The most important point here is the price. I am very impressed with the pricing of $3,500 for 10 kWh! Tesla's Gigafactory is supposed to bring the price down to 100 per kWh and than we can talk about the mass market for electric cars and energy storage. It all is coming very fast now: Gigafactory will be in operations by the end of 2016. Solar power is booming all over the world. This energy storage products will be open source as well! Elon is talking about hundreds of Gigafactories to come and LG Chem, BYD, Foxconn and Boston Power are already building ones. Time is to invest in the security of lithium supply to make this revolution happen. International Lithium is very fortunate to have Ganfeng Lithium as our strategic partner in this fast growing market and we are on the ground advancing our J/V projects right now.
Tesla Motors: Energy Storage for a Sustainable Home.
Lithium Hydroxide - A Perfect Price Storm Just Before Tesla Battery Storage Announcement.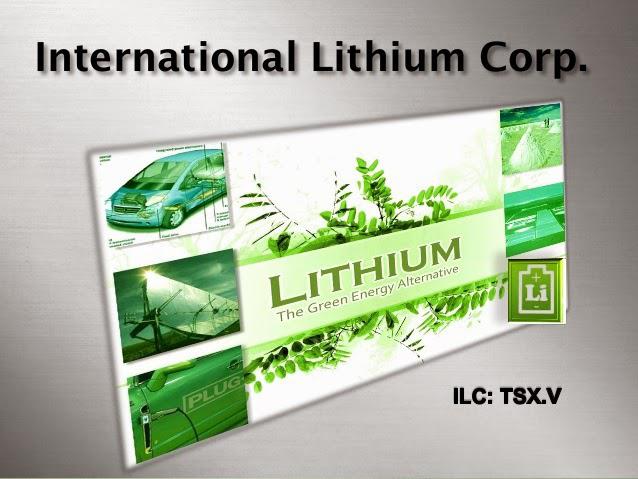 Joe Lowry has published another very interesting article on the current supply and demand in the different sectors of the lithium market and the coming shortage for the lithium battery grade materials. If you are interested in our sector - he will be the one to follow on twitter at https://twitter.com/globallithium.
Joe has recently brought to our attention the rising powerhouses from China in lithium materials sector and, as you know, I am personally involved with International Lithium and Ganfeng Lithium from China as well.
"War On Pollution" in China produces a range of new concepts of electric cars to conquer the largest auto-market in the world. Not all of them will become the hit in the market, but the trend is apparent - EV is the future for mobility in China. Government supports this leap into the lithium based technology to close the gap with western auto-makers. Security of supply for lithium takes the centre stage in the development of strategic industry - electric cars. Tesla Gigafactory has already spiked interest to the lithium batteries and Megafactories are being built now in China by LG Chem, Foxconn, BYD and Boston Power.
International Lithium And Ganfeng Lithium: "The End Of The Lithium 'Big 3'.
"Joe Lowry has published a very interesting article about the lithium market, major producers and rising Chinese powerhouses in lithium industry. You can find now more details on International Lithium strategic partner Ganfeng Lithium. Apple Electric iCar and Warren Buffet BYD move into energy storage to chase Elon Musk with his Tesla Gigafactory bring Lithium back onto the radar screens of investors now. Read more."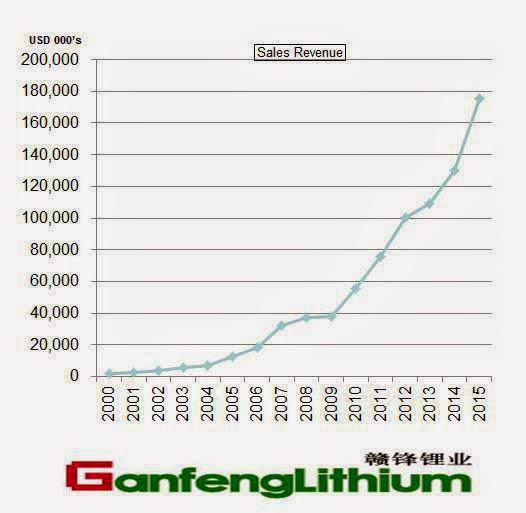 International Lithium And Ganfeng Lithium Move Mariana Lithium Brine Project Forward In Argentina.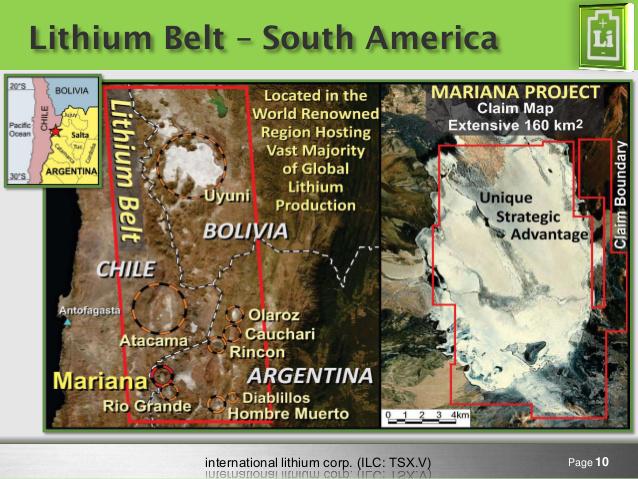 Mr. Kirill Klip, President, International Lithium Corp. comments, "We have always viewed Argentina as a favorable location for mineral exploration and development and have been able to operate in a mutually beneficial manner with the local people and governments. The results of the recent elections have managed to give foreign corporations greater confidence in the future of business and mineral resource development in Argentina. We welcome the change and look forward to working with the newly elected officials and advancing our Mariana lithium brine project in cooperation with our strategic partner, Ganfeng Lithium. Security of lithium supply is becoming more important as witnessed by recent price increases in China, all in advance of the completion of new battery production facilities announced by Tesla and other manufacturers. We continue to build a vertically integrated lithium business with Ganfeng Lithium to meet the future demand of lithium products that will address the increasing demands for lithium raw materials and chemical products." Read more.
International Lithium Receives Notice of License Renewals for the Avalonia Lithium Project, Ireland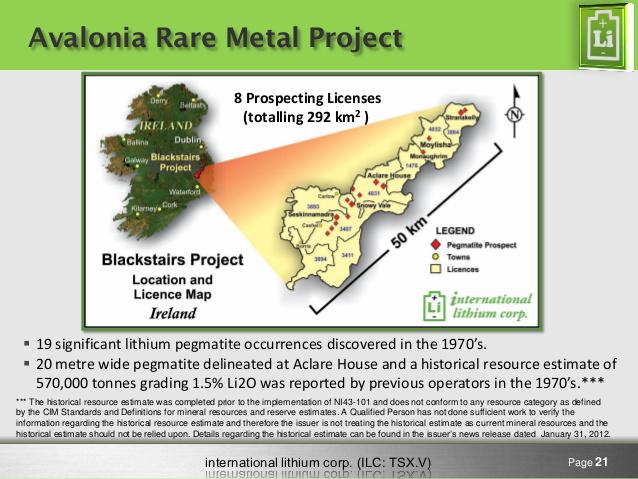 "Mr. Kirill Klip, President, International Lithium Corp. comments, "The Avalonia project joint venture, fully funded by strategic partner Ganfeng Lithium Co. Ltd., ("GFL"), could be of strategic importance to the European Union should a sufficient resource be identified. Clean fuel technologies for motor vehicles are becoming increasingly important to the European Economic Community to tackle climate change and the air pollution crisis in major urban areas. Lithium technology will play a major role when it comes to providing batteries for communication devices, electric vehicles and utility storage systems. Renewable sources of energy such as solar and wind power will also benefit from lithium battery technologies and become more commonplace as the problem of intermittency will be addressed providing steady power from these sources 24/7." Read more."
Disclosure: I am/we are long ILHMF, TRRXF.