Lithium Race: Tesla Model S Leads Top Selling Electric Cars in U.S. 2015.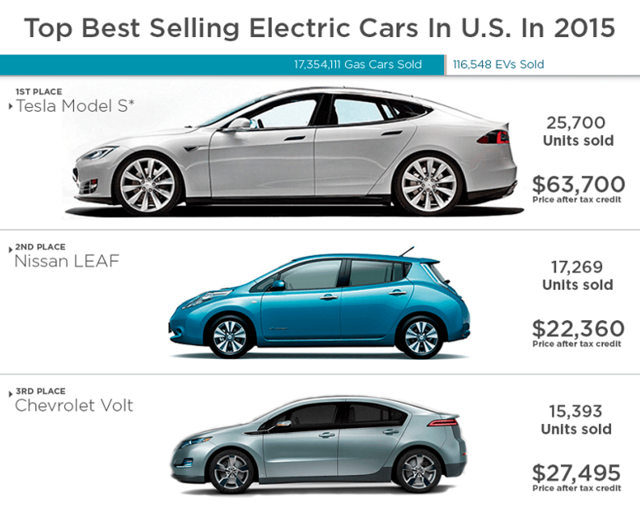 Market Watch.
Market Watch has provided us with this brilliant illustration of the trend in Electric cars in 2015 in U.S. Despite being the most expensive one, Tesla Model S is outselling with a very big margin Nissan Leaf and Chevy Volt by 49% and 67% respectively. It proves my personal observations: we have seen nothing yet in this Energy rEVolution: electric cars share is 0.7% in U.S. of total car sales! People are buying quality, Tesla Model S is providing such quality in the luxury sector and outselling BMW 7 and Audi 8 in Europe already and is taking on Mercedes S! Now we need quality electric cars for the mass market and GM Bolt is a great electric car to start it. Tesla Model 3 will make this market to happen for real and First EV Price Wars will drive the EV prices down, hopefully, for all of us to benefit. Despite total insignificance of electric cars in market terms now, lithium battery consumption of lithium is already around 40%.Once we will start buying all electric cars, which will be better than "Clean Diesel" or 'Not-So-Dirty" Petrol and with the same or even cheaper price, we will have the Lithium Market Upheaval Joe Lowry is writing about in China all over the world. We are making the dramatic shift from the remote control with two batteries, to mobile devices with 4-10 equivalent and now we are moving to over 7,000 lithium batteries equivalent like in Tesla Model S. Below you can find my chronicles of the Energy rEVolution and Joe Lowry latest information from "Opaque Lithium Kingdom."
International Lithium At Wentworth: Back Into The Future - The World Just Before The INTERNET.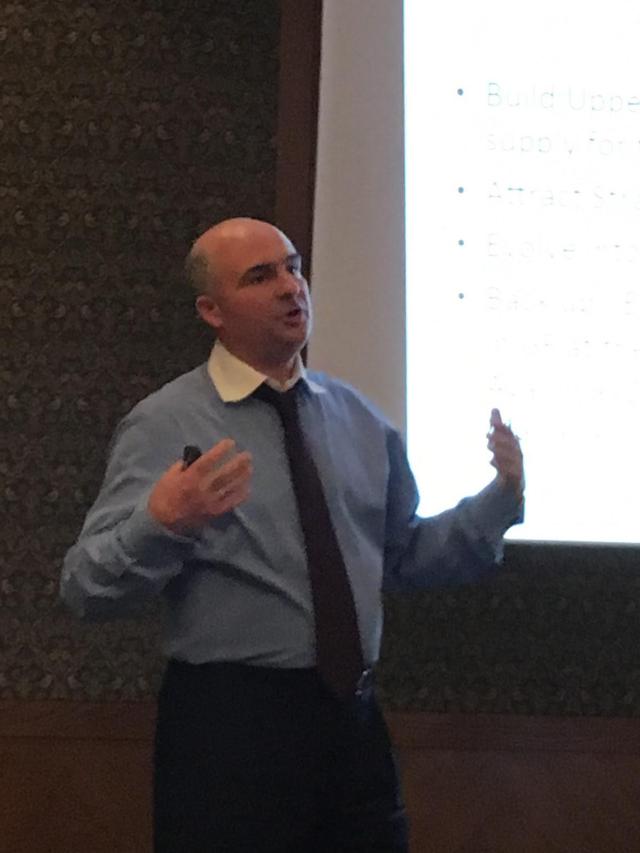 Kirill Klip President of International lithium.
I would like to share today with you my presentation at Wentworth last week. International Lithium Team was on our European roadshow and we have visited Ireland as well during that trip. We were very fortunate and proud to meet hero Kevin Michael Vickers - the Ambassador of Canada to Ireland. You can find more pictures on my tweeter feed and stay tuned for the coming developments. Read more."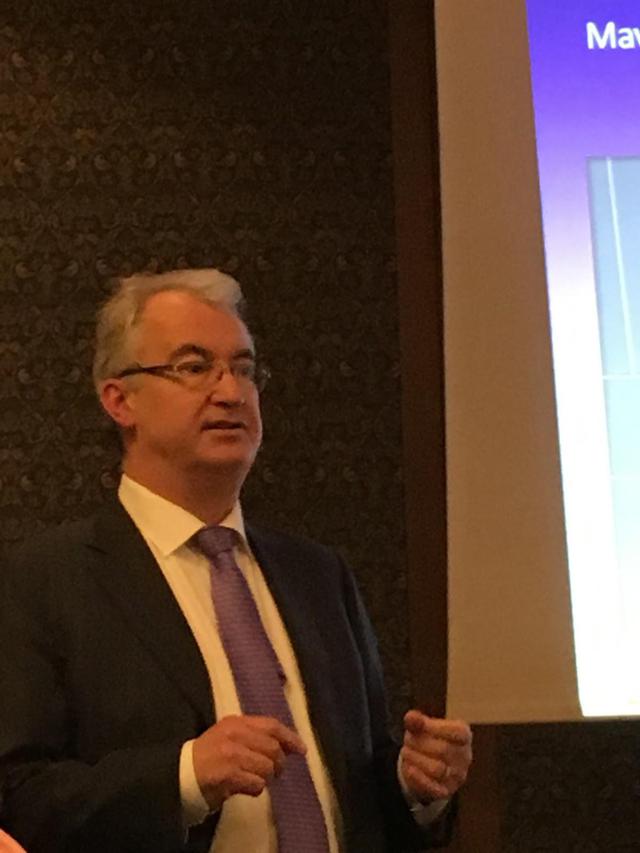 Gary Schellenberg Chairman and CEO of International lithium.
Our Mariana lithium J/V with the giant from China Ganfeng Lithium will benefit now from the election results in Argentina and we are looking forward to advance it to the pilot stage. In my presentation I am using material of the very talented team from Benchmark Minerals Intelligence headed by Simon Moores. He is a must followwith Joe Lowry if you would like to be up-to-date with the developments in the Lithium Market. Now let me take you for a journey into the future, which is already here:
BBC Video: How Volkswagen Fooled The World With A Scam To Rig Pollution Tests And They Do It Again.
Volkswagen DieselGate Fallout: Second Shock - Tesla Model S Takes On Mercedes S, Outsold BMW 7 And Audi 8.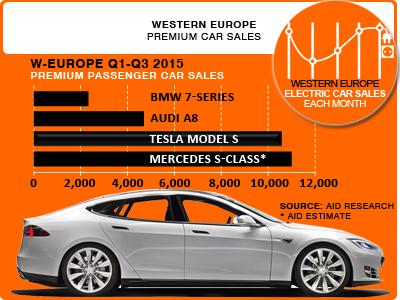 This news will be shock for a lot of people. Electric cars made by Tesla are just better than comparable luxury brands. All this data is for the whole 2015 up to September. Volkswagen scam is not even reflected in consumer behaviour! Tesla Model S is taking on Mersedes S already, outselling Audi 8 and BMW 7 by a very big margins. Welcome to The Silicon Valley Economics. Now this trend will only accelerate. To pay yourself to poison your kids with cancer hazard pollution is quite stupid after all.
Next step is to go for the mass market for electric cars, Tesla Model 3 will start it.The average price for a new car in U.S. was $23k in 2014. My magic formula is 20/200. $20k buys you BMW 2 type electric car with 200 miles range. Elon Musk will make it possible with dramatically reduced cost for Lithium Batteries to as low as $100 per kWh made at Tesla Gigafactory. If he will be able to commercialise Solid State Lithium Battery technology we are up for the real treat. Than Tesla Model S And X will go more than 500 miles on a charge very soon! Lithium is the magic metal at the very heart of this rEVolution. Read more."
My Outrages Lithium Price Prediction Of $15k per MT Of LCE And Joe Lowry On China Lithium Market Upheaval.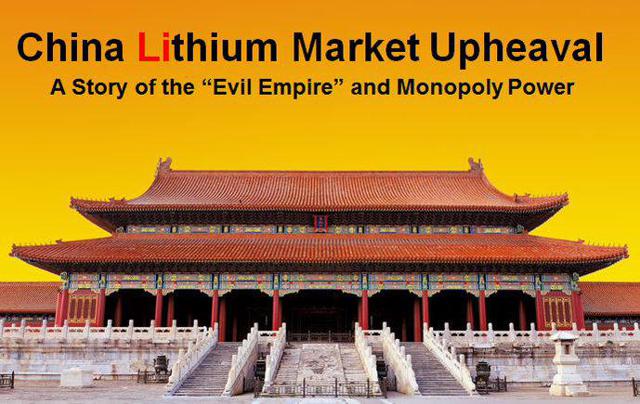 Copyright Global Lithium LLC, used with permission.
"Joe Lowry makes very interesting observations about the dynamic in our Lithium Universe. China is the largest Lithium Market in the world now. Security of Lithium Supply becomes the most important element of your business plan, when market is growing exponentially. It is all happening even before Tesla Gigafactory is coming online with other Lithium Megafactories to follow. My prediction about $15k MT LCE prices in China now suddenly does not look totally outrages any more! Read more."
"Asia is taking the very important lead in this space as well. China is not only leapfrogging directly into the Lithium Energy Space with Electric Cars and Solar, but building the advanced materials base for this new Energy rEVolution. Panasonic, Nissan, Toyota, NEC, Sony, Samsung, Huyndai, LG Chem and others are staking its own place in electric cars now. China is the largest Lithium Market in the world already, moving to claim the largest Lithium Battery Producer title and Electric Cars in China will become the largest World's EV market early in the next year.

Listen to that podcast, read the article about LG Chem and do your own research. Numerous companies are building Lithium Batteries facilities now in China: LG Chem, BYD, Boston Power (Ganfeng Lithium has 10% stake), Foxconn, Samsung, A123 - which will exceed even Tesla Gigafactory production capacity! 17 start ups only this year are trying to capitalise in lithium batteries market on the "War on Pollution" announced by China and state-level plan to build new strategic industry - Electric Cars. Read more."
International Lithium and Ganfeng: Chinese Lithium Prices Jumped Twice In October To $11,049/tonne.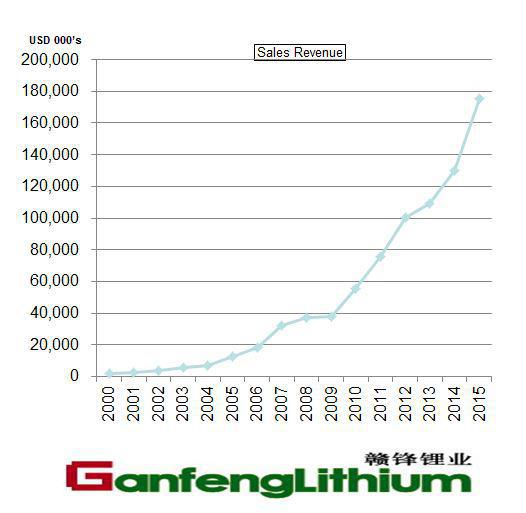 Now we can discuss the real situation in the lithium market and how the full blown shortage situation of Lithium looks like. China is rising and has become the centre of "Lithium Universe". International Lithium strategic partner Ganfeng Lithium put up its prices for a second time in the space of month last week to $11,049/tonne! With rising Lithium prices Ganfeng Lithium market cap is rising as well, now this giant from China has reached 2.3 Billion market cap. Industrial Minerals calls Ganfeng leading Chinese carbonate supplier and you can see the chart below reflecting the market situation in China. It will come as a shock for many:
"Chinese lithium producer Jiangxi Ganfeng Lithium Co. Ltd increased the price of its lithium carbonate last week, marking the second rise in a single month.

The company raised the sale value of its material by nearly 17%, from Chinese renminbi (Rmb) 60,000/tonne ($9,470/tonne*) to Rmb 70,000/tonne ($11,049/tonne) - Industrial Minerals"
Ganfeng has announced in China on its website establishing of $170 million credit line to finance expansion of its production facilities, financing of acquired last year mobile lithium battery maker and investing in the development of raw material base. The security of supply is everything. International Lithium is building vertically integrated lithium business with Ganfeng.
Joe Lowry: Preliminary Look at 2015 Global Lithium Demand.
International Lithium: Mavis Lake Lithium And Tantalum Project, Canada.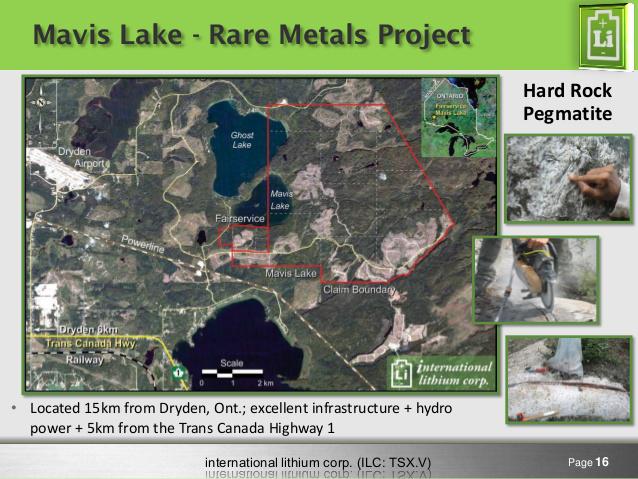 "With GM Bolt and Faraday Future unveiling at CES 2016, Lithium Technology is in the headlines these days and getting finally on the investor's radar screens. Today I would like to present International Lithium's Mavis Lake Lithium and Tantalum project in Canada. Our J/V projects with Ganfeng Lithium: Avalonia in Ireland and Mariana in Argentina are better known: we are advancing another $4 million exploration programs on these projects now. Mavis Lake presents another very important opportunity for development of potential source of conflict free strategic commodities in politically stable Canada. We are talking here about the security of Lithium Supply for the West now. With our J/Vs with Ganfeng Lithium solidly on track for the development, we are concentrating now on the Strategic Partnership to build the Next Lithium Producer in North America. Read more."
Disclosure: I am/we are long TRRXF, ILHMF.