Lithium And The World's Largest Auto Market: Tesla Wants A Factory In China, And Fast.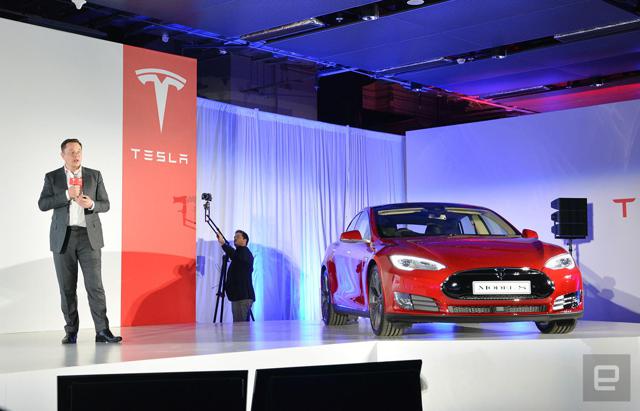 Engadget.
Elon Musk goes with Tesla to China where the world largest auto market is and Warren Buffett 's backed BYD is the top company selling electric cars now. I expect China to become the world largest EV market early this year as well. And we have already "Lithium Market Upheaval", even before all these remarkable historical developments are in place.
Lithium Universe: Joe Lowry - "Price Flu" From China Is Spreading.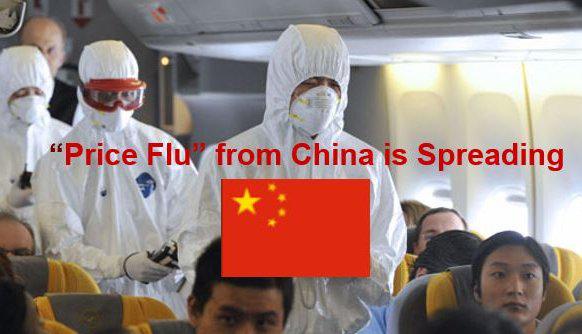 Copyright Global Lithium LLC, used with permission.
Joe Lowry reports that my outrages price prediction for 2016 with $15k per MT of LCE is already looks like new normal in China! This price spike maybe exaggerating the real situation for now, but only so far - the security of supply is now the most import issue for all Lithium Materials producers like Ganfeng Lithium and this new paradigm reflecting the tectonic shift in the post carbon economy. Lithium is the magic metal at the very heart of the Energy rEVolution. International Lithium is building vertically integrated lithium business with Ganfeng. The new players are already claiming not only the market share, but investors' attention as well.
Lithium Universe: Joe Lowry - China "Big 2" Lithium Companies Performance Compared To The "Big 3".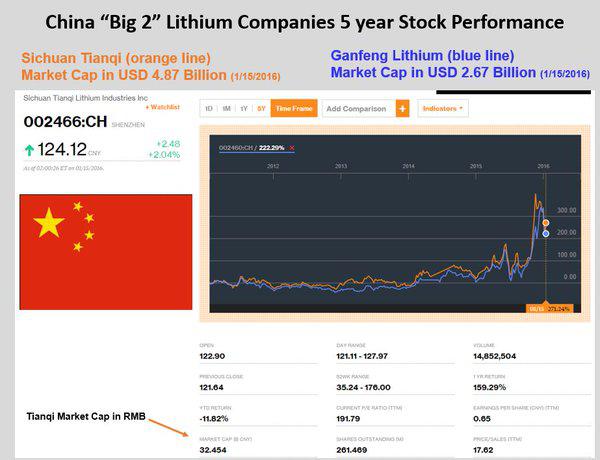 By Joe Lowry Global Lithium LLC copyright https://twitter.com/globallithium
Published with permission.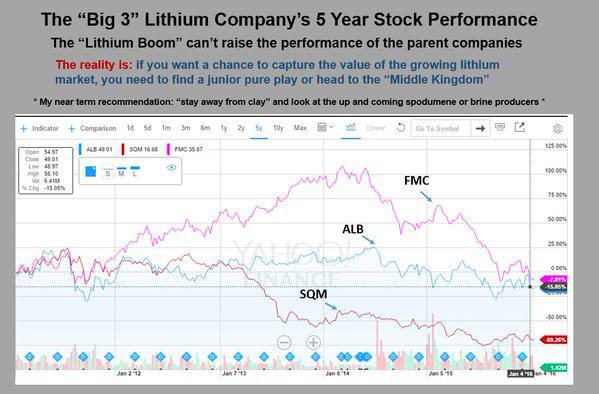 Joe Lowry provides brilliant graphic explanation where the real action is now. China has become "Lithium Universe" with the largest Lithium Materials market, moving fast to claim largest Lithium Batteries market and will become the largest Electric Cars market in the world this year, according to my estimations.
Ganfeng has announced in China on its website establishing of $170 million credit line to finance expansion of its production facilities, financing of acquired last year mobile lithium battery maker and investing in the development of raw material base. The security of supply is everything. International Lithium is building vertically integrated lithium business with Ganfeng.
The Economist On Lithium - This Increasingly Precious Metal Powers Your iPhone, Tesla's Cars And NASA's Mars Rovers.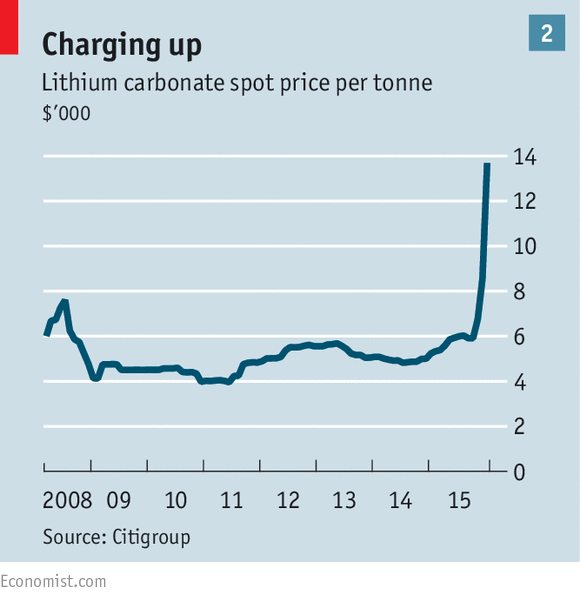 The Economist presents to us very interesting and deeply researched article on Lithium. Now this magic metal will be getting on the investor's radar screens and recent huge price spike in China will be the best advertisement for this Strategic Green Energy Metal. I will provide a few links for your research on what is actually behind this spike and why my outrages Lithium price prediction for 2016 is already so close.
The key for everybody will be this opening paragraph from The Economist:
"SQM, Chile's biggest lithium producer, is the kind of company you might find in an industrial-espionage thriller. Its headquarters in the military district of Santiago bears no name. The man who for years ran the business, Julio Ponce, is the former son-in-law of the late dictator, Augusto Pinochet. He quit as chairman in 2015, during an investigation into SQM for alleged tax evasion. (The company is co-operating with the inquiry.) Last month it emerged that CITIC, a Chinese state-controlled firm, may bid for part of Mr Ponce's controlling stake in SQM, as part of China's bid to secure supplies of a vital raw material."
China already controls 75% of Lithium Hydroxide production which is used in Tesla Motors lithium batteries and is the largest Lithium Market in the world, now if CITIC will be able to get hold of that stake in SQM we are all going to see consequences very fast and this spike will become not just "local market disturbance", but the reflection of strategic value of Lithium for the Next Industrial Energy rEVolution. Another key fact for you to ponder: the cost of lithium as material in the lithium battery is below 3%.
International Lithium is building vertically integrated lithium business with Ganfeng.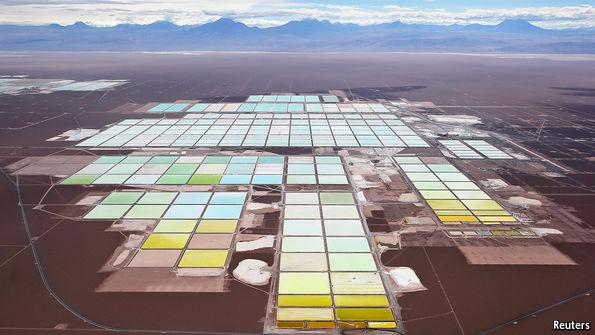 Lithium Technology Powers Your iPhone, Tesla's Cars And NASA's Mars Rovers.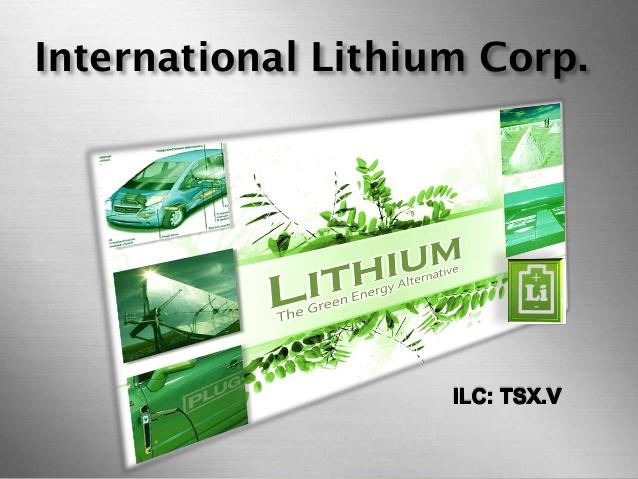 "Business Insider is taking lithium story to the mainstream investors. This market is very small, still under the radar screens of the majority of investors and masqueraded by the carnage in commodities. Obama's Clean Power Plan and China's Strategic Industry Development Plan will create the mass markets in electric cars and home energy storage allowing solar power to work 24/7. Lithium is at the heart of this technology empowering Green rEVolution.
Lithium market is very opaque and real information is often hidden from the public among outrages claims and promotions from different companies and journalist just jumping on the hot subject. On this blog I try to bring you the best industry experts with their opinions and up-to-date developments in lithium market. Read more."
My Outrages Lithium Price Prediction Of $15k per MT Of LCE And Joe Lowry On China Lithium Market Upheaval.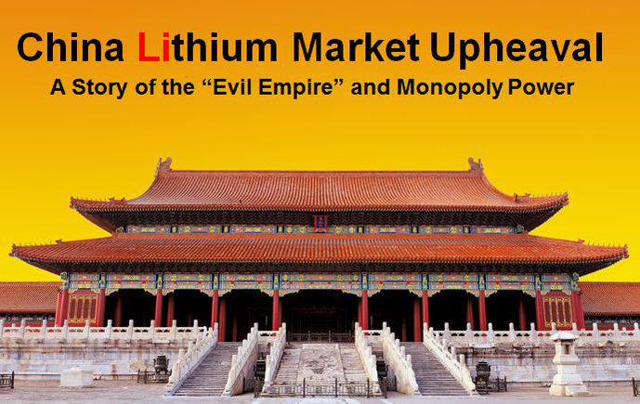 Copyright Global Lithium LLC, used with permission.
Joe Lowry makes very interesting observations about the dynamic in our Lithium Universe. China is the largest Lithium Market in the world now. Security of Lithium Supply becomes the most important element of your business plan, when market is growing exponentially. It is all happening even before Tesla Gigafactory is coming online with other Lithium Megafactories to follow. My prediction about $15k MT LCE prices in China now suddenly does not look totally outrages any more!
"Asia is taking the very important lead in this space as well. China is not only leapfrogging directly into the Lithium Energy Space with Electric Cars and Solar, but building the advanced materials base for this new Energy rEVolution. Panasonic, Nissan, Toyota, NEC, Sony, Samsung, Huyndai, LG Chem and others are staking its own place in electric cars now. China is the largest Lithium Market in the world already, moving to claim the largest Lithium Battery Producer title and Electric Cars in China will become the largest World's EV market early in the next year.

Listen to that podcast, read the article about LG Chem and do your own research. Numerous companies are building Lithium Batteries facilities now in China: LG Chem, BYD, Boston Power (Ganfeng Lithium has 10% stake), Foxconn, Samsung, A123 - which will exceed even Tesla Gigafactory production capacity! 17 start ups only this year are trying to capitalise in lithium batteries market on the "War on Pollution" announced by China and state-level plan to build new strategic industry - Electric Cars. Read more."
Engadget:
Tesla wants a factory in China, and fast
Richard Lai
Model X will be headed to Hong Kong as well later this year.
Ahead of his participation in a Hong Kong technology forum tomorrow, the ever so busy Elon Musk has managed to take some time out to give us an update on how Tesla's doing in Greater China. Without revealing specific sales figures, the CEO told Engadget that his company is now "doing reasonably well" in Mainland China despite the earlier hiccup, and he aims to lock down manufacturing plans -- finding a local partner and a location for the plant -- for the local market by middle of this year. As with most other foreign auto makers who do business in China, this key strategy is to waive the high import duties charged by the local government, as well as to access other local incentives for EVs. Until then, Musk said there's no further news to share on that end.
To date, Tesla has set up 15 stores in seven major cities in Greater China, over 340 Superchargers and over 1,600 destination chargers. Hong Kong in particular has 42 Superchargers, making it the city with the highest density of Tesla's rapid charging stations; this is on top of the 75 destination chargers there. It's no wonder that last year the company managed to sell 2,221 Model S in Hong Kong alone, which made up over 80 percent of the local electric vehicles that year. To put things into perspective, that's also 4.39 percent of Tesla's total global shipment in the same period.
Between 2014 and 2015, Hong Kong saw a whopping 270 percent growth in terms of number of EVs registered, to which Musk credited the "excellent government policies" that he admitted are more supportive than what he currently faces in Mainland China. As a well-deserved "reward" for local Tesla fans, Musk confirmed that the Model X will be headed to the city in 2H 2016, along with the opening of a new service centre."
Disclosure: I am/we are long TRRXF, ILHMF.