Lithium Race: All Electric Cars Made In China.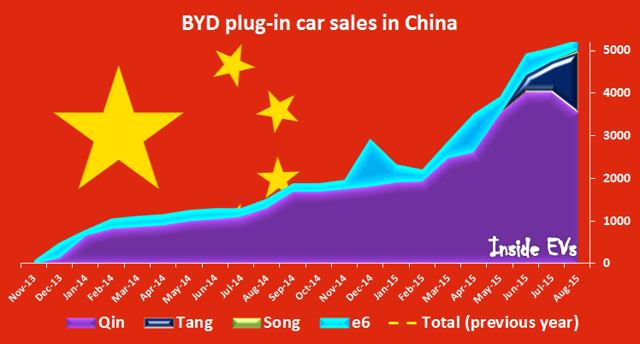 Even before Tesla Gigafactory is coming online in 2017 we have already "Lithium Market Upheaval in China". My outrages Lithium price of $15 per MT of LCE in 2016 is not so dramatic any more: Joe Lowry has recently reported that LiOH is priced in some deals in China at $20k per MT already. Time is to check where all this lithium goes into before BYD, Foxconn, Boston Power, Samsung and A123 with their Megafactories plus 17 new startups in Lithium Batteries in China are coming online. As you can see, from the data provided by ChiaAutoWeb Electric Cars in China are already growing very fast in numbers of different models and sales. BYD backed by Warren Buffett is holding the first place and I expect China to become the largest electric cars market in the world early this year. It is all happening very fast even before Tesla has moved to build its tesla Model 3 in China. International Lithium is building vertically integrated lithium business with Ganfeng Lithium.
Lithium Race: Elon Musk Wants To Build Tesla Model 3 Electric Cars In China.
"Elon Musk is looking for the Tesla Motors factory place in China and the production could be started in 3 years time. He is going where the largest auto-market is and China will welcome him with open arms. We have the state-level military plan to build the new strategic industry in China - Electric Cars in action. Why compete with ICE Age dinosaurs if China can leapfrog straight forward into the Next Industrial Energy rEVolution? 75% of Lithium Hydroxide is controlled by China now, it goes into Tesla Motors lithium cells made by Panasonic. Ganfeng Lithium supplies Panasonic with lithium materials as well as Warren Buffett's backed BYD, LG Chem and Samsung among many others. International Lithium is building vertically integrated lithium business with Ganfeng Lithium. Watch the video"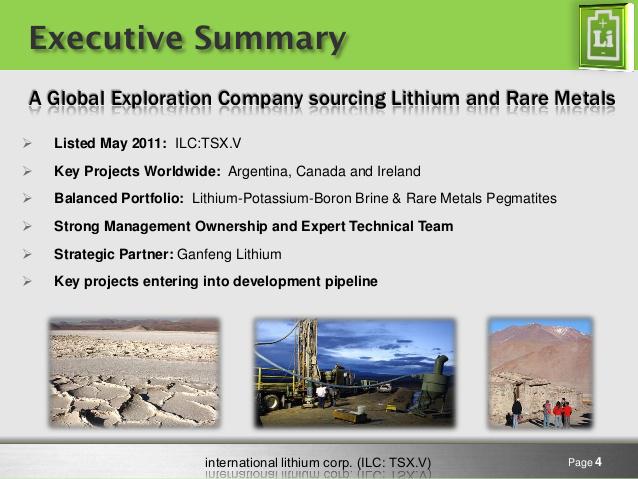 My Outrages Lithium Price Prediction Of $15k per MT Of LCE And Joe Lowry On China Lithium Market Upheaval.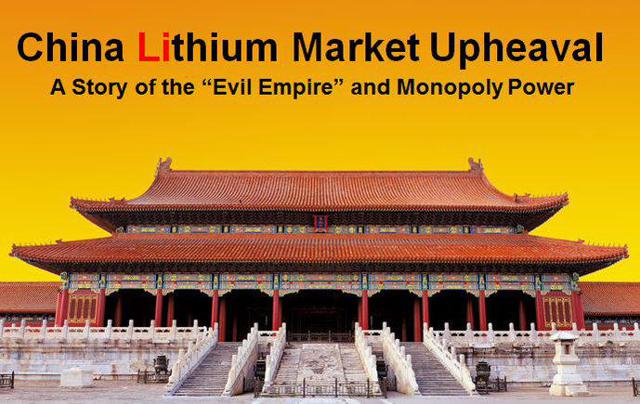 Copyright Global Lithium LLC, used with permission.
Joe Lowry makes very interesting observations about the dynamic in our Lithium Universe. China is the largest Lithium Market in the world now. Security of Lithium Supply becomes the most important element of your business plan, when market is growing exponentially. It is all happening even before Tesla Gigafactory is coming online with other Lithium Megafactories to follow. My prediction about $15k MT LCE prices in China now suddenly does not look totally outrages any more!
"Asia is taking the very important lead in this space as well. China is not only leapfrogging directly into the Lithium Energy Space with Electric Cars and Solar, but building the advanced materials base for this new Energy rEVolution. Panasonic, Nissan, Toyota, NEC, Sony, Samsung, Huyndai, LG Chem and others are staking its own place in electric cars now. China is the largest Lithium Market in the world already, moving to claim the largest Lithium Battery Producer title and Electric Cars in China will become the largest World's EV market early in the next year.

Listen to that podcast, read the article about LG Chem and do your own research. Numerous companies are building Lithium Batteries facilities now in China: LG Chem, BYD, Boston Power (Ganfeng Lithium has 10% stake), Foxconn, Samsung, A123 - which will exceed even Tesla Gigafactory production capacity! 17 start ups only this year are trying to capitalise in lithium batteries market on the "War on Pollution" announced by China and state-level plan to build new strategic industry - Electric Cars. Read more."
International Lithium and Ganfeng: Chinese Lithium Prices Jumped Twice In October To $11,049/tonne.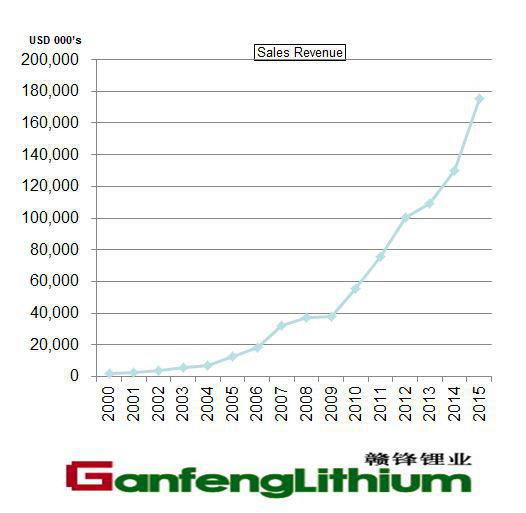 Now we can discuss the real situation in the lithium market and how the full blown shortage situation of Lithium looks like. China is rising and has become the centre of "Lithium Universe". International Lithium strategic partner Ganfeng Lithium put up its prices for a second time in the space of month last week to $11,049/tonne! With rising Lithium prices Ganfeng Lithium market cap is rising as well, now this giant from China has reached 2.3 Billion market cap. Industrial Minerals calls Ganfeng leading Chinese carbonate supplier and you can see the chart below reflecting the market situation in China. It will come as a shock for many:
"Chinese lithium producer Jiangxi Ganfeng Lithium Co. Ltd increased the price of its lithium carbonate last week, marking the second rise in a single month.

The company raised the sale value of its material by nearly 17%, from Chinese renminbi (Rmb) 60,000/tonne ($9,470/tonne*) to Rmb 70,000/tonne ($11,049/tonne) - Industrial Minerals"
Ganfeng has announced in China on its website establishing of $170 million credit line to finance expansion of its production facilities, financing of acquired last year mobile lithium battery maker and investing in the development of raw material base. The security of supply is everything. International Lithium is building vertically integrated lithium business with Ganfeng.
Joe Lowry: Preliminary Look at 2015 Global Lithium Demand.
International Lithium: Mavis Lake Lithium And Tantalum Project, Canada.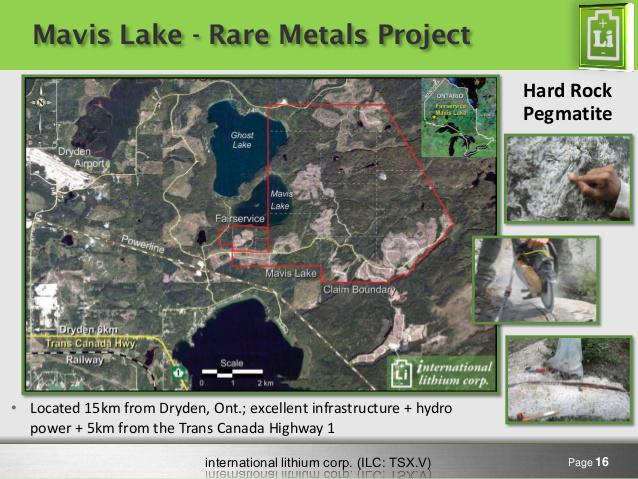 "With GM Bolt and Faraday Future unveiling at CES 2016, Lithium Technology is in the headlines these days and getting finally on the investor's radar screens. Today I would like to present International Lithium's Mavis Lake Lithium and Tantalum project in Canada. Our J/V projects with Ganfeng Lithium: Avalonia in Ireland and Mariana in Argentina are better known: we are advancing another $4 million exploration programs on these projects now. Mavis Lake presents another very important opportunity for development of potential source of conflict free strategic commodities in politically stable Canada. We are talking here about the security of Lithium Supply for the West now. With our J/Vs with Ganfeng Lithium solidly on track for the development, we are concentrating now on the Strategic Partnership to build the Next Lithium Producer in North America. Read more."
International Lithium And Ganfeng Lithium Move Mariana Lithium Brine Project Forward In Argentina.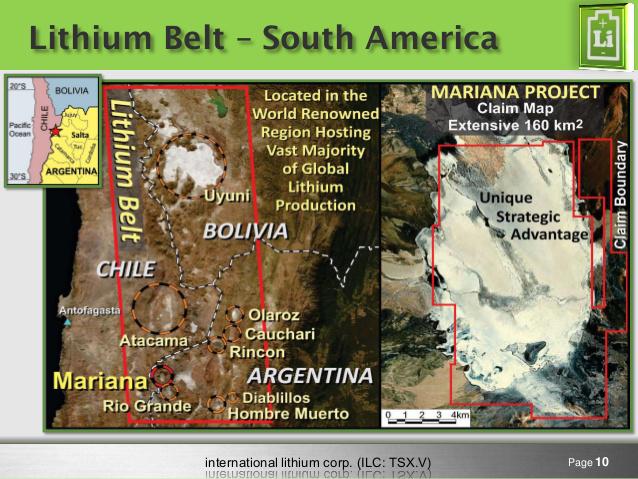 "Mr. Kirill Klip, President, International Lithium Corp. comments, "We have always viewed Argentina as a favorable location for mineral exploration and development and have been able to operate in a mutually beneficial manner with the local people and governments. The results of the recent elections have managed to give foreign corporations greater confidence in the future of business and mineral resource development in Argentina. We welcome the change and look forward to working with the newly elected officials and advancing our Mariana lithium brine project in cooperation with our strategic partner, Ganfeng Lithium. Security of lithium supply is becoming more important as witnessed by recent price increases in China, all in advance of the completion of new battery production facilities announced by Tesla and other manufacturers. We continue to build a vertically integrated lithium business with Ganfeng Lithium to meet the future demand of lithium products that will address the increasing demands for lithium raw materials and chemical products." Read more."
International Lithium Receives Notice of License Renewals for the Avalonia Lithium Project, Ireland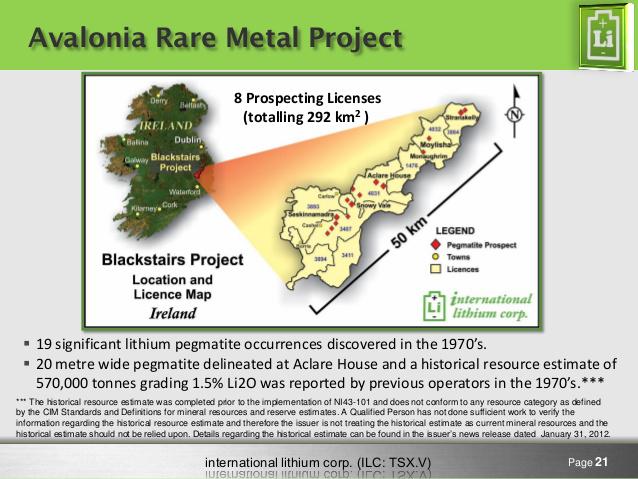 "Mr. Kirill Klip, President, International Lithium Corp. comments, "The Avalonia project joint venture, fully funded by strategic partner Ganfeng Lithium Co. Ltd., ("GFL"), could be of strategic importance to the European Union should a sufficient resource be identified. Clean fuel technologies for motor vehicles are becoming increasingly important to the European Economic Community to tackle climate change and the air pollution crisis in major urban areas. Lithium technology will play a major role when it comes to providing batteries for communication devices, electric vehicles and utility storage systems. Renewable sources of energy such as solar and wind power will also benefit from lithium battery technologies and become more commonplace as the problem of intermittency will be addressed providing steady power from these sources 24/7." Read more."
ChinaAutoWeb:
Listed below are highway-capable plug-in EVs built in China by either native car-makers or foreign-sino joint ventures. The database here covers mainly passenger cars; electric buses and trucks in general are not included. The first table documents pure-electric models, and the second plug-in hybrids (PHEVs). We will update the database regularly following the development of the China's EV industry. Please click on individual models for photos and specs.
All-electric passenger cars

Maker
Model
Battery Type
Driving Range (km)
Top Speed (km/h)
List Price (Yuan)
Release date
BAIC (Beijing Auto)
ES 210
Lithium Ion
175
130
346,900
Dec. 2014
EU260
Ternary Lithium
260
140
254,900
Nov. 2015
E150 EV
Lithium Ion
140
125
249,800
Mid 2013
C30 EV
Lithium Ion
200
160
 
 
Beiqi Foton
Midi EV
Lithium Manganese
170
140
100,000 after subsidies
 
BMW Brilliance
Zinoro 1E
Lithium iron phosphate
150
130
400,000
March 2014
BYD
e5
LiFePO4
220
 
 
 
e6
LiFePO4
400
140
309,800
Limited release in 2010
K9
LiFePO4
250-300
62.1mph
est. 2,000,000
Oct. 2010
T3
LiFePO4
 
 
 
 
BYD-Daimler
DENZA EV
LiFePO4
253
150
369,000/ 399,000
April 2014
Changan
Benni EV
Lithium Ion
150
120
Less than 100,000 after rebates
 
E30
Lithium Ion
160
125
About 100,000 after rebates
100 Changan E30 EVs started to serve as taxis in Beijing in Feb. 2012.
Eado EV
Lithium Ion
160
140
About 200,000
H1 2015
Chery
eQ EV
Lithium Ion
200
100
159,000- 164,900
Nov 2014
Riich M1
LiFePO4
120- 150
120
149,800- 229,800
Nov. 2010
Dongfeng
E30L
Lithium Ion
160
80
 
Late 2014
Dongfeng Nissan
Venucia E30
Lithium Ion
160
 
 
A fleet started to serve as taxis in Dalian in September 2013.
FAW
Besturn B50 EV
Lithium Ion
140
147
 
 
FAW Toyota
Ranz EV
Lithium Ion
120
 
 
 
FAW Volkswagen
Carely
LiFePO4
110
145
 
 
Geely
EK-2
LiFePO4
180
150
100,000
 
Geely
Emgrand EV
Ternary Lithium
253
140
251,800- 265,800
Nov 2016
Great Wall
Haval M3 EV
LiFePO4
160
130
 
 
GreenWheel EV
Jimma (Jummer)
Lithium Ion
160
110
 
 
Hafei
Saibao EV
Lithium Ion
180- 200
130
180,000
 
Haima
Freema EV
LiFePO4
160
90
160,000
Public trial in 2011
JAC
iEV
LiFePO4
160
95
169,800
Sept. 2012
Kandi EV
K11 (Panda EV)
LiFePO4
80
80
 
2014
Lifan
320 EV
LiFePO4
100- 150
120
 
 
620 EV
LiFePO4
200
120
 
 
SAIC (Shanghai Auto)
Maxus EV80
LiFePO4
170
 
179,000- 499,000
Nov. 20, 2014
Roewe E50
LiFePO4
180
130
234,900
Nov. 5, 2012
Shanghai GM
Springo EV (Chevy Sail EV)
LiFePO4
130- 200
130
258,000
Nov. 2012
Zotye
Zotye Zhidou (ZD)
Lithium ion
120
80
108,800
2014
Cloud 100 EV
Li(NiCoMn)O2
150
85
150,000
 
E200
Lithium Ion
120
80
 
 
E30
Lithium Ion
150
80
 
 
5008 (Nomad II) EV
LiFePO4
200
100
210,000
early 2010
M300 EV
LiFePO4
200
120
250,000
2010
Plug-in Hybrid Cars
Maker
Model
Battery Capacity
List Price (Yuan)
Release date
BMW Brilliance
BMW 530Le
40AH
698,900
Jan. 15, 2015
BYD
Qin
13KWH
189,800- 209,800
Dec. 17, 2013
Shang
 
est. 139,800- 169,800
H2 2015
Song
 
est. 250,000
H2 2015
Tang
18.4KWH
est. 300,000
H2 2015
Yuan
 
est. 200,000
H2 2015
Chery
Arrizo 7 PHEV
9.2KWH
 
Late 2015
FAW Volkswagen
Audi A6L e-tron
14.1KWH
 
2016
GAC (Guangzhou Auto)
Trumpchi GA5 REV
13KWH
199,300- 219,300
Oct. 2014
SAIC (Shanghai Auto)
Roewe e550 (550 PHEV)
11.8KWH
248,800- 259,800
Nov. 2013
Volvo
S60L PHEV
11.2KWH
505,900- 559,900
April 22, 2015
Disclosure: I am/we are long TRRXF, ILHMF.