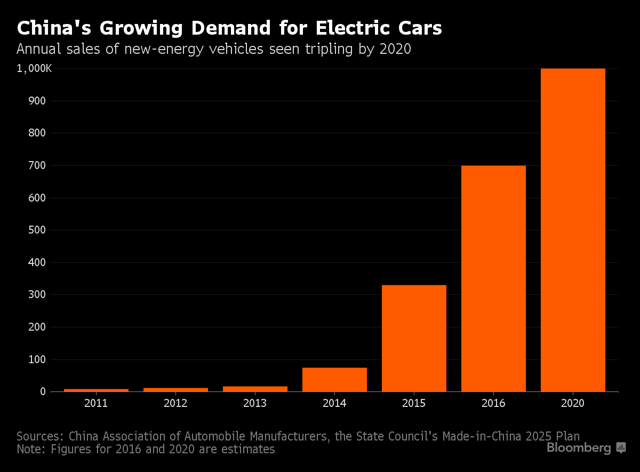 I guess that it is the case that whatever China wants they will get. In the case of electric cars with all the best central planning can get they will be there much faster. I am expecting that China will sell 500,000 only in this year. And we will see 1,000,000 electric cars sold worldwide in 2016. They have sold already 207,000 by August in 2016! Bloomberg is even more optimistic on the chat above. I will throw my own number - China will have at least 5 million electric cars by 2025. Why - just stay with me for a while. These twenty minutes can change your next 20 years of life. If Tony Seba is correct: all new cars sold by 2025 will be electric.
There is a state-level military plan in action in China to leapfrog ICE-age technology directly into the post carbon world with its New Energy Plan. It is a part of strategic planning on the state-level within Five Year Plans. New Energy is based on Solar, Wind and Electric Cars. Military style planning includes the whole commodity chain starting with Lithium Raw Materials - Ganfeng Lithium and Tianqi are investing all over the globe to secure lithium supply. Lithium Chemicals including for lithium batteries production - China is number 1 in the world already including Ganfeng Lithium and Tianqi making it into "The New Lithium Top 5." Lithium Batteries - Now Warren Buffett's BYD is chasing Panasonic and new coming Megafactories in China from CATL, BYD, Foxconn, Boston Power, A123, LG Chem and Panasonic will make China the center of Lithium Universe for many years ahead. Electric Cars - there are 25 companies which are making 51 models of EVs already in China and 200 companies are developing 4,000 new EV models.
This is what I call a serious exercise of a structural shift in the economy, driving internal consumption by building a 21st-century manufacturing base in Solar, Wind and Electric Cars and growing its middle class who will produce and consume all those beautiful cars. Now they will be able to breathe a fresh air as well. Welcome to Henry Ford idea with the state level implementation of new lithium technology and 1.4 billion people who would like to be happy and only starting to consume a fraction of the goods compare to the West.
I am preaching for the same approach here in the West for years. My dog is listening to me every time, but even him got bored already. Nothing is perfect anywhere, but you better check it out and learn fast: while we are still fighting DieselGate after one year from its mass media discovery, Red Dragon is flying fast and high picking up the best lithium projects, technology and brains to feed its new appetite for growth. Links below will provide you with my ideas where this growth will lead us and what will be the diet for this hungry creature. For those who is a long time here - we are coming back to our main investment thesis. It is very difficult to handle dragons: they are naughty, moody and can fry you just by trying to kiss. It is a better business to run a grocery store and feed them well. This New Energy domination plan will require a lot of Lithium and Copper and this is where my research is leading me to as well now.
International Lithium is building the vertically integrated lithium business with $4.5 Billion market cap giant from China Ganfeng Lithium, which is financing J/V operations in Argentina and Ireland. This year International Lithium is advancing its projects in Canada as well with Pioneer Resources from Australia bulding the security of lithium supply for the North America.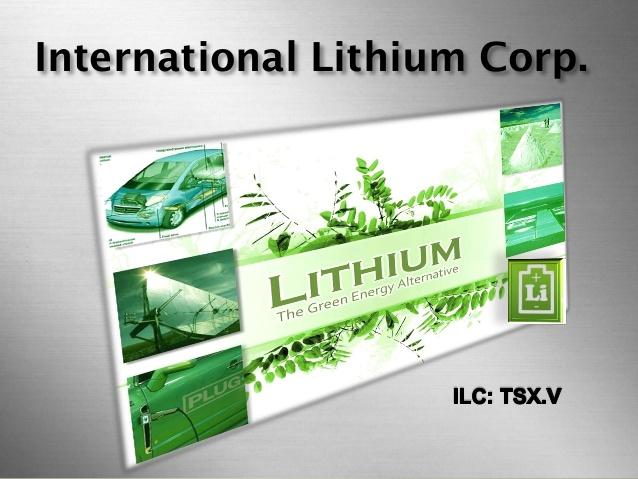 "This brings the total amount budgeted for exploration to CAD$17 million across the Company's projects in Canada, Argentina and Ireland, making International Lithium Corp. one of the most active exploration companies in the lithium sector. This speaks volumes for the quality as well as the potential of the Company's projects," states Kirill Klip, President, International Lithium Corp."
Disclosure: I am/we are long ILHMF, TRRXF.