IoT Industry
Despite having a significant impact on consumer life and business functionalities, benefits of Internet of Things (IoT) still remain unknown with respect to its positive economic and social impacts which lead to transforming societies for the better. To summarize, IoT is nothing but connecting everyday physical devices to the internet thereby enabling integration into computer based systems. Smart phone appliances to connected cars to scheduling household chores, IoT is all set to foray into every aspect of a consumer's life and make it more convenient and productive.
According to Zion Market Research, the global Industrial Internet of Things (IIoT) Market is expected to grow at a CAGR of 8.06% between 2018 and 2023, with market revenue likely to reach $232.15 billion as compared to $145.81 billion in 2017. Continuous development of new operating models by global organizations in order to create a connected enterprise drives the IIoT market rapid growth rates. ARW holds a strong pole position in the industry to achieve higher growth rates as it seeks to foray into a lot of consumer life aspects and also it seeks to innovate in the IoT products and solutions.
Our industry pick - Arrow Electronics
Among the numerous established and upcoming players in the IoT industry, Arrow Electronics (NYSE: ARW) is a attractive stock investing option with strong fundamentals and financials. It maintains over 300 sales facilities and 45 distribution and value-added centres, serving over 80 countries to more than 150,000 original equipment manufacturers, value-added resellers, contract manufacturers, and commercial customers.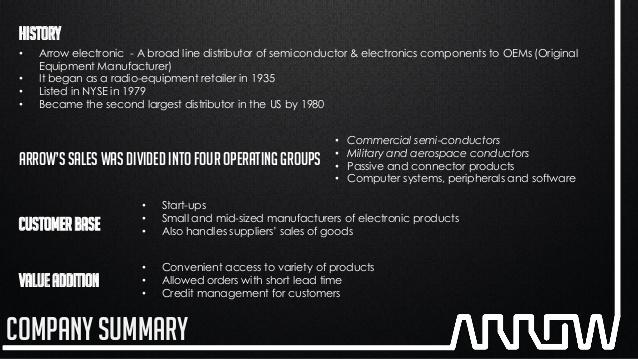 With almost more than 800 partners in Arrow's IoT ecosystem, the company has forayed into various verticals like Agriculture, cities and medical to implement and reap the benefits. In the agriculture field, Arrow can support in every aspect from design to hardware to connectivity to maintenance – with support from sensor to sunset in order to make farming more efficient. With the implementation of IoT, Arrow is trying to bring the smart city vision to life as it seeks to power the next-generation of intelligent urban development, integrating information and communication technology with IoT to more intelligently manage a city's resources. In the medical field, Arrow's IoT technology is targeted to improve patient outcomes in a significant manner and also benefit the providers with efficient tracking, analyzing and maintaining the patients healthcare. Sensors are enabled already for personalized health monitoring, early diagnoses of illnesses, and reduced errors.
Strategic partnerships
Digi International recently awarded Arrow the Global IoT Partner of the Year award for its ability to design, develop and deploy solutions and products through comprehensive IoT technology and services offering. It believes ARW is a company that is continuously creating new paths in the IoT industry.
Recently, Arrow initiated to offer a ready-to-use security solution created to secure IoT peer-to-peer or cloud connections in smart home/city and industrial applications, including sensor networks and IP cameras. The company's new service has been planned to offer initially to customers across EMEA with later prospects of a global rollout. With this step, Arrow is pioneering in the security of IoT product space which is a very important concern for consumers with increasing usage of technology in personal life.
Additionally, ARW and Commvault Systems, Inc. (NASDAQ: CVLT) commented that they are extending their pan-EMEA collaboration to include Commvault's Data Platform in order to open up data management capabilities that can be offered as-a-service or on-premise.
Stable financials & balance sheet flexibility
For the first quarter 2018, Arrow reported sales of $6.88 billion, an increase of 20% from $5.74 billion in the year ago quarter. Net income for the same period rose 20.9% to $139 million or $1.56 per share on diluted basis. Led by expansion of its line card and services, global components sales surged 21% year-over-year while global enterprise computing solutions sales rose 16%.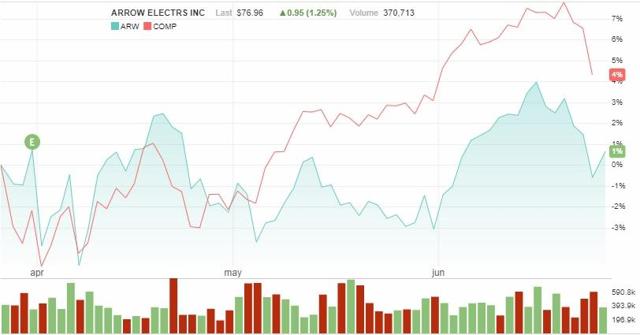 E: Earnings; Chart as of June 26, 2018 data
For second quarter, total sales are estimated between $7 billion and $7.4 billion and earnings per share on a diluted basis, are likely to be in the range of $1.78 to $1.90. With significant collaborations and newer product developments, service providers and value-added resellers are attracted to ARW thus ensuring higher growth in the upcoming quarters.
Posing as an attractive investment, ARW stock during the first quarter received investment from Franklin Resources of $2.24 million while Natixis Advisors L.P. and Toronto Dominion Bank boosted its stake by 2.4% and 15.7% respectively. In the same period, BlackRock Inc. lifted its stake by 4.9%, Korea Investment CORP bought an additional 164.9% stake. Lastly, Timber Hill LLC bought a new stake worth $560,000.
ARW believes that with its strong position in the technology solutions field, financial flexibility supports it to drive strategic growth. Recently, it announced that it has revised its asset securitization program, extending maturity to June 2021 and increasing capacity to $1.2 billion from the earlier September maturity of $910 million.
With a current market capitalization of $6.75 billion. ARW is trading at a beta of 0.84 and P/E Ratio (NYSE:TTM) of 16.15. Comparatively, peers like Intel (NASDAQ:INTC), Texas Instruments (NASDAQ:TXN) and Skyworks Solutions (NASDAQ:SWKS) are trading at P/E Ratio (TTM) of 21.54, 28.00 and 22.16 respectively. Out of the total nine analyst coverage on the stock, three analysts suggest a Strong Buy rating while four suggest a Hold with an average price target of $89.00, an increase of 15.6% from current levels (June 26, 2018 closing price).