Shares of inpatient psychiatric facility provider Psychiatric Solutions rocketed +24% intraday Wednesday after the WSJ reported  that the Tennessee-based provider was in talks to be acquired by private-equity firm Bain Capital. According to the article, PSYS was asking for a +25% premium to its current market price. This would imply at least a $30 price tag - and a ~1.7x EV/sales multiple - which makes sense given that $30 is roughly the stock's 52 week high. The stock closed under that price, so there may be a merger arbitrage play here. I think this deal is gonna get done one way or the other.  Several operators and PE shops looked at the name and my own industry research has found that buyers are lurking for the sort of business PSYS operates.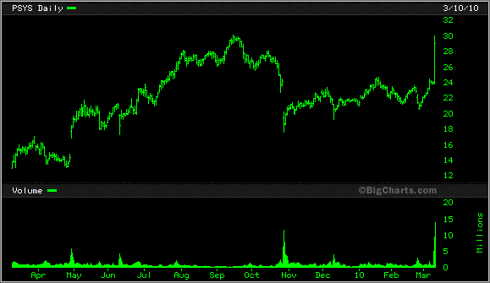 PSYS, which operates roughly 90 psychiatric hospitals and treatment centers in 32 states, is at $1.9B 2010E run-rate and is the prime beneficiary of a regulatory ruling that passed in 2008. The legislation, THE MENTAL HEALTH PARITY ACT, outlaws health insurance practices that set lower limits on treatment or higher co-payments for mental health services than for other medical care. Typical annual limits in the past have included 30 visits to a doctor or 30 days of hospital care for treatment of a mental disorder. Otherwise stated, the new playing field mandates that plans require equivalence, or parity, in coverage of mental and physical ailments. This means managed care plans have to redesign benefits to better accommodate mentally ill people. I believe this should lead to an uptick in PSYS admissions over the long-term.

Further, reimbursements to psychiatric care providers from government payors have improved over the last decade and mental illness has been "de-stigmatized" in the US over the same time period – these are two drivers to think about. Further, PSYS has long had shorts hounding the stock (current short interest to float ratio was 15%) and had a relatively leveraged balance sheet (ample debt was taken on as PSYS did a number of roll-ups over the last few years). Shorts have focused on several quality issue allegations at PSYS facilities, often pounding the stock off incisive media reports and rumor-mongering. I think Bain believes this has put a transitory lid on PSYS' upside and is targeting its underlying growth potential away from the scrutiny of Wall Street.
Although one could play the arb game here, I think another safer way to play this is via Universal Health Services, an operator of acute as well as psychiatric care facilities. UHS' behavioral segment reflects 25% sales, but 50% of EBITDA, underscoring the better reimbursements and profitability of the psychiatric business. I also think UHS is cheap relative to the acute care peer group, likely stemming from its exposure to the Las Vegas market – as a reminder, Nevada is suffering from a record number of foreclosures and unemployment there was 13% in February, +330 bps over the national rate. That said, UHS has a solid balance sheet, is well-run, and generates strong returns on capital. I would think that buy-siders who missed the pop and shorts who just got torched on PSYS will take a closer look at the closest comparable to PSYS out in the marketplace, and potentially recalibrate how they think about the psych business now that Bain and others have flown over the cuckoo's nest.
 Disclosure: No position in securities mentioned and author's firm does not cover PSYS. Authors views are STRICTLY his and do not reflect that of his employer