On March 25, private equity giant Cerberus announced a deal to acquire Catholic non-profit health system Caritas Christi for $830 million. The deal would turn Caritas into a for-profit, unload its pension liabilities onto Cerberus, and enable the struggling non-profit to keep its staff levels intact. More importantly, I think the deal could be seen as a canary in the coal mine that suggests more non-profits will pursue consolidation opportunities with larger players who are less vulnerable to the major changes that will befall the acute care industry now that health reform has been passed.
As a reminder, the biggest changes to acute care coming from Obamacare, on the downside, will be roughly $155B in Medicare cuts, which includes roughly a $35B haircut in DSH payments to hospitals that see a disproportionate share of indigent patients. On the plus side, beginning in 2014, the insured pool in the US will significantly expand. Estimates on the Street are about 32 million more people getting insurance. Roughly half of that 32 million will fall into Medicaid and the others will likely become part of the state exchanges.
Getting more people in the US covered should help acute care operators lower their uncompensated care (and help collection rates), as well as lower volatility in EPS.
You will recall that uncompensated care for a hospital is essentially bad debt (funds the hospital planned to collect but did not) + charity care (care it provided but never expected to get paid for). As you can see, it's essentially a major trade-off for the group and its essential that those insurance expansion projections materialize over the next decade, since the market basket cuts in reform will hurt and have no offset if the insured pool doesn't materialize.  
I also expect the acute care group to benefit from
restrictions on physician-owned hospitals
as this gradually wipes out another level of competition from the playing field.  Since the insurance pool doesn't widen until 2014E – but the cuts begin right away – I expect non-profits that operate on low margins and are overexposed to one geographic region to look for exits.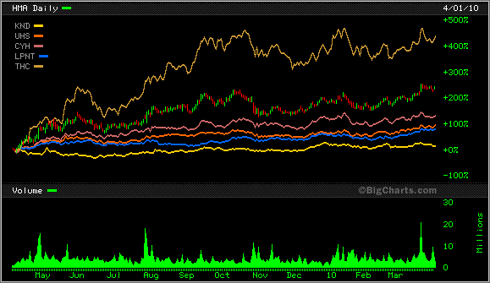 To sum it up, expect more consolidation in the acute care industry and expect the larger (publicly traded and private) health systems to benefit since they have more scale, diversity, and better access to capital. One thing is for certain: every hospital system in the US will have to find ways to creatively work around the challenges health reform will usher in beginning now. The names have run up ahead of reform so it's up to readers to pick apart the street models and see what a realistic earnings power run rate will be now that health reform is in the rear-view mirror.
One name I prefer, at least from a viewpoint of expsosure to crowded ERs and levels of uncompensated care, is THC.
Further, THC is deleveraging nicely and commercial admissions should pick up once the economy can start adding jobs at a sustainable level.
Stocks impacted: LPNT HMA THC CYH UHS KND PSYS
Disclosure:
Author holds no position in securities mentioned and the author's firm does not cover the securities mentioned. Authors views are STRICTLY his and do not reflect that of his employer whatsoever.