Leading hospital chain HCA is looking to raise ~$3B through an IPO in the near-future, reported Bloomberg late Wednesday. You will recall that HCA, which has over 160 inpatient facilities in the US, went private about four years ago. The price tag of the LBO was about $33B, but less than 15% of that was actual equity put up by the PE shops and fellow sponsors. If HCA floats stock, the capital will be used to pay down debt. HCA' debt/EBITDA is roughly 5x, which would put it closer to the high end of hospital operators, like THC and CYH. Given the thawing credit markets, HCA, like other acute care operators, used 2009 and H1:10 to refinance and extend debt maturities.


I think the HCA IPO would be well-received. Looking at HCA's Q409 numbers, bad debt and same-store admissions seemed within the neighborhood of industry peers. EBITDA climbed +8% and outpatient admits were also strong. HCA is at a $31B revenue run-rate for 2010E, approximately.  More notably, I believe acute care should see an interest among investors, even as many of the names that are publicly traded have soared to 52 week highs. The health-reform risk overhang is past us and the group should benefit from the lower number of uninsured entering the system beginning in 2014E. Arbitrarily using an example of an operator that was opearting in parts of the US that were hard hit by the economic downturn (HMA, which operates in Florida, for example), I highlight how nasty bad debt got in the back half of '09. Thankfully, HMA, like others, was able to axe op ex aggressively to help the botom-line.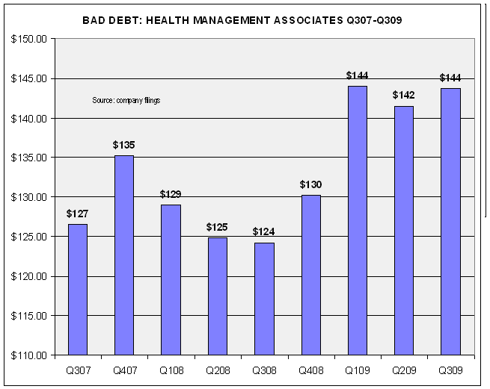 Estimates on the Street are about 32 million more people getting insurance. Roughly half of that 32 million will fall into Medicaid and the others will likely become part of the state exchanges. The first bucket of that 16 to 17 million or so will represent the number of uninsured adults living under the 133% federal poverty level threshold. These are the poorest of the poor and the bucket that ends up in the ER incurring significant hospital bills that they cannot pay (you will often hear that hospitals "overcharge" uninsured, making them pay more than commercial admissions pay – while this may occur, collection rates on the uninsured are quite low). Getting more people in the US covered should help acute care operators lower their uncompensated care levels, as well as lower volatility in their earnings streams – investors like visibility and this may help hospital EBITDA multiples over the long-term.

In the last downturn, the group lost roughly 3-4 turns on its historic EBITDA multiple. I also expect the acute care group to benefit from restrictions on physician-owned hospitals as this gradually wipes out another level of competition from the playing field. This last data-point is not being discussed much on Wall Street, but it is a trend to consider.

If the HCA IPO is well-received by the buy-side, the group as a whole should generate more retail interest. I believe institutions have long played the space and were smart in doing so as the stocks tend to move sharp and hard, usually before bad debt peaks and admissions normalize.
Disclosure:
Author holds no position in securities mentioned and the author's firm does not cover the securities mentioned. Authors views are STRICTLY his and do not reflect that of his employer whatsoever.