Prerequisite: Read, skim or scour my previous article titled -- "An Apple Story: Alpha, Algo's and a Poorman"
I am writing an informal instablog as I only want to give the results from full year 2012 while adding a few missing items.
So How Did Year Two Fare?
If you bought Apple on the close of 12/30/2011, you paid $405.00. Your buy and hold YTD result is a very respectable 104.19 point gain or 25.7% return. (for the purpose of this article, I will say Apple closed 2012 at $509.19) To achieve this, you carried market or time risk equaling 365 days.
How Did The Poorman Manage?
The long only side was able to squeeze out 253.80 points or 62.6% return using the same $405.00 basis. This was on ~208 days of market or time risk. So, not only did the long side double the stocks gain, it did it on 157 days less.
The stock lost 180.69 points on a Wednesday close - Friday close basis. Since The Poorman goes short on Wednesday close, this is a 180.69 point or 44.2% gain. If we combine the long and short side to complete the full algo, 2012 reported a 434.49 point or 107.2% gain.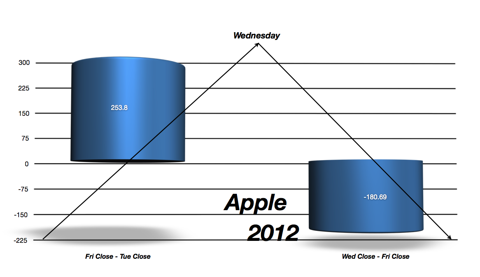 Odds And Ends
You should really have a low-cost broker to trade this set-up. Something like Interactive Brokers (IB) or Tradestation. These two brokers charge $1.00 to trade 1 or 100 shares. I use IB. This algo is pure speculative trading. It is based on historic price trends left in the wake of Apple's options.
How do you mitigate risk? I would take a lump sum of money to use as your, in effect, "stop-loss." As an example; let's say you only wanted to risk a loss of $5K. I would use a lump sum account of $10K. When it reaches $5K liquidation value, you would close up shop. In this example, I would only buy/short ~$5K worth of stock all year. Since we need to use the same exact share count all year, I would use 8 or 9 shares. The reason you buy 8-9 shares is due to the stock price fluctuation. 8 shares is $4K @ $510 but $5.6K @ $700.
You can modify this algo anyway you would like. For example, using Wednesday open vs Tuesday close greatly outperformed in 2011 and 2012. This was mainly due to Apple's earnings releases being on Tuesday after the close. I set it up originally on a Tuesday cycle to stay away from earnings risk. I also used Tuesday close as this reduces time risk in the market. I personally still use Tuesday close. I have went back and forth modifying the Friday buy. Originally I used the market close. Towards the end of summer I switched to buying at 9:30 AM PST. I did this because by the time Friday close comes, all front week calls are closed out, lifting the albatross and letting Apple rise into the close. 9:30 AM just represent market halftime, not some secret sauce I've acquired. I have switched back and forth on this 9:30 AM or Friday closing print. I do not recommend constant altering like this, as you need to become robotic as possible.
Lucky Number 13?
Apple recently started to trade on a 5 consecutive weekly options cycle. Will this derail the Monday - Tuesday gain and Thursday - Friday loss? As this whole algo was and is based on weekly options. We will find out pretty quickly if this will force The Poorman to pack his bags while saying "it was fun while it lasted." Until then, here's to 2013.

And oh yeah, surf's up dude.
Disclosure: I am long AAPL.
Additional disclosure: Short Put Spreads, Short Calls, Long Call Spreads. Poorman's Algo "on"