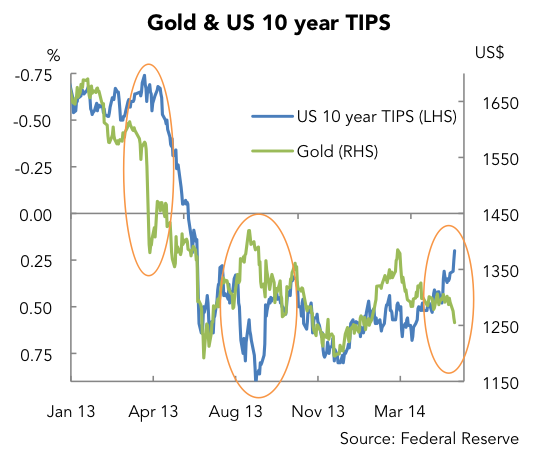 Over the last few days we have seen not only a unexpectedly strong rally in US treasuries and TIPs, but we have also seen gold noticeably lower.
This is fairly unusual in the context of the last few years, although there have been a couple of notable periods since the start of 2013 when gold and bonds have moved in opposite directions.
In March 2013 we saw the gold price collapse v while bonds rallied a little before also selling off dramatically as expectations shifted on tapering of QE by the Fed.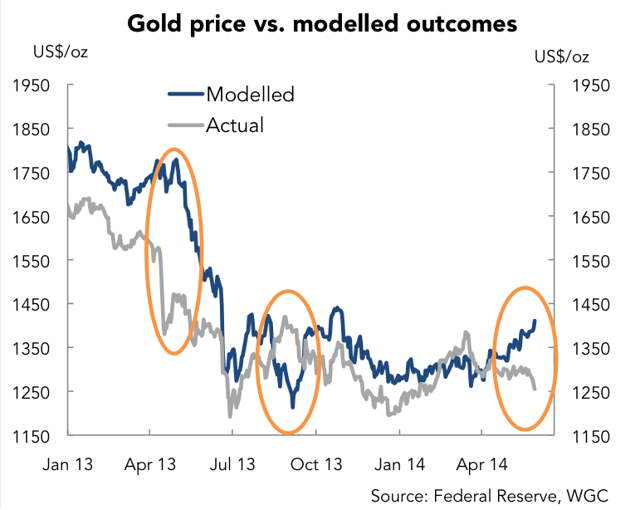 In August 2013, the opposite occurred, as bonds sold off as expectations for tapering beginning in that month grew, while gold rallied at least in part due to problems in Syria. Ultimately tapering was pushed back December, with real yields yet to reclaim those highs and gold falling a little.
Both periods appeared to be at least in part due to expectations on Fed policy. Furthermore, both periods were not about movements in the dollar, with the influence of a stronger/weaker dollar not particularly large during these points. This is shown in the chart on the left using a model of gold that takes into account the average effect of both the moments in bonds and the USD TWI on the gold price over the last 5 years or so.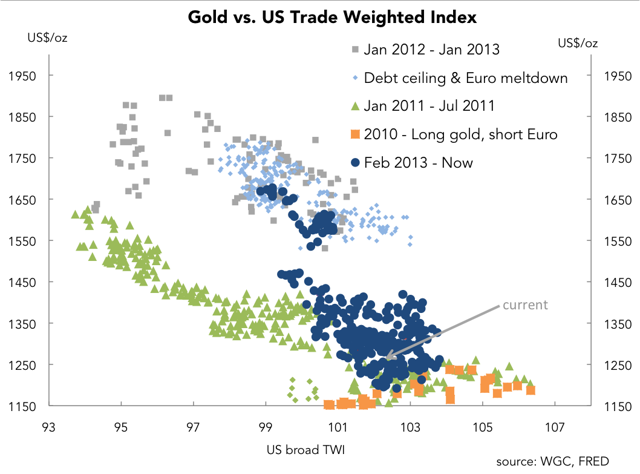 The most recent divergence in gold and bonds also can't be explained by a stronger USD, with the recent dollar strength not enough to outweigh the recent rally in 10 year TIPs. When looking at gold vs. the US TWI, it is trading right in the middle of the recent band.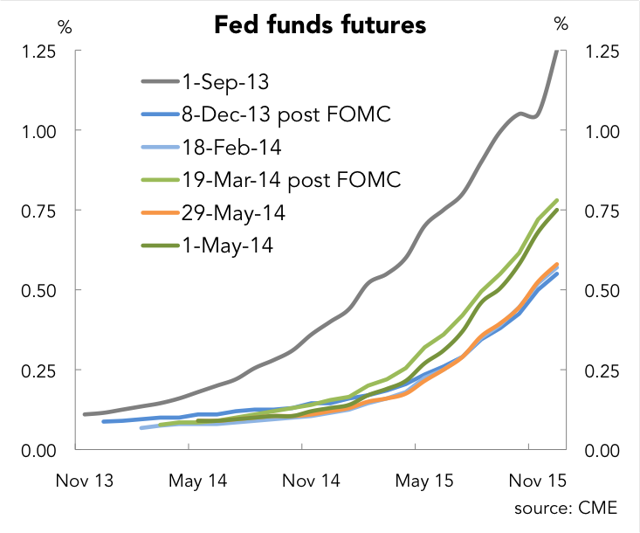 There has been a shift on expectations on Fed policy that has driven some of the bullishness in bonds, but has failed to translate into stronger gold prices.
Since the start of May, markets have shifted the Fed Funds Futures curve back to where we were in December 2013, as weaker data has shifted the prospect of rate hikes out further.
There doesn't however, appear to be much of a change in the views on the likelihood of tapering of asset purchases, which will continue to be wound down.
It is notable that while the shorter end of the curve has rallied on shifting expectations, the longer end of the curve has rallied even further. This has traditionally been more correlated with movements in the price of gold.
One of the key drivers of this divergence could be the building expectation of more easing from the ECB. This is perhaps mixed for gold, as while it is driving yields lower, it is also likely to strengthen the USD.
While this has yet to translate into a meaningfully stronger USD/weaker Euro, perhaps the slump in the gold price suggests that gold investors are looking for such a move in FX markets.