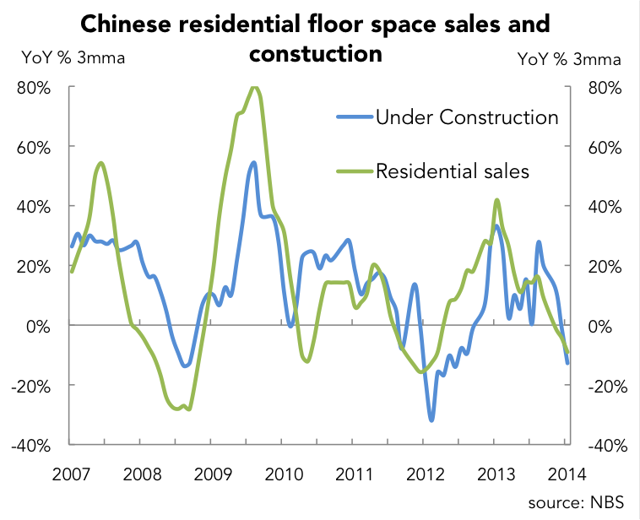 First, it looks like construction activity is starting to roll over at a faster rate, with more required than the very recent announcements to turn things around.
Second, power generation was weaker than headline IP, suggesting heavy industry is languishing. This is a problem for commodities in general but also coal in particular. On top of this, it looks like hydro generation has been very strong, rising over 20%YoY in April.
Finally, the level of steel production is higher than expected, but the rate of growth remains slow. Some analysts seem to be suggesting that its time to be bullish on the seasonal uplift in production, but this seems very risky given the trajectory of construction activity.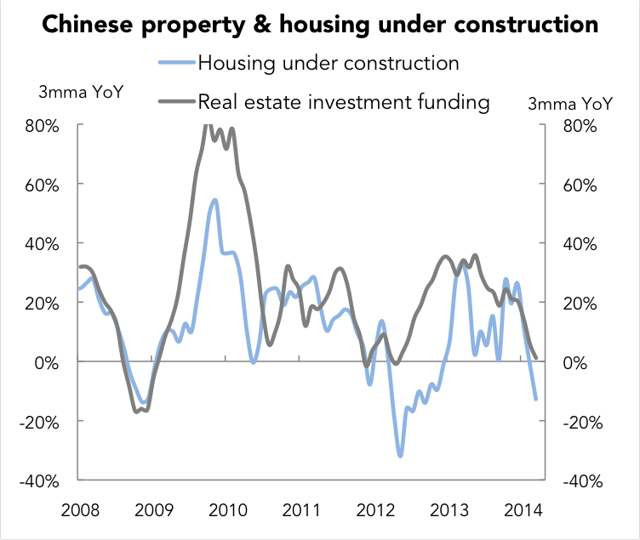 One of the reasons the second half of 2013 proved to be better than expected was because key sectors like housing were solid even though policy was being tightened. That was because funding to the sector was strong despite the efforts of policy makers.
As the chart left shows, that is now changing, with funding drying up and construction activity starting to fall YoY.
There are reports that conditions are now being loosened on mortgage borrowing, with policymakers having already lowered interest rates over the year to date.
While this is positive, I don't think it outweighs the headwinds at the moment. It is far to early to know whether they have done enough to turn things around, with consumption in key sectors still likely to get weaker rather than stronger. For many commodities, its still better to look for signs of a turning point rather than assume it will happen because policy makers have started to react.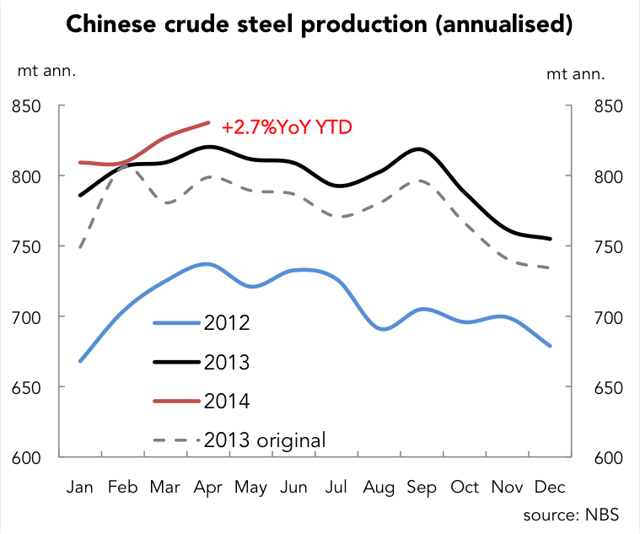 One commodity where some sell-side analysts have become more positive (at least from an equity perspective) is iron ore, on signs that steel production is getting better.
The crude steel picture has become confusing thanks to apparent revisions to historical data. In the YTD, it looks like 2013 production has been revised up by a little under 3%. This means that that the level of steel output is probably on par, or a little stronger than previously expected.
That said growth rates are not particularly strong, with crude steel output up only a little over 2% in April. Furthermore, pig iron output has actually shrunk YoY.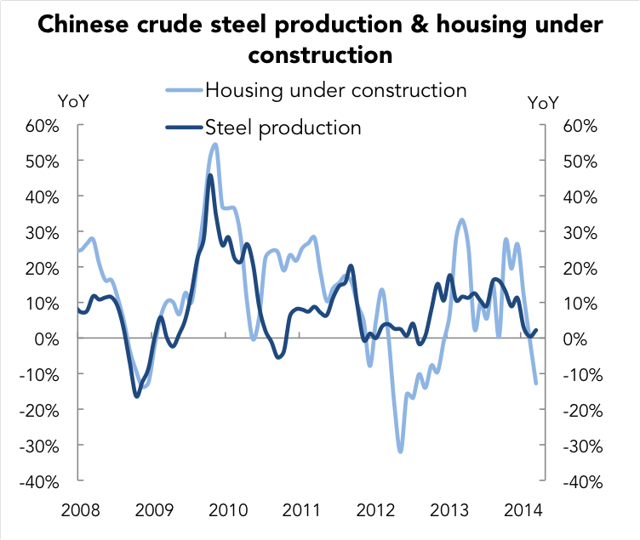 It does seem a little too cute to be bullish on iron ore because of revisions to steel data. Especially in light of the trajectory of construction activity.
Furthermore, while these charts focus just on housing construction, it also looks like commercial building is weakening as well. This provided a useful offset in 2012 that won't be provided this time around.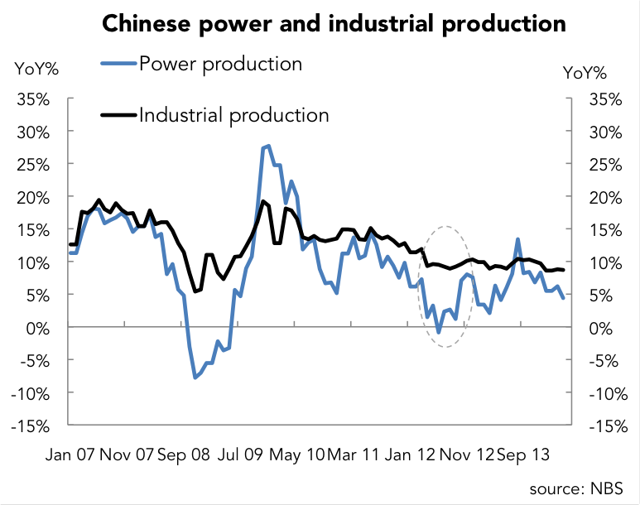 Power output was noticeably weaker than the marginal decline in headline IP growth, falling to 4.4%YoY. It does appear that heavy industry is faring worse than the rest of manufacturing.
This is something that has been picked up in higher frequency indicators like coal burn (as posted here) and this indicator will remain a useful guide to potential turning points.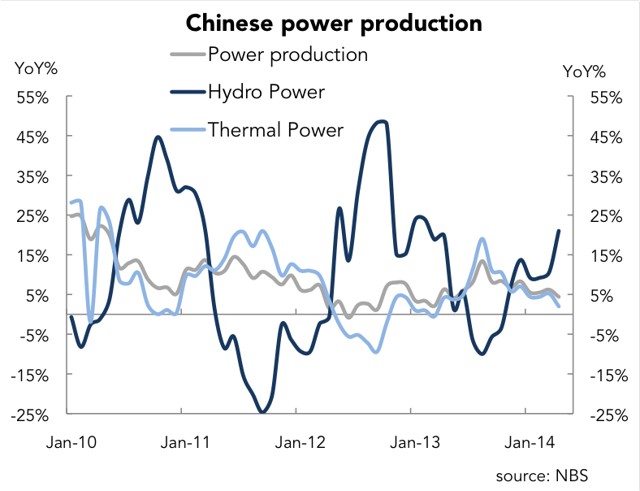 One factor that may cloud the usefulness of monitoring coal burn is the large increase in hydro generation, which rose 21%YoY in April.
We have still yet to hit the peak period for hydro, which is around July, with levels of output usually rising at least another 50% from current levels on a seasonal basis.
A lift off in hydro, coupled with a poor top-down picture, could be hugely problematic for coal, with prices already languishing at low levels.