One of the most important decisions that investors interested in the cannabis space will be facing in the quarters ahead is about diversification.
Over the past two years, the goal for investors in this space was easy: anything and everything attached to the theme of "pot" or "cannabis" was fair game and would show powerful gains into important catalysts. However, the sector is maturing with the integration of major Fortune 500 strategic investments and the mainstreaming of stocks in the space through the establishment of ETFs and tickers actively trading on major US exchanges.
All of that is new within the past six months.
One consequence of this recent and far more enriched investment boom in cannabis stocks is the acquisition of billions of dollars of new investment capital in the hands of a number of major companies all operating with the premise of becoming the largest capacity producer of cannabis in the world.
For investors, that presents the strong likelihood of the onset of glut conditions in the cannabis industry within coming quarters as those billions are converted into hectares of crops in the mad scramble to dominate the production equation.
As this process plays out, the growth equation for investors in the space will likely need to shift as well, with return potential migrating up the margin ladder to more specialized concepts in the space, rather than vertically integrated large-scale producers like Aurora, Canopy, or Tilray.
Strategic Investments in Producers
The run of major new investments in the cannabis space must be traced to its origins with the landmark deal by Constellation Brands (STZ) in Canopy Growth Corp (OTC:CGC) back in August. That was followed by several others, including Molson Coors Brewing Co (TAP) sinking big bucks into Hexo (HYYDF) a couple weeks later.
We saw several other such moves, with the latest being Altria's dive into Cronos (OTC:CRON) last week.
This rash of investments is more important than it might have seemed at first because it symbolizes a far more official ratification of the space as a viable investment segment. Retail investors picked up on this realization and the space was off and running on a massive flow of funds into cannabis stocks during the fall.
The key here was the sense that the "experts" had taken a good look under the hood of these companies and their overall industry-related growth potential and signaled the all-clear for investment inflows.
During the weeks that followed, we saw the market caps of stocks like TLRY, ACB, CGC, and APHA ramp dramatically to new all-time highs, representing billions of dollars of new firepower for expansion in production capacity.
However, this was a speculative frenzy, and the effects of that shift in investor psychology are well demonstrated by the inability of many of these stocks to sustain their gains following the announcement of full recreational legalization in Canada on October 17.
Given the moves in total market cap, we believe that the majority of new investment funds raised by companies in the sector represent ammunition to increase capacity of overall cannabis production, which presents a glut risk for cannabis in 2019.
Cannabis as Commodity
At the end of the day, if you strip away any stigma and sense of this as a "special" market, one inevitably must land on the realization that cannabis is, quite simply, a commodity market. As such, as is the case for any commodity market, when we see a massive influx of new investment in capacity expansion, we generally see a supply glut on the horizon.
As a useful example, when the United States Federal Reserve announced the start of its second round of quantitative easing in 2012, the mentality of major investment managers was uncontroversially dominated by predictions of coming commodity price inflation. It was thought of as "money printing" at that point, and many analysts expressed a view that you wanted to own "stuff that hurts if you drop it on your foot", as expressed by the notable financial pundit, Dennis Gartman, at the time.
What happened next is instructive: We saw tremendous speculative money flow into the commodity complex, including new all-time highs in speculator interest in crude oil futures (see chart below courtesy of www.Barchart.com).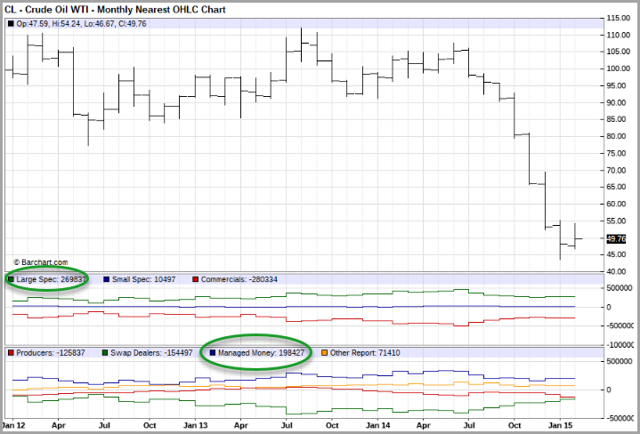 Crude Oil Futures Net Positioning Data From January 2012 thru March 2015. Source: Barchart.com
That process took roughly 18 months before we saw a tangible top come and go in the major commodity indices and a bear market get under way in the commodity complex. This is typical. Commodities are governed religiously by "economics 101" (supply and demand): when you massively increase supply, price will fall.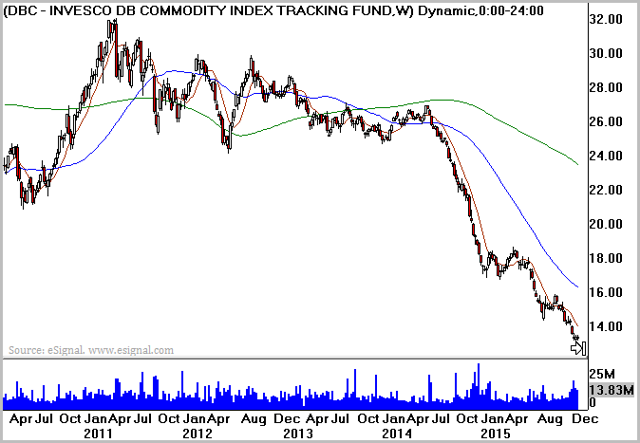 PowerShares DB Commodity Index Tracking Fund. 2010 – 2015. The rise and fall of the QE Commodity Bubble. Source: eSignal.
During the next two years, from 2013 thru 2015, we saw a context dominated by a massive bear market in the commodities complex.
We believe the recent excesses in cannabis production capacity expansion (and related investment flows) present the risk of a similar dynamic over coming quarters. But the real question now is this: what should investors do about it?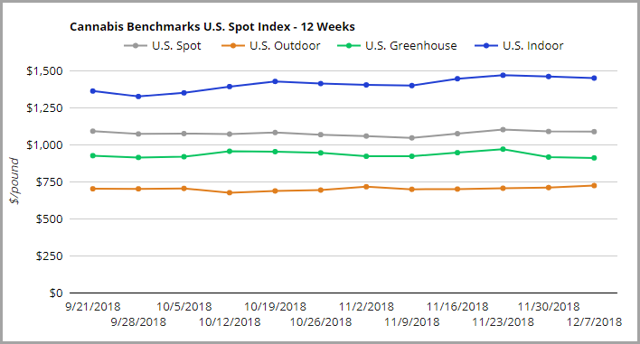 Source: www.cannabisbenchmarks.com
Migrating to Higher Margin Cannabis Opportunities
In many ways, this prediction does not mean a lack of opportunities in the Cannabis theme. To be sure, due to legislative changes and an evolution of social perception where cannabis, marijuana, and cannabinoids are concerned, the so-called "revolution" is still underway.
However, the next leg of this revolution should, we believe, favor companies that are not tied to the price of cannabis in a direct sense.
Not only does this suggest increased growth potential for companies that might benefit from greater financial access to cannabis, but it also represents the basis for a migration of investment enthusiasm from the big producers – such as Canopy, Aurora, Organigram, Supreme, Tilray, and Aphria – to other players in the cannabis sector, including "pick and shovels" (KSHB, SMG, PHOT, GRWG, SRNA), strong IP portfolios (PLSI, GWPH, CVSI, INSY, XXII), and cannabis-related services (NXTTF, MMNFF, MRMD, ACAN).
Disclosure: I/we have no positions in any stocks mentioned, and no plans to initiate any positions within the next 72 hours.
I wrote this article myself, and it expresses my own opinions. I am not receiving compensation for it (other than from Seeking Alpha). I have no business relationship with any company whose stock is mentioned in this article.