The Pope visited the United States and spoke out against man made global warming while Pearl Jam headlined the Global Citizens Festival, and of course Volkswagen (VLKAY) admitted to using software to trick emissions tests for their diesel vehicles - quite a week for environmental awareness. I am sure no one will condone what Volkswagen has done, but I am equally sure that investors are wondering if there might be some underlying opportunities.
Dieselgate
The 11 million cars affected in this scandal were not caused by design error, a machine defect, or even a quality issue. The cause is simple - fraud. Design and manufacturing errors have become almost commonplace for automobile companies, and consumers have a fairly high tolerance for production errors which lead to recalls. Below is a graph showing the number of recalls over the last 10 years with 2014 being the largest year.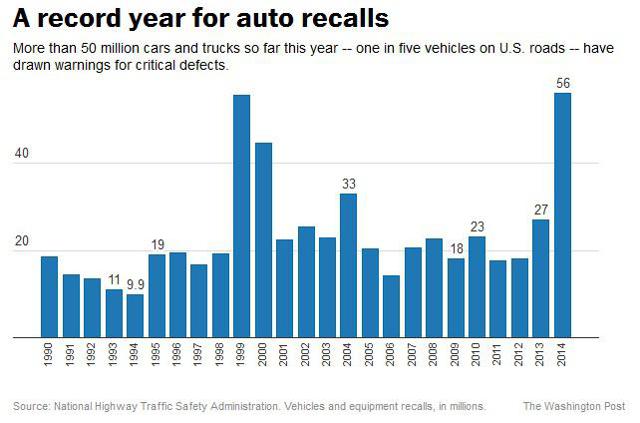 (Washington Post, 2015)
Although Volkswagen's 11 million car recall would be massive, it can also be very workable considering the cash cow car company is setting aside a half year of profits ($7.3 billion) to fix the pollution compliance issue.
So if it's feasible they can handle the recall then what is the true damage to Volkswagen? Well, like I said before; fraud. This kind of scam can go well beyond civil action and criminal charges may follow. The biggest damage to Volkswagen may not be the fines or the recalls, but rather a drop in value in their brand. The exploit of the act of fraudulently deceiving customers is never easy to bounce back from - it takes an investment of time and money.
How Do We Capitalize?
While Volkswagen saw a drop of 30%, other car manufacturers didn't see much movement in their stock.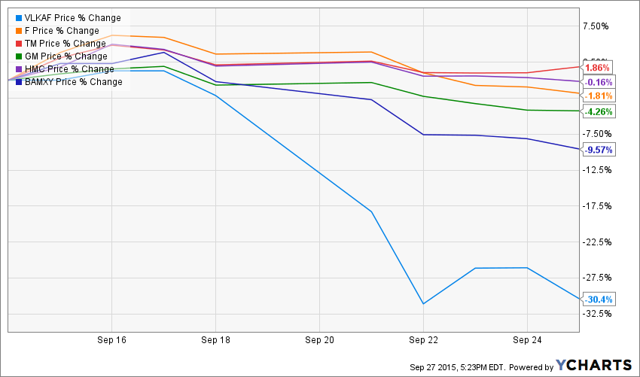 (YCharts, 2015)
Should investors start running to Volkswagen's competitors? This isn't such a bad strategy. Volkswagen has dominated the European market with more than double the market share of any of their competitors. With analysts estimating as many as 90% of the 11 million defective cars being in Europe, competitors may finally have their opportunity to eat up some of Volkswagen's hefty European market share. Since more than half of all vehicles sold in Europe are diesel, Volkswagen's "Dieselgate" may have a substantial effect on their market dominance in the area where they most need it; as compared to the United States market which accounts for only 6% of their sales. And this is where the loss in brand value can really hurt Volkswagen. Below is a look at car manufacturers' European market shares from January 2015 - August 2015: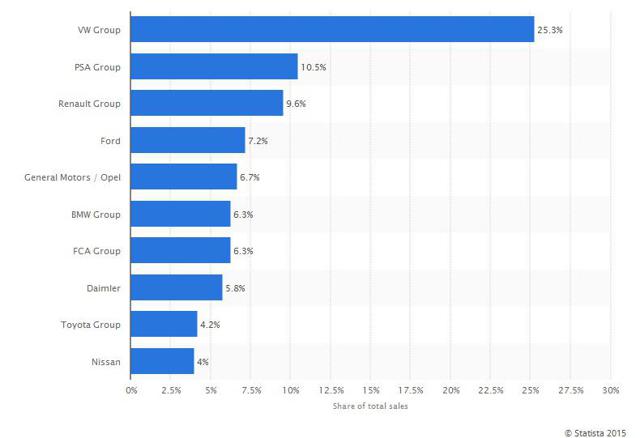 (Statista, 2015)
As you can see, Volkswagen is the dominant company by a landslide with the PSA Group (OTCPK:PUGOY) in second with only 10.5%. Ford (NYSE:F) and General Motors (NYSE:GM) combined account for less than 14%, but that doesn't mean there isn't opportunity for them. Ford and GM have been trying to make the European auto market work for them after losing billions, but it has mostly been a fight for breakeven and possibly squeezing out a couple dollars of profit here and there. With Volkswagen's brand in jeopardy, the American car manufacturers might finally be able to seize a larger piece of the European market and generate sustainable profits.
In Europe, Ford and GM will still face competition from big car companies with small market shares who are hungry for more, such as Toyota (NYSE:TM), Nissan (OTCPK:NSANY), Fiat (NYSE:FCAU), and BMW (BMW.DE). Although the competition amongst competitors with small market share may be fierce, the gains could be plentiful. If "Dieselgate" has any impact on the consumers' perception of diesel, then Ford and GM may have even one more step up. Volkswagen's success in Europe is largely due to the mass exposure of their diesel automobiles. While Ford and GM sell diesel vehicles in Europe, they are nowhere near as successful as Volkswagen. If a short-term mistrust in diesel can steer some of the European market towards fuel efficient gasoline cars, then an opening for Ford and GM to push their brand becomes available. If consumers don't move away from diesel in the short-term, Ford and GM can still grab market share through their diesel lines, however they face stronger competition amongst established European diesel car manufacturers such as Renault (RNO.PA) and PSA Group .
Disclosure: I/we have no positions in any stocks mentioned, and no plans to initiate any positions within the next 72 hours.
I wrote this article myself, and it expresses my own opinions. I am not receiving compensation for it (other than from Seeking Alpha). I have no business relationship with any company whose stock is mentioned in this article.