2016 was a slow year for IPOs but a lucrative one nonetheless for investors. Like always, some solid companies hit the market with attractive valuations and some high growth unicorns hit Wall Street later in the year. Hopefully we'll see more deals in the new year, however below are some memorable IPOs of 2016.
Twilio (NYSE:TWLO)
Just as you would expect from one of the big IPO growth plays of 2016, Twilio, exploded out of the gate. The company priced their IPO at $15 but closed at nearly twice that on the first day of trading in June. From there it was a nice run up to over $70 per share in the months that followed, only to come falling back down to reality to around $32 per share. With negative margins this company remains a pure growth play in 2017. Trading at 11.3X sales, which is twice the industry average, shows that the company is probably efficiently priced given their strong growth rate.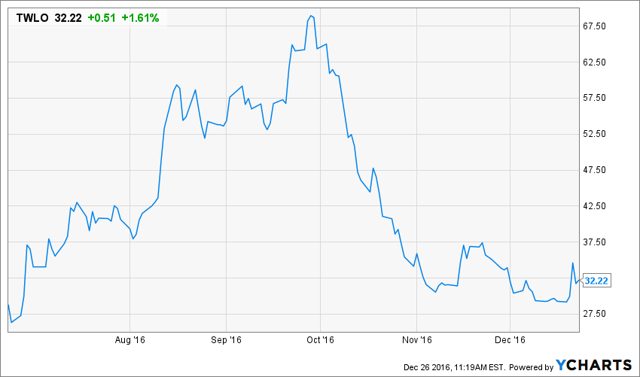 Source: YCharts
US Foods (NYSE:USFD)
Back in May one of the largest private companies, US Foods, went public. The food service distributor was priced at $23 per share and saw a modest bump in its first day of trading, but it was soon followed by stagnation and a slow tumble downwards. However, US Foods' stock has seen new life in December as it is up 19% for the month so far.
2017 will likely be a slow and steady pace for US Foods. Their topline growth is small and their margins are thin. Trading at 48 times earnings makes this stock a little pricey given the potential. I think investors will be looking for stronger cash flow in the year ahead.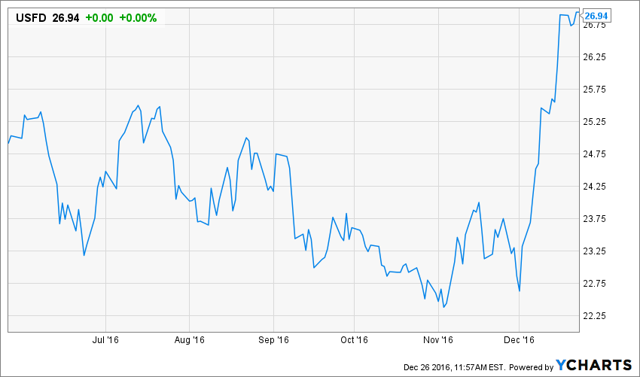 Source: YCharts
Red Rock Resorts (NYSE:RRR)
Pricing their shares at $19.50, Red Rock Resorts raised over $530 million. After the resorts and casinos operator went public in April, investors have seen a slow and steady rise in stock price. It was a good investment for IPO investors who returned more than 20% thus far.
I predict the New Year to be a slow one for Red Rock Resorts investors. The company has some small growth which looks nice in comparison to competitors along with a small dividend kicker. Even with a solid operating margin they still carry almost $2.4 billion in long-term debt on their balance sheet.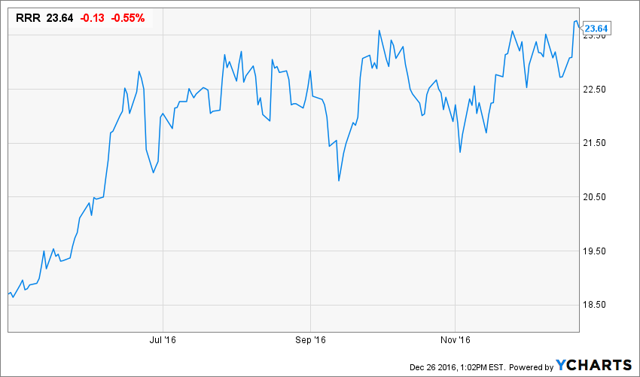 Source: YCharts
BlackLine (NASDAQ:BL)
The accounting software company, BlackLine, which went public in November was a huge success for investors. Priced at $17 per share the stock closed at $23.70 on its first day of trading. And from there things have gotten better for investors with shares currently sitting at $27.40.
For 2017 all eyes will be on growth for BlackLine. Trading at 12.5X sales for the TTM, the bar is set high and investors are anticipating the company to continue to post significant progress to their topline. I am expecting it may be a while before their bottom line turns green, so I'm anticipating some volatility from quarter to quarter as more clarity comes through about the future growth of BlackLine.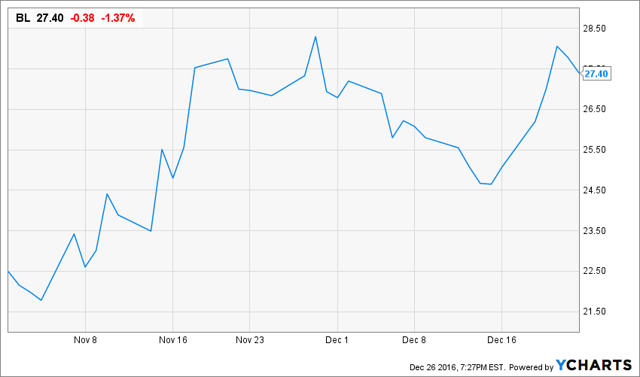 Source: YCharts
Camping World (NYSE:CWH)
You may know Marcus Lemonis from the TV show, The Profit, however his real wealth is tied up in a company called Camping World, which went public in October of this year. Although they weren't a star on their first day of trading, investors need not be worried. The company has maintained a strong and consistent run up in price, returning over 43% since its debut.
Other than a weak balance sheet, Camping World is a strong company from the top down. I've believed that this was going to be one of the proven companies that would run a slow and steady race on Wall Street, however it is running up a little faster than I anticipated. This is only a good play if you can get it at the right price. I'd expect this stock to flatline a little bit in 2017 as there are still some struggles with their bottom line caused partly by their balance sheet.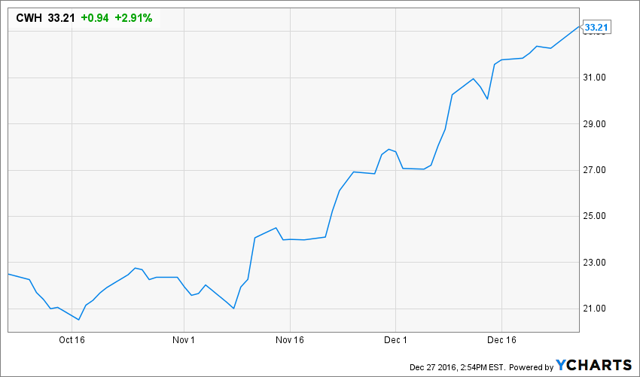 Source: YCharts
ZTO Express (NYSE:ZTO)
The biggest IPO of 2016 was also the biggest bummer. Chinese delivery service, ZTO Express, went public back in October. Hitting the market at $18.40 it closed at $16.57 on its first day of trading. And from there it only continued to get worse as the stock has tumbled down to $12.57.
These Chinese companies can be unpredictable and very difficult to price. It appears the market hasn't quite found a proper price point for ZTO Express just yet, but maybe we'll see it happen in 2017. The risks can be a lot for investors to swallow. They face strong competition and are heavily dependent on Alibaba (NYSE:BABA) as that is where 75% of their volume comes from.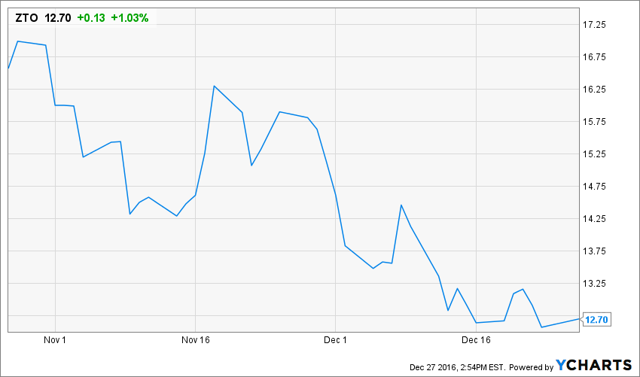 Source: YCharts
Nutanix (NASDAQ:NTNX)
Many jumped on this tech unicorn back in September when it first debuted. Priced at $16, this IPO closed at $37 on its opening day of trading. However, since then reality has set in for investors and the mob mentality that may have drove it up has faded, bringing shares back down to $28.47 today.
Look no further than Nutanix's topline in 2017. Their value will be tied exclusively to their growth. Definitely not an investment for the risk averse investors, however a growth play like this can pay off down the road.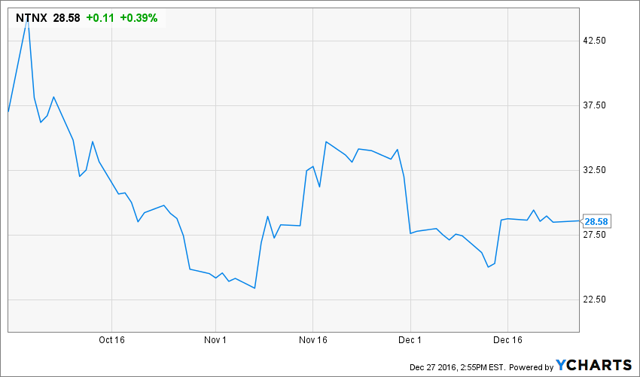 Source: YCharts
First Hawaiian (NASDAQ:FHB)
First Hawaiian proved to be a worthy IPO investment for 2016. Pricing their shares at $23 they raised $557.8 million after the underwriters fully exercised their option to purchase additional shares. Not even 5 months after their IPO, this stock is sitting at more than $35 per share.
I had a feeling the First Hawaiian IPO was going to be a successful one, even when people were questioning investments into financial services. This company had the right margins, proper price, and balance sheet to appeal to investors. However, we cannot ignore the very quick run up in share price exceeding a 50% return. At the current market cap this bank is trading way too far above their tangible book value to gain interest from new investors. A good company, but a little too pricey. Anticipating a correction in 2017.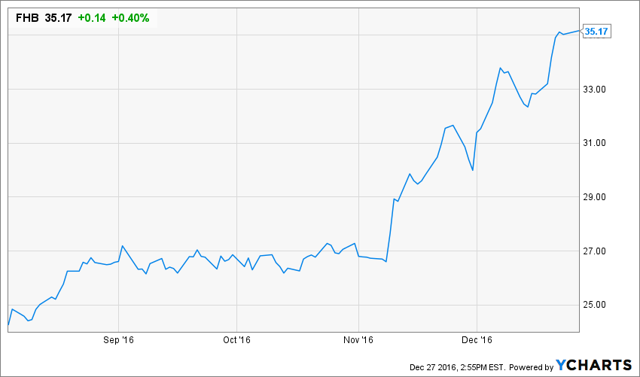 Source: YCharts
Final Notes
We only saw 123 companies file for an IPO in 2016, significantly less than the 234 filings we saw just a year ago and 363 deals we witnessed in 2014. This is the least amount of IPO filing we've seen since 2009, which was 118 companies. And even then, those companies raised $21.8 billion in proceeds in 2009 compared to $18.8 billion in 2016. With the average return of the IPO market being 26%, investors should be happy, and companies may be more encouraged to hit Wall Street in 2017.
Disclosure: I/we have no positions in any stocks mentioned, and no plans to initiate any positions within the next 72 hours.
I wrote this article myself, and it expresses my own opinions. I am not receiving compensation for it (other than from Seeking Alpha). I have no business relationship with any company whose stock is mentioned in this article.