Summary
Expansive market opportunity with impressive growth metrics forecast for social media, mobile, e-commerce, and multilingual internet users
FotoYapp, which officially launched Sept. 4th at Mercedes-Benz Fashion Week in NYC, provides consumers, brands and Influencers a unique value proposition by putting context with content that is unlike anything else on the market
Attractive business model with clear paths to monetization, lots of expansive opportunities, and well positioned for growth having recently formed a number of noteworthy relationships
Numerous value creating catalysts are expected to take place before the end of the year
With a valuation of only ~$15 million, I believe that there is a compelling opportunity for technology speculators
We're all familiar with the expression a picture is worth 1000 words. Well, what do you think of taking that idea to the next level? Kicking it up a notch by aggregating media and putting context with content.
Let's go through a quick example. I'm not sure about you, but I'm a sports fan, and I can only read in English. Some of my favorite players or athletes don't always communicate in English, and a lot of their fans don't either. Despite living in 2014, and being able to communicate with people across the world instantaneously, it's not always so easy to do so in practice. Wouldn't it have been cool to instantaneously communicate with fans all around the world during the World Cup regardless of what language they write in - to break down language barriers?


Source: FotoYapp
That's what Yappn Corp. (OTCPK:YPPN) has been working on that, having just launched their innovative social platform, FotoYapp, Sept. 4th at Mercedes-Benz Fashion Week in NYC.
No other company is offering a platform like Yappn's. Instagram, Vine, Pinterest, SnapChat, Facebook, Twitter and all of the rest in the social photo imaging and video companies haven't yet succeeded in aggregating content with context - and that's really important not only to consumers, but to advertisers and brands. With a valuation of only ~$15 million valuation, I believe there is a compelling opportunity for technology speculators.
By the end of this article, you should have a firm idea of whether or not you're interested in the company, and how you want to proceed (or not) with an investment, long or short.
I've tried to be as thorough as possible given the nature of this company, but if anyone has any questions or comments, please feel free to post below or message me. Feedback is appreciated.
Further to this introduction, please watch this YouTube video about Yappn.
The Internet and Languages
The last barrier to communication is language. No longer is device, location, or connection an issue for the digital user.
English is no longer the language of the Internet. Over 73% of the world's internet users are speaking another language other than English
The top online growth languages between 2001 and 2011 were:
Arabic: 2,501.2%
Russian: 1,825.8%
Chinese: 1,478.7%
Portuguese: 990.1%
Spanish: 807.4%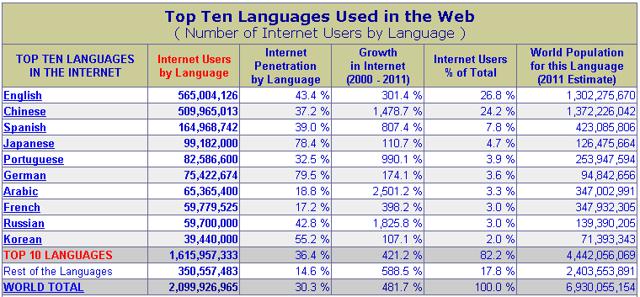 Source: Internet World Stats
According to the U.S. Census Bureau, as of 2011, over 66 million people or 21% of the U.S. population do not speak English at home, with an estimate of 115 million over the next five years.
Over the past 10 years, the U.S. population that speaks a language other than English as a first language has increased 26.8%.
So in terms of language development and business, advertisers need to be aware of this and make sure that their messages are reaching the widest audience possible. Advertising in only English in the United States isn't a very prudent practice anymore.
To see many more metrics on social media in general, as well as mobile growth metrics, please read either this article or this article.
What is Yappn and what does the company do?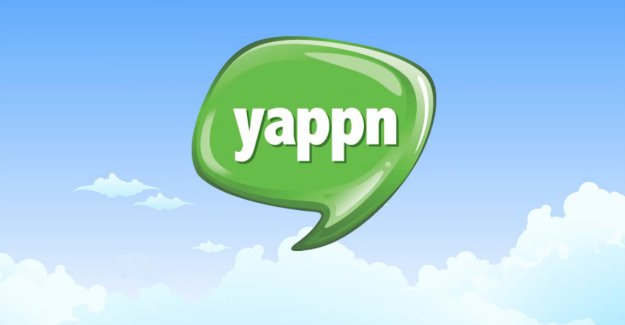 Source: Yappn Corp.
Despite me being most excited about FotoYapp (which only just launched in the iTunes Store and Google Play Store), Yappn represents a much more comprehensive offering.
It is a real-time multilingual services company that amplifies customer brand messaging, helps conduct commerce and provides customer support by globalizing these experiences with its proprietary approach to language.
Yappn has developed cost effective, unique, and proprietary technology tools and services that enhance a brand's messaging, media, e-commerce and customer support platforms. Yappn believes that through its services, device, location and connection are no long issues for digital users to communicate.
Redefining global social marketing, Yappn provides a set of stand-alone commercial tools for brands providing easy to implement and cost effective globalization solutions that are complementary, not competitive to today's top social media networks such as Twitter, Facebook, Pinterest, Instagram, Flickr and YouTube, web, mobile, video players, blogs, online broadcasting, private networks and event virtualization.


Source: Yappn Corp.
A few examples of how Yappn has integrated into existing online platforms:
Globally translated Twitter chats (NYSE:TWTR)
Multilingual Facebook posts
Live online video captioning
Real-time global Q&A
Flash viral events
Services
Yappn's real-time services are offered in nearly 70 languages to support brand and individuals' marketing objectives, commerce revenue goals and customer support objectives by making language universal for all users.


Source: Yappn Corp.
Marketing
The company offers the following marketing services: 1. Chat Platform; 2. Engagement Events; 3. Flash Viral Videos; 4. Social Media Walls; 5. Video Closed Captioning; 6. Virtual Tradeshow
Chat Platform
The Yappn chat platform provides users a real-time chat experience that reaches a global audience in nearly 70 languages.
For example, Yappn built a "Fan Page" for musician Steve Aoki with real-time chat for his fans to interact directly with him and each other on a global scale. Aoki tours and does shows around the world and has a truly global fan base which the chat platform allows all of his fans to connect with him and one another in a truly authentic manner.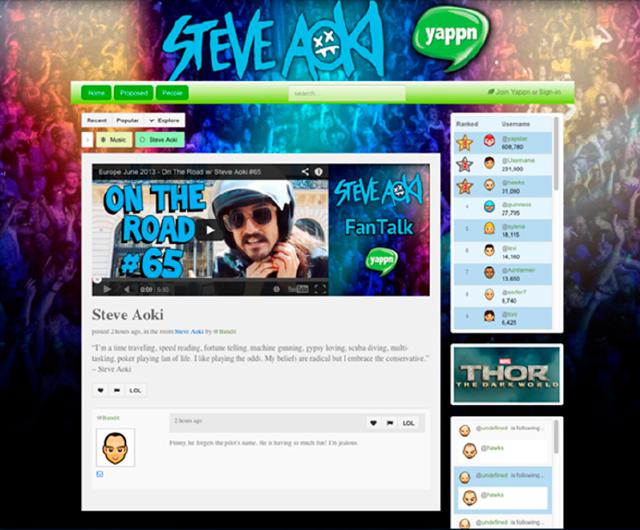 Source: Steve Aoki
Engagement Events
Yappn has hosted custom branded Twitter Q&A sessions, which allow for real-time multilingual events to activate on a global scale for individuals, and most lucratively, brands.
Here's an example from the Chris Bosh Twitter event: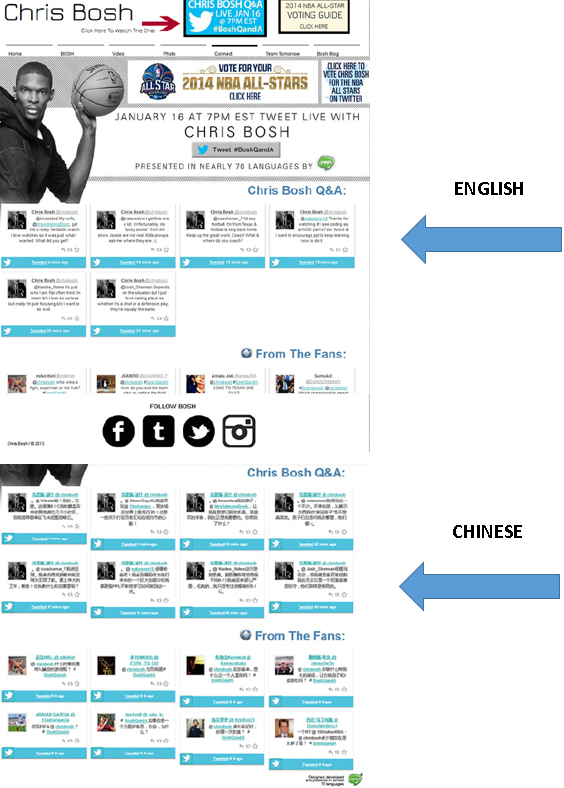 Flash Viral Video
Yappn created content for Disney's Frozen, hosting a flash viral event where viewer's directly engaged in a live event and received an exclusive content reward for their participation. In this case, an exclusive link to the Demi Lovato song, Let It Go.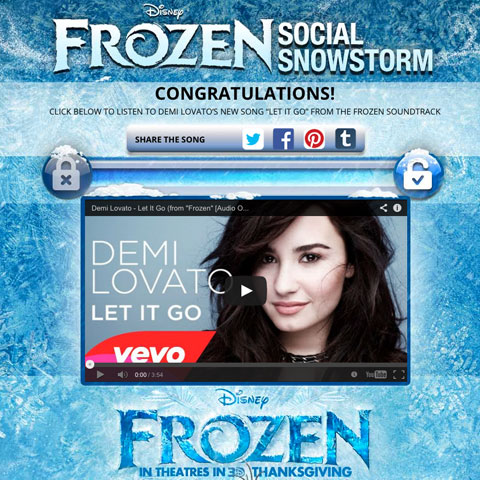 Source: Yappn Corp.
Social Media Walls
The concept behind the social wall is to aggregate major social media accounts for fans and consumers to interact with one another in almost 70 languages.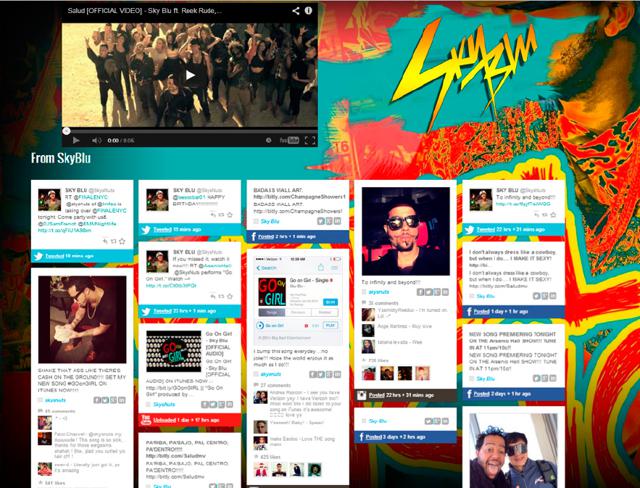 Source: Sky Blu
Video Closed Captioning
The ability to provide a live-event video closed captioning in almost 70 languages. Yappn has provided services for live video, red carpet movie premiere events including The Wolverine and Iron Man 3.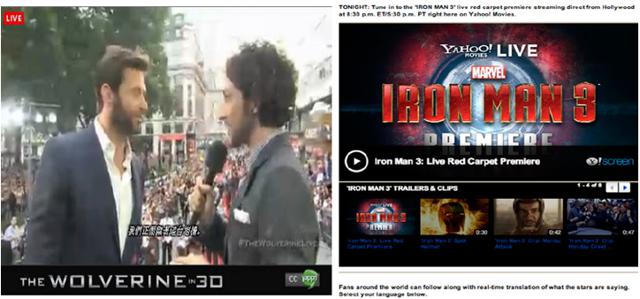 Yappn is also capable of providing closed captioning on post production video for new and old feature films.
Virtual Tradeshow
Yappn can provide customers with a virtual trade show experience for their audience. The services range to fit the customer's specific needs, possibly including closed captioned video of conference speakers, with moderated Q&A, a branded discussion area for exhibitors and attendees, and the aggregation of social media streams providing attendees with real-time information. Here is an example from the ADPM Expo 2014: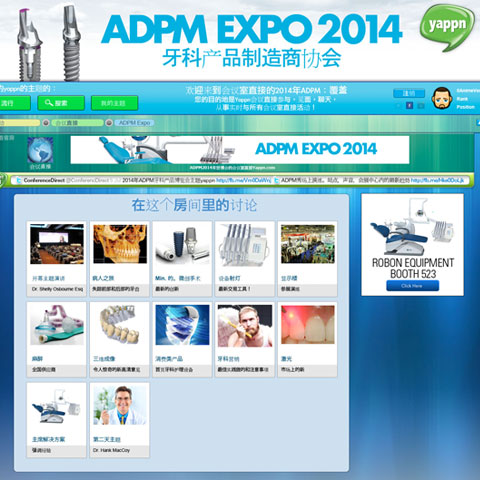 Source: Yappn Corp.
e-Commerce & Customer Support
Yappn firmly believes that its translation technology is the most accurate and cost-effective option for both small and large brands to communicate and conduct business internationally.
Its core technology IP and device detects an online and/or mobile users' language and then offers the user the content in their native language - users can switch languages in mere seconds. Yappn has helped brands reduce their translation expenses and increase their quality of service. Using Yappn's technology brands can connect to customers in nearly 70 languages, and don't need to spend large amounts of money on translators who have their ability limited by only being able to converse in just a few languages, limiting their market opportunity.
With respect to user language preference when engaging in e-commerce and other online opportunities, users have indicated that they have a strong preference to engage and complete transactions online in their own language. Here are some metrics on e-commerce and language:
Out of the 2.3 billion Internet users, only 540 million speak English
Prime markets for e-commerce growth are China and Eastern Europe
71% of consumers spend most or all of their time on websites in their own language
Only 53% of users would accept an English version if their language was unavailable
433 of the top 1,000 global websites addressed a single market in a single language
56% say the ability to obtain info in their own language is more important than the price
72% of consumers say they are more likely to purchase online if into was in their language
Sources: Common Sense Advisory, The Gallup Organization, Miniwatts Marketing Group
Yappn can specifically help increase brand presence by allowing global market reach. The brand or individual can immediately become international by serving customers or fans in almost 70 languages, thereby vastly improving the relationship, amplifying their reach, and increasing e-commerce revenue.
Yappn technology is capable of offering shopping carts and catalogs in the consumer's primary language. Based entirely from the client's existing infrastructure. The result is a custom store that provides the same experience of the existing English based store, into multiple stores based on geography and language.
In addition, Yappn's goal is to become a key player in helping businesses from emerging markets expand their sales into new global regions to create new revenue growth, specifically mentioning China and Eastern Europe.
Clients & Partners
Current clients include Wutang Clan, theAudience, New Era, Wizard World, Steve Aoki, Marvel Studios, Wheels Up, Rock Smith, Good Life Network, Walt Disney, Oakley, FOX.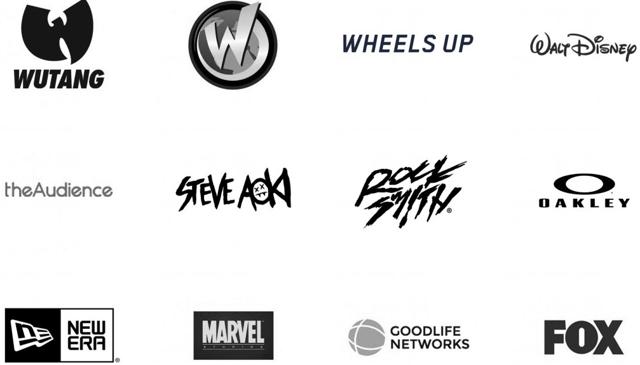 Source: Yappn Corp.
Yappn is targeting Influencers, brands, advertisers, companies, and individuals to provide any or all of the services they offer.
Some partners include mBooth, VOX Inc., TopFan, Getty Images, IMG Fashion (a division of IMG Worldwide LLC), and Shark Branding.
I would like to highlight a couple of those partners.


Source: Getty Images
First, Getty Images. The announcement of the completed a business agreement with Getty Images allows Yappn to now offer "Influencers" (celebrities, athletes, and other key personalities) authenticated access to photography through the Getty Images platform, and consumers access to a number of select databases. The implications of this are immense, and unprecedented.
If you're not familiar with Getty, it's the world's largest stock photo agency. Getty represents ~65% of market sales. More often than not, whenever a media outlet is covering a story either through print or television, you'll be seeing an image from Getty.
For example, let's use football because the season just kicked off. The way things work, players don't have access to any photos of themselves taken during their games. They could call up their agent, who could call up the respective photo agency to get the images, but that takes time. More often than not, if a player who say, scores a TD wants to post a photo of that, he'll grab it off ESPN. Now though, through FotoYapp, athletes will have access to all of their own images instantaneously right after they've been uploaded to the Getty database and can choose whatever image suits them best.
Just as Twitter has empowered people by giving them their own voice through 140 characters or less, FotoYapp in partnership with Getty Images can now empower Influencers to take control of their own media and make it more accessible to a global audience at the same time. If you look at most athlete's Twitter profiles, there will be lots of personal photos of them but not a lot of photos of them doing their job. That's because of the current media distribution channels. Yappn, through FotoYapp and in partnership with Getty Images wants to change that.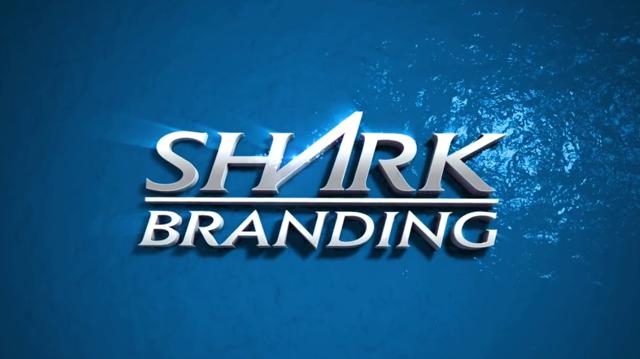 Source: Shark Branding
I also wanted to highlight Yappn's newest partnership with Shark Branding, founded and run by Daymond John. For those not familiar with Daymond John, he is a brand builder, entrepreneur, and business leader. Best known for being the founder, president, and CEO of FUBU, and you might also have seen him on the hit ABC show, Shark Tank. Daymond will become a business partner and shareholder in Yappn.
Shark Branding and Yappn will partner to accelerate Yappn's ongoing sales, revenue programs, brand and communication strategy. Shark Branding is going to work on bringing Yappn's technology to its impressive list of brands and clients (corporate clients include Jamba Juice, Shopify, Reebok CrossFit 5th Ave, Resultly and various Shark Tank investments, and talent management clients include Pitbull, Lil Jon, Selita Ebanks and CeeLo Green). Shark Branding will also assist in developing new engagement and revenue programs for FotoYapp.
"Partnering with Yappn is a step into the innovative and growing business vertical of real-time language services, which excites me and Shark Branding," said Daymond John. "There is an inherent business and global communication need for the technology that Yappn provides, and I'm looking forward to seeing what this partnership can do for not only our brand relationships, but the industry as a whole."
FotoYapp
The idea for FotoYapp is simple - to take ANY media (over time, photo, videos, collections of photos and videos, or text-over, .wav, .mp4) and share them with regular social media and the rest of the world.
Now let's look at FotoYapp…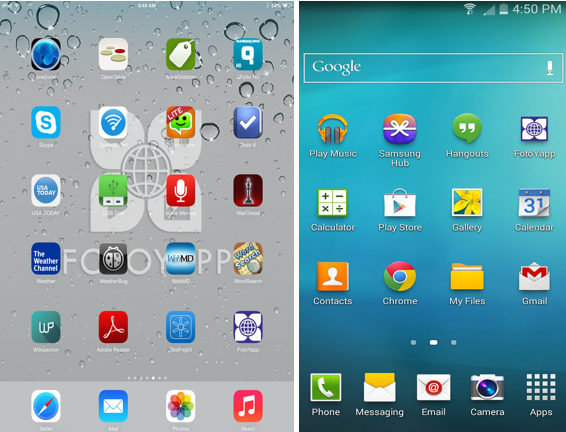 Source: FotoYapp
These screenshots are from iOS and Android devices and show the launch icon for FotoYapp of their respective screens.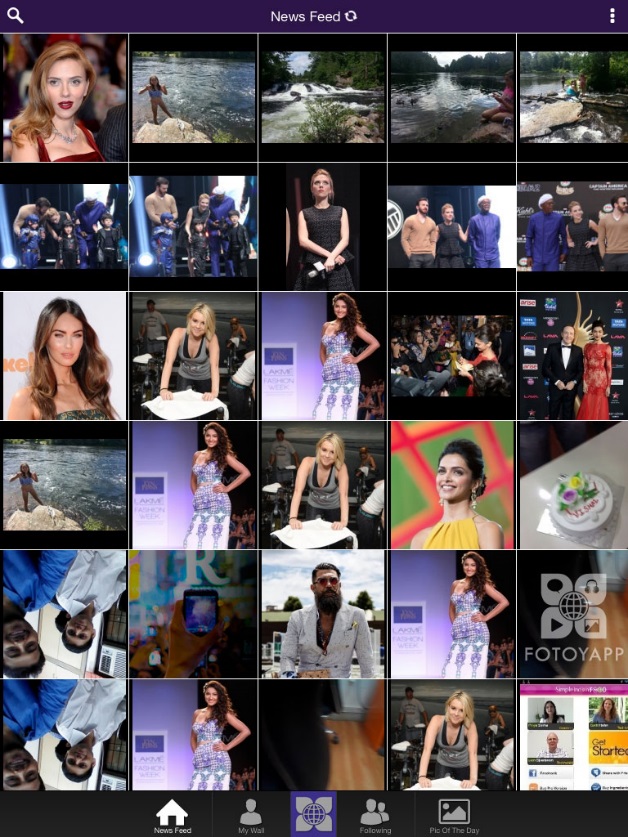 Source: FotoYapp
This screenshot is taken directly from the homepage of the app. Each horizontal strip of photos is a different 'feed' which the user can organize however they like. In the case of the example, the top strip is images uploaded directly by the user; the second line of photos is the Getty Images feed; the third, Getty Pics of the Day; and the remaining are people are brands that the user has 'followed'.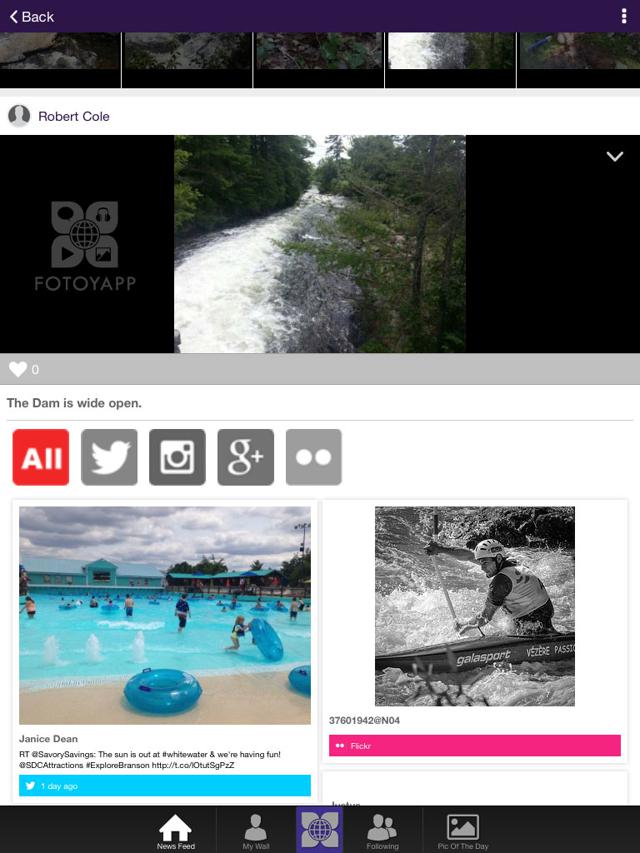 Source: FotoYapp
Here, the user uploaded media is highlighted at the top of the page, and social media results based around tags and key words have been generated below. In this case, 'Robert Cole' has uploaded a photo of a raging river, which has then shared on its own page, and social results which are similar in nature have then been aggregated, and can be sorted by social media network.
Depending on how many filters Yappn comes out with, I am only imagine the possibilities. They're taking a great idea that is feverishly catching on, the social wall, and making it fun to share content with context easily through major social networks. From a user's perspective I believe it's very compelling.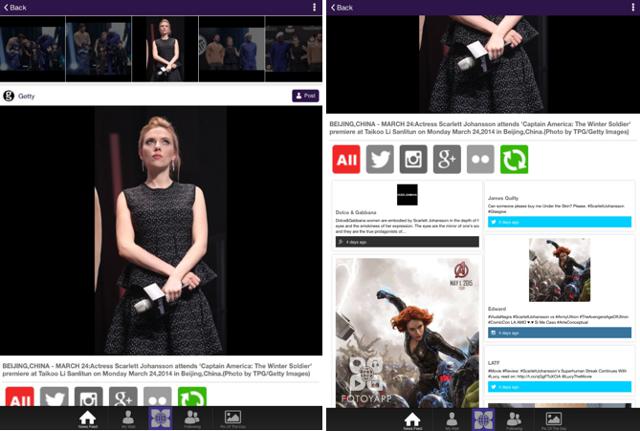 Source: FotoYapp
On the left is a screenshot of a Getty Images verified user image, which as I explained before, users have never had access licensed content like this from the Getty database. On the right is the global social results for this Getty media, displayed in English.
Not to mention that I think that the Getty "Pic of the Day" and the focus that FotoYapp seems to have on that is brilliant. People love commenting on photos and discussing real-time events as they unfold. FotoYapp can be a destination for this. Users from around the world can converse in one thread, to discuss one important topic (or photo). Sure, they could go anywhere and comment on a photo, but to be able to actually converse with people from around the world about it is very cool and brings a totally different perspective to something.
If people do indeed use FotoYapp how I can envision, that will translate to A LOT of eyeballs for advertisers! Note, right now users cannot comment, that module is in development (if it hasn't been completed already, and will be launched soon along with other modules). The new video module works quite well. On the downside, I find that images sometimes take a while to load, and it took me a few minutes to realize that the search function is based on content that has been uploaded and tagged and that if something or someone isn't on FotoYapp, nothing comes up.
You can download FotoYapp here in the iTunes store, or here in the Google Play store. Please check it out and report your thoughts back.
FotoYapp Comparables
Just so you know, these comparables aren't for valuation purposes - it's too early in the product cycle for that. However, these are examples of companies that operate in similar spaces to Yappn that you should be aware of.
From my due diligence, no one is offering everything that Yappn has inclusively. However, there are various competitors that successfully accomplish certain aspects of what Yappn does.
Real-time language translation competitors include Google Translate (built for webpages) (NASDAQ:GOOG), Word Lens (instantly translate printed words to text with your phone's camera), One Hour Translation (human translation service), and iTranslate (supports over 80 languages), to name a few of the largest translation competitors.
Interestingly, in May, Google acquired Word Lens for an undisclosed amount and it's pretty obvious why - people want to see the world in their own language. Just like how people want to communicate in one language. And brands want to reach consumers across all languages. I've spoken with management and they are finishing developing another module that will have similar technology to Word Lens in the sense that for example, brand logos can be recognized and content aggregated around them. It sounds intriguing to me.
When it comes to social media walls and social media integration, the most apparent product examples that I've found are SocialWally, Livewall, Walls.io, and cEvent Social Wall. Feel free to explore all of those yourself. In my opinion, after having done so, FotoYapp is a far superior product, blending what all of those sites do into one, and more.
Obviously a parellel can be drawn to Instagram because of the photo sharing aspect of FotoYapp., however, remember that Instagram is complimentary to FotoYapp - Instagram content is shared and distributed through FotoYapp. A lot of people balked at the acquisition price Facebook paid when it acquired Instagram (NASDAQ:FB) - $1 billion - however after paying $19 billion earlier this year for WhatsApp, Instagram can really be considered a steal.
And while also not a direct competitor, because of its ubiquous nature, SnapChat operates in the social networking and photo sharing industries and is worth mentioning so that you have a look at it.
Lastly, in a recent press release, there was mention of an 18 second video module which has now been released. Companies that are known for their short-form video sharing and video social networking features include Vine, and a Toronto-based company, Keek (KEEKF).
To be successful, Yappn will need to compete to attract, engage, and retain users, to attract and retain marketers, to attract and retain corporate sponsorship opportunities, and to attract and retain highly talented individuals - talent first, technology later! As new features are introduced to the Yappn platform, as the platform evolves, or as other companies introduce new platforms and upgrade their existing platforms, it may become subject to additional competition. The ability to quickly adapt to a changing marketplace, and an experienced management team is critical to effectively compete in the market. Further, Yappn's focus on encouraging user engagement based on topics and interests, rather than on "friends" or connections, will differentiate it from much of the competition.
Financials, Share Structure & Risks
So, how does Yappn make money? Right now it doesn't - the company only had revenues of $37,135 for the year ended May 31, 2014. Like most tech start-ups, Yappn is concentrating on developing and building out its platform, and is constantly in need of financing right now. The goal however is to build-up its user base and provide services on a fee for services basis, percentage of revenue per transaction, professional service fees and in some cases on a CPM (cost per thousand) or as a percentage of revenue to online advertising and monetization events. In other words, most of the revenue will come from freemium subscription packages, as well as charges for advertising.
The key for monetization for FotoYapp is that if a user starts out at FotoYapp, all of the imaging returns to FotoYapp. So, every time someone views something the company gets a page click. Everything is tagged and track able and advanced metrics are available enabling advertisers to specifically target the exact demographics they want. A CPM or 'cost per thousand' revenue model.
To monetize the e-commerce platform, the company plans on implementing an incremental revenue based model deriving revenue from a percent of each sale plus professional services.
Visit this website for a cool interactive application allowing you to compare how some of our favorite tech companies make money.
Total operating expenses were $4,090,835 for the year ended May 31, 2014, consisting primarily of marketing expenses of $585,272, research and development expenses of $1,375,112, general and administrative expenses of $1,332,000, legal and professional fees of $355,518, and consulting fees of $442,933. These costs have grown as Yappn has worked to develop a customer base and grow its operation. Many of the fees of the firms providing these services were paid with common stock. Investors should take note of this. It's great that people are getting behind the company, but some may want to sell their shares to be compensated, especially if the share price appreciates. I also wanted to remind readers that Yappn only changed its business plan 4Q2013 and was supporting an unsuccessful electronics business. Operating expenses increased so significantly in 2014 as the company has been developing its multi-lingual social platforms and websites.
The company raised $3,860,093 during the year ended May 31, 2014, in cash from short term notes payable, line of credit, convertible notes and debentures and preferred stock through normal channels and private placements.
At May 31, 2014 Yappn had total assets of $992,002 (including a $988,692 cash balance), liabilities totaling $7,046,301 and a working capital deficit of $1,116,688. Subsequent to the year ended May 31, 2014, Yappn has raised an additional $669,697:


Source: Company 10-K Filing
During the year ended May 31, 2014, net cash used in operating activities was $3,088,437. The Company expects to have similar cash needs for the next twelve month period. Implementation of the business plan will require additional debt or equity financing. Yappn is a development stage company, and has limited revenues to cover its operating costs. As such, it has incurred an operating loss since inception. Its ability to continue as a going concern is dependent on its ability to raise adequate capital to fund operating losses until it is able to commercialize its products and engage in profitable business operations.
Warrant structure as of May 31, 2014:


Source: Company 10-K Filing
Share Structure as of May 31, 2014:
There are 125,855,794 shares outstanding as of August 29, 2014. The largest shareholders (>5% owners) include Yappn's parent company, Intertainment Media (for the purchase of the Yappn assets), and Ortsbo (purchased a copy of the source code in exchange for shares in April).
I've spoken with management and my understanding is that the 85,000,000 are not being traded, so that effectively leaves about ~40 million shares in the open market, making it de facto a reasonably tight float.
For a detailed and more thorough read thorough of all of Yappn's finances, you can click here to access the most recent Form 10-K filing.
Recent News & Events
News for U:YPPN from 2013-04-01 to 2014-09-05
Thursday September 4th, Yappn began the official rollout for FotoYapp at Mercedes-Benz Fashion Week in NYC.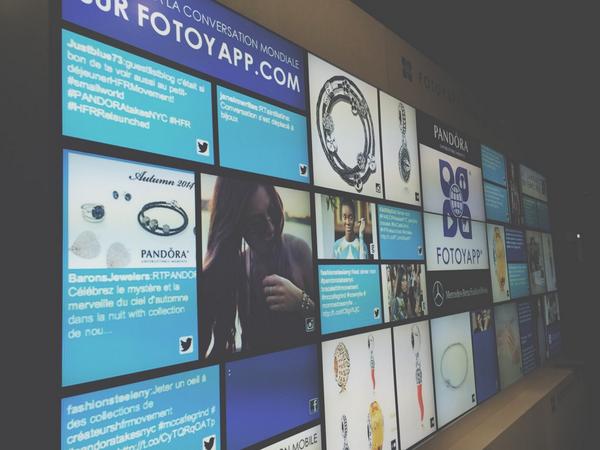 Source: Mercedes-Benz Fashion Week
The reaction on social media seems to be very positive and engaging. Along with showcasing FotoYapp to attendees, sponsors, designers and celebrities, Yappn and FotoYapp have put up a 15-foot social media wall that is displaying a variety of content from the fashion world, contributors, sponsors and designers with real-time social results, in multiple languages, presented on the big screen for everyone to see.
Actress, Rosario Dawson dropped by and spent time taking photos and posted some of them on FotoYapp. Also check out her pics and the global social story on FotoYapp.

Source: Radar Online
At the February show, there were over 100,000 related New York Fashion Week images shared on Instagram by over 33,000 users and the top 10 brand accounts drove over 2.5 Million interactions. So hopefully Yappn and FotoYapp got some good initial exposure from the event, and will continue to do so going forward. "With over 22 Million media impressions and significant interest from the fashion industry, FotoYapp had a tremendously successful launch at Mercedes-Benz Fashion Week in New York and we are excited to continue to introduce the platform globally at London Fashion Week," said David Lucatch, founder and CEO of Yappn Corp.
Conclusion
For what it's worth - depending on your view on technical analysis, especially with regards to juniors - here is my chart on YPPN: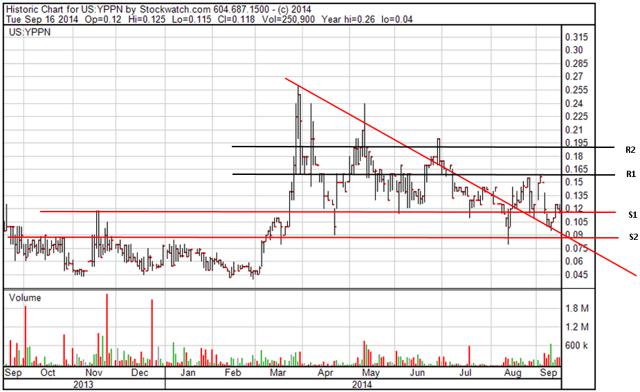 I've personally been accumulating around these levels, and believe recent news and trading activity present a compelling buying opportunity at this price point. Being aware of the inherent financial risk, I will assume that management finds further capital, ideally at a reasonable rate, and starts to commercialize its products while also continuing with further research and development (definitely something to watch). I digress though, my TA shows that ~$0.117 is the first level of support, and ~$0.087 for the second level. Given the shares outstanding, and expected newsflow over the next few months, I see little downside at today's share price, relative to upside potential. If the share price breaks the first level of resistence with an on-volume move based on concrete metrics (either revenue and/or users), then there's a very strong likelyhood to reach a new 52-week high given the tight float and low market cap.
I expect to hear news regarding the following events or details, which I believe can act as catalysts for the stock:
An update regarding Shark Branding and its involvement developing new engagement and revenue programs for Yappn
Press release(s) about further financing (the terms and amount will determine success)
Expect to get download, installation, and monthly active user ('MOU') metrics for FotoYapp by the end of the quarter, if not sooner (I'll personally be monitoring App Annie, and the iTunes and Google Play stores for interim metrics; remember it only just launched, August 29th and no marketing has been on the alpha product)
Yappn has been developing gamification program and strategies, and has expressed particular interest for growth in China, so I wouldn't be surprised to hear something on that front
There will definitely be news of further module developments and releases for FotoYapp (i.e., the announcement of the 18s video feature in a recent PR)
Additionally, there will ideally be a release or two for further events and engagements that Yappn has been contracted for - with revenue
Obviously I am a fan, and like the technology. You'll have to make your own assessment and determine if this investment is right for you - it certainly isn't for everyone. However, as a technology speculator, I find the opportunity very compelling, especially for an immediate entry, and wanted to share the opportunity that I believe I've discovered. I've tried my best to take a rather objective perspective and provide all of the facts, including the risks and concerns regarding the product and necessity for further financing.
With a valuation of only ~$15 million, I believe there is a compelling opportunity for other technology speculators. I believe that Yappn has strong core technology and is in a position to significantly capture market share given its unique value proposition offered to users and consumers. Yappn's focus on encouraging user engagement based on topics and interests, rather than on "friends" or connections, will further differentiate it from much of the competition.
I'd really like to hear others' feedback on the technology so please download it, try it out, and let me know what you think. Here are the links for the website, iTunes store, and Google Play store.
*If you like what you've read here please click the "+Follow" button and subscribe to my real-time alerts. I just started using the StockTalk function which I find is an excellent resource to communicate real-time trades that I'm making, due diligence that I'm conducting and article alerts.
Disclosure: The author is long YPPN, TWTR, FB, YHOO.