Summary
Received a Drug Establishment License ("DEL") and approvals from Health Canada for 30 of its 49 prescription generics products; already has manufacturing approved, labeling and packing secured, and is establishing a sales force 1Q15 salesforce
Simple business model: Vanc sources drugs that have already obtained FDA equivalent approvals through affiliated companies in China and India, in exchange for manufacturing rights when the drugs are approved by Health Canada
Potential to scale quickly, comparable to another Canadian company, Paladin Labs, that got bought out for $1.6 billion in 2013 by Endo Health (NASDAQ:ENDP)
CEO, Arun Nayyar has an extensive track record in the industry - specifically generics - having held executive positions with pharma companies in Latin America, Asia, and Canada and played an instrumental role opening up new markets abroad
Pre-revenue, albeit with all of the components in place to immediately impact the generics market in Western Canada, and unlock shareholder value through a number of visible, value-unlocking events throughout 2015
Between 2010 and August 2013, brand-name drugs with sales totaling $6 billion a year in Canada lost their patent protection - opening the door to far cheaper generic copies, according to the IMS Brogan market-research company.

Compounding the so-called "patent cliff," a growing list of insurance companies that manage private, workplace drug plans have recently made substituting generics for brands a mandatory policy - a step that most government plans took years ago. The result: more then two thirds of prescriptions in Canada are now filled with generics, while some brand manufacturers lack new drugs in the pipeline to take up the slack.
COMPANY OVERVIEW
Vanc Pharmaceuticals Inc. ("Vancpharma") (OTCQB: NUVPF) is a Canadian company (TSX-V: NPH) focused on providing Canadian health care professionals and consumers with high quality, affordable generics and over-the-counter ("OTC") healthcare products. They are the first Canadian generics company in Western Canada.
GENERICS PORTFOLIO
The company's currently approved in-licensed generics portfolio consists of 30 molecules, comprising of 67 dosage forms across various therapeutic categories: including both chronic (long-term) therapy and acute (short-term) therapy. Management estimates that the aggregate annual Canadian sales of its 30 approved products represents "a $1-billion market opportunity". Furthermore, the company plans to launch "with additional products and we will provide further updates in the coming months," said Arun.
The generics division of the company was only launched last Spring, since then the new management team has reached a number of significant milestones including:
On April 15th, 2014 Vancpharma announced that it had signed Cross Referencing Agreements ("CRA") "for prescription generic products for Canadian markets. These agreements are with three large pharmaceutical companies and cover 48 prescription generic products. The suppliers will handle manufacturing, and Vancpharma will market and sell these new product lines under its own label.
On November 18th, 2014 the company received approval via a Notice of Compliance ("NOC") from Health Canada for 22 generic molecules, comprising 51 dosage forms.
On December 10th, 2014 the company announced that it had been issued a drug establishment licence ("DEL") (licence No. 102220-A) by Health Canada. "The issuance of a drug establishment licence, along with the approval of our partner's GMP manufacturing site, is a key step towards the commercialization of our generic drug portfolio," said Arun Nayyar, CEO. The licence allows Vancpharma to import pharmaceutical products and distribute them within Canada.
This news was particularly important for the company and shareholders because: it positioned Vancpharma to become one of the only 40 companies in Canada that are licensed to manufacture current and future drugs at its GMP facility; allows Vancpharma to import from other manufacturers across the world and faces less barriers to entry; allows for importing both generic and non-generic drugs thus allowing the company to compete with other companies in branded drugs as well as their core generics business; and adds major clout when negotiating for exclusivity rights across Canada. Previously, manufacturers wouldn't commit their exclusively to Vancpharma as they were unsure if it could make good on importing and selling their products.
On December 15th, 2014 the company received an NOC from Health Canada for 7 additional generic molecules, comprising 15 dosage forms.
Lastly, on January 14th, 2015 Vancpharma placed inventory purchase orders for 30 generic molecules and expects to deliver these products 2Q 2015. "We are excited to take this important step towards commercialization and look forward to launching sales in Q2 2015. These 30 molecules represent best-selling generics in the Canadian market and our aim to provide Canadians with quality and cost-effective products is well served by them," said Arun. "Our initial marketing and outreach activities with select pharmacy customers in Western Canada have been positive and we look forward to working with our partners."
Figure 1: Generics Portfolio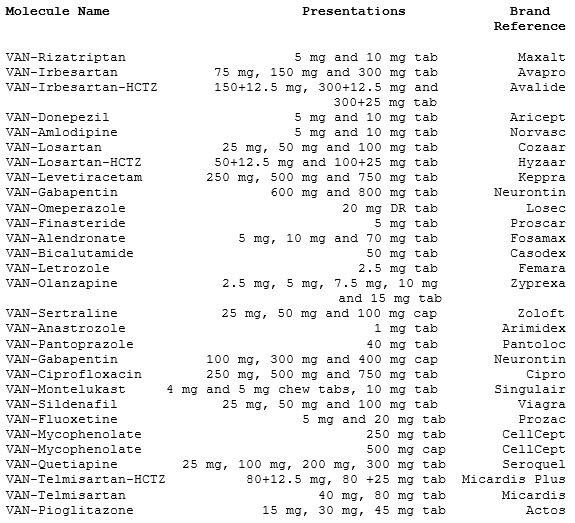 Source: Press Release/Company Website
*Note: I'm aware that's only 29, however the 30th hasn't been updated on the website although it's been mentioned as approved (new approvals could come at any time)
Here are the next steps with the generics portfolio:
Complete ANDS submission for remaining 19 products, which the company anticipates will happen by the end of February.
Build out sales and marketing team by hiring and training staff throughout the quarter - the goal is to have them out selling and taking purchase orders immediately
Concurrently, finish the packaging and artwork for all products
Manufacturing should commence February/March subject to availability of financing
Get confirmation of Provincial Listing approvals
Launch sales and deliver product near the end of 2Q 2015
Looking a little further out, management has plans to move to a higher value addition by co-development or exclusive generics model (ophthalmic products, injectables, skincare, etc.)
Figure 2: Generics Through Global Partnership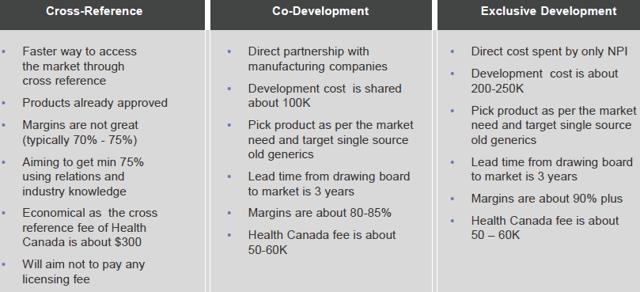 For those wondering what Vancpharma's margins are, the company has not made that public yet. As you can imagine, they don't want to expose their margins for specific drugs too early. Investors will be able to see them in the financial statements at a later date. However, generics are quite lucrative. Vancpharma will be taking on the risk of inventory, licensing, approvals, sales and marketing, whereas the manufacturer takes and fills an order from Vancpharma as necessary and collects payment. Accordingly, the reward follows the risk and in this case, Vancpharma would pay a fixed price to the manufacturer depending on the size of the manufacturing run. If you look at the financials of another generics company, Biosyent (TSX-V: RX) you will see margins typically ~70%-75%.
The margins generated from strategic cross-reference partnerships, while very enticing, pale in comparison to the financial opportunities presented by exclusive or co-development partnerships which management has indicated they want to pursue in the future.
OTC PRODUCTS
The OTC Products Division is focused on the marketing and sales of novel and proprietary healthcare products and consists of four (4) such products, all of which now have a Natural Product Number.
Figure 3: Vancpharma Pharmaceuticals OTC Products

It can't and won't be the cash cow for Vancpharma like its generics portfolio - the Canadian market for these OTC products is only ~$60-70 million - but it should actually start generating revenue sooner. Manufacturing should commence in January, with the first sales hopefully starting to come sometime during March.
Looking ahead at the future pipeline of OTC products, they include nutraceuticals, vitamin supplements, and skin care products.
MANAGEMENT
The team has extensive experience and expertise that spans across various functions such as research, development, manufacturing, and marketing of generics and OTC health care products in the global pharmaceuticals industry. This understanding of industry best practices and strong insight allows the company to identify emerging trends in medicine and the marketplace.
The secret to being able to license so many drugs within such a short period of time, less than a year after being restructured is CEO, Arun Nayyar.
Arun only joined the company November 25th, 2013, but came with an extensive track record in the industry - specifically generics - having held executive positions with pharmaceutical companies in Latin America, Asia, and Canada. He has been instrumental in opening up new markets abroad, and domestically his accomplishments include Director, Business Development and International Sales for Shoppers Drug Mart ("SDM"), and consulting for Sanis Healthcare, George Weston Ltd. (Loblaws group), and SDM. To have a more extensive look at Arun's resume and job history, you can view his LinkedIn here.
Some information that you won't find on LinkedIn is that he's an owner of a few Shoppers Drug stores in the Vancpharmaouver area, and also has deep-ties, and solid connections in India. This helps to secure licensing of the generics in exchange for manufacturing rights when Health Canada approves the products.
The newest hire, replacing Jamie Lewin as director and CFO and announced December 3rd, 2014 was Aman Parmar. "I look forward to working with the team at Vancpharma Pharmaceuticals and am impressed by how far they have progressed with limited capital," said Mr. Parmar. "Capital efficiency and creating shareholder value will be my primary focus at Vancpharma." Since joining Vancpharma, Aman has purchased 135,000 shares on the open market ranging from 19 to 24 cents - clearly indicative that he believes the company is undervalued at these levels.
Given the fact that the company is ramping up its business, they've already started putting together a sales and marketing team, it wouldn't surprise me if another executive was brought in to help.
You can read more about the entire Vancpharma team by clicking this link (note, this page needs to be updated with Jamie/Aman).
FINANCIALS
Although Vancpharma is a pre-revenue company, I see a multiple number of visible, value-unlocking events through 2015 that can meaningfully impact stock performance.
Figure 4: Summary of Quarterly Results


Source: MD&A
The company closed an oversubscribed, non-brokered private placement for gross proceeds of $1,141,000 by issuing 7,607,332 units at $0.15/unit on December 11th, 2014. "This round of funding enables us to move our portfolio of generic drugs and OTC products into commercialization," said Arun Nayyar. "Specifically we will be acquiring generic drug inventory and building our sales team to target pharmacy customers."
The company is financed for the time being, but may have to do another round in March depending on how the roll-outs are going, and for general working capital purposes. If so, I'm sure that it would be strategic - I would think at least >$0.20, comprised primarily by sophisticated retailers and brokers, and it would not be a raise of much more than $1 million. Management only wants to raise whatever money they believe is necessary right now because they know as soon as the company starts generating revenue that its valuation has easily be many multiples of where it sits today.
SHARE STRUCTURE
Shares outstanding: 44,374,407
Stock Options: 3,975,000
Warrants: 16,212,252
Fully Diluted: 64,561,659
Major shareholders of the company, and percentage owned include:
Management ~10%
Legacy Shareholders ~25%
Sophisticated retailers ~25%
Boutique Brokers ~20%
Total ownership by management, insiders, institutions, etc.: ~80%
It's a tight share structure, the 'effective' float is ~9 million shares - much less than what's been traded the past few months - 42,798,548 shares at an average price of $0.194:
Figure 5: House Positions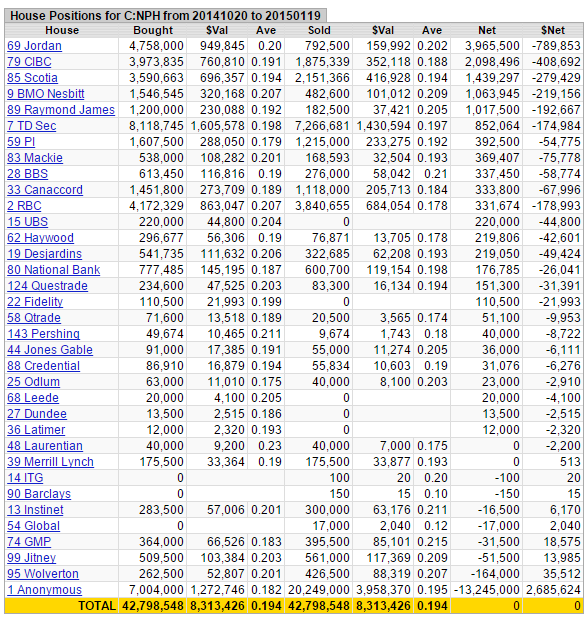 Source: Stockwatch
Figure 6: Management Insider Filings


Source: TD
REVENUE RAMP/VALUATION
It's a little early for me to try and assign a valuation, or forecast revenue and earnings for the company, however I anticipate doing so before year-end. The company hasn't informed investors of the specific margins and obviously we don't know the adoption rate because we don't know how good the sales team will be. Take a look at this article though, "The Top 11 Fastest-Growing Generis Companies", when compared some of the other generics companies, Vancpharma looks very undervalued based solely off of its standing drug portfolio.
The two best examples that come to my mind are: Paladin Labs and BioSyent (OTCPK:BIOYF).
Former pharma sales rep., and Cantech Letter contributor Hogan Mullally wrote that Paladin "became the poster child for Canadian specialty pharma. They built a remarkably successful business by acquiring the Canadian rights to a wide variety of drugs. These drugs were either too small for medium/big pharma, or were developed by a company without a Canadian commercial footprint, whatever the reason, Paladin was able to amass an eclectic and diverse portfolio of prescription and OTC drugs for the Canadian market. Through their "sum of the parts" strategy, Paladin grew to over $200 million in annual sales and in 2013 was acquired by Endo Pharmaceuticals for approximately $1.6 billion.
BioSyent is in between Vancpharma and Paladin, as it has already amassed an impressive portfolio by searching the globe to in-license or acquire innovative pharmaceutical products for the Canadian market. It too focuses on products that are too small for medium/big pharma, and have a competitive angle that can be exploited by a modest sales force. BioSyent's business model is structured to minimize risk, and to produce high growth. For the four years ended December 31, 2013 the company experienced a CAGR of 67% while consistently growing profits:
Figure 7: BioSyent Financials at a Glance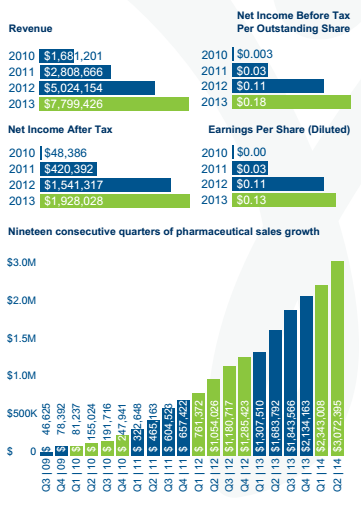 Source: Fact Sheet
There is an exit strategy for the company and shareholders - take-out target for an M&A transaction. It might take getting into a few hundred pharmacies, but the precedent has already been set. The initial adoption rate risk is reduced from the outset because between members of the management team, they own a little more than a dozen pharmacies. Not to mention now that Health Canada has granted the company a Drug Establish License it can pursue additional revenue opportunities and further de-risked the investment.
RISKS
Vancpharma is still considered an early stage company, as such there are a number of risks associated with making an investment at this point in time, including but not limited to:
Cash flow and inventory management
Delays with the manufacturer
Ability to sign up pharmacies and make sales
Ability to continue expanding generics portfolio
Regulatory approvals from Health Canada
Ability to generate revenue or access capital (further share dilution or debt)
(1) The company just hired a new CFO, and has a management team has dozens of years of business experience, most dealing with generic pharmaceuticals.
(2) The company plans to manufacture its products at four certified GMP pharmaceuticals factories in Canada, India and China. These U.S. FDA approved plants are capable of manufacturing a wide range of Generic Pharmaceuticals and OTC Health care products at these facilities, under the VANCPHARM label.
(3) Like I mentioned before, management controls a number of pharmacies which will de-risk the rollout process and immediately start generating revenue form the company's generics portfolio.
(4) Arun has built deep, extensive relationships in India and China, and has a lot of ideas to add more products to the portfolio (not to mention the future potential to co-development or development exclusively).
(5) The company sources its products from big products that are already approved by either the U.S. FDA or UPHRA, and also approved by Health Canada. As long as the company is in compliance with Health Canada guidelines then the ANDS application gets expedited, updated and faster tracked. The company hasn't had so much of a hiccup yet, because of the experienced team in place filing all of the paperwork.
(6) The company hasn't had an issue raising money despite the poor market for companies trading on the TSX Venture. The last PP was oversubscribed, and the shares were spread around to strong, strategic hands. Presuming management continues to achieve its milestones, I anticipate lots of eagerness for the next round.
CONCLUSION
Vancpharma set forth some ambitious goals, but has already accomplished so much in such a short amount of time that I really have large aspirations for it (and shareholders).
The company has a tried and tested business model which is simple to understand. Vancpharma enters into Cross-Referencing agreements with affiliated companies whom source products from China and India which are already approved, in exchange for manufacturing rights when the drugs are approved by Health Canada. This is very economical as there is a minimal cross-referencing fee paid to Health Canada, and a very large market opportunity (>$1 billion for current generics portfolio), with margins typically ~70%-75%.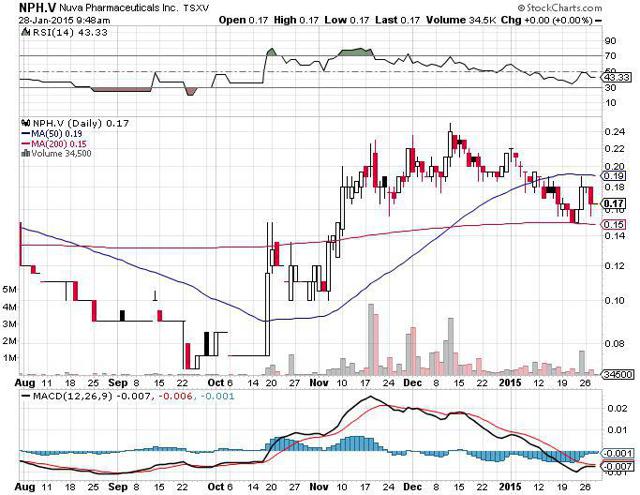 Source: StockCharts.com
Taking a look at recent trading, there has been some healthy consolidation after the initial big run-up, ~33% off its 52-week high. MACD and RSI indicators are now in 'oversold' territory, and the stock is approaching its 200-day moving average. Up until a few months ago this stock traded 'by appointment only'. Since the middle of October, 42,798,548 shares at an average price of $0.194 have traded.
Now that the company has received 30 of its 49 Health Canada approvals (with the rest to be submitted shortly), there is a bit of work that needs to be done in order advance it from being a purely speculative growth biotech with Health Canada approvals, to one that's one being noticed by institutions and an American audience.
In the meantime, investors have two options: (1) buy now, taking the risk knowing that the company may need to finance further, but is extremely close to generating revenue; or (2) sit on the sidelines and wait until the second quarter financials are released, and make a decision then.
The latter is much less risky, however if management successfully executes on its business plan and stays on track with milestones, then I'm sure its share price will reflect it this, and it will be at a significant premium.
Bottom line, I think that there is a very compelling opportunity to invest right now given: (1) the recent pullback in share price; (2) the significance of forthcoming news releases to act as catalysts to unlock shareholder value; (3) management's achievements to date and their track record to deliver results; (4) market opportunity (>$1 billion on current portfolio) and attractive valuations of sector peers; and (5) lack of competition in the Western Canadian generics market and the opportunity to generate imminent revenue.
(For additional liquidity, NUVPF. trades in Canada on the TSX Venture as "NPH". 3-month average volume 637,531 shares/day.)
Please feel free to comment below or send me an inbox message if you have any questions or comments about this article.
*If you like what you've read here please click the "+Follow" button and subscribe to my real-time alerts. I just started using the StockTalk function which I find is an excellent resource to communicate real-time trades that I'm making, due diligence that I'm conducting and article alerts.
Disclosure: The author is long NUVPF.