Summary
Clinical stage biopharmaceutical company that specializes in developing natural, non-synthetic cannabinoid based therapies (3 announced, up to 9 more planned in 2015).
Leverages its proprietary drug design platform to identify new bioactive compounds within the cannabis plant that interact with certain gene targets responsible for specific diseases and conditions.
Proprietary drug delivery systems increase efficacies of current therapies as well as open additional industry opportunities for licensing and collaboration in other disease areas.
Currently has two lead candidates in pipeline: CTI-085 (topical formulation to treat glaucoma); and CTI-091 (transdermal formulation to help alleviate pain and swelling caused by arthritis and joint inflammation).
Just closed an over-subscribed, non-brokered private placement generating total gross process of $1.05M and now plans to such as ramp up its research and development operations.
"In the nineteenth century, marijuana was prescribed by physicians for maladies ranging from eating disorders to rabies. However, as newer, more effective drugs were discovered and as the potential for abuse of marijuana was recognized, its use as a therapeutic became restricted, and only recently has its therapeutic potential been re-evaluated. Recent studies in animal models and in humans have produced promising results for the treatment of various disorders - such as obesity, cancer, and spasticity and tremor due to neuropathology - with drugs based on marijuana-derived cannabinoids." - Klein (2005)
A paradigm shift us currently upon us in North America as people start to understand, accept, and embrace the medicinal benefits that are offered by the cannabis plant. Scientists and researchers are now working more diligently than ever studying and analyzing cannabinoid data, which due to legal, bureaucratic restrictions, they had not previously been able to do in a conducive manner.
Many investors have decided to play the fledging commodity by investing directly into a grower, dispensary, beneficiator, etc., and while the market is much more developed in the United Sates as opposed to Canada, it's still very early and the legislative framework is still being worked out. While this all transpires and the market matures I believe that the real opportunity exists through the previously inaccessible therapeutic pharmaceutical cannabinoid market.
Cannabinoids are chemical compounds that act on cannabinoid receptors on cells that repress neurotransmitter release in the brain. While tetrahydrocannabinol ("THC") and cannabidiol ("CBD") are the two most popular cannabinoids, scientists have isolated at least 85 different cannabinoids from cannabis which exhibit various effects that could prove therapeutic.
Figure 1: Medicinal Cannabinoid Chart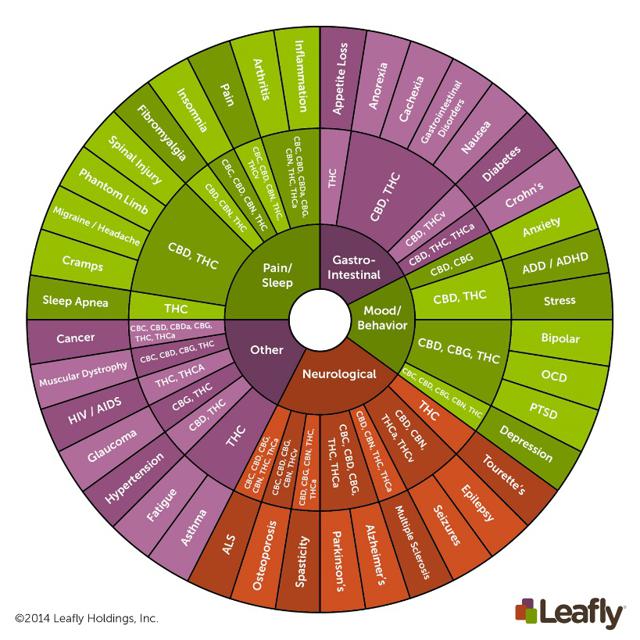 Source: Leafly
The cannabinoid market is now one of the fastest growing niche sectors of the pharmaceutical industry, and is driven by the potential of this group of compounds to treat major diseases.
OVERVIEW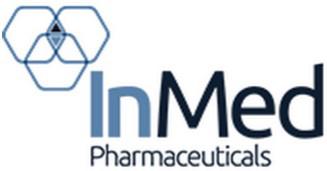 InMed Pharmaceuticals Inc. (OTCQB:IMLFF) (CSE: IN) is a clinical stage biopharmaceutical company that specializes in developing natural, non-synthetic cannabinoid based therapies by leveraging its proprietary drug design platform to identify new bioactive compounds within the cannabis plant that interact with certain gene targets responsible for specific diseases and conditions, coupled with innovative drug delivery systems. Its drug therapies have accelerated development pathways compared to traditional drug development. The company plans on outsourcing the early-stage research and trials to get to Phase 1 quickly and inexpensively, and has plans to add another five to nine therapies to its pipeline in 2015.
The company has decided to pursue a very lean, vertically integrated business model aimed at quickly and efficiently getting to market while also minimizing shareholder dilution. With this in mind, I'd like to note that InMed was founded as a drug discovery and development company to offset and reduce the major risks/challenges of modern biotech/pharma companies, and as such, I feel that it has strong potential to eventually become a buy-out target. Any big pharma company would benefit from minimizing its: 1. Development time; 2. Development cost; and 3. Risk of attrition.
Despite the recent appreciation of InMed shares, I still believe that the company has significant upside. I will elucidate this throughout the article as I discuss the company's: impressive drug design platform; therapeutic formulations both in development and currently being researched; its proprietary drug delivery systems; its accelerated pathway to commercialization; the competitive landscape in the industry; and lastly, its management team.
CANNABINOID SCIENCE
Although we can trace back the roots of cannabis for medicinal, recreational and ritual purposes all the way back to around 3000 BC, it's only been since the 1800s that cannabis and its components have been studied intensively. Researchers are now intently focused on studying the plant's components, receptors and endogenous counterparts in mammals, and for the past few decades have worked on delivering therapies for humans.
Figure 2: History of Cannabinoid and Endocannabinoid Pharmacology
(click to enlarge)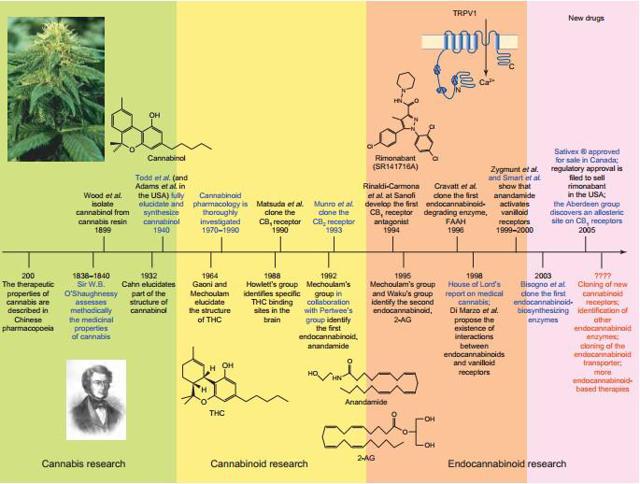 Source: TRENDS in Pharmacological Sciences
The development of first drugs containing synthetic versions of chemicals naturally found in cannabis plants, Marinol and Cesamet, took place in the 1980s. Those drugs are still used to treat nausea and weight-loss in patients with cancer and AIDS today. That was followed by the development of the first phytocannabis-based medicine, Sativex, and most recently Epidiolex, which has produced promising results in children with hard-to-treat epilepsy.
Phytocannabinoid based drugs have demonstrated a good safety record, which is not the case with synthetic version of drugs. An example of this is Rimonabant, developed for the treatment of obesity but withdrawn from market due to increased risk of psychiatric adverse events, including suicidality.
INTELLIGENT CANNABINOID DRUG DESIGN PLATFORM ("IDP")
According to the company, the platform:
Allows for unique prioritization of certain disease genes using known drug target genes enabling an accelerated pathway for drug development and commercialization: ~3.5 yrs. vs. traditional 10-15 yrs
Generates new therapies based on scientifically proven genomics and metabolomics both quickly and effectively with an in silica validation established
Network-based methodologies prioritize knowledge about disease linkage intervals with protein identification & interactions with known disease genes networks
The company is utilizing its proprietary Intelligent Cannabinoid Drug Design Platform ("IDP") to identify new bioactive compounds within the cannabis plant that interact with certain gene targets responsible for specific diseases, and then plans on outsourcing the early-stage research and trials to get to Phase 1 quickly and inexpensively. Management has opted to strategically isolate compounds targeting different therapies than those which are known to be in development by competition, while also targeting large, underserved marketplaces. Its IDP has already led to the discovery of three therapeutic formulations: CTI-085; CTI-091; and INM-750.
Figure 3: Product Pipeline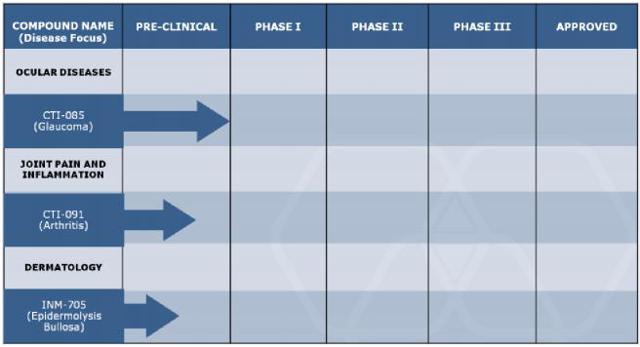 Source: Company Presentation
The company's primary focus is to target the ~$12 billion ocular disease market, including the $5.6 billion glaucoma market, where its CTI-085 is awaiting Phase I clinical trials, having already completed preclinical trials, and also the ~$14 billion arthritis and joint disease market, where its leading candidate CTI-091 is nearing Phase 1 trials.
In addition to these two main areas, management has also expressed interest in targeting other marketplaces such as orphan diseases, metabolic diseases, dermatologic diseases, and cancers. In fact, just a few weeks ago InMed announced a new therapy to its pipeline, INM-750, for the treatment of epidermolysis bullosa simplex, a rare genetically inherited skin disorder.
Figure 4: Current and Proposed Target Areas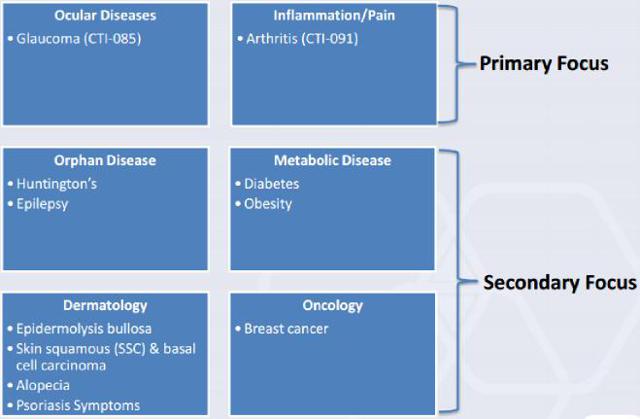 Source: Company Presentation
The company's novel IDP bioinformatics tool, with in silica validation, identifies individual chemical structures which can be targeted to develop therapies for specific diseases and conditions. It offsets & reduces the major challenges of drug development like: development time; development cost; and risk of attrition. The platform has high-quality hardware and software support system and an outstanding research team, which can perform molecular simulation, drug design, drug screening, and construction of target structure, etc.
Utilizing this platform technology, coupled with its highly capable team, InMed anticipates to quickly and effectively discover new therapies. The company has announced plans to add five to nine new assets to its pipeline in 2015.
CTI-085 GLAUCOMA TREATMENT
InMed has "identified and created a topical formulation containing a proprietary compound of cannabinoids and non-cannabis based active ingredients for the treatment of glaucoma." The company identified its leading composition, CTI-085, through 12 months of discovery and preclinical studies that showed efficacy in lowering intraocular pressure ("IOP") in animal models. The objective for this therapy was to develop a safer, cannabis-based, topical anti-glaucoma formulation without systemic side effects.
According the company, the glaucoma market presents a substantial opportunity:
Glaucoma represents $5.6B of the global ophthalmic drugs market (dry eye, anti-glaucoma, anti-allergy/ inflammatory/ infective, retinal drugs), which was valued at ~$16 billion in 2012and is estimated to be valued ~$21.6 billion in 2018
Pipeline of glaucoma treatments is relatively weak compared to other treatment areas (Xalatan/Xalacom, Travatan and Lumigan accounted for 50%)
Glaucoma is the second most common cause of blindness in the United States, accounting for >11% of all cases of blindness in the country. Estimated to affect >2.2 million individuals in the United States who are >40 years old with primary open angle glaucoma, the most common form
The market for glaucoma products is huge as evidenced by a study which determined that the current 60 million people with glaucoma worldwide will increase to nearly 80 million by 2020
Some of the key driving factors are: 1) rising prevalence of global aging population; 2) increasing government initiatives towards healthcare infrastructure in developing countries (such as India and China); 3) technological changes in drug delivery technique; 4) and increasing prevalence of lifestyle associated diseases.
Figure 5: Normal Vision vs. Vision Affected by Glaucoma


Source: Company Presentation
Primary Open Angle Glaucoma is the most common form of glaucoma, and occurs when optic nerve damage results in progressive loss of the visual field. Complications occur when the fluid drainage is poor and fluid builds up in the eye, and internal eye pressure increases. The resulting pressure increase can cause damage to the optic nerve and vision loss. Cannabinoids are believed to be well-suited for the treatment of glaucoma due to their ability to reduce intraocular pressure.
Figure 6: Results from Preclinical Trials for CTI-085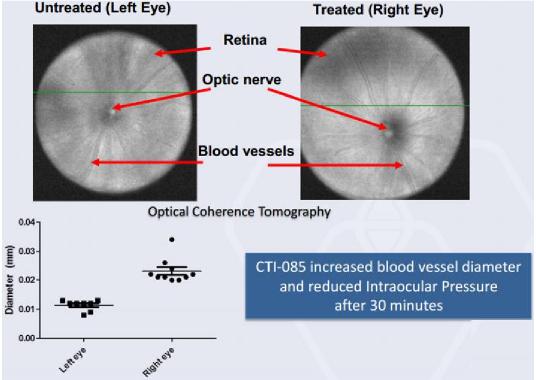 Source: Company Presentation
Initial results from the preclinical trials for CTI-085 are extremely encouraging, and the company is anticipating initiating Phase 1 clinical trials during Q4 2015. InMed also expects to achieve the following milestones for this formulation through 2015:
in vitro studies with cannabinoid-laden polymeric nanoparticale funded by InMed MITACS grant (Q1, 2015)
in vivo studies with cannabinoid-laden polymeric nanoparticale (Q3,2015)
IP Filing on nanoparticale Based Ocular drug (Q3, 2015)
GLP ocular irritation study (Q4,2015)
The nice thing about the Phase 1 clinical trial for this compound is that it should be a very short study (~6-8 weeks), and where efficacy endpoint can be immediately measured and quantified by measuring the reduction of intraocular pressure. The company intends to report the result for the clinical trial to Health Canada and apply for a Notice of Compliance ("NOC") by the end of the first quarter of 2016.
InMed is also developing a nanoparticle based drug delivery system. Not only is that lucrative in the sense that the company won't need to pay licensing fees to a third party, but it also addressed an underlying problem - glaucoma sufferers have exceptionally high rates of medication regimen noncompliance. A recent study showed that nearly one-half of the individuals who had filled a glaucoma prescription discontinued that topical therapy after only six months. InMed seeks to take advantage of peoples' search for an alternative treatment and application through its own delivery system and therapy.
Figure 7: Nanoparticle Based Delivery System Application

Source: Company Presentation
The company has formed an exclusive strategic collaboration with Dr. Vikramaditya Yadav of the department of chemical and biological engineering at the University of British Columbia to develop its targeted drug delivery systems. Dr. Yadav was most recently with the department of chemistry and chemical biology at Harvard University and the department of chemical engineering at Massachusetts Institute of Technology.
CTI-091 ARTHRITIS/INFLAMMATION TREATMENT
InMed has identified CTI-091, which is a proprietary mixture of cannabinoids and non-cannabis based active ingredients designed for the relief of joint pain and swelling associated with arthritis and joint disease. Preliminary lab studies showed CTI-091 suppresses the human macrophage interleukin-6 ("IL-6"), a major biomarker of inflammation.
Here are some metrics from the company about arthritis and its associated market opportunity:
Arthritis is an autoimmune disease that causes chronic joint inflammation, and inflammation of the tissue around the joints and other organs in the body
55 million people in North America alone suffer from arthritis
Arthritis is the leading cause of disability in the United States
By 2030, an estimated 73 million North Americans will have arthritis, unless the trend is reversed
Some experts suggest that arthritis drugs bring in an estimated $35 billion a year in profits
The formulation is still in the pre-clinical stage of development, however results should be positive given the amount of scholarly research already conducted into the science behind the therapy and cannabinoid based-drugs acting as novel anti-inflammatory therapeutics. To cite just a few examples: Klein et al. (2005); Croxford et al. (2005); Parker et al. (2008); and Nagarkatti et al. (2009).
The company anticipates achieving these milestones for CTI-091 near-term:
Skin penetration studies with cannabinoid-laden transdermal patch(Q2,2015)
in vivo studies with cannabinoid-laden transdermal patch (Q3,2015)
IP filing on cannabinoid-laden transdermal patch (Q3, 2015)
Initiate Phase I clinical trials (Q4, 2015)
Report clinical trial results to Health Canada and apply for NOC (Q1, 2016)
InMed is also developing an innovative cannabinoid-laden transdermal patch delivery system to enhance retention and absorption of the drug candidate to relieve joint pain and swelling. The company is working to improve the delivery system to optimise efficacy, before initiating Phase I clinical trials later this year.
INM-750 EPIDERMOLYSIS BULLOSA SIMPLEX ("EBS")
INM-750 Is a topical formulation that is being developed for the treatment of epidermolysis bullosa simplex ("EBS"), a rare genetically inherited skin disorder that causes the skin to be very fragile and to blister easily. Effects on quality of life are substantial, as pain and itching are burdensome daily problems. INM-750 is designed to suppress pathological skin growth, differentiation and inflammation that are signature characteristics of EBS, a rare keratin mutation-related disease with no FDA approved treatment.
There is no known cure for EBS, merely treatment options. The only options currently available to patients are wound care, pain management, preventative bandaging, and in more severe cases, surgery The most severe forms of the disease lead to scarring, disfigurement, disability, and even early death.
Based on statistics collected through the National Epidermolysis Bullosa Registry, EBS is estimated to occur in 20 newborns per 1 million live births in the United States. It's unknown exactly how many people are suffering from EBS, but estimates suggest that 25,000 - 50,000 people in the United States live with the disease. As such, it would potentially qualify to receive orphan drug designation with fast track approval process. Based on the success of INM-750, InMed wants to expand its dermatology pipeline.
Although no exhaustive clinical studies have taken place, early results have been found that cannabinoids have shown success in treating the pain and itching symptoms of EBS. Sugawara et al. (2013) comment in their article in the Journal of Investigative Dermatology that the "endocannabinoid system is now appreciated as a major player in human skin physiology."
InMed should have already commenced pre-clinical studies of INM-750 in February, with initial data expected by Q2 2015. The company is concurrently in the process of developing another nanoparticle-based delivery system for this formulation.
The initiation of INM-750 signals InMed's entry into the dermatological market and adds to the company's rapidly advancing pipeline of cannabis-based therapeutics.
ACCELERATED DRUG DEVELOPMENT PROCESS
Management has identified the quickest path to commercialization and it's based off of the same model that GW Pharma operates; except InMed gets to piggyback on the public data from GW's clinical trials with Sativex, which were conducted in Canada.
Figure 8: Impact of GW Pharma's Clinical Trials
(click to enlarge)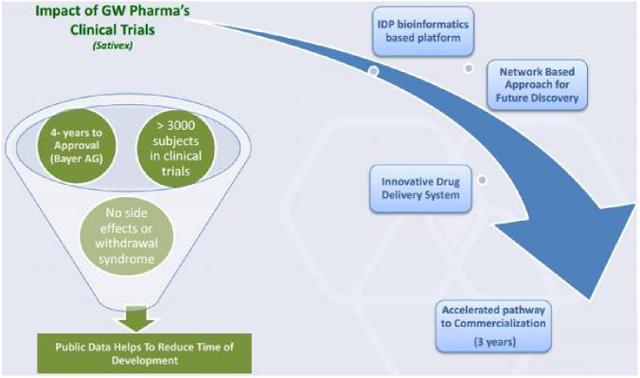 Source: Company Presentation
Utilizing its proprietary IDP platform which has already been proven to cut years off of development lead time, the company is accelerating its research and development by outsourcing early-stage trials to get to Phase 1 quickly and inexpensively, progressively advancing towards commercialization, while partnering with big pharma for continuing research and development (earlier success permitting).
Figure 9: Significantly Reduced Drug Development Time Compared to Traditional Drug Development
(click to enlarge)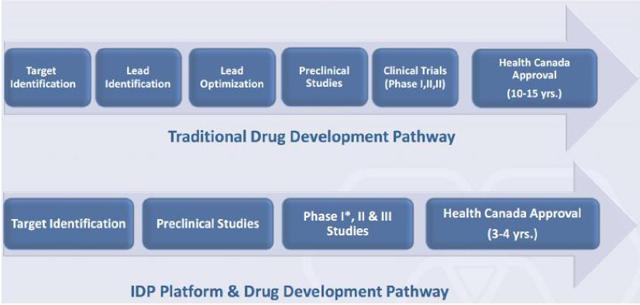 Source: Company Presentation
Additionally, because of the cannabinoid formulations being all-natural and considered safe by combining the targeted drug delivery system there are less rigorous steps involved to determine safety and efficacy compared to some traditional pharmaceutical drugs and studies.
Figure 10: Commercialization Pathway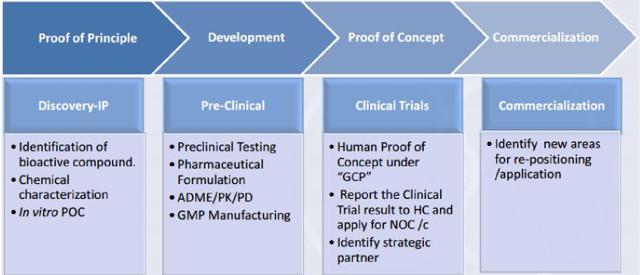 Source: Company Presentation
COMPETITION
While there are a number of companies that incorporate aspects of what InMed is looking to achieve, its most direct and well-entrenched competitor is hands-down GW Pharmaceuticals. It is an industry goliath with a market cap of around $1.6 billion, and tried and tested development and commercialization processes for cannabis-derived biopharmaceutical therapies. Many people in the media have compared the two companies to being analogous with one another, dubbing InMed a "Junior GW".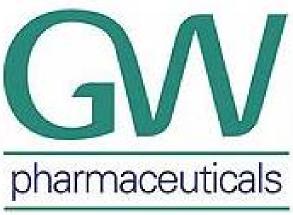 I'd like to take a moment to provide a brief history of GW, as it's important in the overall scheme of things to demonstrate the need and opportunity for InMed to target underserved marketplaces and a develop alternative medical treatments to those currently available (if at all).
During the 1990s, British parliamentarians started noticing a trend occurring in their court system, multiple sclerosis ("MS") patients charged with marijuana possession were claiming that the plant offered relief from associated symptoms. In 1998, after investigating the issue, the House of Lords Science and Technology Committee acknowledged the plant's potential as a source of new drugs and called for rigorous research into the matter and identified it as an urgency.
After much consultation with industry leading scientists and researchers, the government granted GW Pharmaceuticals Inc. (GWPH) ("GW"), a license to grow cannabis plants. The original idea was to generate strains with a high-concentration in specific cannabinoid compounds that acted on the nervous system, then test the effects of various cannabinoid combinations on MS and chronic pain. "It was a case of patient experience guiding scientific exploration," says Stephen Wright, director of research and development at GW.
Eventually, in 2010 GW announced the UK launch of its first cannabinoid-based product, Sativex, an oral spray for the treatment of MS spasticity, which became the world's first prescription medicine made from cannabis extracts. Sativex is now approved for use by MS patients in 27 countries, including Canada, France, Germany, Spain, and Australia. GW has partnered with Bayer (OTCPK:BAYRY), Otsuka (OTCPK:OTSKY), Novartis (NVS), Almirall (OTC:LBTSF), Ipsen (OTCPK:IPSEY), and Neopharm to market the product. Last year, GW's share price surged up 64% on the year largely due to the US Food and Drug Administration ("FDA") granting orphan status to its anti-seizure drug Epidiolex.
GW has experienced immense success thus far becoming a first mover in the biopharmaceutical cannabis-derived therapeutics industry, and its research has laid the framework for others to enter the field to continue advancing it, opening the door for InMed and others to become first movers for additional drug therapies where there is an underserved marketplace and a need for alternative medical intervention.
Consider the following chart comparing GW's clinical stage valuation, relative to the potential timeline for InMed and its therapies:
Figure 11: GW Clinical Stage Valuation/Therapies vs. InMed Forecasts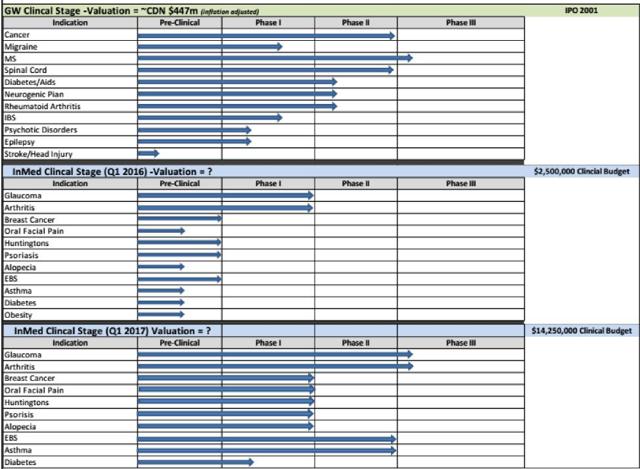 Source: Personal/GW Pharma Company Filings/InMed Pharma Company Filings
When GW completed its initial public offering in 2001, it was valued at ~$447 million based on having 11 therapies in its pipeline. By the end of next year InMed should have ~11 therapies of its own in the pipeline and is only valued at ~$20 million today. Granted, different drugs different phases, but there is still a large disparity in valuation.
To provide further context, when GW completed Phase 1 for Sativex, it did a joint venture, partnering with Otsuka for $18 million in upfront financing, with the potential to earn $255 million in milestone payments. Take a look at some of the other licensing agreements GW has signed for Sativex as well as other major pharmaceutical companies involved in the space:
Figure 12: Sativex Licensing Agreements


Source: Edison Research (2013)
Figure 13: Major Pharmaceutical Companies Involved in Cannabinoid R&D and Commercialization
(click to enlarge)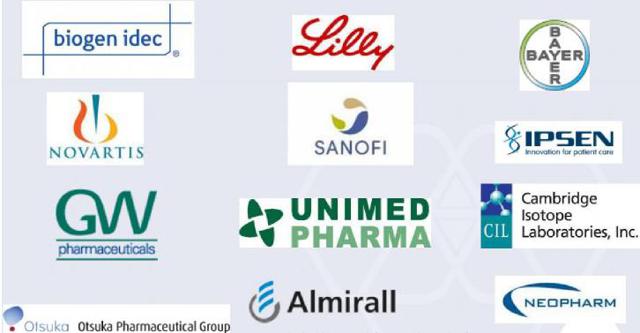 Source: Company Presentation
How many therapy product launches and strategic partnerships will it take before big pharma and other investors start to catch on about InMed?
The other competition that I wanted to discuss, and the next two largest entities in the space besides GW include: Zynerba Pharmaceuticals Inc. and Insys Therapeutics Inc. (INSY).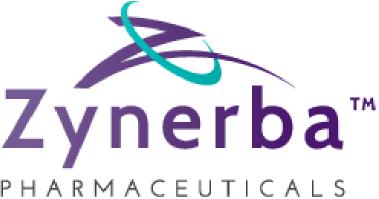 Zynerba has only two product candidates in its pipeline: 1) ZYN001 - chronic cancer pain, fibromyalgia, and peripheral neuropathic pain; and 2) ZYN002 - refractory epilepsy and rheumatoid arthritis. Expected to initiate Phase 1 clinical testing for both drug candidates during Q3 2015. Zynerba claims to be the "first and only transdermal synthetic cannabinoid therapeutic company," however that is not true given the work InMed has been conducting. Zynerba is a private company and doesn't share internal financial numbers, however the company just completed $13 million raise in October 2014 - based on its two formulations.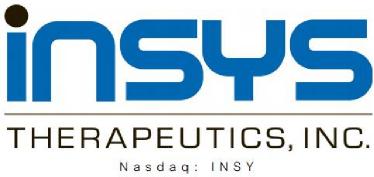 Insys while being a $2+ billion company has only recently decided to foray into pharmaceutical cannabinoids, is competing with GW for marketshare as its developing two primary candidates: 1) dronabinol oral solution (essentially a slightly differentiated although significantly improved product over Marinol); and 2) CBD with an initial clinical focus on epilepsy (targeting Dravet Syndrome and Lennox-Gausaut Syndrome just like GW), followed by research into Glioma, Glioblastoma Multiforme, and Pediatric Schizophrenia. Insys focuses a lot on manufacturing, having seven years of experience producing pharmaceutical cannabinoids in a DEA approved and FDA inspected U.S.-based facility (the only one capable of producing commercial quantities), and is contracted to produce 90 kg of CBD in 2015.
All in all, biopharmaceutical research and development of cannabinoid-based therapies is still in its infancy. Only in the past couple of decades have we been experiencing a paradigm shift in the Western world where the majority of the population has begun to accept and embrace the notion of needing to study the cannabis plant due to all of its associated benefits, and thus far only a very limited number of companies have embarked down that path. While there are much larger, more entrenched companies in the space, the overall competitive landscape remains sparse. Participants are all hoping to capitalize on the anticipated growth of the pharmaceutical cannabinoid space by taking advantage of mounting data on the plant's therapeutic effects, that said the company which I believe is best positioned to take advantage of the opportunity, and offers shareholders the biggest prospect for upside appreciation and blue sky potential is InMed.
MANAGEMENT TEAM
For any junior company to make it in this market, it needs to have more than just a good product or service. In my opinion, at least half of the success of a small, development stage company rests in its management team. This is an area where I believe InMed excels: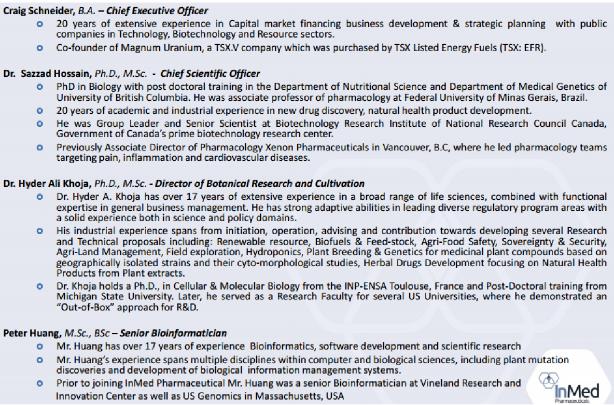 Source: Company Presentation
Please click on the names of the executives to visit their LinkedIn profiles: Craig Schnieder, Dr. Sazzad Hossain, and Dr. Hyder Khoja.
I want to focus on Dr. Sazzad Hossain, Chief Scientific Officer, because he is the man in charge of the scientific operational endeavours for InMed. You either believe in him, and what he is capable of building InMed into, or you don't - that simple. I happen to think that he's a genius. He has a very impress resume and track record with drug discovery and development which I believe demands attention:
Scientific excellence includes more than 20 years of experience in basic and applied R&D in academia, govt. research organization & pharmaceutical/biotech setting; solid scientific track record of drug development.
Developed drugs for these 2 discoveries and attracted over $600 million from the likes of Teva and Novartis
2004: Xenon, Novartis enter $157M deal for obesity compounds
2006: Xenon and Takeda announce $75M agreement to develop and commercialize XEN401 for pain
2006: Xenon Enters Into Anemia Collaboration With Roche ($7M for Equity, and $44M from research funding)
2012: Teva inks $376M deal on Xenon pain program with XEN-402 and XEN-403
Group leader and head of pharmacology at Biotechnology Research Institute of National Research Council ("NRC") of Canada (government of Canada's main research laboratory)
Left the NRC with about a year left before being eligible to receive a pension because of his interest to work with InMed.
During his time at Xenon Pharmaceuticals (XENE) Dr. Sazzad completed due diligence meetings with Novartis Pharma AG, Takeda Pharmaceuticals, and Roche resulting licensing agreements & increased its portfolio value by ~$500M. He was also in charge of the following drug discovery & development projects: Oral XEN402 (Pain- Phase 3), Topical XEN402(Pain - Phase 2), XEN403- Oral (Pain Phase 1 Trial). Xenon shares recently traded as high as $23.50, and the company has a current market cap of ~$270M.
He is currently responsible for:
Drug discovery & development process utilizing proprietary IDP to increase drug development pipeline and
Providing strategic input for company's mid- and long-term goals from the scientific standpoint
Providing other members of Senior Staff with continuous scientific input in the areas of business development, clinical development and commercialization, financial planning and execution, regulatory matters, manufacturing, extramural funding processes and initiatives.
Composition, relationship development, and value add from company's Scientific Advisory Board
Attracting, hiring and developing high performing managers and scientists, leading a team of 26 scientists (14 PhD and 12 M.Sc).
Establishing partnerships with academic institutions, with other pharmaceutical companies, CRO's and Health Authorities, and managing the company's patent estate.
In addition to the good doctor, InMed is currently is looking to expand its Board of Directors and Scientific Advisory Board by attracting even more strategic individuals to join its team.
Although not management related, the company retained Tiberend Strategic Advisors Inc., a full-service communications firm focused on assisting publicly traded and emerging growth companies in the health care and life sciences industry with their investor and corporate communications programs. Apparently, Tiberend has already been getting InMed in front of captivated audiences at conferences, and set up discussions with institutional brokers at the Biotech Showcase in San Francisco, January 13th - 15th, 2015. To put this into perspective, GW has 112 mostly American institutional shareholders, so there is a large amount of interest in the marketplace and potentially for InMed - people just need to hear about this great company from Vancouver, B.C.
With Craig's extensive capital markets experience and Dr. Hussain's past performance of taking drugs from discovery all the way through to commercialization, I have confidence that this team has the leadership and guidance necessary to succeed.
FINANCIALS/SHARE STRUCTURE
InMed is not operating profitably as it is a development stage biopharmaceutical company which inherently continues to burn cash until it either joint ventures, achieves commercialization, gets bought out, or fails.
On February 25th, InMed closed an oversubscribed, non-brokered private placement for 10.5 million units at a price of 10 cents per unit, for total gross proceeds of $1.05M, with each unit consisting of one common share and one non-transferrable share purchase warrant at a price of 13 cents for a period of 24 months following the closing of the financing.
The money generated from the financing will be used for general working capital purposes, such as ramping up its operations as it enters Phase 1 clinical studies with its two leading therapeutic candidates, as well as taking a handful of therapeutic formulations through pre-clinical trials and identifying even more.
As of March 3, 2015 the outstanding share structure of the company is as follows:
Shares outstanding: 52,878,524
Stock Options: 3,225,000
Warrants: 14,045,500
Fully Diluted: 70,149,024
Figure 14: Option and Warrant Details


Source: Company MD&A
RISKS
InMed is a development stage biopharmaceutical company, as such there are a number of risks associated with making an investment at this point in time, including but not limited to:
History of operating losses, may be unable to finance in the future
Necessity to find joint venture partners for research and development
Potential clinical or regulatory failure or delay can be expensive and time consuming
Protection of proprietary knowledge and patents
(1) Despite its history of operating losses, InMed has not had difficulty finding money when needed. Perhaps you could fault manage for not taking money shortly after the company de-listed to the CSE over the summer time, however it all worked out for the best with management placing shares into strategic hands in the non-brokered private placement. Trading since then has been indicative of that as there was too much interest when the company started marketing the deal to be able to allocate people shares without diluting the company too much so people just started buying on the open market. Management took just what they believed was necessary in order to complete their proposed 2015 milestones.
(2) The company has already partnered with UBC and has existing lab partners in place from some of the pre-clinical research it has already conducted. Concerning big pharma, this shouldn't be a problem as long as the therapies continue to demonstrate safety and efficacy through Phase 1. After that, historically speaking based on other licensing deals, InMed should be able to find a big pharma company to joint venture with relative ease as there are numerous interested partied either already participating or looking to enter the sector.
(3) This is an inherent risk with any development stage biopharm company, however InMed has taken numerous steps to operate a very lean and efficient business model. The company has developed a drug design platform that identifies new bioactive compounds within the cannabis plant that interact with certain gene targets responsible for specific diseases, and then plans on outsourcing the early-stage research and trials to get to Phase 1 quickly and inexpensively.
(4) The company has plans to patent its proprietary concepts, devices, compounds, and molecules once all development has been completed, and in fact lays some of this out in the aforementioned milestones.
CONCLUSION
I have "high" hopes for InMed Pharmaceuticals Inc.
Biopharmaceutical research and development of cannabinoid-based therapies is still in its infancy. While there are much larger, more entrenched companies in the space, the overall competitive landscape remains sparse. When comparing InMed's current business model to that of its most recognized peers, and where they are/were in the development timeline, I find a significant disparity between equitable valuations at the stage same. When GW IPO'd in 2001 it was valued at ~$447M, and in less than two years' time InMed plans to be at the same stage. Since the pharmaceutical cannabinoid market has now been established by GW, I consider making an investment in InMed as the next up-and-comer in the industry, quite compelling.
InMed is poised to aggressively compete in the space taking full advantage of its well-rounded, vertically integrated business model. Let's do a quick run-through of the company's capabilities:
Proprietary cannabinoid drug design platform
Tools to isolate and identify chemical compounds both quickly (months rather than years) and effectively
Ability to target specific diseases and conditions
Plans to outsource early-stage research and trials to conserve capital
Ability to quickly and inexpensively move through clinical trials compared to traditional drugs by combining drug delivery system
In-house Breeding, genetics and cultivation division
Ability to license out proprietary drug delivery systems
Bottom line, I think that there is a very compelling opportunity to invest right now given: (1) the recent break in the trend of the share price; (2) the significance of forthcoming news releases to act as catalysts to unlock shareholder value (poised to add five to nine new assets to its pipeline in 2015); (3) management's achievements to date and their track record to deliver results; (4) immense multi-billion dollar market opportunity; (5) lack of competition and attractive valuation compared to sector peers; and (6) just closed an over-subscribed, non-brokered private placement generating total gross process of $1.05M and can now move forward with its plans to ramp up its research and development efforts.
(For additional liquidity, IMLFF. trades in Canada on the Canadian Stock Exchange as "IN". 3-month average volume ~400,000 shares/day.)
Please feel free to comment below or send me an inbox message if you have any questions or comments about this article.
*If you like what you've read here please click the "+Follow" button and subscribe to my real-time alerts. I just started using the StockTalk function which I find is an excellent resource to communicate real-time trades that I'm making, due diligence that I'm conducting and article alerts.