SmartStops Market Risk Report
For the week ending Friday, August 23, 2013
Be Paid For The Risk You Take!
Risk does not remain constant, but instead fluctuates over time. Why expose yourself to periods of elevated risk if you don't have to?
Each day you are long and in the market, you are exposed to risk. Make sure you are being paid for the risk you take. Timely protective action to sidestep periods of elevated risk can maximize your return for each day in the market.
This Weeks Market Risk
After falling in late July and remaining low through much of August, Market Risk is once again on the rise. As of Friday August 23rd, 57% of the S&P 500 components were in an elevated risk state per the SmartStops aggressive risk signals. This is 1.44 times the 100 day ratio average.

Source: SmartStops Market Risk Barometer
The S&P 500 Volatility Index (VIX) has also risen off the lows of early August and is now hovering between 14 and 15 and searching for direction.

As for sectors, Basic Materials which saw a sharp rise in risk in July has seen risk levels recede over the last 30 days while all other sectors have seen their risk levels on the rise. Utilities in particular have shown a large rise in risk. As of Friday, 92% of the Utility Index components were in the elevated risk state per the SmartStops aggressive risk signals. Utilities, which are primarily viewed as low growth but steady dividend paying income investments are particularly sensitive to interest rates. The recent talk of ending the quantitative easing by the Fed is having a clear impact on the risk of utilities.


Source: SmartStops Sector Risk Barometer
Recent Events Impacting Market Risk
Highlighted Stocks & ETFs
Abercrombie & Fitch (NYSE:ANF) and American Apparel (APP)
It was a tough week for the teen apparel retail companies. Both Abercrombie and Fitch and American Apparel disappointed on guidance and their stocks got punished. ANF dropped 17% and APP dropped 18% following their earnings announcements. SmartStops detected abnormal weakness and issued risk alerts for both companies prior to the decline providing an early warning of the trouble ahead.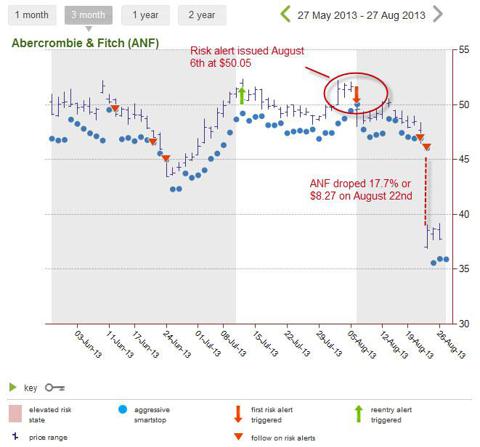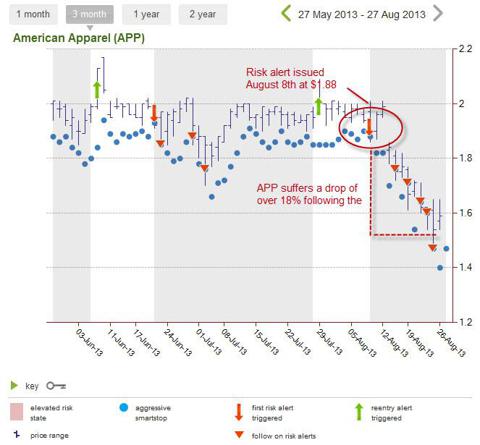 About SmartStops.net
SmartStops.net is dedicated to helping investors of all levels improve returns through better risk management.
SmartStops provides effective, easy-to-implement risk monitoring and alerting services for individual investors and investment professionals helping them limit losses, improve returns and achieve their investment goals.
For more information on how to leverage SmartStops to achieve your investment goals, visit us at http://www.smartstops.net.
Disclosure: I have no positions in any stocks mentioned, and no plans to initiate any positions within the next 72 hours.