Finding Low-Risk, High-Reward equity trades
What a spring sale it was. Spring 2014 and my SHLD Sears Holding short At $52.02 was covered to my delight at $32.00. Even with my borrow costs it netted a tidy 59% return in less than 60days.
Since then the stock has recovered somewhat to the $45 level before feeling some additional pressure pushing it back down to its current $38 level.
With the controversial divestiture of its Lands' End chain, some $500 million of much needed capital helped prop up the balance sheet somewhat. But this band aid will hardly stop the bleeding from a gash in the artery.
Still Sears does have some good assets and brands. The Kenmore, dieHard and craftsman brand continue to be strong. However hopes in celebrity brands such as the Kardashian line have not stopped the bleeding.
Sales continue to drop, due in part to the Lands' End sale and continued Sears and Kmart store closures. But the losses also continue to widen. With more closures expected to be announced throughout the next couple years, the writing is on the wall.
Controlled by hedge-fund investor Edward Lampert, Sears has been trying to streamline its operations, but my personal belief is Lampert knows the Sears fate is perhaps past the point of no return. I will be watching for more asset sales and store closures. But the reality is who will want to buy these?
Unless you have not left the house in a long time you know malls are empty. Foot traffic is way down. Consumer confidence is falling fast and we know the US employment numbers are cooked more than rice in China. People have simply left the job search market and opted for welfare and food stamps. New hiring's are simply employees having to take on more than one job as there hours have been cut due to the "Affordable" Care Act. So with Sears being the furthest thing from trendy or cutting edge, the few disposable dollars around will not be filling the registers at Sears anytime soon.
The Short Sale Trade
I am looking for the next rally north of $43. I will be taking a moderately large short position for a long term short trade. For the short term trade I will be betting that the July US GDP numbers will shock all those who have not realized just how bad things are. Therefore I will be buying some Sept 14 Put Options.
Start taking profits at $30 through $20.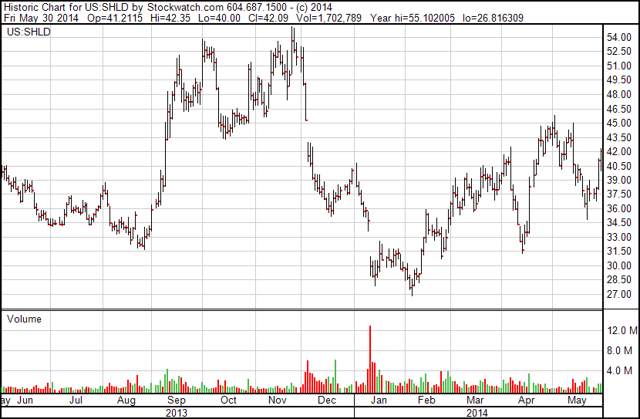 Disclosure: I have no positions in any stocks mentioned, but may initiate a short position in SHLD over the next 72 hours.