Finding Low-Risk, High-Reward equity trades
Clearly, the overall markets and big chip companies are trading at extremely high multiples driven from the printing of money by the Feds to pour into the markets. This creates an artificial value that is destined to collapse.
Before the money moves out of these over priced securities to get into true value stocks, the key is to get in before the masses do.
Trying to find the next 300% to 1,000%+ gainer
Finding high growth profitable companies is not an easy task. Financial talk shows and analysts on Wall Street continue to only discuss there lucrative client companies. The same ones that every other show discusses. Simply there is not enough fees in it for there firm to cover these smaller companies.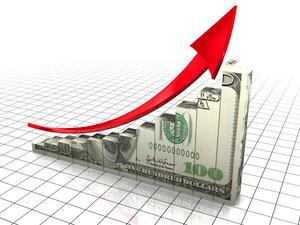 Than there is the overload of investment tout letters and spam emails talking about the next big thing to come from this little company that has no sales, no money and not much substance whatsoever. But since all the spam and touts are going out, the trading volume is picking up and perhaps the price is increasing. You know what comes next. The tout is over and the stock drops like a stone and the company never does land the big deals and get the big sales that were promised.
To see the future you must view the past
One such company that has little trading volume today, but it makes money. Good money. The company is in the highly profitable business of building renewable energy plants, selling power to governments and utilities.
Like with all my picks it needs to have a positive trend for at least 6 quarters in a row. However this one has delivered growth and improvement for 17 consecutive quarters.
Currently trading under $.40, if this growth and progress continues it could easily test its previous 2009 high of $4.84 in the near future.
In the past few years this company has signed over 20 power sales agreements to the Canadian Government's Ontario Power Authority to sell power for 20 years. During this time the company has more than doubled its sales.
Better still they signed a massive 50 MW power purchase deal with the Government of Ecuador for the sale of power for almost 20 years. The project is an estimated $150,000,000 2 phase construction. Phase 1 starts this year and thus should again far surpass its total sales of the past couple years.
According to the company's website and press releases they have 450 MW in the pipeline in North and South America and the Caribbean.
Follow the Money
Management has invested millions into this company during the start up phase, putting there money where their mouth is. While they clearly had the opportunity to dilute shareholders when the stock was below $.10 they didn't't. A sign to me they are looking out for shareholders interests.
So with little volume and clearly undiscovered, can you imagine when big money starts moving into this stock?
Enough already... What is the stock?
The company and stock I have been writing about is called Atlantic Wind & Solar Inc. and the trading symbol is OTC: "AWSL"
OTC: OTCPK:AWSL
Shares Issued & Outstanding: 44 million
Insider Ownership: 30 million
Q1 2014 EPS; .01 share
AWSL was heavily promoted in 2009 and early 2010 going from a low of .10 to a high of $4.84. Two stock dividends increased the issued stock by 50% during 2010 and 2011. However there has been no stock dilution and unlike most heavily promoted companies there seemed to be little selling into the market. This of course is what lead to the stock trading so high and well ahead of the company's progress. Soaring at these unrealistic highs, the company was heavily attacked by short sellers driving the stock down and had shareholders exiting in fear, driving it down further.
However it seems business continued to grow considerably, landing contract after contract and AWSL has resurrected itself to a true success story. All under the radar. In my opinion it is only a matter of time before the street discovers this gem. If shareholders could only be so lucky, a heavy promotion campaign this time could drive the stock up again on heavy volume. This time with the fundamentals to keep it up.
Recent News
May 15, 2014 - Atlantic Wind & Solar reports 1st quarter Profit, highlighting 17 consecutive quarters of improvement
March 31, 2014 - Atlantic Wind & Solar Inc. - Publishes results for fiscal end 2013
Sept 4, 2013 - Atlantic announces construction rollout on Portfolio 101 representing 12 utiliy scale rooftop PV assets in Ontario
Bloomberg covers Atlantic's 58.43 MW Solar PV farm Approval Read more.
Wall Street Journal covers Atlantic's Construction Roll Out Read more.
January 28, 2013 - Atlantic Wind & Solar's 58.43 MWp of Solar PV Projects Receive Approval by National Electricity Council of Ecuador (CONELEC)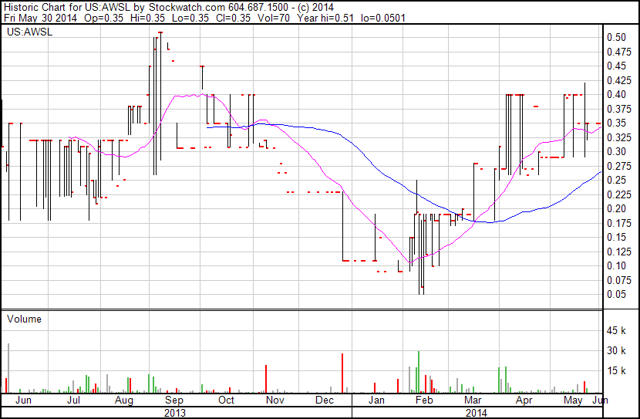 As with all featured companies we or anyone talk about, do your own research, read the companies filings, reports and disclosure statements. The filings for this company can be found at http://www.otcmarkets.com/stock/AWSL/filings
Disclosure: I am long AWSL.
Additional disclosure: As a matter of disclosure, I am long 145,000 shares of AWSL that I have purchased at an average price of .37 and expect to add to my position in the near future.