This article was released to members of the Cambridge Income Laboratory on Jan. 12th.
A global infrastructure/utilities equity arbitrage opportunity.
Short: Brookfield Global Listed Infrastructure Income Fund (NYSE:INF): 10.59% yield, -6.80% discount, +2.10 z-score, 26.52% leverage, 2.33% expense ratio.
Long: Duff&Phelps Global Utility Income (NYSE:DPG): 8.63% yield, -14.50% discount, -0.20 z-score, 27.06% leverage, 2.28% expense ratio.
Although DPG does not have the word "infrastructure" in its name, a quick look at its holdings reveals a sizable infrastructure component. In fact, DPG's website indicates that the fund has 41.6% allocated to "Oil, Gas Storage & Transportation", traditionally considered to be infrastructure, compared to 30.1% for "Domestic & Non-U.S. Electric", traditionally considered to be utilities. In fact, both funds have TransCanada (NYSE:TRP) as their top holding.
Both funds are global and are entirely in equities.
INF and DPG tracked each other closely for the early part of last year, but in the last 6 months or so we have seen a divergence.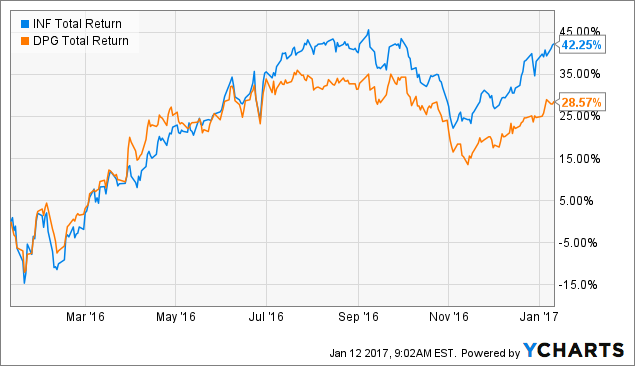 Much of this has been due to the contraction of INF's discount from a 52-week low of -22.96% at the start of last year, to -6.70% today, and it has a z-score of +2.10. I could not find information regarding possible activist actions for tender offers, share repurchases or liquidation that could explain the narrowing discount. INF has only 24.18% institutional ownership, with the two top institutions being Morgan Stanley (6.21% of total shares) and Guggenheim Capital 3.9%), who I presume are holding the shares passively.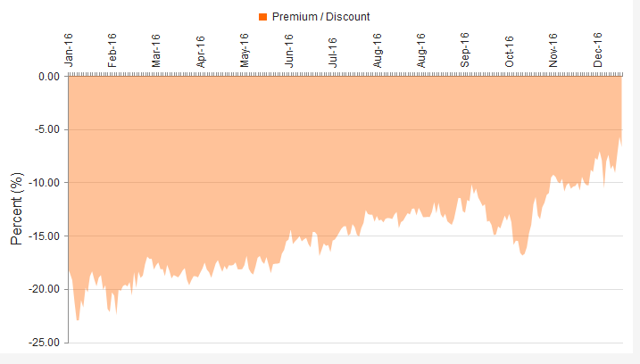 (Source: CEFConnect)
DPG's discount of -14.50% (z-score = -0.20) makes it slightly undervalued relative to its recent history.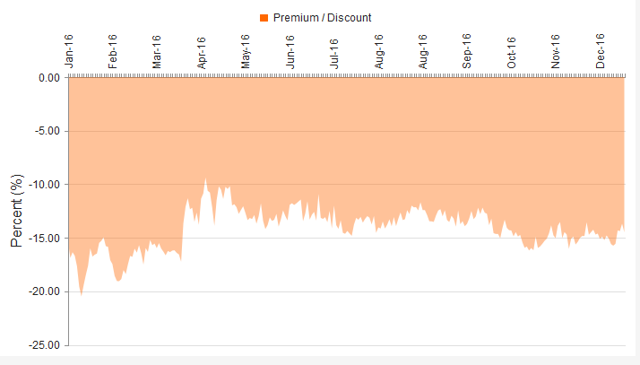 (Source: CEFConnect)
On a NAV basis, INF has underperformed DPG over the past 1, 3 and 5-year periods.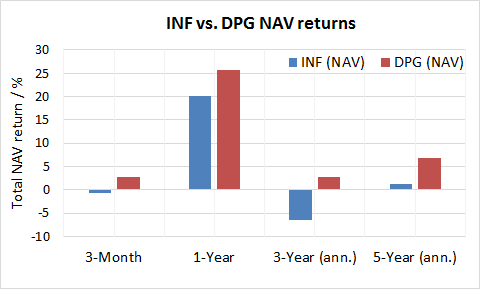 (Source: Stanford Chemist with data from Morningstar)
Despite its recent narrowing of discount, INF's price total return is still significantly less than DPG's over the past 5-year period.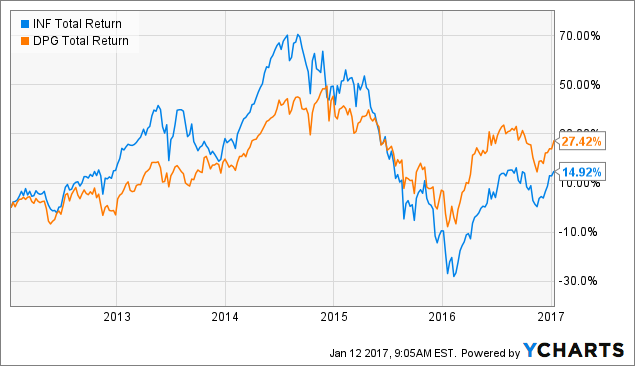 What kind of gains are we looking for here? If INF's current discount of -6.70% were to contract to its 52-week average of -15.08%, the short side could gain about 8 percentage points of alpha. On the other hand, if DPG's discount of -14.50% were to contract to its 52-week average of -14.18%, a further 0.3 percentage points of alpha could be available.
Interactive Brokers had shares of INF available for shorting yesterday at a 9.36% borrow fee.
[Mar. 6th, 2017 update] Thanks to INF's whopping 30% distribution cut (from $0.1167 to $0.817) we now have a timely opportunity to exit this trade. INF's discount will probably drop to about -11% today, down from -6.80% two months ago. Over the same time frame, DPG's discount has contracted slightly from -14.50% to -13.23%, while its z-score has increased from -0.20 to +0.40. Swapping from INF to DPG over the past 2 months would have saved about 4.24% (equivalent to about 7 months' worth of distributions from INF at the new rate!).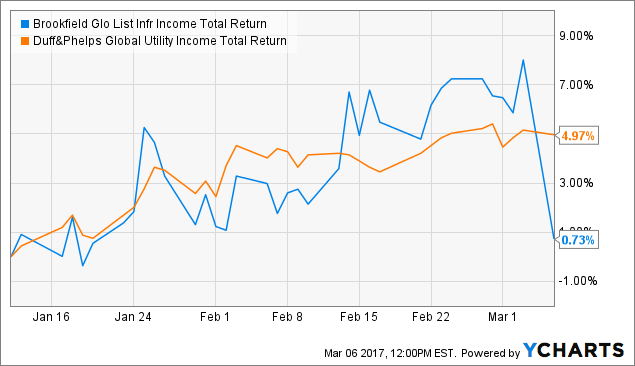 INF Total Return Price data by YCharts
If you have enjoyed my article, please consider clicking the "Follow" button next to my name to be alerted to new content! Subscribers to the Cambridge Income Laboratory (#2 on Marketplace for both ETF and CEF categories) are alerted of my best trade ideas in advance, can view my personal ETF/CEF income portfolio and have early access to my monthly CEF and ETN reports. For more details on what subscribers receive visit here.
Disclosure: I/we have no positions in any stocks mentioned, and no plans to initiate any positions within the next 72 hours.