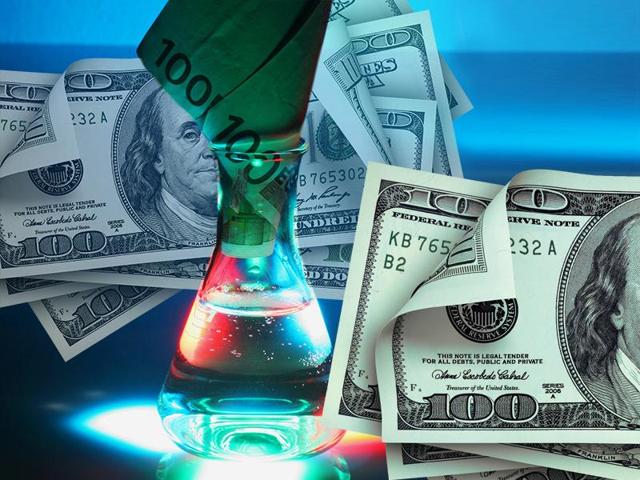 There's only 5 days left to join the Cambridge Income Laboratory on a free two-week, no-commitment trial!
On the Seeking Alpha Marketplace, we are the top-ranked service for ETFs, and rank 2nd for CEFs and arbitrage.
I wanted to share two recent reviews with you written in the past week that highlight the value that members have gotten from our service:
A very good value and learning experience


5 STARS. Aug. 24, 2017


My wife and I are recent retirees and were looking to increase our income without having to sell any of our stock positions. We started learning about CEFs about a year or so ago and were seeking some subscriptions to some of the "better" authors here on SA. We did subscribe to a few and Stanford Chemist is one of them and certainly one of the better ones. We are not much into trading at this stage so buy and hold (& monitor) ideas are what we primarily look for. The Chemist fills this part very well. We learned to stay away from those authors who have inflated egos and who tout their high successes. Been a subscriber since earlier this year and will def continue with this service.

Excellent Value - Great CEF Recommendations & Education

5 STARS. Aug. 23, 2017

I have been a subscriber for a little less than a year. I will definitely renew. I was already a CEF investor. However, I was going blind. I have learned so much on what to look for. I have become a better CEF investor as a result. I appreciate the well thought out buy and sell recommendations. Stanford Chemist is also very responsive to direct messages as well as to questions on the special Chat Room for the service. Stanford Chemist's primer has suggested great improvements to segmentation of classes or types of CEFs. Subscription cost is very reasonable relative to the value received.


See Free Trials Ending This Month At The Cambridge Income Laboratory for more information on our features.

The Cambridge Income Laboratory is being offered at only $39/month, and there's even a 25% discount if you subscribe on an annual policy.

Join us
Try Cambridge Income Laboratory for free for two weeks before the end of August. You've got nothing to lose, and an opportunity to gain. Won't you join us in "the Lab"?
--------------------------------------------------------------------------------------
Here's a sample of the timely ideas that our members receive, from the article Three, No Four, Funds To Sell Or Replace published in the members section only two days ago. Normally this analysis is only released to the public 1 month after member release.
4. US Equity-Covered Call
Sell: Eaton Vance Enhanced Equity Income Fund II (EOS) (6.98% yield, +0.60% premium, +2.7 z-score, 0% leverage, 1.10% baseline expense)

Buy: Eaton Vance Enhanced Equity Income Fund (EOI) (7.77% yield, -5.45% discount, +0.70 z-score, 28.0% leverage, 1.68% baseline expense)
Here we have a pair of domestic covered call funds from Eaton Vance. As explained in A Primer On Some Eaton Vance Equity Funds, EOI and EOS are moderately defensive funds that write single stock call options on about 50% of their portfolio. The difference between EOI and EOS is that EOI's benchmark is the S&P 500 while EOS's is the Russell 1000 Growth. This difference is apparent when analyzing the top 10 holdings of both funds, for instance, EOS has greater weighting compared to EOI in growth stocks such as Google (GOOG), Amazon (AMZN) and Facebook (FB).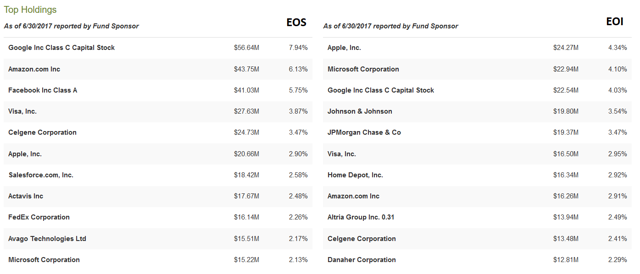 Growth stocks have done very well recently, which could have been the driver of EOS's outperformance over EOI, but actually, both funds have performed similarly on a NAV basis since the start of June.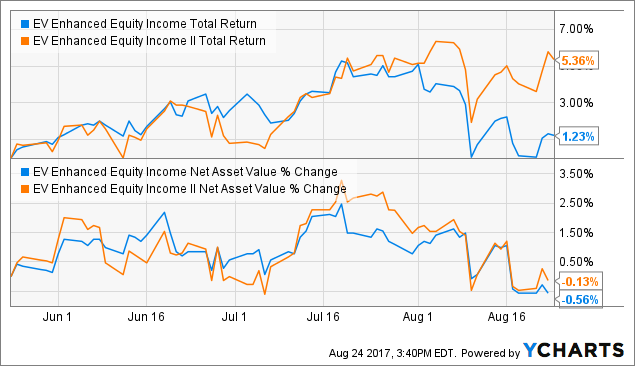 Only a few short months ago was it when EOS and EOI were both trading at discounts of about -6.50%. Since then EOS's discount has vanished while EOI's still remains at -5.45%. EOS has a z-score of +2.7 compared to +0.7 for EOI.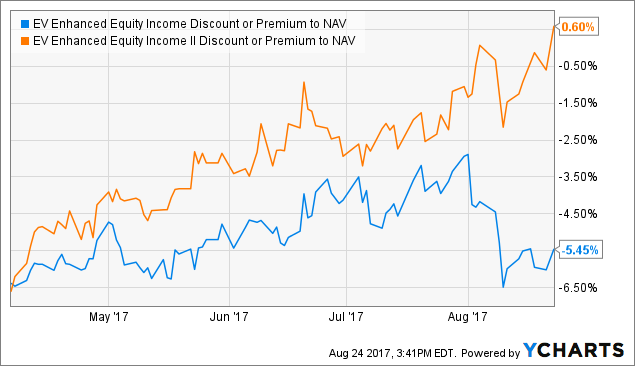 10k shares of EOS are available at Interactive Brokers, but the fee right is very high at 10.31%. Still I might put on a short-term arbitrage on tomorrow with a small position if I'm able to short it. I'm hoping for a quick normalization of premium/discount values of the pair. It should be noted that the 3-year average discount of EOS is about 1.5% higher than for EOI, so it seems that investors have favored EOS more in the recent past.
Disclosure: I am/we are long EOI.