The CEF/ETF Income Laboratory is a fast-growing subscription community covering closed-end fund [CEF] and exchange-traded fund [ETF] income and arbitrage strategies.
Our service includes (among many other features) managed income portfolios (~8% yield) making use of high-yield opportunities in the CEF and ETF fund space, and that are geared towards both active and passive investors.
Besides the model portfolios, members of the CEF/ETF Income Laboratory also receive:
24/7 access to chat board with Stanford Chemist and hundreds of other serious like-minded CEF/ETF income investors, some with decades of trading or professional experience.
Immediate access to reports, which can be significant for fast-moving arbitrage or mean reversion trades, before they are released to the public 2-4 weeks later.
Timely buy and sell alerts to let you know when funds become undervalued or overvalued, with possible replacements suggested.
Exclusive actionable insight and commentary that is not released to the public (not even after a time delay).
Note: CEF/ETF Income Laboratory members had an early look at this piece. Interested in joining our exclusive community of CEF/ETF income investors? Join us on a free trial and a 20%-off sale here.

Dear members,
What a week we've had! Both stocks and bonds fell hard this week as the specter of rising rates reared its ugly head again. The S&P 500 (SPY) fell -1.01%, while the tech-heavy NASDAQ (QQQ) dropped -3.05%. Long-term treasuries (TLT) fell hard (-3.59%), amidst a broad sell-off in the investment grade bond market (AGG) (-1.12%).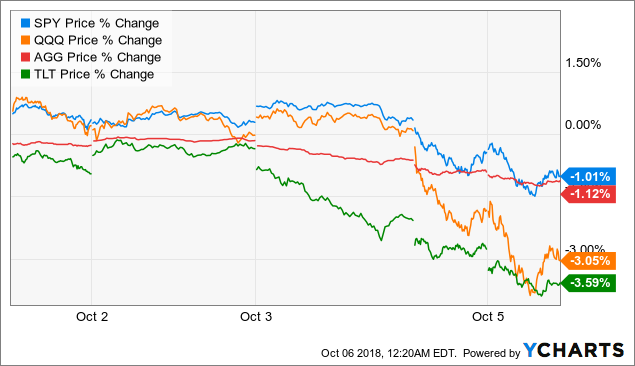 Sounds scary, right? When all asset classes are dropping in unison, when supposedly "safe" assets like treasuries aren't providing any protection to equity market movements, it can seem like the sky is falling. Certainly that's the case if you've looked at some of the headlines in mainstream financial media:
That's just Bloomberg. Just from the last 24 hours. Just from the first page of Google search.
Indeed, many of our (particularly newer) members have asked whether this is a time to sell all their investments, including their CEFs.
Don't panic!
My training as a professional scientist has enabled me to develop the ability to think critically and objectively using the data at hand. I don't consider myself a macro expert, but thankfully there are others who are!
Remember, the financial media wants to gain as many clicks as possible and they know that one of the easiest ways to do that is to instill "doom and gloom" at every moment that there's more than a minor setback. Remember the Eurozone crisis in 2012, the debt ceiling in 2013, China's hard landing in 2014, the oil crisis in 2015, Brexit and Trump in 2016, or rising rates in 2017? News about all of these crises were plastered 24/7 over the financial media, but in hindsight, remaining invested would have been a perfectly fine choice. Those who added on dips did even better.
Now, I'm not saying that we're never going to have a crash, nor that buying-the-dip (or its more vulgar variant, "BTFD") is always going to work. But to assess the likelihood of a stock bear market, we need to tune out the noise (like the talking heads on Bloomberg, CNBC, etc.) and look at the hard data with the assistance of the true experts, including those three that I regularly link to the "Macro/market" section of each week's Closed-End Fund Roundup.
What our experts say
From Jeff Miller's latest missive, "Weighing The Week Ahead: Time To Ask The Right Questions", we see the following indicator snapshot that shows a very high equity risk premium, very low recession probability (for three out of the four economy indicators), strongly bullish technical health, all of which point to a favorable environment for stocks. Admittedly, that report was published last weekend before this week's market turmoil, but I wouldn't expect the overall picture to change much except for the short-term technical health rating.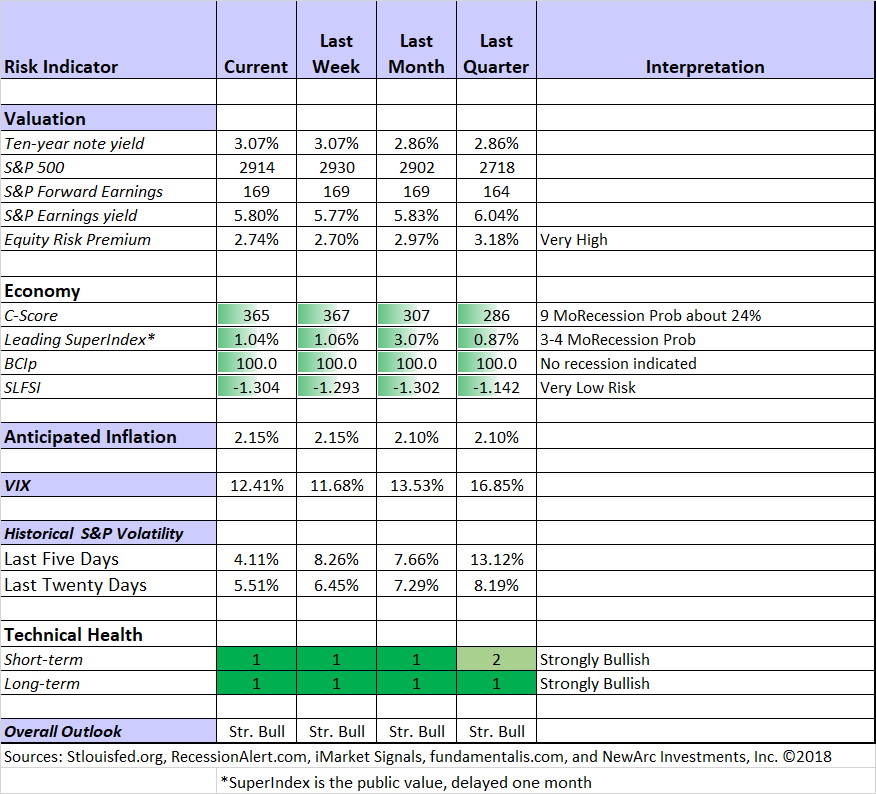 I'm eagerly looking forward to what Jeff has to say about this week's events, but for now his advice for long term investors from last week seems now to be especially prescient:
Insight for Investors

Investors should have a long-term horizon. They can often exploit trading volatility.
Turning to Fear & Greed Trader's "S&P 500 Weekly Update: An Opportunity; The Pullback That Everyone Was Looking For Is Here" which is only just fresh off the press, his remarks were exactly as I expected. His thought process is so clear and rational that I couldn't resist copying and pasting a large chunk of it here (lightly edited for order).
Forget that noise; it's a normal pullback in a bull market.

Investors have been entertaining all sorts of questions for years now. Some have given in to the scary answers that are often conjured up. For those that do keep it simple, they tend to focus on what matters. It doesn't mean they make like an ostrich and bury their heads in the sand; they simply realize a positive issue can and often does negate a negative one.

Now that is a concept that doesn't fit with the way the human mind operates. It's always the scary negative that has the most weight. When any negative is introduced, the scale that we have in our brains is tilted so much, it is next to impossible to bring it back into balance. This concept is so strong that for some the simple thought of any positive outweighing the negative doesn't even exist. The stock market keeps going up, it's overvalued, and over exuberant in the face of all of these issues. The doomers then start throwing around the word crash and 40-50% corrections.

Markets move based on the weight of the evidence, which takes into account ALL of the relevant evidence, both good and bad. It assigns probabilities to each.

An investor has to approach the market the way the market works. Recognize and account for all of the issues. It is how they have to approach managing their money if they want to be successful.

Scary charts, data points, divergences, and non-confirmations can be found EVERY single trading day of the year, regardless of the strength of the longer-term trend. It is ONLY when they morph into a trend of their own should they be given any weight. So instead of saying what if and concentrating a negative, it might be a good idea to also say what about this positive issue. Once you get your mind trained to do that, you will be in sync with how the stock market approaches ALL events.
The rest of his piece goes on to discuss various economic and market indicators, and is well worth reading as per usual.
Our third macro expert, Lance Roberts, usually has a less bullish demeanor than the other two contributors, but like the others, he also uses data (especially technical data) to frame his stance. As an example, even though he may feel reluctant to remain invested in equities due to their high valuation for his clients, he will continue to do so until the trend breaks. His update from last weekend "A Pause That Refreshes" explains this thus:
There has been a pretty well-defined upward trendline (black dashed line) since the April lows which has consistently provided better entry opportunities to increase equity exposure.

While we are currently fully weighted in existing portfolios, we must take advantage of these entry points to "on-board" new clients. This is always the biggest challenge for any advisor.

As stated, our existing portfolios are currently fully weighted toward equity risk as there seems to be little which can derail this market currently. We have moved stop-loss levels up to recent lows, added some defensive positioning, and have added bonds as rates have climbed above 3%.

We have remained allocated to equities and have been opportunistic in adding exposure. However, we also understand that such will not always be the case. Yes, everything is currently "as good as it can get," which is always the case - just before it isn't.

It is too early to know just yet whether we are just experiencing a pause that refreshes or if we are at the beginnings of a more important juncture between rates and the markets. We will only know for sure in hindsight.

Just pay attention to the signs that things may be changing.
Again, I do very much look forward to what Lance has to say about this week's events.
Income investors should stay the course!
Our fourth expert is none other than Steven Bavaria, a regular CEF writer and proponent of the "Income Factory" approach. While our strategy is slightly different from Steve's (in that we seek to harness CEF rotation in order to boost total returns, while also being slightly agnostic to the magnitude of the yield when comparing between funds of the same sector), what I love about the Income Factory approach is the concept of being able to grow the dividend stream through the reinvestment of income:
Through the power of re-investment and compounding, an 8% stream of income doubles and re-doubles about every 9 years, so a $100,000 portfolio yielding 8%, re-invested annually, would generate the following approximate yearly income stream:

$8,000 in Year 1,
$15,992 by Year 10,
$34,525 by Year 20,
$74,538 by Year 30, and
$160,922 by Year 40.

That is clearly "growth" by anyone's definition and would be attractive to investors of whatever age who wanted to grow a steady long-term income stream.
One concept that is possibly harder for newer income investors to wrap their heads around is that with the Income Factory approach, lower prices are actually better because you can reinvest the distributions at a faster clip. It's a simple mathematical fact, no matter how psychologically unnerving lower prices can be.
Summary
With many members asking me about what to do in the current market environment, my answer is: don't panic!
To be perfectly honest, this week's drop wasn't even that big. The VIX ("fear gauge") closed above 17 today, the highest since July, but that's not even close to the values we reached in February of this year.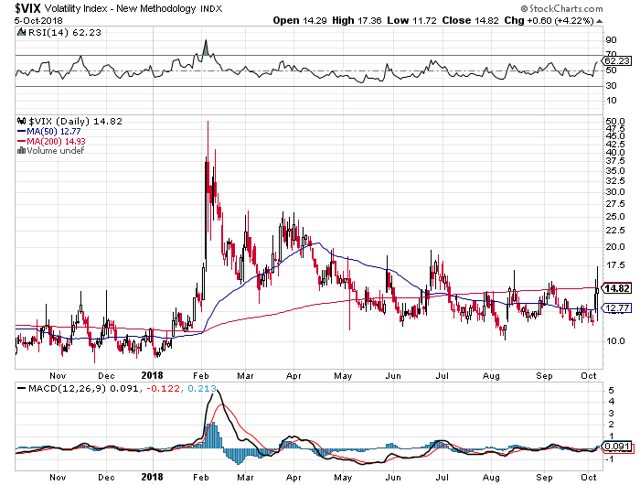 And while tech (NASDAQ:QQQ) fell -3% for the week, a -1% move in the S&P 500 for the week isn't all that unusual. (Remember February when the S&P 500 fell over -4% in a day?)
So all in all, there's no reason to panic! Turn off the noise from the financial headlines, and look at the data. We are also thankful to have macro experts such as Jeff Miller, Fear & Greed Trader, and Lance Roberts guide us using objective, fact-based approaches. Income investors should stay the course and embrace, rather than fear, volatility, as lower prices actually allow one to compound income at a faster rate.
In Part 2 of this series, we'll take a bird's eye view look of how CEFs reacted to this week's volatility.
Free trial and 20% off sale!
We're opening up a limited time only free trial for the CEF/ETF Income Laboratory for the month of October, so that you can try out our service on a no-risk, commitment-free basis. You'll also get to experience our vibrant community of hundreds of income-orientated CEF and ETF investors, counting numerous full-time and professional traders and investors amongst our ranks.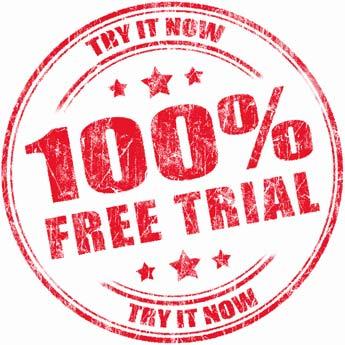 To make things even more exciting, we're offering a 20% off discount for the first year available to anyone who signs up for the CEF/ETF Income Laboratory for the first time. This is on top of the more than 25% discount you get for the annual membership versus the monthly membership. This offer is only valid for the month of October, so if you've been following my public work on Seeking Alpha over the past several years and are still sitting on the fence about joining us, there's no better time to try us out.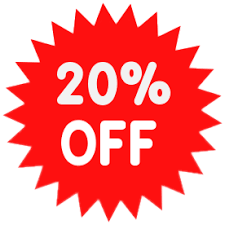 (*Note that this offer may not be visible to anyone who has previously been a member of CEF/ETF Income Laboratory. If that's you, please get in touch with me and I'll see if I can personally work out something for you.)
Note also that all members are grandfathered for life at the membership rate that they signed up at. Our founding members are still paying the founding membership rate of $26/month from 2 years ago! I have another price hike planned for the CEF/ETF Income Laboratory in 2019, so lock in the current rate while you still can.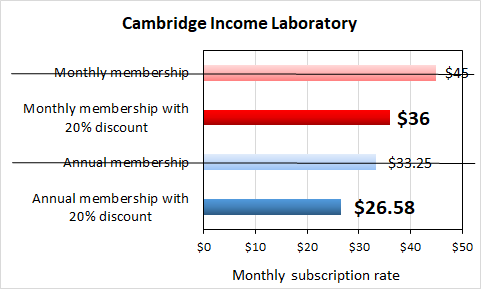 Sign up for an annual membership with the 20% discount and pay only $26.58 per month for the first year. This is even less than the average U.S. private nonfarm payroll worker wage of $27.16 per hour according to the Bureau of Labor Statistics!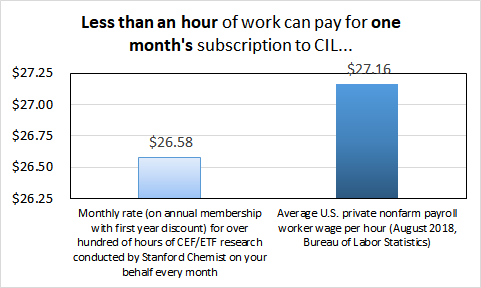 Remember, "time = money", so being able to save hundreds of hours of time of CEF and ETF research each month with what amounts to the price of a cup of coffee every few days is truly an incredible bargain. And our members agree!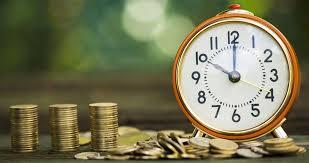 "CEF Research Time is Money!"

"Hands-down worth every penny of the monthly fee."

"Well worth the cost"

"More than worth the price."


To try CEF/ETF Income Laboratory on a free trial and take advantage of the 20% off sale, please CLICK HERE.
Check out what our members have been saying...
Take a look to see what our members have recently been saying about CEF/ETF Income Laboratory.

"Invaluable Investing Service"

"Mandatory for Income-Seekers"

"Comprehensive CEF/ETF information, and a highly responsive Author! It doesn't get much better than that."

"The information here is high quality, no fluke."

"Love it! This is a great service..."

"As a guide SC has been an excellent choice!"

We're currently offering a limited time only free trial for the CEF/ETF Income Laboratory with a 20% discount for first-time subscribers. Members receive an early look at all public content together with exclusive and actionable commentary on specific funds. We also offer managed closed-end fund (CEF) and exchange-traded fund (ETF) portfolios targeting ~8% yield. The sale ends on October 31, 2018, so please consider joining us by clicking on the following link: CEF/ETF Income Laboratory.

Disclosure: I am/we are long the portfolio securities..