The "Intel Inside" my Income Factory 
I really appreciate the various model portfolios and the analytics and insight that support them. I regard myself as primarily a portfolio manager and strategist, and rely heavily on Stanford Chemist and his CEF/ETF Income Laboratory to be a key part of the analytical "Intel Inside" that I use to help make the investment decisions that support my "Income Factory." 

- Steven Bavaria (Jan. 21, 2019)

The CEF/ETF Income Laboratory is a fast-growing subscription community covering closed-end fund [CEF] and exchange-traded fund [ETF] income and arbitrage strategies.
Our service includes (among many other features) managed income portfolios (~8% yield) making use of high-yield opportunities in the CEF and ETF fund space, and that are geared towards both active and passive investors.
Besides the model portfolios, members of the CEF/ETF Income Laboratory also receive:
24/7 access to chat board with Stanford Chemist and hundreds of other serious like-minded CEF/ETF income investors, some with decades of trading or professional experience.
Immediate access to reports, which can be significant for fast-moving arbitrage or mean reversion trades, before they are released to the public 2-4 weeks later.
Timely buy and sell alerts to let you know when funds become undervalued or overvalued, with possible replacements suggested.
Exclusive actionable insight and commentary that is not released to the public (not even after a time delay).
Twenty-five 5-Star Member Reviews since November
On the fence about joining CEF/ETF Income Laboratory? Twenty-five members have left 5-star reviews for "the Lab" from November 2018 through March 2019. To ensure you're not missing out on what our service has to offer, try us out now on a 2-week free trial and 20% off promotion by clicking on this link: FREE TRIAL.
"Best CEF service" ... "His knowledge, charts, data, and portfolios on CEFs are brilliant.".... "CEF investors rejoice!" ... "SC and the chatroom help me to embrace the volatility and they also provide the encouragement to act with reason when all seems to be chaotic" ... "There is no "pie in the sky- we can make you a millionaire" nonsense on this site. Just good common sense investment information." ... "the best part is the education you receive for a very low cost".

1. Best CEF service

scottteng • Mar. 29, 2019 2:04 PM

I like the recommendations of the service and the ongoing discussions which are proving to be profitable. The personalized responses to comments and questions are also much appreciated.

2. Great service with good honest research, data, and suggestions.

dougw2007 • Mar. 22, 2019 10:51 AM

I have been a member here for almost a year and find the service very useful. I am an older retired person that is now focused on a portfolio of income producing assets. Forget the growth stocks I just need to keep cash coming in to reinvest and use when I need it. I find the information here a great help when making decisions about the different CEF's, as I don't have time to do all the research needed. Definitely worth the subscription price.

3. Followed for years, finally joined

dcon1 • Mar. 20, 2019 6:05 AM

The articles and suggestions are fantastic, but the best part is the education you receive for a very low cost. Great community of smart investors

4. CEF investors rejoice! 

mpnyc • Mar. 11, 2019 3:42 PM

Fantastic service with an excellent chat room as well. Stanford Chemist is extremely knowledgeable and has built a community of like-minded income investors that provide a unique and deep knowledge of a complicated asset class. Everyday there is something new to learn, and actionable trading ideas pop up all of the time. Highly recommend!Less

5. Worth every penny!

Jussi Askola • Mar. 11, 2019 1:48 AM

Absolutely fantastic service for serious CEF/ETF investors. Stanford Chemist is very knowledgeable about his space and providing a lot of value to all his members. For someone like me who is not a specialist in this space, it is worth every penny!

6. Profits right away

jesneed • Feb. 21, 2019 4:19 PM

This is a very useful, interesting and easy to use site. Lots of information available in one place and quick response to questions asked. Thumbs up for me.

7. great value, something for everyone

alphapecunia • Feb. 03, 2019 4:10 AM

SC is gathering some great people into the chatroom with a wealth of knowledge in the different areas of the CEF space. Besides the chatroom, SC has an active portfolio, a more "income"based portfolio and an ETF rotation portfolio so there is something for everyone. The chat is functional and does not contain of a lot of blah-blah that I've seen in other chatrooms, everyone is nice and newbies are treated with the same respect as the "old hands" . Even though the costs take a big chunk out my yearly dividends (small portfolio still) I'm confident that SC and his team can teach me enough so that one day I might do my own "fishing".

8. Good service

Fabien Hug • Feb. 01, 2019 5:03 PM

It's a very useful service to navigate the jungle and the dangers of CEFs, the place where retirement funds can easily go to die. SC has a method, watches the universe constantly and acts upon his conclusions. I think it's the best we can get and should help avoid catastrophe.

9. Voice of reason

H. Lukito • Jan. 22, 2019 6:56 AM

Investing can feel "lonely" at times - especially when the market is not "behaving" the way we would like it to, which of course is a given! :o) SC provided voice of reason and clear cut action plan to take advantage of this recent market volatility. The chat room was also great as they provided sense of camaraderie among us the CEF investors. I am newbie as far as investing CEF goes, but must say that even just by quietly observing, I have learned quite a bit from both SC and the more knowledgeable people in the chatroom. SC and the chatroom help me to embrace the volatility and they also provide the encouragement to act with reason when all seems to be chaotic.

10. Recommend CEF/ETF Income Laboratory

User 5974831 • Jan. 21, 2019 6:11 PM

I like specific CEF recommendations. I would recommend it to someone else.

11. The "Intel Inside" my Income Factory

Steven Bavaria • Jan. 21, 2019 2:05 PM

I really appreciate the various model portfolios and the analytics and insight that support them. I regard myself as primarily a portfolio manager and strategist, and rely heavily on Stanford Chemist and his CEF/ETF Income Laboratory to be a key part of the analytical "Intel Inside" that I use to help make the investment decisions that support my "Income Factory." Steve Bavaria

12. All Hail The Chemist

User 17226542 • Jan. 21, 2019 10:58 AM

Ah, the Chemist. His knowledge, charts, data, and portfolios on CEFs are brilliant. He has excellent common sense and understands his members problems with CEFs. His pals, who are members, Acamus, Triple F Fred, and Steve Bavaria, along with some very accomplished Chemist members aid all in the Chat. High yield is risky business. The Chemists' advice provides members real time, timely, information on CEFs for growth and income. I recommend his program to all interested in buying low and selling higher as well as making some high yield distributions. Jack C

13. Approaching Retirement, Needing An Income Investment Sherpa

scottharbinson • Jan. 15, 2019 9:43 PM

As I approach retirement in December 2019, I knew I needed to bone up on income investing. Decades ago, my finance professor was an evangelist for CEF's. After a good deal of research, I found my way to the CEF/ETF Income Laboratory. The recommendations are timely and well-reasoned. The comments sections provides further education from the insights of other investors. The recent advice to pare back on ECC saved me enough to cover the next few years of subscription costs. It was an unexpected and gratifying experience. I am pleased to recommend this website to investors like me who are looking for a well-considered template to generate income for their retirement years.

14. Highly recommended!

lgillies • Jan. 13, 2019 5:46 PM

This service is one of only a handful of paid investment services that I subscribe to. After having a few months to digest the massive amount of material on the website, I am quite pleased. I have learned a ton about CEF's through this site. The information is accurate and actionable. There is no "pie in the sky- we can make you a millionaire" nonsense on this site. Just good common sense investment information. CEF's are a wonderful way to generate retirement income, but they must be respected for what they are. What they are is complex investment vehicles. The Chemist helps me to make sense of these beasts and to keep my hard earned dollars as safe as possible in a totally unpredictable market. I highly recommend this forum.

15. As an old head CEF investor and trader, I highly suggest you try this service!

Triple F Fred • Jan. 09, 2019 7:06 AM

As a long term CEF investor/trader, I was reluctant to join any CEF focused service. My mistake to have not joined earlier as I have found insightful and actionable information coming from SC and several other chat participants. If you are a CEF focused investor, I would highly recommend the CEF/ETF Income Laboratory as an excellent source of up to date and well reasoned information from SC and members of the service! Well Done! FFF Fred

16. Excellent Service for CEF's

salevine • Jan. 08, 2019 10:34 AM

Excellent Service. There are very few resources that discuss CEF's. Stanford Chemist gives a lot of very useful information, There is data on yields, discounts, z-scores, etc. He gives recommendations for buys and sells. There are portfolios for both long term and trading. The group discussions are a real bonus. And in addition, if you have any questions, SC answers them promptly.

17. Active, passive, all-in-one

Grigorchuk Yuri • Dec. 21, 2018 10:40 AM

I like that there are two distinct approaches to the portfolio management to chose from. Tactical Income is geared towards your adventurous side, and the turnaround is higher. Income Generator is more like retirement income source, set it and go away. I use both, and despite some heavy paper losses, I'm happy with dividend stream. The research is solid, your decisions are yours.

18. LOVE YOUR SERVICE!

mrminioni • Dec. 20, 2018 1:36 PM

Your service is wonderful. Love the fact that you post info almost every day and sometimes several times per day.

19. Rock and Roll

paul_bozz_31 • Nov. 30, 2018 8:08 AM

Ive been a paid subscriber for a month and learned much about CEFs. There is much to digest, perhaps too much. But SCs two portfolios are a good place to begin investing and I now own BCV, VTA, and DSU and have limit orders on several other SC suggestions (UTG, FFC), waiting for a decent price discount. As a recent retiree, I am looking for income with modest risk and believe SC delivers that quite well. He seems thorough, knowledgeable, has ample investing ideas, and is responsive to members.

20. a good site for cef reviews

jameszman51141 • Nov. 25, 2018 3:15 PM

i started with the monthly fee as i have been on another service that after 3 months i did not like. so far i like how the chemist make his picks and after another month or 2 will probably go annual, as i like cef's for monthly income

21. Good value due to analysis of PIMCO funds

glendlang@gmail.com • Nov. 24, 2018 12:25 PM

I enjoyed the PIMCO Funds financial review and look forward to monthly updates. I have been investing for 40 years and the analysis carried out on these funds saves me a lot of effort and is worth the price of the subscription.

22. Top Notch Service!

Dave Dierking, CFA • Nov. 20, 2018 5:00 PM

If you're looking for in-depth research on the CEF space, this is the service you need! Stanford Chemist combines a deep knowledge of CEFs with a presentation style that makes it easy for investors of all sophistication levels to understand. The chat board is always active and SC is quick to respond to all subscriber questions. Highly recommend to all!

23. You won't be disappointed.

Benvenue • Nov. 07, 2018 9:48 PM

The information and level of detail is unmatched. I have had other subscription services, but they left me disappointed. Income Laboratory is worth every dime. You won't be disappointed.

24. Can you afford not to?

kory1174 • Nov. 02, 2018 10:13 AM

Great service with timely info and a great message board for ideas and like minded investors. Subscription easily pays for itself

25. A DGI Review

harnessmatt • Nov. 01, 2018 3:17 PM

The best part of the Lab is the recommendations for the two income generating portfolios. You receive timely buy/sell alerts as well as relevant data-driven articles. The chat room provides feedback from not only the Chemist but other seasoned investors. For a diversified approach to generating income, I highly recommend the Income Laboratory.
To view all of our reviews, please click here.
Free trial and 20% off sale!
Due to heavy demand, we're EXTENDING the limited time only free trial for the CEF/ETF Income Laboratory, so that you can try out our service on a no-risk, commitment-free basis. You'll also get to experience our vibrant community of hundreds of income-orientated CEF and ETF investors, counting numerous full-time and professional traders and investors amongst our ranks.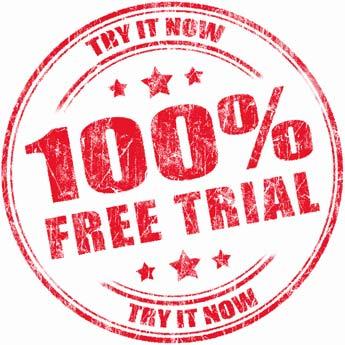 To make things even more exciting, we're offering a 20% off discount for the first year available to anyone who signs up for the CEF/ETF Income Laboratory for the first time. This is on top of the more than 25% discount you get for the annual membership versus the monthly membership. This offer is still active, so if you've been following my public work on Seeking Alpha over the past several years and are still sitting on the fence about joining us, there's no better time to try us out.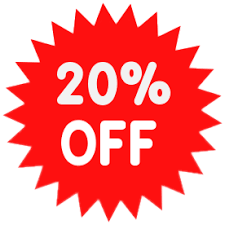 Note also that all members are grandfathered for life at the membership rate that they signed up at. Our founding members are still paying the founding membership rate of $26/month from 2 years ago! I have another price hike planned for the CEF/ETF Income Laboratory in 2019, so lock in the current rate while you still can.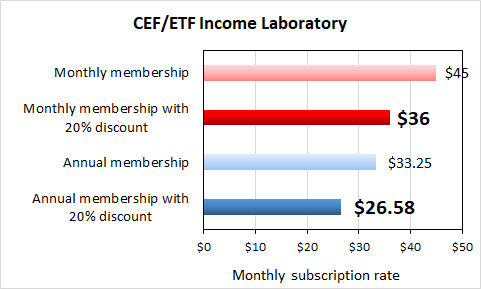 Sign up for an annual membership with the 20% discount and pay only $26.58 per month for the first year. This is even less than the average U.S. private nonfarm payroll worker wage of $27.16 per hour according to the Bureau of Labor Statistics!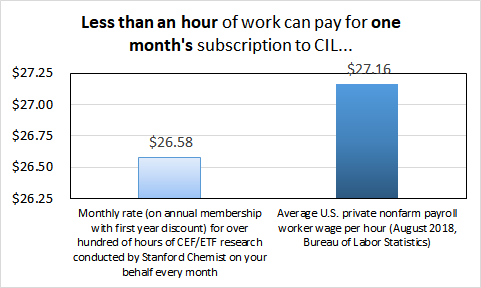 Remember, "time = money", so being able to save hundreds of hours of time of CEF and ETF research each month with what amounts to the price of a cup of coffee every few days is truly an incredible bargain. And our members agree!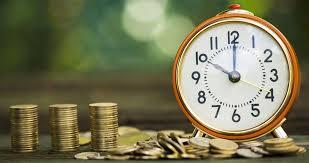 "Definitely worth the subscription price."

"CEF Research Time is Money!"

"Hands-down worth every penny of the monthly fee."

"Well worth the cost"

"More than worth the price."



To try CEF/ETF Income Laboratory on a free trial and take advantage of the 20% off sale, please CLICK HERE.
We're currently offering a limited time only free trial for the CEF/ETF Income Laboratory with a 20% discount for first-time subscribers. Members receive an early look at all public content together with exclusive and actionable commentary on specific funds. We also offer managed closed-end fund (CEF) and exchange-traded fund (ETF) portfolios targeting ~8% yield. Also, check out our 5-star member reviews.
SIGN UP FOR A FREE TRIAL AND 20% DISCOUNT OFFER HERE.