Dear follower,
The CEF/ETF Income Laboratory is a fast-growing subscription community covering closed-end fund [CEF] and exchange-traded fund [ETF] income and arbitrage strategies.

Our service includes (among many other features) managed income portfolios (~8% yield) making use of high-yield opportunities in the CEF and ETF fund space, and that are geared towards both active and passive investors. These portfolios are crushing the market (see "Our 8%-Yielding Income Portfolios Are Soundly Beating The Market"), with double or even triple the returns of the S&P 500 over the past one year (to May 31, 2019).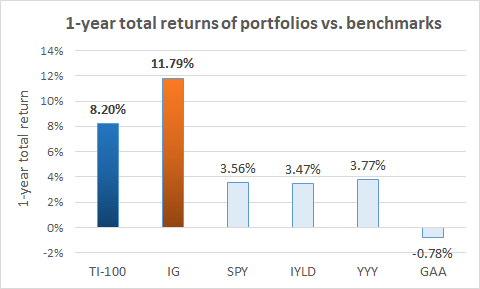 Besides the model portfolios, members of the CEF/ETF Income Laboratory also receive:
24/7 access to chat board with Stanford Chemist and hundreds of other serious like-minded CEF/ETF income investors, some with decades of trading or professional experience.
Immediate access to reports, which can be significant for fast-moving arbitrage or mean reversion trades, before they are released to the public 2-4 weeks later.
Timely buy and sell alerts to let you know when funds become undervalued or overvalued, with possible replacements suggested.
Exclusive actionable insight and commentary that is not released to the public (not even after a time delay).
I have the information and perspective to make informed decisions, which I couldn't possibly do on my own.

====================
In case you missed it...
Nick Ackerman has joined CEF/ETF Income Laboratory as an official analyst! Nick has previously worked as a Financial Advisor and has held both Series 7 and 66 licenses, which also specifically qualified him as a Registered Investment Adviser (RIA) who could manage assets for a fee and give advice.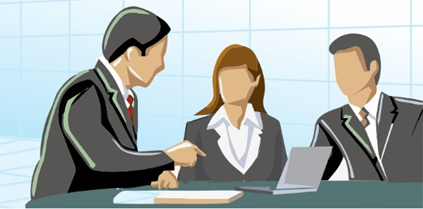 We also just launched our Taxable Income portfolio in the members section of CEF/ETF Income Laboratory, adding to our popular 8%-yielding, market-beating Tactical Income-100 and Income Generator portfolios.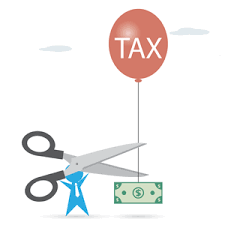 The Taxable Income portfolio seeks to maximize after-tax returns by investing in tax-free muni CEFs, tax-managed CEFs and tax-advantaged CEFs. To see all of our portfolios, try us out now on a 2-week free trial by clicking on this button:


====================
NDP's Massive Distribution Cut? Called It.
Tortoise Energy Independence Fund (NDP) announced a massive -77% distribution cut, from $0.4375 to $0.10 per share quarterly. We predicted in our Weekly Roundup that we wrote to our members two weeks ago: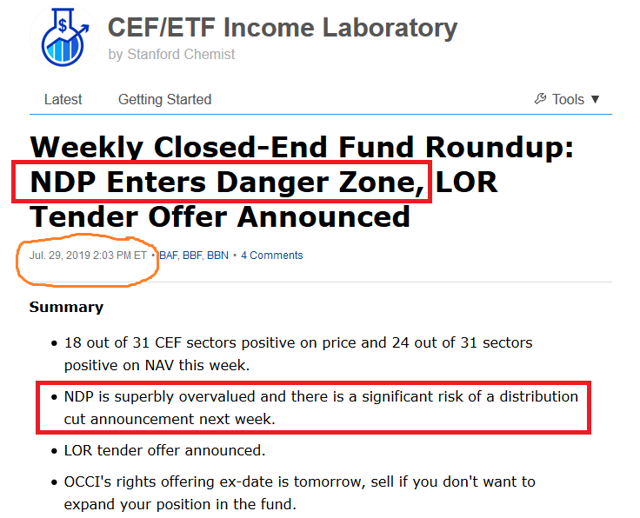 We wrote to our members: 
...NDP's quarterly $0.4375 distribution, which has been maintained since inception of the fund in 2012, could be imminently slashed... 
Here's the price action of the NDP since our warning two weeks ago: down by nearly one-third in only two weeks. Ouch!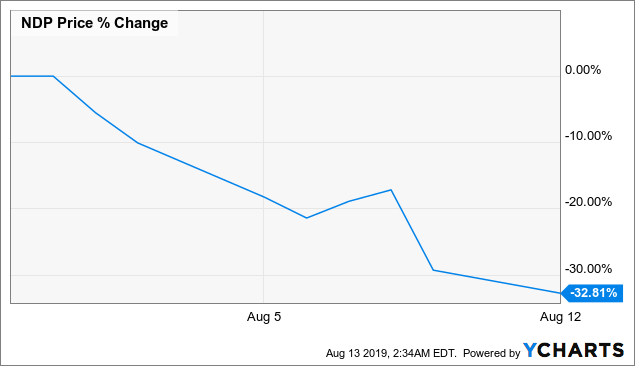 Of course, the fund's high premium didn't help either, in another example of why closed-end fund valuation matters. 
One refrain that we often echo at the Lab is "don't just focus on the yield". This is true for MLP/midstream funds too! For example, we called InfraCap MLP ETF's (AMZA) fat yield unsustainable in 2016 while other analysts were still bullish on the fund, and certainly far ahead of the flurry of negative articles that started coming out on the fund a year later, but only after its decline had been significantly underway.
Helping members avoid these "bombs" is an important part of what we do at CEF/ETF Income Laboratory, as they can do great destruction to your hard-earned capital.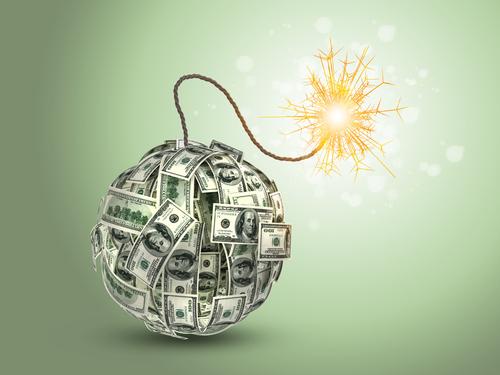 In contrast, the two MLP/midstream picks that we own in our Tactical Income-100 portfolio have been leading the pack, as we detailed in our report to members two days ago: Our MLP/Midstream CEF Picks Are Leading The Pack. Out of 23 MLP/midstream funds, our two picks came 1st and 4th based on trailing 1-year NAV return, saving members significant capital in the process. The entire sector has been under significant pressure recently so it is very important that we pick the highest quality MLP/midstream funds with conservative management.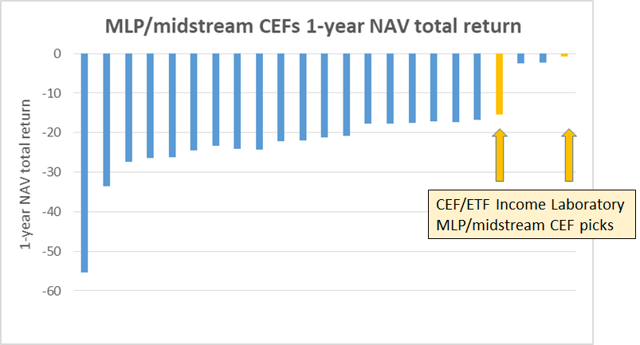 So see our two MLP/midstream picks and the rest of the funds that we own in our market-beating model portfolios, join us on a 2-week free trial by clicking on the link below:

This service already has paid for itself many times over... Maybe the best investing moves I ever have made.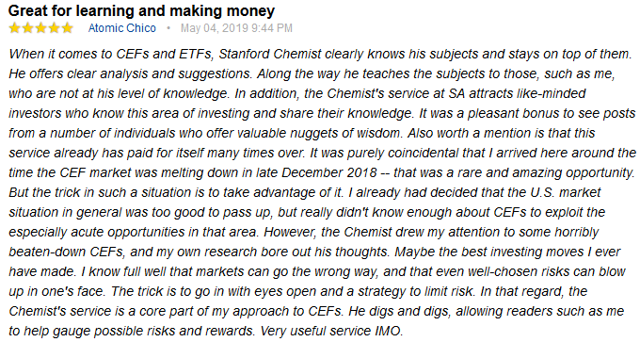 ====================
Take advantage of our annual membership and free trial
With an annual membership, you save over 25% versus the monthly membership. There's no better time to try us out!
Moreover, our free trial means that you can test out our service on a no-risk, commitment-free basis. You'll also get to experience our vibrant community of over five hundred income-orientated CEF and ETF investors, counting numerous full-time and professional traders and investors amongst our ranks.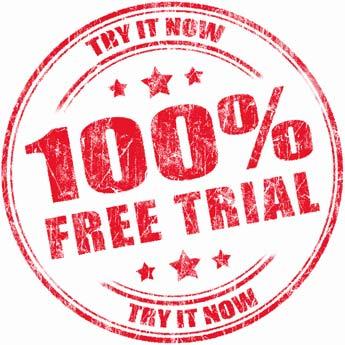 If you're not satisfied, simply cancel before your 2-week period is over and you won't be charged a single penny.

What's most impressive is the willingness of the community members to help each other in a fast, helpful and respectful manner! The subscription easily pays for itself.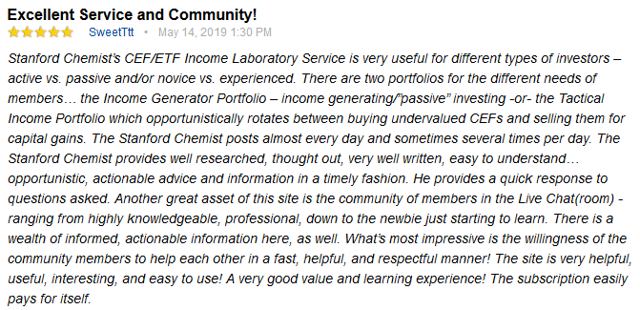 ====================
Check out our five star reviews
On the fence about joining CEF/ETF Income Laboratory? In 2019 alone, we've received thirty 5-star reviews for "the Lab", and our community is continuing to grow at a rapid pace.
(see The "Intel Inside" Steven Bavaria's Income Factory + See What Other Members Are Saying About "The Lab").
I really appreciate the various model portfolios and the analytics and insight that support them. I regard myself as primarily a portfolio manager and strategist, and rely heavily on Stanford Chemist and his CEF/ETF Income Laboratory to be a key part of the analytical "Intel Inside" that I use to help make the investment decisions that support my "Income Factory."

- Steven Bavaria (Jan. 21, 2019)
"Best CEF service" ... "His knowledge, charts, data, and portfolios on CEFs are brilliant.".... "CEF investors rejoice!" ... "SC and the chatroom help me to embrace the volatility and they also provide the encouragement to act with reason when all seems to be chaotic" ... "There is no "pie in the sky- we can make you a millionaire" nonsense on this site. Just good common sense investment information." ... "the best part is the education you receive for a very low cost".
====================
Lock in a low rate for life
All members are grandfathered for life at the membership rate that they signed up at. Our founding members are still paying the founding membership rate of $26/month from 3 years ago! I have another price hike planned for the CEF/ETF Income Laboratory in 2019, so lock in the current rate while you still can.
Remember, "time = money", so being able to save hundreds of hours of time of CEF and ETF research each month with what amounts to the price of a cup of coffee every few days is truly an incredible bargain. And our members agree!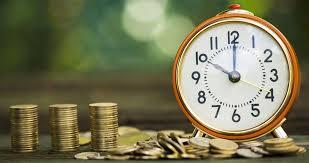 "I don't have the time do all the research needed. Definitely worth the subscription price."

"CEF Research Time is Money!"

"Saved me a ton of research hours each week. Hands-down worth every penny of the monthly fee."

"Well worth the cost"

"More than worth the price."



To try CEF/ETF Income Laboratory on a free trial, please CLICK HERE.

I would love for you to join us. I am sure that you will enjoy our newsletter and what we have to offer!
Sincerely,
Stanford Chemist and Nick Ackerman