Zero Dividend Cuts For Our 8%-Yielding Income Generator Portfolio In 2019 | 40% Off Labor Day Sale!
Please Note: Blog posts are not selected, edited or screened by Seeking Alpha editors.
Summary
Our Income Generator portfolio has had ZERO dividend cuts in 2019.
When we say "safe" and "reliable" income streams, we really mean it.
We've grown our income stream by nearly 30% since the start of 2017, with a CAGR of over 11%.
Our massive 40% off Labor Day Sale ends soon!
Labor Day sale!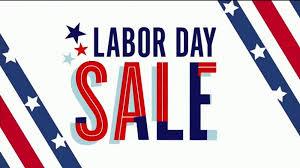 Did you miss our sales promotion to CEF/ETF Income Laboratory earlier this year? Don't worry! Here's another chance. Our Labor Day Sale is offering a massive 40% off to new members for their first year of subscription.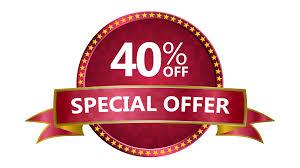 Starting generating safe and reliable 8% yields from our market-beating portfolios today! Click the button below to claim your 40% discount*:

(*The 40% off is the discount available for the first year on an annual subscription relative to the monthly membership without the discount).
====================

Dear follower,
The CEF/ETF Income Laboratory is a fast-growing subscription community covering closed-end fund ("CEF") and exchange-traded fund ("ETF") income and arbitrage strategies.

Our service includes (among many other features) managed income portfolios (targeting safe and reliable ~8% yields) making use of high-yield opportunities in the CEF and ETF fund space, and that are geared towards both active and passive investors. The vast majority of our holdings are also monthly-payers, which is great for faster compounding as well as smoothing income streams!
Our Tactical Income-100 portfolio is our more active income portfolio designed to take advantage of mean reversion, special situations and deep-value opportunities. Yields around ~8%.
Our Income Generator portfolio is designed for the more passive investor, and places a greater emphasis on steady distributions, quality management and historical performance. Yields around ~8%.
Our Taxable Income portfolio is a our newest portfolio designed to maximize after-tax income by investing in muni funds, tax-managed funds and tax-advantaged funds. Yields around ~6% (equivalent to ~8% on a tax-equivalent basis).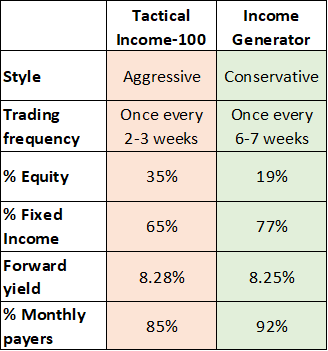 These portfolios are crushing the benchmarks and the S&P 500 (see "Our ~8%-Yielding Portfolios Are Up Over +20% In 2019 H1"):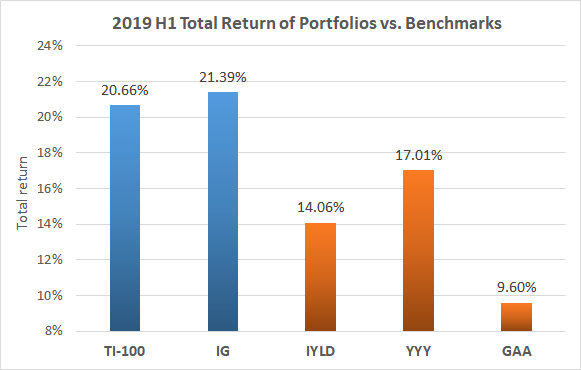 Besides the model portfolios, members of the CEF/ETF Income Laboratory also receive:
24/7 access to chat board with Stanford Chemist, Nick Ackerman, Alpha Male and hundreds of other serious like-minded CEF/ETF income investors, some with decades of trading or professional experience.
Immediate access to reports, which can be significant for fast-moving arbitrage or mean reversion trades, before they are released to the public 2-4 weeks later.
Weekly updates on CEF sector performance, top gainers/losers, and distribution changes. Moreover, corporate actions news and recommendations (e.g. rights offers, tender offers, mergers) which can be profitable to take part in (or to avoid) are now exclusive to members.
Timely buy and sell alerts to let you know when funds become undervalued or overvalued, with possible replacements suggested. We have accurately called CEF rotation opportunities time and time again.
Exclusive actionable insight and commentary that is not released to the public (not even after a time delay).
I have the information and perspective to make informed decisions, which I couldn't possibly do on my own.

====================
In case you missed it...
We also just launched our Taxable Income portfolio in the members section of CEF/ETF Income Laboratory, adding to our popular 8%-yielding, market-beating Tactical Income-100 and Income Generator portfolios.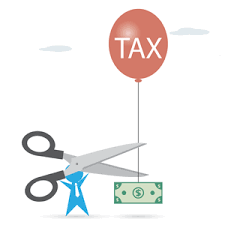 The Taxable Income portfolio seeks to maximize after-tax returns by investing in tax-free muni CEFs, tax-managed CEFs and tax-advantaged CEFs. To see all of our portfolios, try us out now on a 2-week free trial and 40% discount offer by clicking on this button:

You'll find none better than CEF/ETF Income Laboratory!

====================
You're now getting 3 experts for the price of 1!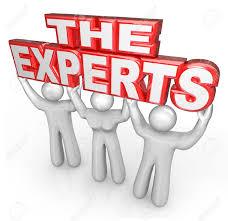 The CEF/ETF Income Laboratory is now a team of three! This means that you're getting three experts for the price of only one! At the annual membership price of only $399 (lowest out of the top 10 newsletters on Seeking Alpha), you're paying just over $10/month for each expert all year round! Compared to other, newsletters, you're getting a bargain!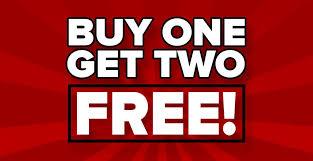 Nick Ackerman has joined CEF/ETF Income Laboratory as an official analyst! Nick has previously worked as a Financial Advisor and has held both Series 7 and 66 licenses, which also specifically qualified him as a Registered Investment Adviser (RIA) who could manage assets for a fee and give advice.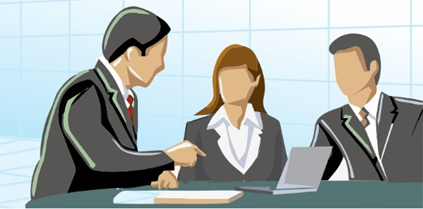 Alpha Male has joined our team as our "CLO Expert"! Collateralized loan obligation (CLO) funds throw off 16%+ yields, but are extremely complex to analyze and you definitely want to know what you're doing before you start dabbling into these complex vehicles. Alpha Male has over 10 years as a CPA working in middle office and back office roles in private equity and later, at a large debt firm that is also a CLO manager.
This service already has paid for itself many times over... Maybe the best investing moves I ever have made.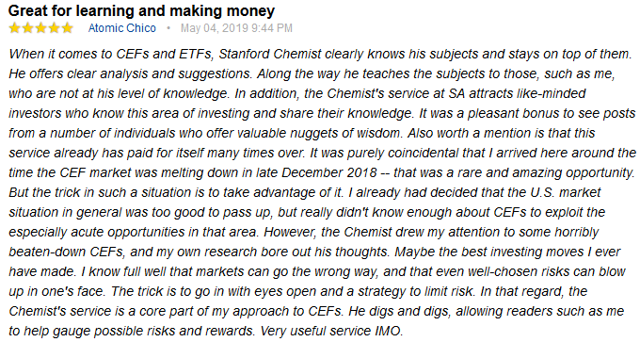 We're not done expanding our research capabilities!
Our service is growing fast but you can rest assured that we aren't resting on our laurels! Our increased membership allows us to expand our research budget to bring even more benefits to the members of CEF/ETF Income Laboratory.
Get three experts for the price of one by clicking on the link below!

====================
Dividend cuts suck!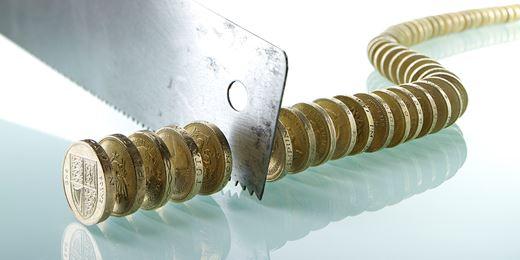 I'm pretty sure that no one enjoys having the distribution level on their investments cut, especially retirees who may be relying on the cash flows to pay their living expenses. Moreover, the announcement of a cut is normally accompanied by a massive drop in share price as yield-oriented investors flee the stock, meaning that it becomes highly difficult if not impossible to replace the income of the original investment due to the massive loss in value of the security. We've all seen this, but hopefully not been there, with high-yielding MLPs, REITs or other small-cap stocks that "crash and burn" when the distribution cut is announced. The tragic thing is that many of these highly risky securities were being touted as having income streams that were "safe" and "reliable" for retirees - which they were until they weren't! Such duds can cause great destruction to your hard-earned capital, especially in retirement!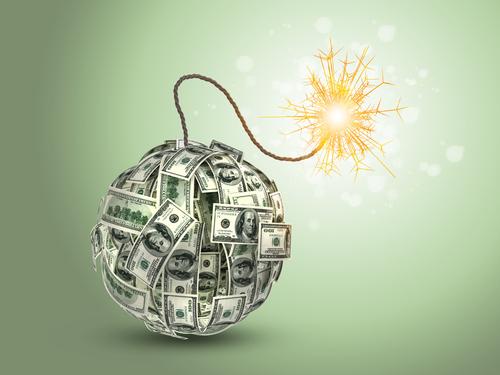 Closed-end funds aren't immune to distribution cuts. In fact, since CEFs have to pay out the majority of their taxable income to shareholders, they cannot retain significant earnings in the company like a regular corporation can. Indeed, as we have seen in the "Weekly Closed-End Fund Roundup" report that is compiled for Income Lab members each week, there have been a great number (often dozens) of distribution cutters every month so far this year, and these nearly always outweighed the distribution boosters. 
Not a single dividend cut for our "Income Generator" portfolio in 2019!
Our 8%-yielding Income Generator portfolio is our more passive portfolio geared towards more conservative investors. We emphasize quality management, historical performance and and steady distributions in order to help members "sleep well at night" with closed-end funds. Importantly, our Income Generator portfolio has had zero distribution cuts so far in 2019. When we say that we aim to achieve safe and reliable income streams, we really mean it! 
Going back two years, we've had only two CEFs in the Income Generator portfolio reduce their distributions: JHB and JHY. Both are term funds and we do expect a gradual decline in their payouts as their liquidation date approaches. Yes, you heard that right - only two cutters in two years!
Oh, and did we mention that two of the funds that we owned boosted their distributions in 2019 alone? Specifically, PCI raised its payout by 6% while BDJ increased its payout by 7%, both in July.
Moreover, we've managed to grow the income stream from our Income Generator portfolio from $748 per month at inception around 2.5 years ago (where it was incepted with a capital of $100,000) to $961 per month today. This represents a growth in the income of nearly 30% over this time period, corresponding to a compounded annual growth rate ("CAGR") of 11.4%.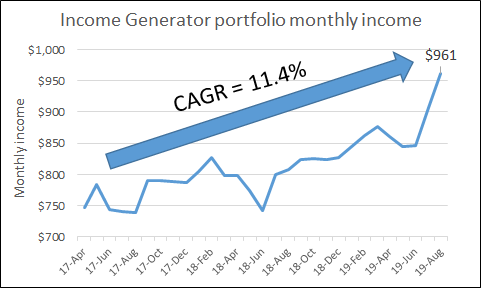 (*To smooth the numbers, the average income received by the portfolio over the trailing three months is shown).
It is important to note that we have grown our income stream by nearly 30% in two and half years without committing even an additional cent to the portfolio since its inception. Moreover, this income growth has been achieved with around 10% of our portfolio currently sitting in cash - meaning that income growth would have been even higher had we been fully invested. However, with CEF valuations being currently elevated, we are willing to be opportunistic with our new purchases in order to maximize the value of our capital.
If this type of income growth appeals to you, consider giving our newsletter service a try by clicking on the link below:

====================
What's our secret? 
What's our secret for growing the income stream in our Income Generator portfolio by nearly 30% over the last 2.5 years? First, we make use of the magic of distribution reinvestment, or compounding. Nick Ackerman published an excellent piece titled "Income Lab Ideas: Reinvestment's Huge Role In Your Portfolio" to Income Lab members two weeks ago.
Second, we use our patented "compounding income on steroids" strategy, aka CEF rotation, to supercharge our income growth. This can add extra percentage points of performance to a portfolio without sacrificing income or capital appreciation.
Third, we avoid distribution cuts!
We always tell our members not to only focus on the yield. What's the point of investing in a 12%-yielding fund if 4% of that is just your own money being returned back to you? High-yielding CEFs are often bid up to irrational premiums, only to see their share prices collapse when their unsustainable distributions have to be reduced. 
Bigger is not always better when it comes to dividend yield! Studies have shown that the highest-yielding stocks actually underperform stocks that yield less. We believe that with CEFs, a blended portfolio of funds yielding 8% is a perfect "sweet spot" for achieving the desired balance between income and capital appreciation.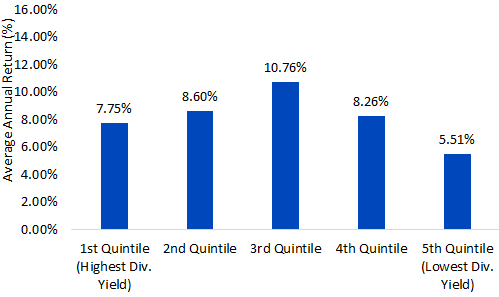 Moreover, we perform extensive due diligence on funds and avoid funds that overpay from NAV, so-called "destructive" return-of-capital that leads to NAV erosion. This may involve digging deep into the financial statements of the funds in question, which is where our expertise and experience in the CEF and ETF fund space becomes in very handy. 
Here's only a small sample of the dividend cuts that we've successfully called in CEFs and ETFs over the past several years. Most if not all cases of distribution cuts were accompanied by massive depreciation of the share price, causing tremendous losses to shareholders:
Remember, don't just focus on the yield! Valuation matters when buying closed-end funds!
To be blunt, anyone can slap together a 10% or 12% yielding portfolio in only a couple of minutes by using a simple stock screener. However, such high-yielders are often excessively risky and have heightened risks for dividend cuts (leading to share price collapses), which we have seen time and time again. Our Income Generator portfolio yields "only" 8% by comparison, but due to careful selection of funds and judicious risk management, our results in terms of both income and total return have been outstanding!
Have you been hurt by distribution cuts in the stocks or funds that you own? Let us help you perform due diligence by subscribing to our newsletter service below:

====================
Check out our five star reviews
On the fence about joining CEF/ETF Income Laboratory? In 2019 alone, we've received thirty-five 5-star reviews for "the Lab", and our community is continuing to grow at a rapid pace.
(see The "Intel Inside" Steven Bavaria's Income Factory + See What Other Members Are Saying About "The Lab").
I really appreciate the various model portfolios and the analytics and insight that support them. I regard myself as primarily a portfolio manager and strategist, and rely heavily on Stanford Chemist and his CEF/ETF Income Laboratory to be a key part of the analytical "Intel Inside" that I use to help make the investment decisions that support my "Income Factory."

- Steven Bavaria (Jan. 21, 2019)
"Best CEF service" ... "His knowledge, charts, data, and portfolios on CEFs are brilliant.".... "CEF investors rejoice!" ... "SC and the chatroom help me to embrace the volatility and they also provide the encouragement to act with reason when all seems to be chaotic" ... "There is no "pie in the sky- we can make you a millionaire" nonsense on this site. Just good common sense investment information." ... "the best part is the education you receive for a very low cost".
====================
Lock in a low rate for life
All members are grandfathered for life at the membership rate that they signed up at. Our founding members are still paying the founding membership rate of $26/month from 3 years ago! I have another price hike planned for the CEF/ETF Income Laboratory in 2019, so lock in the current rate while you still can.
The CEF/ETF Income Laboratory membership normally costs $540. That gets you 1000's of research hours conducted on your behalf each year by our team of three experts which we share with our members at only a fraction of the cost. Even without the discount, we are already the most-affordable service out of the top 10 newsletters on the Seeking Alpha Marketplace.
Our membership is exceptionally popular because we help you:
(1) Identify the most profitable CEF and ETF opportunities.
(2) Earn a ~8% dividend yield together with capital appreciation.
(3) Avoid the overpriced funds that can sink your portfolio.
Today, you have the opportunity to lock in a heavily discounted price of $320/year, which is $220 or over 40%* off the regular rate. This works out to be only $26.60 per month for the first year, which is even less than the average U.S. private nonfarm payroll worker wage of $27.90 per hour according to the Bureau of Labor Statistics!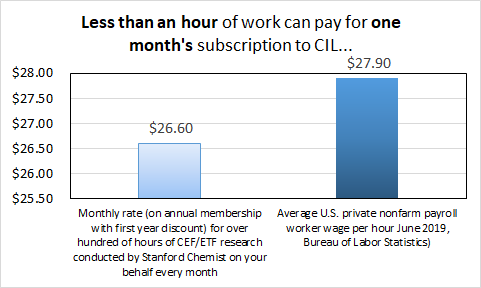 (*The 40% off is the discount available for the first year on an annual subscription relative to the monthly membership without the discount).
Remember, "time = money", so being able to save hundreds of hours of time of CEF and ETF research each month with what amounts to the price of a cup of coffee every few days is truly an incredible bargain. And our members agree!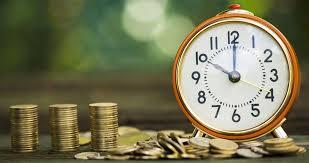 ====================
Take advantage of our annual membership and free trial
With an annual membership, you save over 25% versus the monthly membership. There's no better time to try us out!
Moreover, our free trial means that you can test out our service on a no-risk, commitment-free basis. You'll also get to experience our vibrant community of over five hundred income-orientated CEF and ETF investors, counting numerous full-time and professional traders and investors amongst our ranks.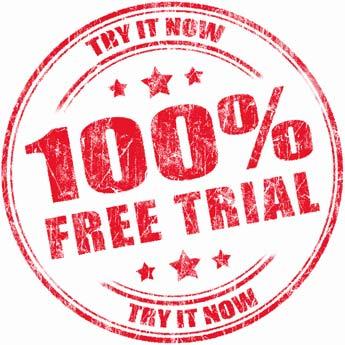 If you're not satisfied, simply cancel before your 2-week period is over and you won't be charged a single penny.

What's most impressive is the willingness of the community members to help each other in a fast, helpful and respectful manner! The subscription easily pays for itself.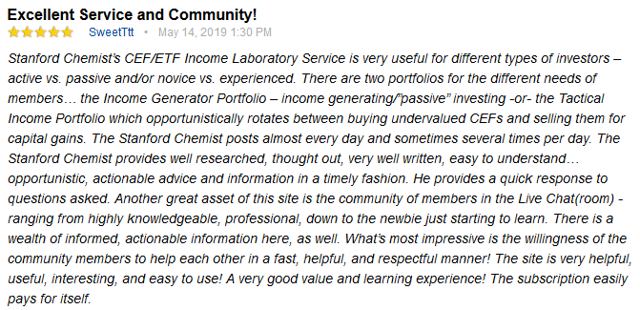 CEF/ETF Income Laboratory: Profitable CEF and ETF Income and Arbitrage Ideas
Whether you're a novice or experienced closed-end fund (CEF) and exchange-traded fund (ETF) investor, the "Income Lab" is the right place for you. Our goal is to help you benefit from income and arbitrage strategies in CEFs and ETFs, all without having to be an expert, because we do the heavy lifting for you. If that sounds like something you'd be interested in, we hope you'll consider joining us here at CEF/ETF Income Laboratory .

We would love for you to join us. We are sure that you will enjoy our service and benefit from what we have to offer!
Sincerely,
Stanford Chemist, Nick Ackerman and Alpha Male
Analyst's Disclosure: I am/we are long the premium portfolios.
Seeking Alpha's Disclosure: Past performance is no guarantee of future results. No recommendation or advice is being given as to whether any investment is suitable for a particular investor. Any views or opinions expressed above may not reflect those of Seeking Alpha as a whole. Seeking Alpha is not a licensed securities dealer, broker or US investment adviser or investment bank. Our analysts are third party authors that include both professional investors and individual investors who may not be licensed or certified by any institute or regulatory body.