Volatility Ahead? Watch For Opportunity
Please Note: Blog posts are not selected, edited or screened by Seeking Alpha editors.
Summary
VIX is rising after some big red days in the market.
Markets have become quite stretched since their March lows.
Our swap strategy in the CEF space can potentially work best when market volatility increases.
The Income Lab isn't just for traders though, buy-and-hold type investors can benefit from finding out what we are buying too!

Dear follower,
The CEF/ETF Income Laboratory is a fast-growing subscription community covering closed-end fund ("CEF") and exchange-traded fund ("ETF") income and arbitrage strategies.
We are over 1000 members now and we urge you to take action today and decide within your 2-week free trial whether this service is something for you or not. You have everything to gain and nothing to lose.
Get 26% Off on Annual Plan + 2-Week Free Trial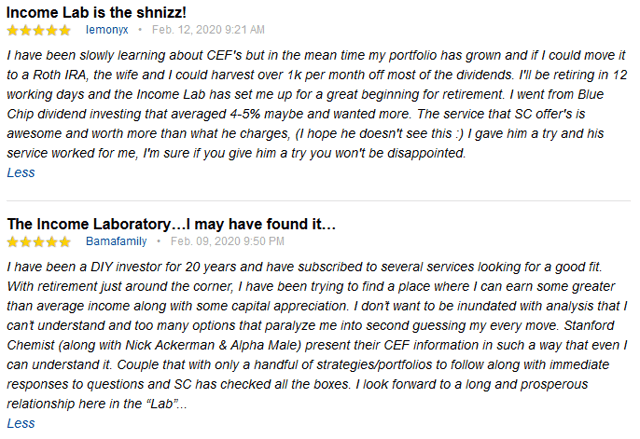 ====================
Market volatility, as measured by the VIX has crept up the last couple of days as the markets turn red. Tech has been the primary driver, no surprise either as the largest tech companies in the world have become quite stretched in valuation.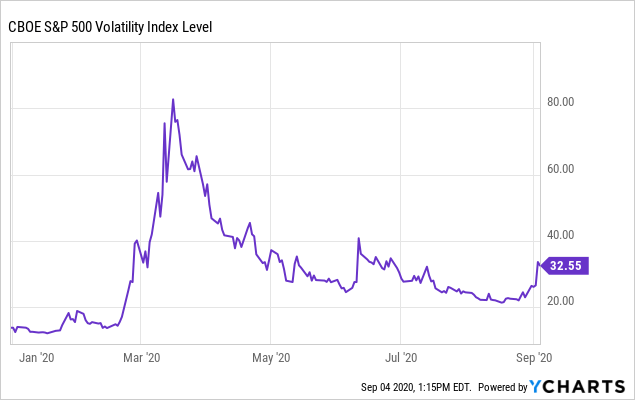 Data by YCharts
At the CEF/ETF Income Laboratory, our strategy generally works BEST with increasing volatility.
In March alone, we sent out 11 trade alerts for investors - that doesn't even count the following couple of months that also saw an unusually high amount of OPPORTUNITY. Many of these had multiple trade opportunities in the same alerts too! That is how much our strategy can really kick into high gear during those times of volatility.
Take this, for example, a trade alert went out on March 9th, 2020.
Bought: PIMCO Corporate & Income Strategy (PCN) (~4.5% position) at $15.75
Sold: PIMCO Corporate & Income Opportunity Fund (PTY) (~4.5% position) at $16.42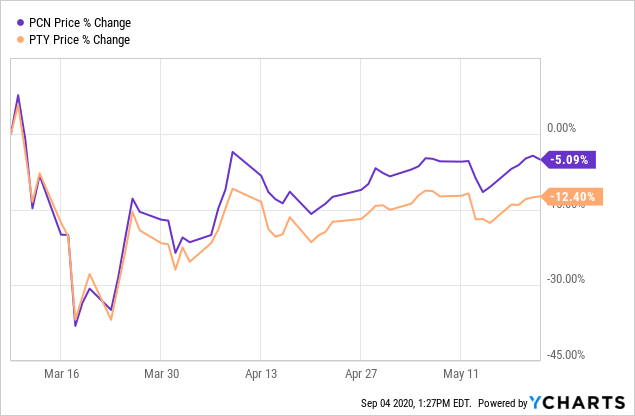 Data by YCharts
This was followed up by another trade alert sent out to members on May 22nd, 2020.
Sold: PIMCO Corporate & Income Strategy (PCN) at $15.26 (~4.5% position, 370 shares) (+30.37% premium, +0.8 z-score, 8.76% yield)
Bought: PIMCO Income Opportunity Fund (PKO) at $20.78 (~4.5% position, 270 shares) (+4.06% premium, -1.1 z-score, 10.97% yield)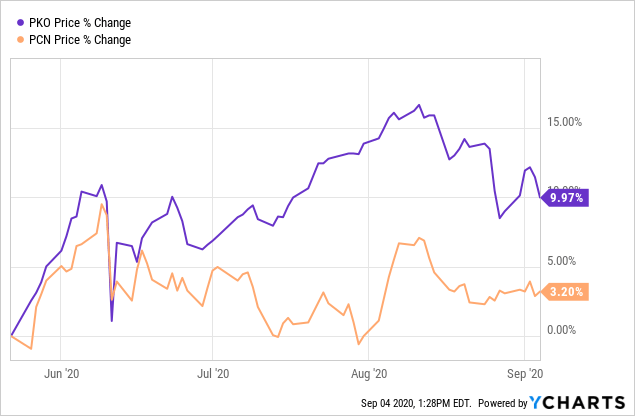 Data by YCharts
Not only did we avoid PTY's steeper losses by buying PCN in March, but we also followed that up by swapping to PKO from PCN to rebound higher too! That is only one of the examples of the opportunity presented in the last sell-off!
11 trade opportunities sound like a lot for most investors and not every investor is that active in trading positions. We understand that - that's why we were also sharing what we were buying throughout the crash too, with the members of the CEF/ETF Income Laboratory getting first looks.
On March 23rd, 2020 we released an article suggesting buys in BDJ and CII. Both BlackRock option-based funds. In hindsight, we didn't know March 23rd was going to mark the lows of the market. We just knew that there were some great opportunities out there.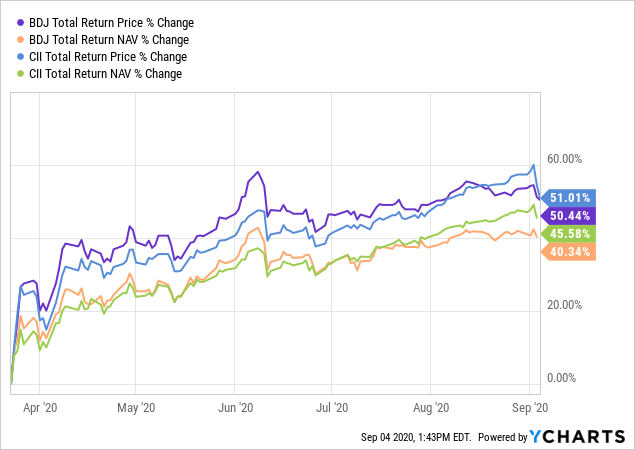 Data by YCharts
We also covered on March 19th, 2020 - the three options that an investor could do following the worst day since the GFC for CEFs on March 18th, 2020. There we highlighted staying the course, continuing to capitalize on swap opportunities that presented themselves due to the volatility.
If we are indeed going to get another correction, we will be there to guide investors through - just as we did with 2018's sell-off and early 2020 sell-off! Join us for a two-week free trial and see what we can do for you.
====================
Our value proposition

Our membership is exceptionally popular because we help you:
(1) Identify the most profitable CEF and ETF opportunities.
(2) Earn a ~8% dividend yield together with capital appreciation.
(3) Avoid the overpriced funds that can sink your portfolio.
The CEF/ETF Income Laboratory membership normally costs $588 per year (on a monthly plan). That gets you 1000's of research hours conducted on your behalf each year by our team of experts which we share with our members at only a fraction of the cost. Today, you have the opportunity to access a discounted price of $439/year (25% off) by joining us on an annual plan.
All members are grandfathered for life at the membership rate that they signed up at (note: excludes any introductory discounts). So I highly suggest that you lock in the current rate while you still can.
Remember, "time = money", so being able to save hundreds of hours of time of CEF and ETF research each month with what amounts to the price of a cup of coffee every few days is truly an incredible bargain. And our members agree!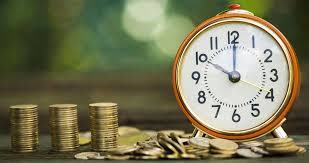 "I don't have the time do all the research needed. Definitely worth the subscription price."
"Saved me a ton of research hours each week. Hands-down worth every penny of the monthly fee."




====================
Don't forget to check out some of our latest reviews!
"The CEF/ETF Income Laboratory is the best help that I have found and I am very pleased with the service."
"Excellent trading advice and buy and hold recommendations for CEFs"
"Thanks SC for your truly GREAT service."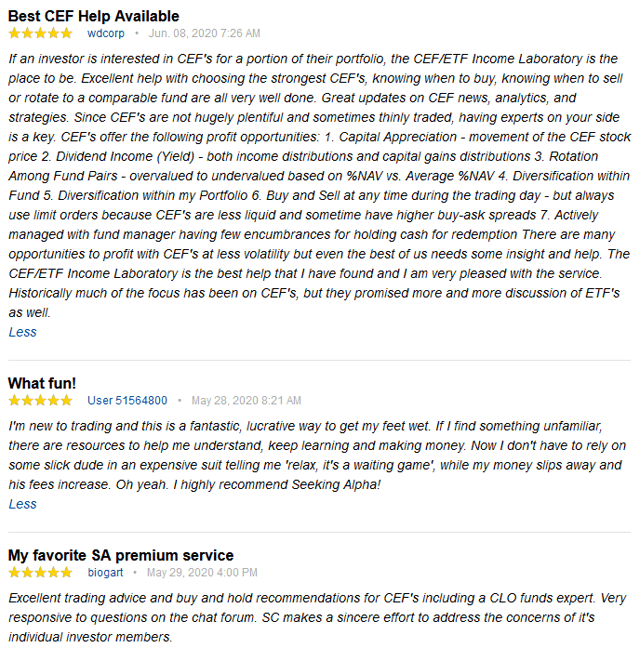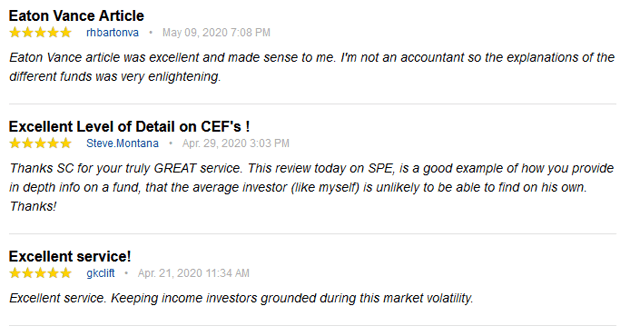 CEF/ETF Income Laboratory: Profitable CEF and ETF Income and Arbitrage Ideas
Whether you're a novice or experienced closed-end fund ("CEF") and exchange-traded fund ("ETF") investor, the "Income Lab" is the right place for you. Our goal is to help you benefit from income and arbitrage strategies in CEFs and ETFs, all without having to be an expert, because we do the heavy lifting for you. If that sounds like something you'd be interested in, we hope you'll consider joining us here at CEF/ETF Income Laboratory.
We would love for you to join us. We are sure that you will enjoy our service and benefit from what we have to offer!
Sincerely,
Stanford Chemist, Nick Ackerman, Alpha Male and Juan de la Hoz
Seeking Alpha's Disclosure: Past performance is no guarantee of future results. No recommendation or advice is being given as to whether any investment is suitable for a particular investor. Any views or opinions expressed above may not reflect those of Seeking Alpha as a whole. Seeking Alpha is not a licensed securities dealer, broker or US investment adviser or investment bank. Our analysts are third party authors that include both professional investors and individual investors who may not be licensed or certified by any institute or regulatory body.