Our membership is exceptionally popular because we help you:
(1) Identify the most profitable CEF and ETF opportunities.
(2) Earn a ~8% dividend yield together with capital appreciation.
(3) Avoid the overpriced funds that can sink your portfolio.
The great news is that we're currently offering a limited-time-only free trial so there's no better time to try us out! Start generating safe and reliable 8% yields from our portfolios today!
Best Present Ever!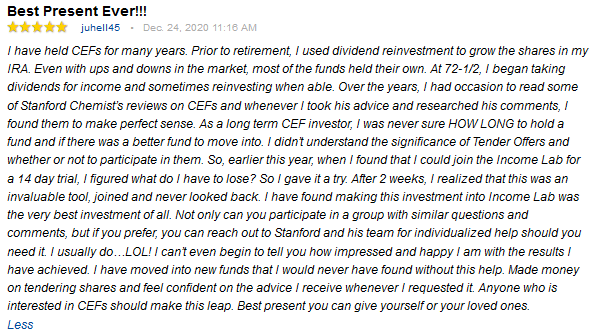 ====================
We covered several closed-end funds that had recently increased their distributions just last month. We now have a couple more of our positions increasing their distributions - and by no small margin!
BlackRock Health Sciences Trust II (BMEZ) put in a +45% dividend boost! And BlackRock Science and Technology Trust II (BSTZ) put in a +48.7% distribution boost! Both of these funds are in our Tactical Income-100 model portfolio. BMEZ and BSTZ now yield 6.50% and 5.90% on a forward basis, respectively. See our latest reports on these two funds below:
This was on the back of both of the funds' strong performances last year. In fact, BMEZ was only launched in January of 2020 - so this is a great feat for such a new fund.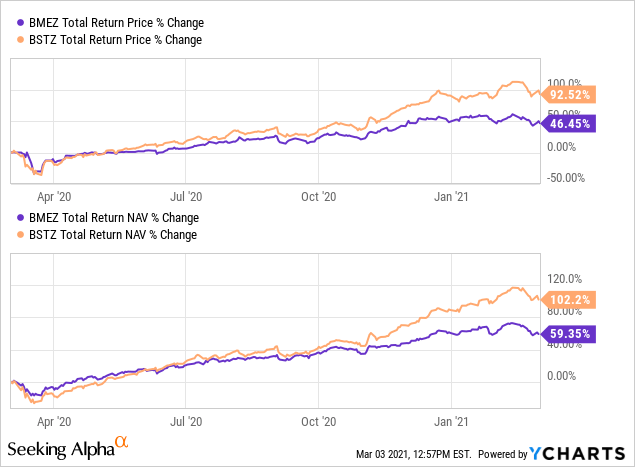 Data by YCharts
As we've highlighted, our income grew in our portfolios over the last year and has continued to do so at the start of 2021. These massive boosts will only serve to increase our income once again. That is WITHOUT any new capital actually being deployed in our model portfolios, and WITHOUT stretching for yield.
===============
Income Generator portfolio distribution history
The Income Generator portfolio grew its income by +11.0% (from $11603 to $12882) in 2020. This highlights the power of "double compounding" from distribution reinvestment as well as our CEF rotation strategy, in allowing minor distribution cuts to be overcome, as well as not stretching for yield. Remember, no new capital was committed to the portfolios at any time.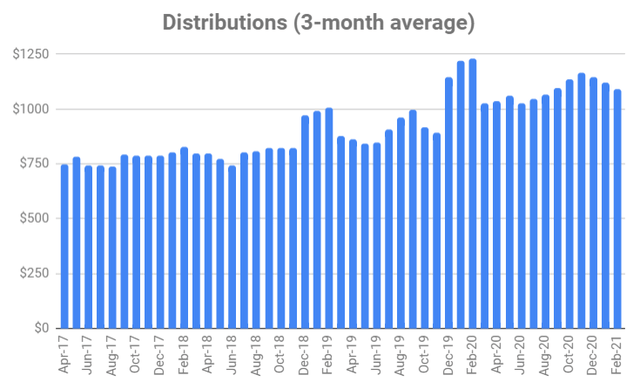 ====================
Take advantage of our annual membership and free trial
Take us for a free trial! That allows you to test out our service on a no-risk, commitment-free basis. You'll also get to experience our vibrant community of over one thousand income-orientated CEF and ETF investors, counting numerous full-time and professional traders and investors amongst our ranks.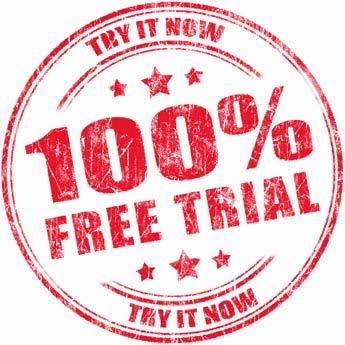 If you're not satisfied, simply cancel before your 2-week period is over and you won't be charged a single penny.
With an annual membership, you save 25% versus the monthly membership. There's no better time to try us out!
The CEF/ETF Income Laboratory membership normally costs $588 per year (on a monthly plan). That gets you 1000's of research hours conducted on your behalf each year by our team of experts which we share with our members at only a fraction of the cost. Today, you have the opportunity to access a discounted price of $439/year (25% off) by joining us on an annual plan.
All members are grandfathered for life at the membership rate that they signed up at (note: excludes any introductory discounts). So I highly suggest that you lock in the current rate while you still can.
Remember, "time = money", so being able to save hundreds of hours of time of CEF and ETF research each month with what amounts to the price of a cup of coffee every few days is truly an incredible bargain. And our members agree!
====================
"Don't head into retirement without Income Laboratory!"
Consider reading some of the reviews that members of the community have left us!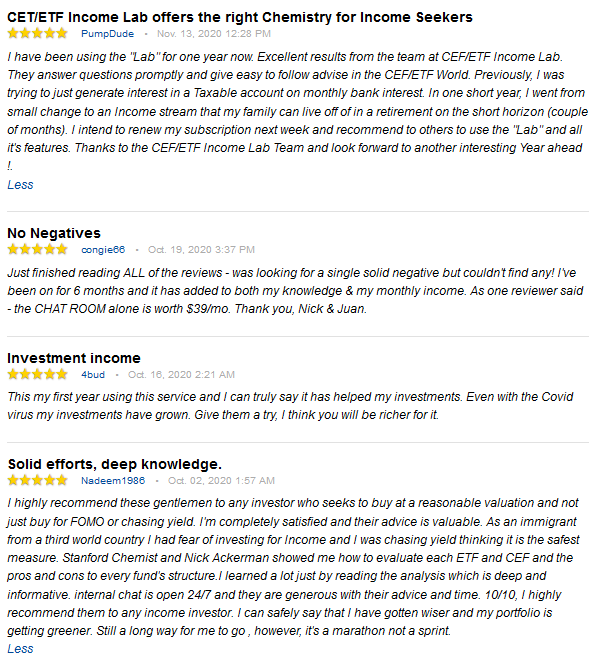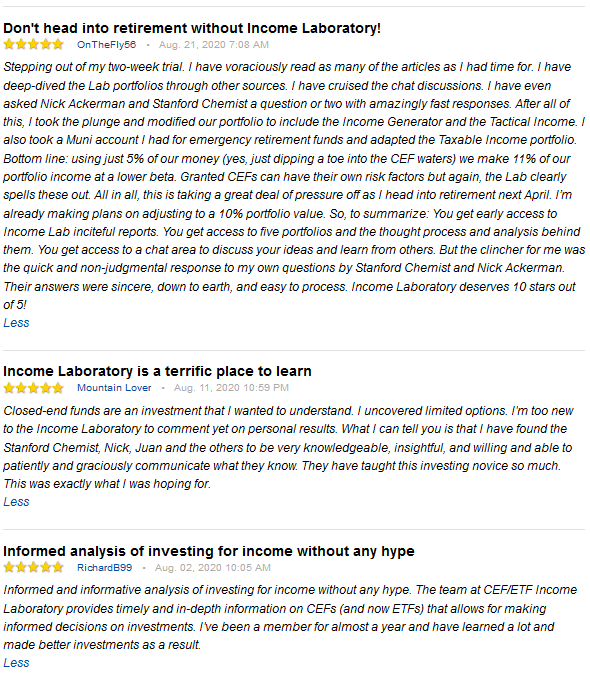 ====================
CEF/ETF Income Laboratory: Profitable CEF and ETF Income and Arbitrage Ideas
Whether you're a novice or experienced closed-end fund ("CEF") and exchange-traded fund ("ETF") investor, the "Income Lab" is the right place for you. Our goal is to help you benefit from income and arbitrage strategies in CEFs and ETFs, all without having to be an expert, because we do the heavy lifting for you. If that sounds like something you'd be interested in, we hope you'll consider joining us here at CEF/ETF Income Laboratory.
We would love for you to join us. We are sure that you will enjoy our service and benefit from what we have to offer!
Sincerely,
Stanford Chemist, Nick Ackerman, Juan de la Hoz and Dividend Seeker