Our membership is exceptionally popular because we help you:
(1) Identify the most profitable CEF and ETF opportunities.
(2) Earn a ~8% dividend yield together with capital appreciation.
(3) Avoid the overpriced funds that can sink your portfolio.
The great news is that we're currently offering a limited-time-only free trial, so there's no better time to try us out! Start generating safe and reliable 8% yields from our portfolios today! CLICK HERE TO SIGN UP

"An Invaluable Resource"

====================
It is an unfortunate fact that many CEF investors do in fact "chase yield" while ignoring risk. CEFs are dominated by retail ownership, and it is understandable that many such investors do strongly seek out the ability to receive a high income from their investments. This is, in my opinion, why certain CEFs get bid to massive +50%-plus premiums despite the fact that their performances aren't better compared to their peers at the portfolio level. This type of yield chasing invariably does not end well. When the inevitable distribution cut occurs, the premium (and share price) usually collapses, saddling the investor with capital losses equivalent to many years of distributions (see Why CEF Distribution Stability Is Overvalued).
On the other hand, at the CEF/ETF Income Laboratory, one of our favorite sayings is "remember CEF investors, don't just focus on the yield!" This is how we've avoided many of the distribution cuts that have plagued CEF investors over the years.
This income growth our Income Generator has been steady throughout inception of the portfolio. The monthly income received by our portfolio in October 2021 is at an all-time high (excluding special distributions).

2019 saw a total of $11,603.29 in distributions paid including the specials. 2020 saw $12,992.91 - also including the specials. That means another gain of 12% in 2020 despite the pandemic. We are set to once again grow this in 2021 too. If we extrapolate what the portfolio has already generated (NOT counting specials that are coming this way) we would arrive at $13,605.31 in distributions. This will only likely be higher with specials coming, Eagle Point Credit Company (ECC) already announced a $0.50 coming.
Importantly, this income growth has been achieved without adding any new capital to the portfolio. The portfolio was incepted in 2017 with $100,000 capital, meaning that we're on track to achieve an over 13% yield-on-cost in only 4 years.
It's all about the assets
Newer members may wonder: why don't we place a greater emphasis on the yield of a fund? We are the CEF/ETF Income Laboratory after all.
The answer is that it's all about the assets. Remember, CEFs are not a separate asset class! They are simply an investment vehicle, or "wrapper" for a particular set of assets. (See Income Lab Ideas: Asset Classes And Portfolio Allocations)
When a group of funds are investing in the same sector, we'd expect them to all "earn" (whether from dividends, income, or capital appreciation) a similar rate of return from their assets. However, because CEFs often pay out return-of-capital ("ROC") distributions as part of their managed distribution programs, the actual yields exhibited by funds from the same sector can vary. The simple truth is that a fund manager can basically choose to pay out as much yield as they want without restriction.
What this means is that, when we're looking at funds from the same sector, what one fund lacks in the yield department is made up for by better capital stability and returns. Conversely, a higher-yielding fund would be expected to show weaker capital sustainability.
One area that has been delivering results this year is the energy space (it's about time after years of being the loser!). One of the ways that have helped us out is with our Tactical Income-100 Portfolio. That's a portfolio that will take greater risks like investing in sector-specific investments. One such holding that we picked up earlier this year was the Tortoise Energy Infrastructure Corp (TYG).
Since then, the investment has delivered a number of distribution boosts as they put in place a new target distribution yield of 5 to 7%. Considering how well the fund and energy more broadly has been doing this year, it has resulted in quite impressive growth every quarter for the last 5 now.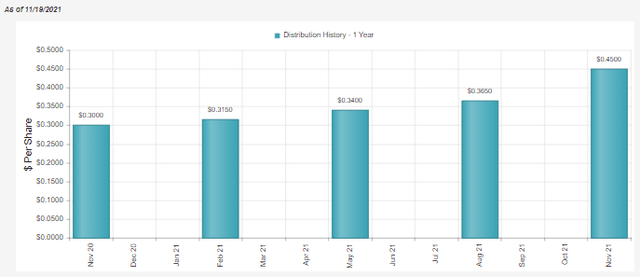 Summary
While higher yield does generally equal higher risk, the situation isn't so black-and-white with closed-end funds. For one thing, CEF managers can choose to pay out any amount of yield that they want but the total return is still going to be driven by the underlying assets. For example, the ~20%-yielding CLM/CRF had similar NAV returns to the ~2%-yielding SPY during the latest crash. Ten times the yield but the same risk? This is practically unheard of outside of the CEF world!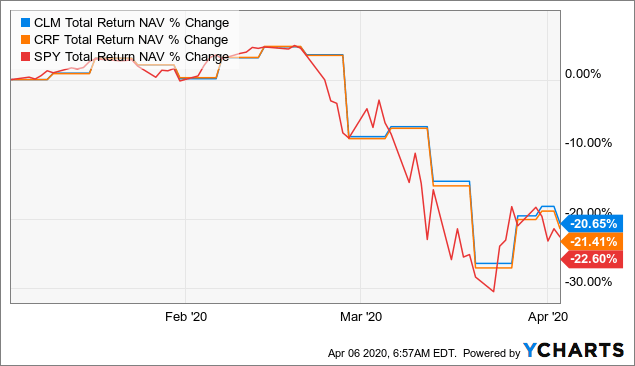 Data by YCharts
Here's another example, the ~10%-yielding Cohen & Steers Total Return Realty Fund (RFI) versus the ~5%-yielding Vanguard REIT ETF (VNQ). RFI has twice the yield of the benchmark but drawdowns were very similar at the NAV level!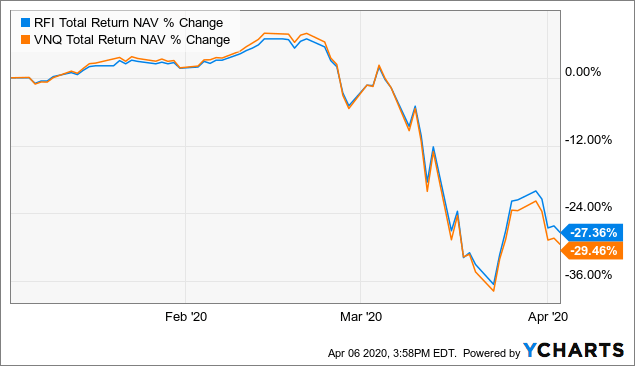 Data by YCharts
RFI has also done way better than the eight 10%-yielding REITs mentioned in this article: 8 REITs With 10% Yields.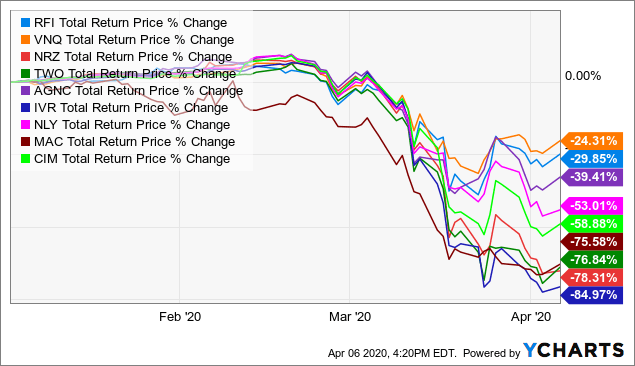 Data by YCharts
Ultimately, it's the assets that a CEF owns that drives returns. After deciding on sector exposure, look for management quality, historical performance, premium/discount valuation and the sustainability of the distribution. But yet, just because we don't practice yield-chasing for our portfolios doesn't mean that it is not possible to yield-chase CEFs. We've seen time and time again how high-yielding CEFs are bid up to stratospheric premiums, only for that (and the share price) to collapse once the inevitable distribution cut arises. We've called many of these for Income Laboratory members over the past several years. Remember CEF investors, don't just focus on the yield!
====================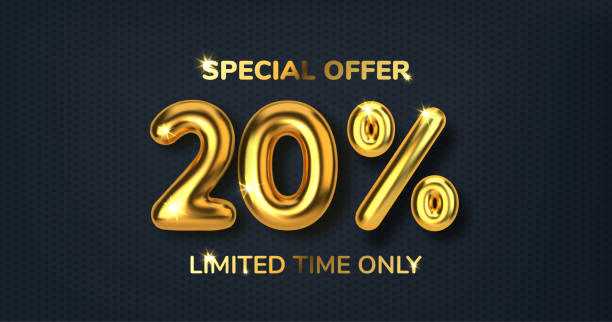 We'd love for you to become a member today, joining over 1000 other serious CEF and ETF investing members. That's why we are offering a discount of 20% off the first year of membership for more serious, like-minded investors only!
Here is a little bit about what we offer;
4 experts for the price of 1
4 model portfolios that investors can easily follow along with
24/7 chat board for asking questions and discussing investment opportunities
immediate access to all of our articles - no delay and this also includes exclusive articles that never get republished
| | | |
| --- | --- | --- |
| Feature | Free | Premium |
| Chat board | No access to chat board. | 24-hour access to chat board with Stanford Chemist, Nick Ackerman, Juan de la Hoz and Dividend Seeker, as well as over 1000 other serious like-minded CEF/ETF income investors, some with decades of trading or professional experience. |
| Timing of articles | Certain articles generally released after 2 to 4 weeks of delay. | Immediate access to all articles. This can be significant for short/medium-term trading ideas (e.g. CEF arbitrage), corporate actions (such as rights offers or tender offers) where immediate action is required, or for acting on timely buy and sell alerts for undervalued or overvalued funds. |
| Portfolios and trade alerts | None. | A Tactical Income Portfolio to exploit mean reversion, special situations and deep value opportunities, an Income Generator Portfolio for steady income, and a Taxable Income Portfolio for maximizing after-tax returns. Also, a newly-launched ETF Income Portfolio. |
| Commentary and analysis | A "just the numbers" presentation on the quantitative aspects of the fund or market, no specific recommendations. | Additional actionable insight and commentary is provided. For example, in the CEF Weekly Roundup we provide actionable recommendations on relevant fund news and events. In the monthly CEF reports, we may make a recommendation as to whether a certain top-ranked fund may belong in your portfolio or not. |
====================
"A Breath of Fresh Air - A Service That Excels in Customer Service"
Consider reading some of the reviews that members of the community have left us!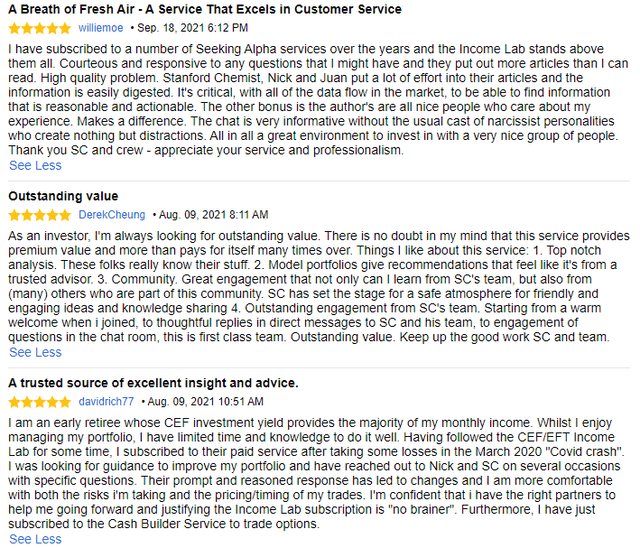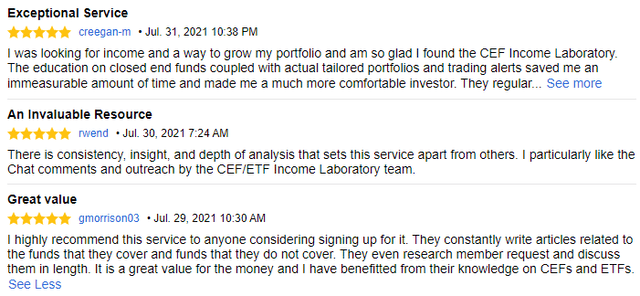 ====================

CEF/ETF Income Laboratory: Profitable CEF and ETF Income and Arbitrage Ideas
Whether you're a novice or experienced closed-end fund ("CEF") and exchange-traded fund ("ETF") investor, the "Income Lab" is the right place for you. Our goal is to help you benefit from income and arbitrage strategies in CEFs and ETFs, all without having to be an expert, because we do the heavy lifting for you. If that sounds like something you'd be interested in, we hope you'll consider joining us here at CEF/ETF Income Laboratory.
We would love for you to join us. We are sure that you will enjoy our service and benefit from what we have to offer!
Sincerely,
Stanford Chemist, Nick Ackerman, Juan de la Hoz and Dividend Seeker