While saving for retirement under ERISA or the Employee Retirement Income Security Act of 1974, many investors have been compelled to have their retirement savings invested in Mutual Funds, this has built an industry around funds and an army of financial professionals that work with funds. In truth, this has probably helped more people than it ever hurt. I have heard some sad stories of what happens to many people in the markets.
Today a demographic shift is underway and more people are retiring than ever before. These people need goals other than higher prices from the stock market, they need an income goal. A few savers have sufficient capital to allow conservative and flexible plans, but most are wanting the best sustainable idea they can get.
Investors approaching the market with this idea do not have a theory, they have a budget and the hope of a long life.
Leading to this theoretical discussion…...
Retiree: I need a paycheck, but I want to stay ahead of inflation.
Financial Advisor: We can sell 4% of your holdings and get your paycheck, we can bump it up each year for inflation. You probably won't run out of money.
……Retiree goes home unhappy, reads an article like this one by David Van Knapp, and returns the next day.
Retiree: Why would I sell my assets for 4% if Realty Income (NYSE:O) is paying a 4.5% yield every year and increasing it every year.
Financial Advisor: You would not want to own just one stock. Even with Realty Income looking healthy and having a long record of increasing dividends, it's still not a good idea to have just one stock.
Retiree: I can find all kinds of good companies that will give me a blended 4% yield, look here. Why would I sell assets for 4%?
Financial Advisor: You can not find enough companies to be price efficient and thus have low enough risk.
Retiree: Really? I thought we were talking about income, not price. How many companies do I need?
Financial Advisor: You need some bonds and an ETF or Mutual Fund, and I have one right here for you! The Vanguard Dividend Appreciation ETF trading under the symbol VIG.
........Retiree leaves unhappy.
I do love Vanguard funds, they have proven to me that they are focused on their investors by keeping the fees low and delivering great products like VIG. That is much more than I can say about many Financial Advisors and fund companies that offer fee laden products, but I digress. I have the Supreme Court looking into that for me, no need to get into it here.
Since VIG is built around the NASDAQ Dividend Achievers it is a great Fund to contrast with the needs of a retired person moving beyond theory to budgeting. With a budget you have an unrelenting set of expenses and hopefully some grace built in to handle the unknown. This unrelenting set of expenses needs an unrelenting income stream to take care of it.
Does VIG match up with a budget? Let's look at it. VIG is currently made up of 163 companies that have increased dividends for at least 10 years. That means consistent repeatability and profitability, branding and good company management.
Is Vanguard Dividend Appreciation ETF (NYSEARCA:VIG) consistent like the companies it holds and consistent like a personal budget? - NO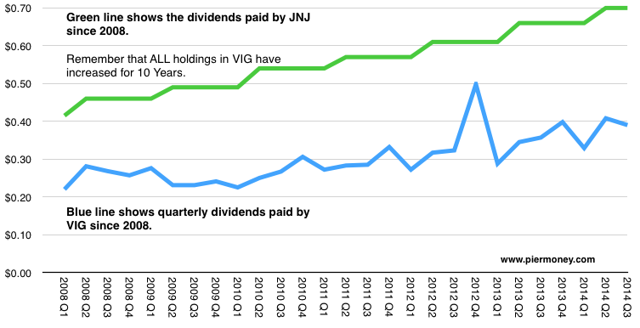 VIG has a variable payout often reducing its distribution (9 times since 2008). Income is slightly random but it is increasing. A dividend growth strategy is often an attempt to stabilize the income stream.
Does VIG provide enough income? - NO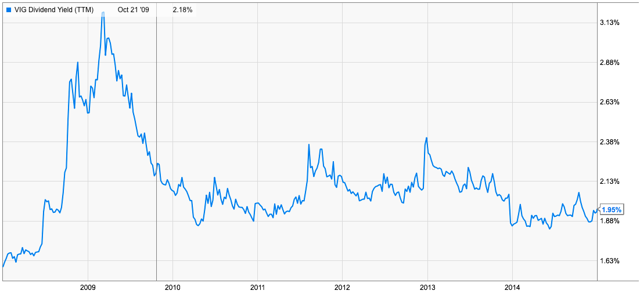 The above graphs shows that at no time has VIG delivered more than 3.19% yield, and the majority of years have been below 2.4%. We are starting with the hope of a 4% payout from retirement, this has not been available from VIG.
Does VIG offer more safety than just owning stocks? - NO
Charts from BuyUpside.com.



Please note the correlation of the top three holdings in the Fund, Walmart (NYSE:WMT), Johnson and Johnson (NYSE:JNJ) and Pepsi (NYSE:PEP) to the Fund. All three are above a correlation of 0.93. The price change since 2008 of these three equities (the top three holdings in VIG) are about the same as VIG when blended.
I will say that holding three stocks is not safer than owning the fund, but the largest components that make up the fund are very strongly correlated to the fund itself, this leads to a replacement idea for the fund by using the direct equity holdings, a good number would be 20 holdings, properly diversified with the same filters. The top 10 holdings are 35% of the fund and the top 20 holdings are about 54% of the fund.
For our sample time frame VIG had a larger move down in 08/09 than the top three holdings. See below from Yahoo Finance.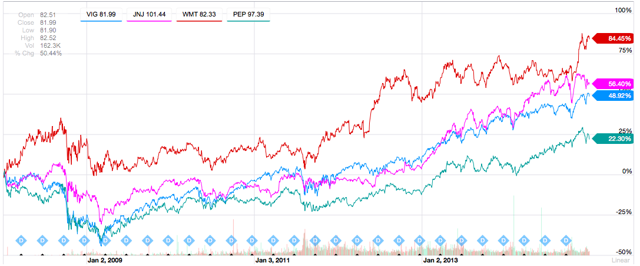 Conclusion
Mutual Funds and Exchange Traded Funds, like VIG, lean toward a price only strategy. In the case of VIG, it's a really good price-only strategy having out performed the SP500 for a long time. However, this fund is not an income managed vehicle, pure equity Mutual Funds and ETF's do not provide income focus at the level desired by many dividend growth investors. Even being built on one of the most stable income paying group of stocks in the market, the fund is just not able to put income ahead of price, and VIG does not compensate for that by being safer than it's components in terms of price.
What about the Pro Shares S&P500 Dividend Aristocrats Fund trading under the symbol NOBL?
NOBL is an ETF that holds the Dividend Aristocrats, a group of S&P500 stocks that have increased dividends for 25 straight years. That is a much longer dividend growth filter than the 10 years in VIG. The result is that NOBL is reduced from the 163 companies held in VIG to about the 53 companies in the Aristocrats Index, many of these companies are very recognizable names.
NOBL has been in action since October 2013, so the history is very short but despite holding only the most stable dividend paying companies they have a variable payout.
From ProShares web site:

In terms of many personal budgets income variability is the same as price variability, it is the income stability of dividend growth investing that creates an appeal. An investor can take on market risk to grow and have a fairly reliable, steady, growing income.
Make a plan, and get to work.
Disclosure: The author is long JNJ, O.
The author wrote this article themselves, and it expresses their own opinions. The author is not receiving compensation for it (other than from Seeking Alpha). The author has no business relationship with any company whose stock is mentioned in this article.