Twitter (NYSE:TWTR) reported fourth-quarter 2014 ad revenue per thousand timeline views of $2.37, which represents an increase of 60% year-over-year. Ad revenue totaled $432 million, up 97% year-over-year and 35% sequentially. We are impressed with Twitter's yearly and quarterly ad revenue growth, which are as per our expectations that we shared in a previous article.
In the article we mentioned that the micro-blogging company was trying to boost user growth rate that was slowing by adding Vine videos directly to the timeline. We were also optimistic on the company's prospects from mobile ads that we shared in another article. During the fourth quarter mobile ad revenue was 88% of total ad revenue. Mobile ad revenue as a percentage of total ad revenue was 85% during the previous quarter. Clearly, mobile ads driven by videos are increasingly becoming Twitter's main source of revenue.
In an effort to boost ad revenue growth via user growth, Twitter is rolling out new features for its core mobile apps, which will help users post videos and send group messages. The new video platform will have a maximum video length of 30 seconds, 5 times that of its Vine app's 6 seconds. However, unlike Vine, the video will be directly integrated with Twitter's core apps. The forthcoming direct group messages, which can be sent to up to 20 people, would make Twitter a popular platform for private conversations.
We believe these initiatives will make Twitter more competitive that will eventually help the micro-blogging company grab market share from Facebook (NASDAQ:FB), its nearest competitor. Let's explain how that would be possible.
Twitter's ad revenue growth is directly proportional to its user growth and unless the number of its active users increases significantly, ad revenue might not grow at the current pace going ahead. In order to ensure that active users continue to grow, we believe the micro-blogging company could be betting on a shift in business strategy in 2015, which is apparent from Twitter's rolling out of new features, as mentioned above.
The adoption of Twitter is limited compared to Facebook and other social networking sites because Twitter is difficult to understand, particularly to new users. Why Twitter is difficult to understand? Because Twitter displays unfiltered data. When an unfiltered news stream enters the site at a high speed, it might seem overwhelming to new users. Therefore we feel that an introduction of algorithm-driven curation of feeds, as Facebook does, could substantially improve the relevance of users and help the company grow its user base. The implementation of Facebook-style filtering algorithm will ensure that a user will see what is trending, or what she/he likes to see on the timeline instead of everything that happens around the world. This will help Twitter place user-relevant ads on the site, which in turn will boost ad revenues.
In order to grow ad revenues further, Twitter has struck a deal with Google (NASDAQ:GOOG) (NASDAQ:GOOGL) in order to boost user growth. Per the deal, Twitter's content will be visible on Google's search results in real-time. Although the deal has no ad revenue involved, being visible on Google's search results can really boost Twitter's user growth, which in turn will boost ad revenues indirectly.
About 85% of Twitter's revenues come from ads on its site, and in 2015 Twitter's advertising dollars could see significant growth. Our original investment thesis on Twitter was based on the company's compelling twelve-month forward EV/revenues multiple, which currently stands at 7x. At the time of publishing our original analysis, it was hovering around 11.5x. Clearly, the company's valuation has become more compelling than before due to the forthcoming growth drivers mentioned above.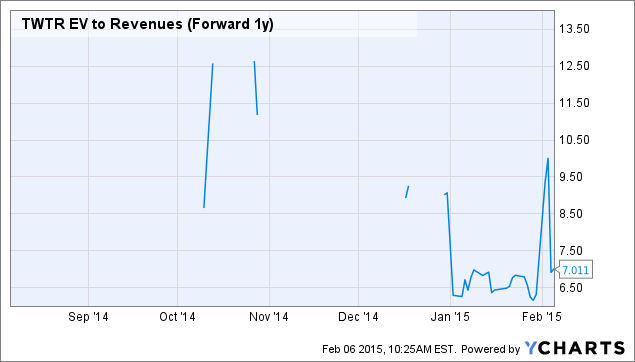 TWTR EV to Revenues (Forward 1y) data by YCharts
We believe the stock is slowly but steadily heading toward the previous high of $67. At that price it would trade around 10x twelve-month forward EV/revenues multiple. The fourth quarter and fiscal 2014 earnings report has strengthened our investment thesis on Twitter.
Business relationship disclosure: The article has been written by a BB Research stock analyst. BB Research is not receiving compensation for it (other than from Seeking Alpha). BB Research has no business relationship with any company whose stock is mentioned in this article.
Disclosure: The author has no positions in any stocks mentioned, and no plans to initiate any positions within the next 72 hours.
The author wrote this article themselves, and it expresses their own opinions. The author is not receiving compensation for it (other than from Seeking Alpha). The author has no business relationship with any company whose stock is mentioned in this article.