Apple (NASDAQ:AAPL) launched ResearchKit, an open-source platform for creating mobile medical apps in order to conduct clinical trials. It will use iPhones' sensors, such as accelerometer, barometer, gyroscope etc., to perform data collection. From April, ResearchKit will be made available to researchers and developers for creating apps.
ResearchKit Will Prevent iDevices From Being Redundant
In a previous article in June last year we said that Apple's mHealth venture is going to be a game changer in the medical device industry. Few months later, Apple launched HealthKit which was a huge success and a game changer indeed. We believe HealthKit, together with ResearchKit, will make iPhone a ubiquitous device in the medical-world. In this way Apple is creating a strong moat around its iPhone and other iOS-based devices like iPad and the forthcoming Apple Watch so that they don't suddenly become irrelevant, much like the BlackBerry's (BBRY) BlackBerry smartphones or erstwhile Nokia's Symbian phones.
ResearchKit will help researchers and developers create apps to collect new types of data from a much larger sample size which will make the findings statistically more significant because larger samples will reflect the population mean more reliably. A clinical trial aims at assessing the safety and efficacy of an investigational medicinal product by employing statistical techniques, the success of which largely depends upon enrolling appropriate patients. This is not only costly but also time consuming. ResearchKit, in combination with HealthKit, will solve this problem to an extent in the initial stages. However, we believe conducting clinical studies without an iPhone will soon become impossible, given the dependence of physicians and researchers on the device.
ResearchKit is already being used by several leading medical institutions of the world, and five ResearchKit apps are already available for download from the App Store. The apps are (1) GlucoSuccess app for diabetic patients, (2) Asthma Help app for asthma patients, (3) mPower app for Parkinson's patients, (4) MyHeart Counts app for cardiovascular patients and (5) Share the Journey app for breast cancer patients.
Clearly, Apple will monetize ResearchKit by selling the iDevices, particularly the iPhones, to the medical-world. However, we believe ResearchKit's role will be limited to qualitative research which generates non-numerical data. Qualitative techniques rely on focus groups and in-depth interviews for documenting patients' experience of chronic illnesses. For example, if one opens the Asthma Help app, one will be asked a number of questions before becoming eligible for an interview-based study.
Investors should note that using ResearchKit extensively in quantitative research will be difficult, at least in the initial stages, which generates numerical data. Employing quantitative techniques for gathering some preliminary information by using iPhones' sensors like accelerometer, barometer or gyroscope are always possible, but that will constitute only a small part of a much larger medical study. For example, measuring a tumor's response to chemotherapy won't be possible using the Share the Journey app. Instead, the app will be able to only document a breast cancer patient's experience by employing qualitative techniques.
Nonetheless, we believe the opportunity is real and the market size isn't insignificant. The global mHealth market is projected to reach $58.8 billion by 2020. But there will be competition. We believe Samsung (OTC:SSNLF) will be Apple's primary competitor in the growing mHealth market. Samsung uses mobile sensors for its S Health app for measuring fitness and wellbeing, and data from S Health can be shared with other Samsung and third-party applications. We expect that Samsung will also develop its own medical research platform going ahead. However, Apple is well-positioned with the first-mover advantage and its partnership with IBM (NYSE:IBM) in enterprise mHealth.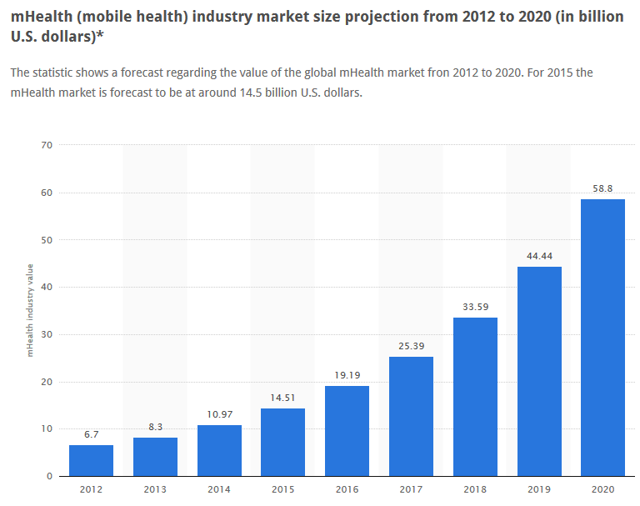 Source: Statista 2015
ResearchKit Will Make Apple Well-Positioned In The Wearables Market
In another article we said that Apple's partnership with IBM in enterprise mobile healthcare will position Apple at the forefront of mobile sensing wearables market. According to a report:
Sensor-infused and cloud connected wearables are disrupting today's smart devices and will create a $50 billion industry within the next five years.

Over the next five years, 700 million wearable tech devices will be shipped for global annual market worth $47.4 billion at this time. Hardware will make up the majority of the revenues during this period but monitoring services, mobile apps and subscriptions will grow faster.
The debut of ResearchKit will further strengthen Apple's position in the mobile sensing wearables market. Since hardware will generate majority of the revenues in the market, Apple's moat around its iDevices, as mentioned above, will continue to get stronger and wider.
Final Thoughts
DexCom (NASDAQ:DXCM), a prominent player in the continuous glucose monitoring market for mobile devices, is designing a glucose monitoring app for Apple's forthcoming Apple Watch. We believe this is an excellent example that Apple's enterprise mHealth mission is not only progressing well but ahead of time. As we said repeatedly earlier, healthcare investors should invest in Apple to profit from the ongoing mHealth boom before it's too late.
Business relationship disclosure: The article has been written by a BB Research stock analyst. BB Research is not receiving compensation for it (other than from Seeking Alpha). BB Research has no business relationship with any company whose stock is mentioned in this article.
Disclosure: The author has no positions in any stocks mentioned, and no plans to initiate any positions within the next 72 hours.
The author wrote this article themselves, and it expresses their own opinions. The author is not receiving compensation for it (other than from Seeking Alpha). The author has no business relationship with any company whose stock is mentioned in this article.