Warren Buffet advises the investor: be greedy when you feel fearful and be fearful when you feel greedy. (The original quote is not his but of his former teacher, the great Benjamin Graham). Well, lately fear is what I feel when I cross the street and in front of me I spot a Toyota car.

Just a few days ago, I was walking Paris downtown. I had just watched Toyota's president publicly apologize over the unintentional acceleration of Toyota vehicles. Then I had this irrational reaction: Seeing a Toyota before me, I grabbed my companion by the arm. And told her very seriously: Never ever cross in front of a Toyota. Fear? - Clearly. Then, according to Buffett, Is it time to buy or sell?

Time to buy or to sell?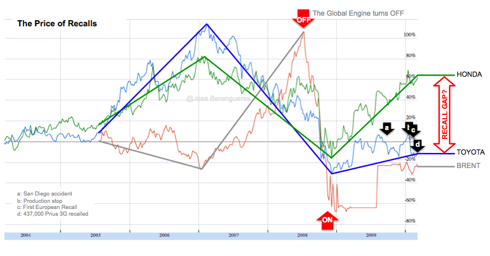 Fig.1 Toyota, Honda show lapses with a strong negative correlation with the evolution of price of Brent crude oil. Source: Google Finance, J. Rifkin.

The Recall Gap
If we compare the historical evolution of Toyota versus Honda, (its most similar competitor product mix), we see that both shares have always shown a great coupling. However, since 2009 we see how Honda de-couples from its arch-rival. In just one year, the gap with Honda reaches -75%. Is this Recall gap temporary and 100% attributable to the approximately 8Milion vehicles to be recalled for free repairs, or conversely, will its effects persist over time?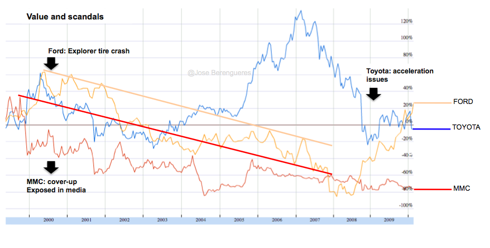 Fig.2 Ford took 7 years to recover from Ford Explorer scandal (+250 deaths). Mitsubishi Motors never recovered (+56.000 hidden incidents). Source: Source: Google Finance.


What would Buffett do?
Looking back in history we see that there have been companies that have faced situations similar to those of Toyota. For example, only 8 years ago, Ford Motor Co. had to deal with approximately 250 fatalities caused by Ford Explorer. The cause: the Explorer series tires were too soft for use on the highway at high speed and fatally disintegrated. The value of Ford fell and only recovered years later. Another firm that suffered similar problems to Toyota was Mitsubishi Motors (MMC). MMC hid and destroyed thousands of customer complaints, (over 56,000), who reported mechanical problems of Mitsubishi cars. This action of systematic cover-up car defects began in the 80s and ended in 2004 with police investigations, resignation of directors, several people dead, (including children), and excision of the truck and bus division from MMC. The company's reputation is still low in Japan. The value of Mitsubishi has never recovered to date.

Clearly, culturally something has gone wrong with Toyota. The question now is, will it recover in a Ford-like fashion, or will it follow the Mitsubishi track?


More information: Toyota recall timeline


Disclosure:
No postions