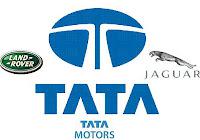 Scrip Code: 570001 / TATAMTRDVR
CMP: Rs. 135.10; Buy at current levels.
Short term Target: Rs. 151, 6 month Target - Rs. 177; STOP LOSS - Rs. 124.30; Market Cap: Rs. 6,510.91 Cr; 52 Week High/Low: Rs. 189.90 / Rs. 79.40
Total Shares: 48,19,33,115 shares(17.90% of Sh Capital); Promoters : 1,86,00,448 shares -3.86 %; Total Public holding : 46,33,32,667 shares - 96.14 %; Book Value: Rs. 62.74*; Face Value: Rs. 2.00; EPS: Rs. 3.89*; Div: 205 %* ; P/E: 57.71* times; Ind. P/E: 38.45*; EV/EBITDA: 18.27*.
Total Debt: 2,845.87 Cr; Enterprise Value: Rs. 9,356.77 Cr.
*Being DVR a class of equity capital, Tata Motors financials are used.
TATA MOTORS LIMITED: Tata Motors was founded in 1945 and was formerly known as Tata Engineering and Locomotive Company Limited (TELCO) and changed its name to Tata Motors Limited in 2003. The company is leading manufacturer of commercial & passenger vehicles in India and is among the top 3 passenger car manufacturers in India and the world's fourth largest truck manufacturer & world's Second largest bus manufacturer. Through its subsidiaries, the company is engaged in engineering and automotive solutions, construction equipment manufacturing, automotive vehicle components manufacturing and supply chain activities, machine tools & factory automation solutions. The company's Automotive operations include all activities relating to development, design; manufacture, assembly and sale of vehicles including all financing thereof, as well as sale of related parts and accessories. Tata Motors has operations in UK, South Korea, Thailand & Spain. The company has many subsidiaries but the most prominent among these is Jaguar-Land Rover (JLR) (a British car manufacturing company) which it acquired in 2008 at $230 Cr and turned it from a loss making company to a profit making company. JLR contributes 54 % to the company's revenues. The company's product portfolio ranges from the ultra low cost car Nano to the luxurious cars from JLR, from its ground breaking invention of the light commercial vehicle (LCV) the Ace to the international Prima Truck range. TATA MOTORS is compared to Mazda Motor Corporation, Suzuki Motor Corporation and Mitsubishi Corporation.
Investment Rationale:
Tata Motors is India's largest automobile company, last quarter JLR reported all-time high monthly volumes with both Land Rover and Jaguar rising 54 % and 9 %, respectively. This was been due to geographical demand fuelled by emerging markets like China, Brazil along with the developed markets of the US. In this fourth quarter, Tata Motors posted 16.7 % YoY growth in revenue in the automotive segment, whereas JLR reported a top-line growth of 65.7 % YoY. This led to an overall 44.3 % YoY growth in the company's consolidated top-line to Rs. 50,900 Cr, EBITDA margin at JLR were at 14.6 %, the consolidated EBITDA margin improved by 30 basis points YoY to 14.1 %. EBITDA grew at Rs. 7,170 Cr. TATA MOTOR was accounted for a tax credit of Rs. 1,820 Cr on account of credit for carry forward of losses from JLR account. Profit After Tax grew by 86.1 % YoY to Rs. 4590 Cr. On Standalone basis, Tata Motors posted 14.4 % YoY growth in its top-line at Rs. 16,390 Cr. Its overall volumes grew by 18.4 % YoY, whereas average realization/vehicle declined by 3.3 % YoY on account inferior product mix skewed towards passenger cars. EBITDA margins on standalone basis improved by 0.60 % YoY to 9.6 % on account of tight control over other expenditure. As a result, EBITDA grew to Rs. 1560 Cr YoY. Profit After Tax on standalone basis grew by 22.8 % YoY at Rs. 780 Cr. The higher than expected standalone profit partially compensated for the disappointment at JLR. JLR reported 51.5 % YoY growth in revenue at ₤414.4 Cr, mainly led by a 48.2 % YoY improvement in volumes. Average realisation/vehicle declined by 2.3 % QoQ on account of inferior product mix skewed towards 'Evoque'. Other expenses increased by ₤9 Cr on account of investment in new capacities. As an result, EBITDA margins declined by 2.40 % QoQ at 14.6 %. JLR PAT stood at ₤42.2 Cr as against ₤44 Cr in Q3FY12. This, in experts view, a big disappointment given that the volumes for the quarter were up by 11 % QoQ and currency impact was minimal. Management expects JLR volumes to be driven by launch of new Evoque in new markets, demand for newly launch Jaguar's Model Year (NYSE:MY) 2012 XF and ramp up operations in China. In Q2 FY12, Evoque was only launch in UK, Europe and US. Evoque has received buoyant response and has an order book of around 20,000 units after catering 8,000 units in Q2 FY12. It is in midst of launching Evoque in China and other developing markets, thus resulting in incremental Evoque volumes in H2 FY12. The company has started to ramp up the distribution network in China to 100 dealers by FY12E and is in advance talks with local partner for production in China. The company has largely resolved issues related to engine constraints with Ford. JLR is setting up a new engine manufacturing facility in UK, which entails an investment of £35.5 Cr. Net Automotive debt to equity stands at 0.3:1. JLR is likely to come up with two new launches i.e. Jaguar XF station wagon in Q3FY13E and new Range Rover platform in Q4FY13E. The company increased its guidance for a capex and R&D spends at JLR to ₤200 Cr as against the earlier guidance of ₤150 Cr. JLR completed an unsecured Revolving Facility totaling ₤71 Cr for 3-5 years thereby strengthening its liquidity position. Management sounded cautiously optimistic regarding volume growth at JLR in Europe and UK.
Outlook and Valuation:
The long term investors can buy the TATAMTRDVR in view of attractive valuation. The long term holders of ordinary shares of Tata Motor can switch to TATAMTRDVR. The Tata Motors DVR shares carry 1/10th of voting rights and shareholders are entitled to a 5 % higher dividend than ordinary shares in lieu of surrendering voting rights. Tata Motors DVR trades at a discount of 45.2 %. The average discount for the DVR to Tata Motors ordinary share was 36.7 % since inception. The average discount for the DVR share over the last two years has been 40.5 %. At the Current Market Price of Rs. 135.10, the DVR is trading at a 40 % discount to Tata Motors' ordinary share which is at Rs. 224.55. At the current levels, the probability of the discount narrowing is higher. On Some Of The Parts basis the value of standalone business comes at 9x FY13 adjusted EPS of Rs. 5 to arrive at Rs. 45 and for JLR it comes at 5x EV/EBITDA to arrive at Rs. 183 and the valued of the investment book of the company comes at 0.2x BV for unquoted investments and market value of quoted investments to reach Rs. 9/share and arrived at our target price ofRs. 275. One can BUY TATA MOTOR DVR at all lower levels for better returns. It has outperformed the broader market by 6 % on an annual basis.Globally DVRs trends to trade between 10 % - 15 % discounts to its Equity shares, TTM DVR currently trades at 40 % discount to its Equity shares. One should buy TTM DVR at 40 % - 45 % discount to its EQ SH & Sell when DVR arrives at 10 % - 15 % discount to its EQ SH. TTM DVR can be a good 'BUY' with a target price of Rs.151 for the short term. Expect discount to the Equity shares reduce to at least 30 % over next one year given the attractive valuations and increasing free float. For the shorter term it can be a good BUY, with a price target of Rs. 151.
SOTP valuation (FY2013E)
| BUSINESS SUBSIDIARY | Value per Share(Rs.) |
| --- | --- |
| Core Business (9x FY13E Stand.EPS) | 45 |
| JLR (5.0x FY13E EV/EBITDA) | 183.00 |
| Tata Daewoo | 2.00 |
| Tata Motor Finance | 3.00 |
| Tata Technologies | 4.00 |
| TML Drivelines | 4.00 |
| Value of Other Subsidiaries | 14.00 |
| Value Post Discount (20 % Holding discount) | 11.00 |
| Value of Investments (0.2 x BV of Investments) | 9.00 |
| TOTAL VALUE PER SHARE | 275.00 |
| KEY FINANCIALS | FY11 | FY12E | FY13E | FY14E |
| --- | --- | --- | --- | --- |
| SALES (Rs. Crs) | 1,22,127.90 | 1,65,654.50 | 1,89,786.00 | 2,07,532.00 |
| NET PROFIT (Rs. Crs) | 9,042.50 | 12,522.40 | 13,811.70 | 14,699.00 |
| EPS (Rs.) | 28.40 | 37.50 | 41.10 | 44.10 |
| PE (x) | 9.70 | 7.30 | 6.70 | 6.30 |
| P/BV (x) | 4.60 | 2.80 | 2.80 | 2.70 |
| EV/EBITDA (x) | 6.20 | 4.30 | 4.20 | 3.70 |
| ROE (%) | 66.10 | 47.90 | 41.80 | 43.80 |
| ROCE (%) | 22.10 | 23.50 | 21.40 | 22.50 |
I would buy TATA MOTOR LTD DVR with a price target of Rs. 151 for Medium to Long term and Rs. 177 for the Short term players. As I always say, I am a long term believer in markets & I do respect the markets and will keep a strict stop loss of 8 % or Rs. 124.30 on every purchase.
READ HERE TO KNOW MORE ON LONG TERM INVESTING - CLICK HERE
Disclosure: I am long TTM.